This website uses cookies to ensure you get the best experience while browsing it. By clicking 'Got It' you're accepting these terms.
The Bioeconomy Is Bad for Biodiversity
Apr. 26, 2012 05:00AM EST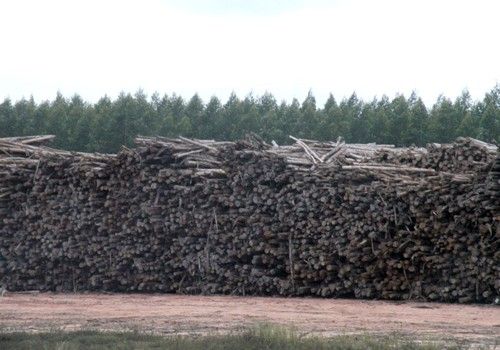 As U.S. President Obama announced his new "National Bioeconomy Blueprint" today, the Global Forest Coalition—a worldwide coalition of 53 Indigenous Peoples' Organisations and NGOs in 39 different countries, that promotes rights-based, socially just and effective forest conservation policies—unveiled its report, Bio-economy versus Biodiversity. The report's conclusions differ sharply from the president's "Blueprint," alerting policy-makers to the serious negative impacts the so-called bioeconomy will have on forests, forest-dependent peoples, and biodiversity.
The 'bioeconomy' promotes speculative markets for ecosystem-based products and services, which are increasingly promoted as a 'green' alternative to the fossil fuel economy. Trading in 'ecosystem services' such as forest carbon offsets is accompanied by a massive expansion of wood-based bioenergy and other biomass-based products.
The Global Forest Coalition report concludes that these markets are a dead end.
"The divergent elements of the bioeconomy are at cross-purposes," warns Rachel Smolker of Biofuelwatch, a lead author of the report. "On the one hand, we'll extract biomass from forests and farmlands to produce energy and materials at a scale comparable to our current fossil fuel extraction. And on the other hand we'll create new financial instruments based on the protection of ecosystems. We can't have it both ways," said Smolker.
"We have a wealth of evidence that these approaches are misguided, but that evidence is ignored. Why? Because the bioeconomy is about generating profits for the top 1%, regardless of the consequences."
The new report is based on years of research by civil society groups working directly with communities impacted by biomass extraction, carbon offset projects and other elements of the bioeconomy. The report concludes that the bioeconomy approach could be no better than our current reliance on climate-wrecking fossil fuels. The massive increase in production and use of biomass will trigger a cascade of problems including hunger, land grabs and ecosystem collapse, the report warns.
Simone Lovera, executive director of the Global Forest Coalition, said, "The bioeconomy is a massive effort to privatize nature for corporate profit. The record of forest carbon offset schemes like REDD+ (Reducing Emissions from Deforestation and forest Degradation and enhancing Forest Carbon Stocks) make it clear that market-based approaches to conservation inflict serious harm on Indigenous Peoples, women, peasant farmers and biodiversity itself."
"Further," said Lovera, "high-risk technologies like synthetic biology, nanotechnology, and genetically engineered trees will only drive the planetary ecosystem further into crisis."
Harm to both ecosystems and human health from these technologies, the report points out, are both inevitable and irreversible.
The report's conclusions challenge the Obama administration and other global leaders to abandon the green sheen of biotechnology and market-based conservation schemes, and to affirm the kinds of biocultural approaches demonstrated by Indigenous Peoples and social movements in the Global South that eschew infinite economic growth for sustainable livelihoods, local living economies and integration with the natural world.
For more information, click here.
EcoWatch Daily Newsletter
Assorted plastic bottles. mali maeder / Pexels
People carry children on a flooded street in Almoradi, Spain on Sept. 13. JOSE JORDAN / AFP / Getty Images
Large food companies are following in the footsteps of fast-food restaurants such as Burger King and KFC by offering meat alternatives. Getty Images
By Elizabeth Pratt
Hormel, Kellogg's, and Kroger are among the large companies now planning to offer "fake meat" products at grocery stores.
Experts say the trend toward plant-based meats coincides with consumers' desires to eat less meat.
However, experts urge consumers to closely check package labels as a product isn't necessarily healthy just because it's described as plant-based.
In grocery stores and fast-food outlets around the U.S., a revolution is taking place.
Colombia rainforest. Marcel Oosterwijk / CC BY-SA 2.0
Many of us think of the Amazon as an untouched wilderness, but people have been thriving in these diverse environments for millennia. Due to this long history, the knowledge that Indigenous and forest communities pass between generations about plants, animals and forest ecology is incredibly rich and detailed and easily dwarfs that of any expert.
picture-alliance / Newscom / R. Ben Ari
By Wesley Rahn
Plastic byproducts were found in 97 percent of blood and urine samples from 2,500 children tested between 2014 and 2017, according to a study by the German Environment Ministry and the Robert Koch Institute.

Pexels
Medically reviewed by Daniel Bubnis, MS, NASM-CPT, NASE Level II-CSS
Hot yoga has become a popular exercise in recent years. It offers many of the same benefits as traditional yoga, such as stress reduction, improved strength, and flexibility.
Lara Hata / iStock / Getty Images
By SaVanna Shoemaker, MS, RDN, LD
Rice is a staple in many people's diets. It's filling, inexpensive, and a great mild-tasting addition to flavorful dishes.