This website uses cookies to ensure you get the best experience while browsing it. By clicking 'Got It' you're accepting these terms.


The best of EcoWatch, right in your inbox. Sign up for our email newsletter!
The Biggest Oil Leak You've Never Heard Of, Still Leaking After 12 Years
Feb. 23, 2016 03:57PM EST
Popular
Far away from TV cameras and under the radar of the nightly news, oil has been continuously leaking from a damaged production platform located just 12 miles off the coast of Louisiana in the Gulf of Mexico—causing an oily sheens on the surface that stretch for miles and are visible from space.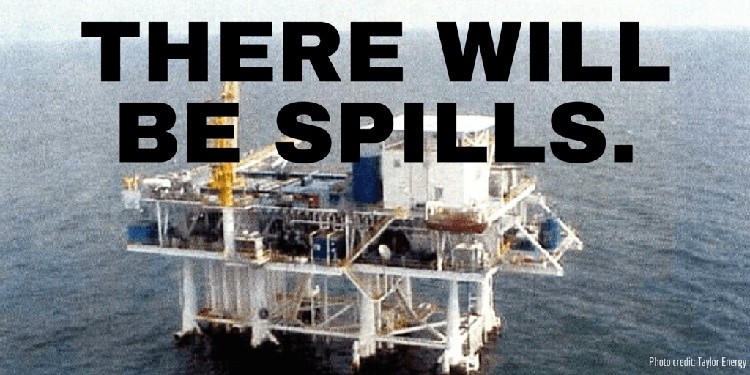 These underwater oil wells have been leaking since 2004 and continue to leak as you read this. Unless it is plugged, the government estimates the leak might continue for 100 years until the oil in the underground reservoir is finally depleted.
The platform's owner, Taylor Energy, has no plans to stop the leak and is lobbying behind the scenes for permission to walk away from its mess.
The Risks of Offshore Oil Production
In September 2004, Hurricane Ivan slammed into the Gulf and unleashed an underwater mudslide which toppled the Mississippi Canyon 20 (MC20) oil platform. The offshore platform was located in 450 feet of water near the outlet of the Mississippi River. After the mudslide, the platform ended up on the seafloor, 900 feet from its original location and plumes of oil began seeping from the broken well casings of more than 20 wells that had been connected to the platform.
Although the company began working to contain the leak, the mudslide made traditional well containment tactics difficult. Taylor Energy was more effective at keeping the oil spill under wraps and information about it was not made public until 2010, when BP's Deepwater Horizon disaster brought added scrutiny to the region. While reviewing satellite imagery of BP's oil slick, the watchdog group SkyTruth noticed a smaller slick coming from the MC20 location.
Measuring the size of the oil slick in satellite images, SkyTruth was able to estimate a leakage rate ranging from 37 to 900 gallons per day. Over the years, that rate adds up to between 300,000 and 1.4 million gallons of oil spilled into the Gulf.
To put those numbers into perspective, the MC20 leak could be the equivalent of last year's Refugio Beach spill in Santa Barbara, California—happening every year for a decade.
Dodging Their Responsibilities
Even after it was finally revealed to the public in 2010, the leak has been shrouded in a frustrating level of secrecy.
For years, Taylor Energy had reported estimates of the spilled oil to the National Response Center that were extremely small—and in many cases flatly contradicted by the images analyzed by SkyTruth. In 2015, following rigorous documentation by SkyTruth and an investigation by the Associated Press, the U.S. Coast Guard released a leak estimate that was 20 times larger than what had been claimed by Taylor Energy in court filings.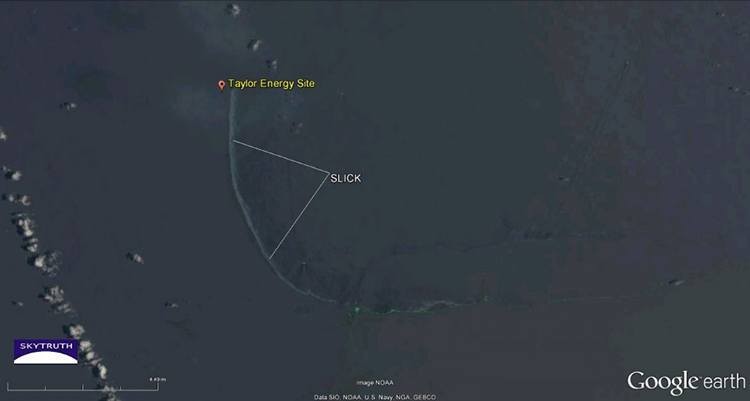 The Associated Press also reported that the company has been reluctant to share information about the leak and their attempts to plug it, citing trade secrets and proprietary information. The lack of transparency led to a lawsuit by Waterkeeper Alliance and other environmental groups. As part of that settlement, Taylor did host a public meeting on Jan. 20 and provided some additional information to the public.
Although the flow of oil shows no signs of abating, it's clear that the company would like to wash its hands of the whole situation. Taylor Energy has mostly ceased to exist as a company and company president William Pecue is its last remaining employee. Pecue has called the leak an "act of God" for which Taylor cannot legally be held responsible. The company and their hired experts maintain that any further action to halt the leaks would be worse for the environment and therefore they propose "to not take any affirmative action" at the site.
Phyllis Taylor, the widow of the company's founder, is a well-known philanthropist and a major donor to Louisiana politicians. As a result of those connections, a number of Louisiana officials have lobbied the government to consider Taylor's proposal. The company is also suing the federal government to recover $432 million in a trust fund that had been set aside for responding to the leak. However, in public statements the U.S. government maintains that there is "still more that can be done by Taylor to control and contain the oil" and that they are committed "to ensure Taylor Energy will work to permanently stop the ongoing oil spill."
There Will Be Spills
The MC20 leak is a prime example of how chronic oil pollution is a constant presence in areas where oil and gas are produced. The media pays close attention when mega-spills like the Deepwater Horizon disaster occur, but the normal day-to-day operations of offshore oil companies inevitably lead to a constant stream of releases and small spills from pipelines, tankers, ships, decommissioned equipment and other sources.
SkyTruth has mapped the nearly 10,000 spills reported to the National Response Center from July 2010 (after the Deepwater spill) to April 2015. The connection between spills and oil production is clear when comparing different regions of the Gulf. In the western gulf, spills are common, especially in the waters off Texas and Louisiana. By contrast, oil exploration is currently banned in the eastern gulf near Florida and, as a result, oil spills are much rarer.
A 2011 Bloomberg investigation found that the culture of non-compliance and lax enforcement in Louisiana meant that companies responsible for persistent pollution were rarely held accountable. One marine biologist summarized the impacts, stating, "When you spill any amount of oil in a marine system, organisms die" and that chronic spills are "a huge problem and far more damaging than most people suspect."
From Cradle to Grave, Oil Production is Harmful
The production and use of oil is harmful to the environment at every stage of its lifecycle, from cradle to grave. Seismic blasting is used to discover new deposits of oil and gas below the seafloor, significantly disrupting and even injuring marine life, especially whales and dolphins. When those oil and gas deposits are extracted, transported, refined and burned as fuel they release the greenhouse gases that are causing our climate catastrophe. At each stage of the process, oil spills and toxic contamination are all-too-common impacts on human health and the environment.
Taylor Energy has demonstrated that pollution—and lack of accountability—can continue for years even after the company has ceased operations. All the more reason to keep fossil fuels where they belong—underground.
Send an urgent message to President Obama right now to stop all new offshore oil & gas leases.
YOU MIGHT ALSO LIKE
Koch Brothers Plotting Multimillion Dollar War on Electric Vehicles
Why Would the New York Post Plug Climate Denier Profiteers?
Bill McKibben: It's Not Just What Exxon Did, It's What It's Doing
Greenpeace Asks Hillary Clinton to Say No to Fossil Fuel Money
EcoWatch Daily Newsletter
PhotoAlto / Laurence Mouton / Getty Images
By Ana Reisdorf, MS, RD
You've probably heard the buzz around collagen supplements and your skin by now. But is the hype really that promising? After all, research has pointed to both the benefits and downsides of collagen supplements — and for many beauty-conscious folk, collagen isn't vegan.
Pixabay
By Marlene Cimons
Neil Pederson's introduction to tree rings came from a "sweet and kindly" college instructor, who nevertheless was "one of the most boring professors I'd ever experienced," Pederson said. "I swore tree rings off then and there." But they kept coming back to haunt him.
Aerial view of the explosion site of a chemical factory on March 22 in Yancheng, Jiangsu Province of China. Caixin Media / VCG / Getty Images)
At least 47 people have died in an explosion at a plant in Yancheng, China Thursday run by a chemical company with a history of environmental violations, Sky News reported.
A fishmonger in Elmina, a fishing port in the Central Region of Ghana. Environmental Justice Foundation
By Daisy Brickhill
Each morning, men living in fishing communities along Ghana's coastline push off in search of the day's catch. But when the boats come back to shore, it's the women who take over.
Pexels
By Sam Nickerson
Links between excess sugar in your diet and disease have been well-documented, but new research by Harvard's School of Public Health might make you even more wary of that next soda: it could increase your risk of an early death.
The study, published this week in the American Heart Association's journal Circulation, found that drinking one or two sugar-sweetened beverages (SSBs) each day — like sodas or sports drinks — increases risk of an early death by 14 percent.
Tyson Foods is recalling approximately 69,093 pounds of frozen chicken strips because they may have been contaminated with pieces of metal, the U.S. Department of Agriculture (USDA) Food Safety and Inspection Service (FSIS) announced Thursday.
The affected products were fully-cooked "Buffalo Style" and "Crispy" chicken strips with a "use by" date of Nov. 30, 2019 and an establishment number of "P-7221" on the back of the package.
"FSIS is concerned that some product may be in consumers' freezers," the recall notice said. "Consumers who have purchased these products are urged not to consume them. These products should be thrown away or returned to the place of purchase."
Environmental exposure to pesticides, both before birth and during the first year of life, has been linked to an increased risk of developing autism spectrum disorder, according to the largest epidemiological study to date on the connection.
The study, published Wednesday in BMJ, found that pregnant women who lived within 2,000 meters (approximately 1.2 miles) of a highly-sprayed agricultural area in California had children who were 10 to 16 percent more likely to develop autism and 30 percent more likely to develop severe autism that impacted their intellectual ability. If the children were exposed to pesticides during their first year of life, the risk they would develop autism went up to 50 percent.