This website uses cookies to ensure you get the best experience while browsing it. By clicking 'Got It' you're accepting these terms.
The Beautiful Poisoned Children of China
May. 02, 2013 01:28PM EST

As I walked through the gates of the primary school in Xiangyang City in Hubei Province with Middle Han Waterkeeper, Yun Jianli, I was greeted by six and seven-year-old voices raised in song. They clapped their hands in time to the rhythm of the songs, waved tinsel-studded pom poms and crayon-colored artwork. The songs and the pictures contained messages about the need for humans to do a much better job of taking care of the Earth by preventing pollution of our air and water.
As I watched these beautiful and talented children sing songs imploring the grown-up stewards of their future to bequeath them a livable planet, I was haunted by the devastating reality of the world they will inherit from us.
In the last four months, pollution levels in China have climbed to levels never before recorded in the history of our planet. More than 1.2 million Chinese per year are dying early due to pollution while birth defects soar. Education officials in the most polluted regions of China have moved beyond educational programs to try to change adult behavior that robs children of the possibility of a healthy life in their own country.
Affluent parents are buying expensive air filters to try to give their children some semblance of a normal life. Schools in the wealthier districts are also installing sophisticated air filtration equipment even as some parents recognize that it won't be enough to protect their children, so they dream of leaving the country altogether. For the vast majority of Chinese, who have no means of escaping the pollution, athletic fields covered with giant domes might at least allow kids to play soccer or just run and play tag without their lungs burning and filling with high concentrations of particulate matter that cause cancer. 
As I journeyed across six provinces of China with Waterkeeper Alliance's Asia Regional Coordinator Charles Depman earlier this year and met with our Waterkeepers in Hangzhou, Lanzhou, Hefei, Beijing, Dalian and Xiangyang City, we went to cancer villages, investigated pollution and interviewed people about increasing levels of death and disease. The people we talked to moved us deeply.
The basic human right to clean air and water is universal. In order to achieve it in China, a grassroots movement is emerging. It may surprise people outside of China to learn that a people-powered revolution is possible there. And while it isn't as raucous and rowdy as some civil society shifts in other countries, there are inspiring Chinese success stories to use as a road map.
For example, the people of Qiugang village worked with Green Anhui, the parent organization of the Middle Huai Waterkeeper, to end the pollution from a nearby chemical factory. Documentary filmmaker Ruby Yang captured the story in the academy-award-nominated documentary Warriors of Qiugang. The film poignantly illustrates the courage it took for Chinese villagers to stand in defiance against the status quo. They had a deep desire to see the next generation given the chance of a bright future, and when it was threatened by the deadly effects of pollution it motivated them to risk speaking out and seek the changes they needed.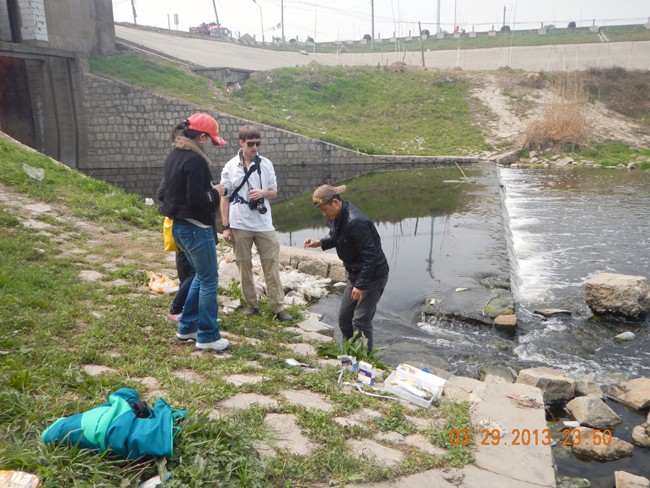 The Middle Huai Waterkeeper and lawyers at Green Anhui work with citizens and government to solve pollution problems throughout the watershed. So while China's pollution problems have never been worse, the good news is that a growing number of people are rolling up their sleeves and working together to fight the sources of sickness and disease.
Hundreds of miles away, in Zhejiang Province, the Qiantang Waterkeeper has established an award-winning web-based pollution reporting system that allows mobile phone users to take a picture of water pollution and report its exact location to the Waterkeeper. While I was in China, I got to see how effective that system is at triggering a response.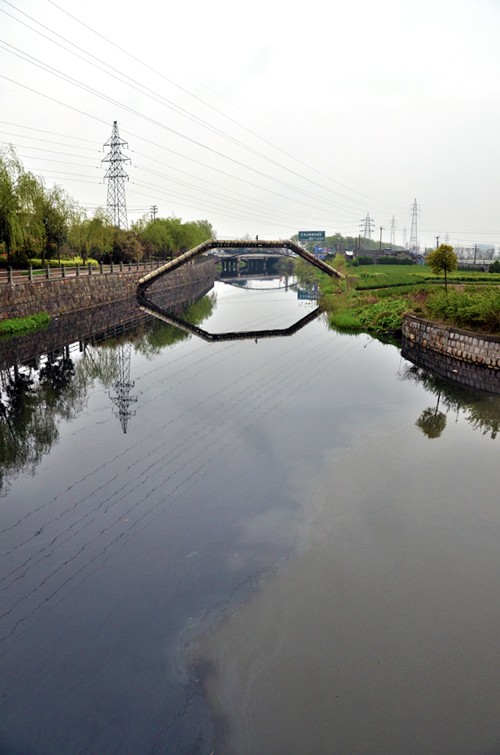 The polluted water in the photo above comes from coal-fired power plants, cement factories, chemical manufacturers and textile mills, all concentrated in a five kilometer area near Hangzhou, China. By the time the Xian Feng canal empties into the Qiantang River, it is pure black. Villagers report cancer and other diseases are common in almost every family. After we concluded our investigation, the Qiantang River Waterkeeper began creating a long-term plan to clean up the pollution that involves citizens engaging the government to make changes.
Across the country to the west, in arid, water-starved Gansu Province, we accompanied our Upper Yellow River Waterkeeper team to coal-fired power plants and coal mines across the region. We tested air for particulate matter greater than 2.5 micrometers and water for several pollutants.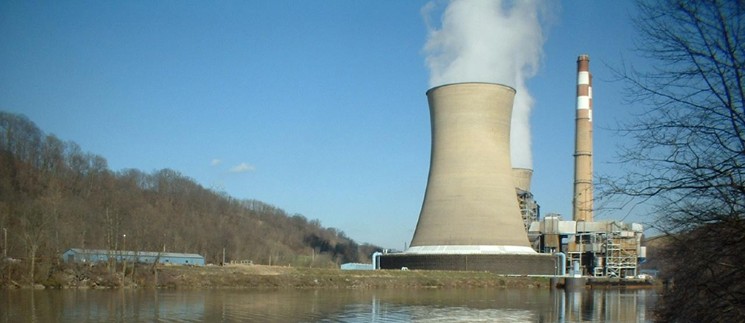 Air pollutants from coal-fired power plants contain a toxic collection of heavy metals that cause brain and respiratory damage. They include arsenic, cadmium, chromium, lead, mercury, selenium, manganese and particulate matter 2.5. They are one of the largest contributors to China's staggering pollution problems.
In the U.S. there are currently about 600 coal-fired power plants. Many of them have been required to install air-pollution-control technology or shut down in an effort to clean up the vast amounts of air and water pollution they produce. In contrast, China has 3,000 coal-fired power plants either built or planned. Most of them do not have technology that eliminates air and water pollutants.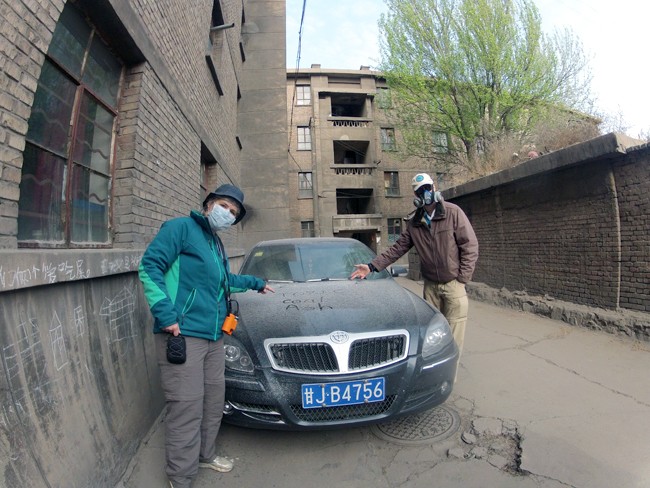 While I was in China last month I joined Kristen McDonald and Zhao Zhong of Pacific Environment for meetings with Nautral Resources Defense Council-China, Greenpeace East Asia and Institute of Public and Environmental Affairs. In each of those meetings we discussed strategies to strengthen and build the burgeoning grassroots environmental movement to confront coal pollution in China. In one of those meetings I met Sun Qingwei. A former assistant professor in the Chinese Academy of Sciences, Dr. Sun grew up in a coal miner's family. He left academia, where he could have enjoyed the security of a university career, to have the freedom to tell the truth about the devastating human toll of coal pollution in China. He has been the lead coal campaigner with Greenpeace East Asia since 2011.
Over the last two years, he has worked to expose the environmental and human health risks of coal mining and use. Growing up in a coal-mining region himself, he has first-hand knowledge of the toll it is taking on communities in his country. His stories provide a stunning and sad portrait of the enormity of the challenge of shifting away from coal consumption in the country that mines and consumes more coal than any other. Waterkeeper Alliance, Pacific Environment, San Francisco Baykeeper, Sierra Club and Wilson Center will host an educational forum with Sun Qingwei in San Francisco on May 7. Join us to hear his powerful stories, see his pictures and learn about these issues facing the people of China.
Pacific Environment, Waterkeeper Alliance and our partners across China are committed to building a successful grassroots movement that will shift China away from coal use towards a more sustainable energy mix. Together we can save China's beautiful children from a poisoned future.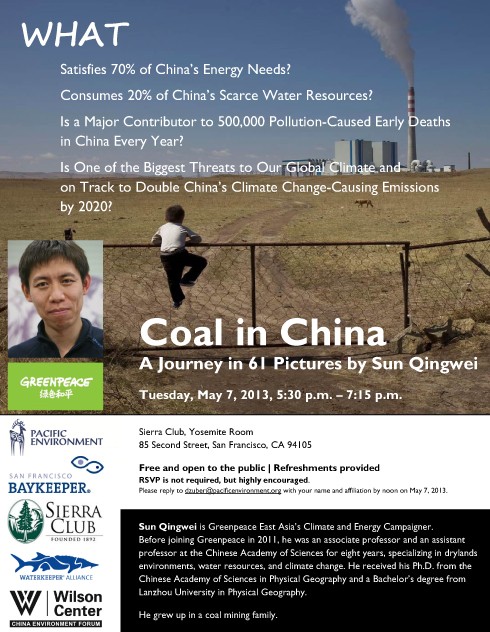 Prince William and British naturalist David Attenborough attend converse during the World Economic Forum annual meeting, on January 22 in Davos, Switzerland. Fabrice Cofferini /AFP / Getty Images
Britain's Prince William interviewed famed broadcaster David Attenborough on Tuesday at the World Economic Forum's annual meeting in Switzerland.
During the sit-down, the 92-year-old naturalist advised the world leaders and business elite gathered in Davos this week that we must respect and protect the natural world, adding that the future of its survival—as well as humanity's survival—is in our hands.
Electric vehicle sales took off in 2018, with a record two million units sold around the world, according to a new Deloitte analysis.
What's more, the accounting firm predicts that another 21 million electric cars will be on the road globally over the next decade due to growing market demand for clean transportation, government subsidies, as well as bans on fossil fuel cars.
Teenager Alex Weber and friends collected nearly 40,000 golf balls hit into the ocean from a handful of California golf courses.
Alex Weber /
CC BY-ND
Southwest Greenland had the most consistent ice loss from 2003 to 2012. Eqalugaarsuit, Ostgronland, Greenland on Aug. 1, 2018.
Rob Oo / CC BY 2.0
Greenland is melting about four times faster than it was in 2003, a new study published Monday in the Proceedings of the National Academy of Sciences found, a discovery with frightening implications for the pace and extent of future sea level rise.
"We're going to see faster and faster sea level rise for the foreseeable future," study lead author and Ohio State University geodynamics professor Dr. Michael Bevis said in a press release. "Once you hit that tipping point, the only question is: How severe does it get?"
Finally, some good news about the otherwise terrible partial government shutdown. A federal judge ruled that the Trump administration cannot issue permits to conduct seismic testing during the government impasse.
The Justice Department sought to delay—or stay—a motion filed by a range of coastal cities, businesses and conservation organizations that are suing the Trump administration over offshore oil drilling, Reuters reported. The department argued that it did not have the resources it needed to work on the case due to the shutdown.
Most people have heard of the Amazon, South America's famed rainforest and hub of biological diversity. Less well known, though no less critical, is the Pantanal, the world's largest tropical wetland.
Like the Amazon, the Pantanal is ecologically important and imperiled. Located primarily in Brazil, it also stretches into neighboring Bolivia and Paraguay. Covering an area larger than England at more than 70,000 square miles, the massive wetland provides irreplaceable ecosystem services that include the regulation of floodwaters, nutrient renewal, river flow for navigability, groundwater recharge and carbon sequestration. The wetland also supports the economies of the four South American states it covers.
Demonstrators participate in a protest march over agricultural policy on Jan. 19 in Berlin, Germany. Carsten Koall / Getty Images Europe
By Andrea Germanos
Organizers said 35,000 people marched through the streets of the German capital on Saturday to say they're "fed up" with industrial agriculture and call for a transformation to a system that instead supports the welfare of the environment, animals and rural farmers.

The fire that erupted after a pipeline explosion in Mexico Friday. FRANCISCO VILLEDA / AFP / Getty Images
By Patrick Rogers
If you have ever considered making the switch to an environmentally friendly electric vehicle, don't drag your feet. Though EV prices are falling, and states are unveiling more and more public charging stations and plug-in-ready parking spots, the federal government is doing everything it can to slam the brakes on our progress away from gas-burning internal combustion engines. President Trump, likely pressured by his allies in the fossil fuel industry, has threatened to end the federal tax credits that have already helped put hundreds of thousands of EVs on the road—a move bound to harm not only our environment but our economy, too. After all, the manufacturing and sale of EVs, hybrids, and plug-in hybrids supported 197,000 jobs in 2017, according to the most recent U.S. Energy and Employment Report.