This website uses cookies to ensure you get the best experience while browsing it. By clicking 'Got It' you're accepting these terms.
'The Beast Continues to Burn Out of Control'
May. 19, 2016 10:17AM EST
Climate
The fire that the locals call "the beast" is back with a vengeance. Last week, the wildfire that ravaged parts of the tar sands town of Fort McMurray in Alberta seemed to have done its worst. But in recent days it has returned and headed to the tar sands camps north of the town, traveling at around 30-40 meters per second.
Thousands of tar sands workers are now under mandatory evacuation orders after a 665-bed camp belonging to Horizon Lodge Logistics, which was providing temporary housing, was completely destroyed by the fire.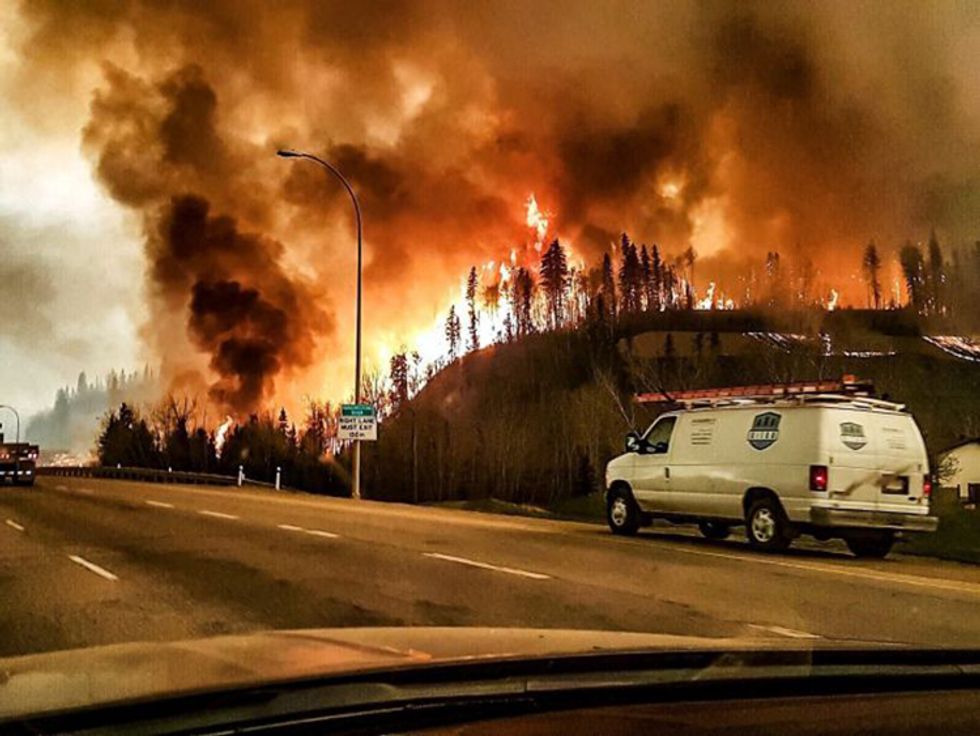 By Tuesday afternoon, the fire had reached the edge of another camp: the Noralta Lodge camp, just a few kilometers east of Blacksand.
"It's so scary and intimidating," said one tar sands worker, B.J. Spears, in an interview Tuesday. "You just get on those buses and pray that you're headed away from the danger."
"It continues to burn out of control," Rachel Notley, the Alberta Premier admitted Tuesday, as the fire reached an area of 355,000 hectares, fueled by bone dry conditions and strong winds. "We expect fire growth in the area of many of these camps today," she added.
Tuesday the strong winds shifted the fire towards the vast Syncrude and Suncor Energy tar sands facilities, which are seen as more resilient to fire, in part due to the large deforested areas of the camps.
Suncor said it had begun shuttering its base plant operations as a precaution, saying in a statement it had "started a staged and orderly shutdown of our base plant operations" and its staff was being transported to camps further north.
Meanwhile, residents hoping to return to the main city of Fort McMurray are being hampered by the continuing threat of wildfires and chronic air pollution blanketing the city.
Earlier this week, the air quality index stood at 38—it is normally measured on a scale of 1 to 10. Remarkably, though, some 90 percent of the town remains largely intact although some neighborhoods have been completely destroyed. According to Premier Notley, there is still no timeline on when residents can return.
Meanwhile the leading eastern edge of the fire is now expected to cross the state border into Saskatchewan.
As the fire rages on so does the debate on whether the fires are the result of climate change. On a blog post earlier this month I quoted Mike Flannigan, a wildfire expert at the University of Alberta who attributes the increase in the number of fires to climate change, fueled this year by the El Nino.
There are others who agree:
"Based on what we know and in which direction the climate is going, yes, we can expect more frequent super fires," argues Marko Princevac, a fire expert at the University of California at Riverside. "There is scientific consensus that climate change will lead to much more intense fires, more dry areas."
We know that fire records in Canada and the U.S. continue to be broken. We also know we are seeing unprecedented warm temperatures over the last few months. We also know that the six worst fire seasons since 1960 have all occurred since 2000.
There is definitely reason to be worried.
There of course predictable climate deniers who continue to argue otherwise. The UK Global Warming Policy Foundation ran an article Tuesday, We Can't Blame Climate Change for the Fort McMurray Fires.
Others are arguing that now is not the time to apportion blame regarding climate. We should wait until the emergency is over. Some do not take this view, though.
One of the most powerful responses I have seen has been written by the independent journalist, Martin Lukacs, who lives in Montréal.
Writing in The Guardian last week he wrote: "These arsonists have a name and they're hiding in plain view—because their actions, at the moment, are still considered legal. They're the companies that helped turn the boreal forest into a flammable tinder-box."
He continued: "The same companies that have undermined attempts to rein in carbon emissions. The same companies that, by their very design, chase profits with no mind for the ecological and human consequences. Yet in the fire's aftermath, it has seemed impossible to name them: fossil fuel corporations."
He contended that the fossil fuel companies should "be footing the bill for the devastation." He also asked people to imagine the "resiliency, courage and generosity" that the people of Alberta have shown in response to the fires "being harnessed to lead the transition to a healthier, more just post-carbon society—helping prevent even more extreme weather to come. Imagine the rebuilding of Fort McMurray being not just a page turned on an unprecedented disaster, but the beginning of a new direction."
Maybe, in time, we can imagine a new direction. A place to start would be Alberta's climate plan, which is meant to be published at the end of the month.
YOU MIGHT ALSO LIKE
Frequency and Intensity of Wildfires Across the Globe Fueled by Climate Change
Global Wave of Resistance to Keep Fossil Fuels in the Ground Escalates
4 Reasons Why It's Time to Break Free
EcoWatch Daily Newsletter
Pro-environment demonstrators on the streets of Washington, DC during the Jan. 20, 2017 Trump inauguration.
Mobilus In Mobili
/ Flickr /
CC BY-SA 2.0
By Dr. Brian R. Shmaefsky
One year after the Flint Water Crisis I was invited to participate in a water rights session at a conference hosted by the US Human Rights Network in Austin, Texas in 2015. The reason I was at the conference was to promote efforts by the American Association for the Advancement of Science (AAAS) to encourage scientists to shine a light on how science intersects with human rights, in the U.S. as well as in the context of international development. My plan was to sit at an information booth and share my stories about water quality projects I spearheaded in communities in Bangladesh, Colombia, and the Philippines. I did not expect to be thrown into conversations that made me reexamine how scientists use their knowledge as a public good.
Mt. Rainier and Reflection Lake on Sept. 10, 2015. Crystal Geyser planned to open a bottling plant near Mt. Rainier, emails show.
louelke - on and off / Flickr
Bottled water manufacturers looking to capture cool, mountain water from Washington's Cascade Mountains may have to look elsewhere after the state senate passed a bill banning new water permits, as The Guardian reported.
Large storage tank of Ammonia at a fertilizer plant in Cubatão, Sao Paulo State, Brazil. Luis Veiga / The Image Bank / Getty Images
The shipping industry is coming to grips with its egregious carbon footprint, as it has an outsized contribution to greenhouse gas emissions and to the dumping of chemicals into open seas. Already, the global shipping industry contributes about 2 percent of global carbon emissions, about the same as Germany, as the BBC reported.
At high tide, people are forced off parts of the pathway surrounding DC's Tidal Basin. Andrew Bossi /
Wikimedia
The Jefferson Memorial in Washington, DC overlooks the Tidal Basin, a man-made body of water surrounded by cherry trees. Visitors can stroll along the water's edge, gazing up at the stately monument.
But at high tide, people are forced off parts of the path. Twice a day, the Tidal Basin floods and water spills onto the walkway.
Lioness displays teeth during light rainstorm in Kruger National Park, South Africa. johan63 / iStock / Getty Images
Ahead of government negotiations scheduled for next week on a global plan to address the biodiversity crisis, 23 former foreign ministers from various countries released a statement on Tuesday urging world leaders to act "boldly" to protect nature.