The American Lung Association Supports Fracking?
"Sobering Statistics Tell Story about Reality of Women's Lung Cancer" headlined a recent post by Harold Wimmer, president/CEO of the American Lung Association (ALA), for the Huffington Post. Wimmer was touting ALA's new initiative "to make lung cancer in women a public health priority." Businesses and organizations nationwide are sponsoring events to support it.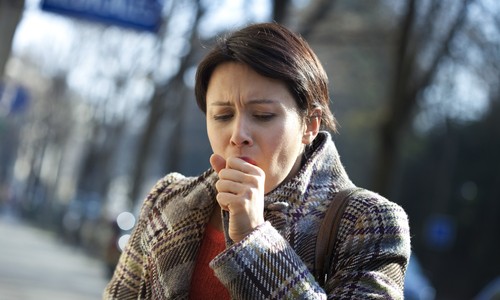 Photo courtesy of Shutterstock
These well-meaning groups, and the public, deserve to know the shameful truth about the ALA.
It purports to work to reduce lung diseases, yet partners with the worst contributor to respiratory and other illnesses—the fossil fuel industry.
ALA officers and board know full well that "natural"* gas is now obtained primarily by dangerous fracking, and that the cradle-to-grave production of fracked gas contributes as much pollution as—and possibly even more than—oil and coal exploitation. Yet the organization "supports the increased use of natural gas" as a "transitional fuel."
To fracture shale and extract the gas (methane) within, frackers mix millions of gallons of fresh water with numerous chemicals—including cancer-causing and nerve damaging agents. They blast this toxic stew into the rock along with silica, which props open cracks so the gas can escape. Silica causes the lung disease silicosis. And drill cuttings contain high levels of naturally occurring radioactive materials including radon-222; only tobacco causes more lung cancer than radon.
Too Cozy, and Too Coy
The negative health effects of fracking are firmly established in the medical literature. Yet the industry, its partner politicians and corrupt organizations insist it's "safe."
The ALA once wrote to Congress urging stronger regulations on fracking, acknowledging it causes atrocious air pollution. But after receiving hefty donations from fracking company Chesapeake Energy to fund its "Fighting for Air" ad campaign, ALA switched to promoting gas.
"[E]veryone has a role to play [in] raising awareness of lung cancer," Wimmer wrote in his announcement.
We agree. So we called Wimmer and other national ALA officers to challenge their hypocrisy in supporting fracking while knowing it causes catastrophic health problems. How could they countervail ALA's mission "to save lives by improving lung health and preventing lung disease"? We pointed out their pro-gas policy will actually increase the likelihood of women (and men and children) developing lung cancer, and that by prostituting itself to Big Oil/Big Gas, the ALA is making a mockery of its very reason for existing.
But, just as tobacco executives did for decades to physicians and others about smoking, Wimmer and his board arrogantly dismissed our evidence.
The corporate ties that bind are quite tight.
The hypocrisy of current ALA leadership taints the dedication of chapter ALA staff members and volunteers—who could otherwise be justly proud that their decades of hard work resulted in curtailment of advertising and accessibility of killer tobacco, cleanup of polluting industries and condemnation of oil and coal exploitation.
A respected health organization should not play politics or footsies with fossil-fuel corporations. The only remedy for ALA is come clean—by denouncing fracking as the lung-destroying corporate activity it is.
Ronald Saff, MD, is a Tallahassee, FL-based asthma and allergy physician, former award-winning ALA volunteer, and former ALA board member. Maura Stephens is an independent journalist and co-founder of the Coalition to Protect New York and other organizations.
* The only natural state for this methane gas embedded in shale rock is deep below us, where it has been for millennia.
A version of this article originally appeared in Truthout under a Creative Commons Copyright. It is republished here with permission of the authors.
Dow CEO Andrew Liveris and President Donald Trump in February.
U.S. Environmental Protection Agency (EPA) administrator Scott Pruitt met with Dow Chemical CEO Andrew Liveris before deciding to reverse an earlier EPA decision to ban the company's toxic and widely used pesticide, chlorpyrifos.
According to records obtained by the Associated Press, the EPA boss met with Liveris for about 30 minutes at a Houston hotel on March 9. Later that month, Pruitt announced that he would no longer pursue a ban on chlorpyrifos from being used on food, ignoring his agency's own review that even small amounts of the pesticide could impact fetus and infant brain development.
Keep reading...
Show less
www.facebook.com
Native communities and environmental justice advocates in Louisiana opened a new resistance camp Saturday to oppose the proposed Bayou Bridge Pipeline project. Called L'eau Est La Vie, or Water is Life, the camp will consist of floating indigenous art structures on rafts and constant prayer ceremonies during its first two weeks.
Keep reading...
Show less
Continuing its march toward elimination of key Clean Water Act protections, the U.S. Environmental Protection Agency (EPA) on Tuesday issued a formal notice of withdrawal of the Obama administration's rule defining which waters can be protected against pollution and destruction under federal law.
Keep reading...
Show less
The U.S. Environmental Protection Agency (EPA) is not doing enough to prevent weed resistance to the herbicide glyphosate (Roundup) says a new report from the EPA's Inspector General's Office, which draws in part on a report from the agbiotech company, Pioneer: Weed Management in the Era of Glyphosate Resistance.
Keep reading...
Show less
SUMR
When it comes to the latest wind turbine technologies, size matters. A group of six institutions and universities is designing an offshore wind turbine that will stand 500 meters in height. That's taller than the Eiffel Tower and the Empire State Building.
The research team, led by researchers at the University of Virginia, believes that its wind turbine concept will produce 50 megawatts of peak power, or about 10 times more powerful than conventional wind turbines.
Keep reading...
Show less
www.facebook.com
Natural gas is often considered the cleanest fossil fuel, but could it actually be dirtier than coal?
Watch as New York Times reporter Mark Bittman, in the above Year's of Living Dangerously video, investigates how much methane is leaking at fracking wells. Find out how the natural gas industry's claims compare to what scientists are reporting.
See what happens when Gaby Petron, an atmospheric scientist with NOAA, converts her van into a mobile methane detector and sets out across northeastern Colorado for two years, taking thousands of readings to uncover the truth.
www.youtube.com
Adrian Grenier was named UN Goodwill Ambassador earlier this month. The Hollywood actor, best known for his iconic role of A-list movie star Vincent Chase in the HBO smash hit and film Entourage, will advocate for drastically reducing single-use plastic and protection of marine species, and encourage his followers to make conscious consumer choices to reduce their environmental footprint, according to the UN Environment announcement.
"Together we must usher in a new era of compassion and carefulness through forward thinking environmental programs to drive measurable change," Grenier said. "I am personally committed to creating ways in which the global community can come together to help solve our most critical climate crises through routine, collective action.
"The more we connect to nature in our daily lives, the more dedicated we will become to our individual commitments. Together, I believe we can go further, faster in our race to achieve the UN Sustainable Development Goals by 2030."
Watch the video above to learn more.
The last week has seen a flood of stories on clean energy's prospects—stories that make your head spin with their conflicting tales of renewable energy's prospects of ending our dangerous addiction to fossil fuel power from coal and gas.
Keep reading...
Show less