This website uses cookies to ensure you get the best experience while browsing it. By clicking 'Got It' you're accepting these terms.
The $88 Billion Fossil Fuel Bailout for Oil, Gas and Coal Exploration
Nov. 11, 2014 12:14PM EST
Climate
In the debate over climate change and the transition to a clean energy economy, there remains an elephant in the room.
Many developed nations talk about ending our addiction on fossil fuels, about the need for radical cuts in carbon dioxide in order to avoid catastrophic climate change and yet, at the same time, they continue to subsidize the exploration of fossil fuels.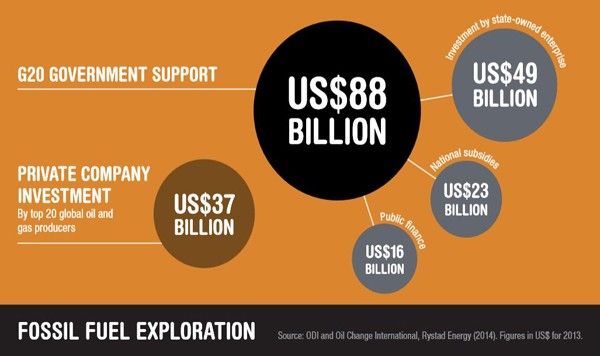 Despite repeated pledges to end subsidizing fossil fuels, governments are still spending billions doing so. Five years ago, the G20 pledged to the phase out of 'inefficient' fossil fuel subsidies and re-iterated the call last year in Saint Petersburg in 2013.
Yet a new report by the Overseas Development Institute and Oil Change International, published on the eve of this year's G20 Leaders' Summit, on Nov. 15 -16 in Australia, has found that governments are still spending a whopping $88 billion every year supporting fossil fuel exploration.
Amazingly, this is over double what the oil and gas companies themselves are investing. In 2013, the top 20 private oil and gas companies invested just $37 billion in exploration across the globe, less than half of that being ploughed in annually by G20 governments.
The madness of the situation is that the governments know that the majority of the oil and gas that is discovered needs to be kept in the ground if we are to avoid dangerous runaway climate change.
Indeed, the report argues that, by providing subsidies for fossil-fuel exploration, the G20 countries are creating a "triple-lose" scenario: They are directing large volumes of finance into high-carbon assets that cannot be exploited without catastrophic climate effects; whilst diverting investment from economic low-carbon alternatives such as solar, wind and hydro-power.
And finally they are undermining the prospects for an ambitious climate deal in 2015.
The report, The fossil fuel bailout: G20 subsidies for oil, gas and coal exploration, is the first detailed breakdown of fossil fuel exploration subsidies by all G20 countries.
Executive summary: The fossil fuel bail-out: G20 subsidies for oil, gas and coal exploration
It shows that with rising costs for hard-to-reach reserves, and falling coal and oil prices, generous public subsidies are propping up fossil fuel exploration which would otherwise be deemed uneconomic.
The worst villain is, not surprisingly, the U.S. which splashed out $5.1 billion annually in subsidies for fossil fuel exploration in 2013—ironically almost double the level in 2009 when the G20 pledged to phase out fossil fuel subsidies. Although President Obama has proposed to cut subsidies, the oil-washed Congress has failed to pass any subsidy cuts.
Next up is Australia, which is providing $3.5 billion a year for the development of fossil fuel resources both onshore and offshore. President Putin's Russia provides $2.4 billion in subsidies annually, including in the Arctic, the first region we should be disinvesting from and where the ravages of climate change are already being felt.
Not to be outdone, and trying to prop up its ailing North Sea reserves, the United Kingdom gives more than $1.2 billion in subsidies. Many of the companies receiving tax breaks are international companies such as Total, Statoil, Centrica and Chevron.
The UK government is also subsidizing fossil fuel extraction abroad, spending $663 million annually in public finance for overseas exploration including in Siberia in Russia, Brazil, India, Indonesia, Nigeria, Guinea and Ghana.
Perversely you end up with a "merry-go-round" of countries supporting each others' companies. The US subsidizes exploration in Columbia, Nigeria and Russia, while Russia is subsidizing exploration in Venezuela and China, which in turn supports companies exploring Canada, Brazil and Mexico.
The report also highlights US$521 million in public finance is being channelled into fossil fuel exploration by the G20 through multilateral development banks, of which the World Bank Group is responsible for two-thirds.
Oil Change International's Director Stephen Kretzmann says of the new research, "Five years ago, G20 governments pledged to both phase out fossil fuel subsidies and take action to limit climate change. Immediately ending exploration subsidies is the clearest next step on both fronts."
YOU MIGHT ALSO LIKE
John Oliver and Bill Nye Put the Climate Change Debate to Rest
Why Climate Scientists Receive Death Threats
Watch Colbert Shame GOP Climate Deniers: 'I am Not a Scientist'
EcoWatch Daily Newsletter
Tuna auctions are a tourist spectacle in Tokyo. Outside the city's most famous fish market, long queues of visitors hoping for a glimpse of the action begin to form at 5 a.m. The attraction is so popular that last October the Tsukiji fish market, in operation since 1935, moved out from the city center to the district of Toyosu to cope with the crowds.

gmnicholas / E+ / Getty Images
Kristan Porter grew up in a fishing family in the fishing community of Cutler, Maine, where he says all roads lead to one career path: fishing. (Porter's father was the family's lone exception. He suffered from terrible seasickness, and so became a carpenter.) The 49-year-old, who has been working on boats since he was a kid and fishing on his own since 1991, says that the recent warming of Maine's cool coastal waters has yielded unprecedented lobster landings.
Aerial view of lava flows from the eruption of volcano Kilauea on Hawaii, May 2018. Frizi / iStock / Getty Images
Hawaii's Kilauea volcano could be gearing up for an eruption after a pond of water was discovered inside its summit crater for the first time in recorded history, according to the AP.
The Eqip Sermia Glacier is seen behind a moraine left exposed by the glacier's retreat during unseasonably warm weather on Aug. 1 at Eqip Sermia, Greenland. Sean Gallup / Getty Images
hadynyah / E+ / Getty Images
By Johnny Wood
The Ganges is a lifeline for the people of India, spiritually and economically. On its journey from the Himalayas to the Bay of Bengal, it supports fishermen, farmers and an abundance of wildlife.
The river and its tributaries touch the lives of roughly 500 million people. But having flowed for millennia, today it is reaching its capacity for human and industrial waste, while simultaneously being drained for agriculture and municipal use.
Here are some of the challenges the river faces.
By Jake Johnson
As a growing number of states move to pass laws that would criminalize pipeline protests and hit demonstrators with years in prison, an audio recording obtained by The Intercept showed a representative of a powerful oil and gas lobbying group bragging about the industry's success in crafting anti-protest legislation behind closed doors.
Reposted with permission from our media associate Common Dreams.

DESIREE MARTIN / AFP / Getty Images
Wildfires raging on Gran Canaria, the second most populous of Spain's Canary Islands, have forced around 9,000 people to evacuate.