The 10 Most Inspirational Sustainability Initiatives in the U.S.
As the debate about climate change continues, more examples of how to fight it are popping up around the world.
New York-based Recyclebank took note of sustainable solutions in the U.S. and issued a ranking of the 10 it believes set the bar for urban sustainability and environmental practices by inspiring other communities.
"We have watched many communities significantly reduce their negative impact on the environment; be it by reducing waste with the help of programs like Recyclebank, educating residents on sustainable practices through community volunteers, or growing food in a community garden that can be eaten for lunch at the local school," said Javier Flaim, CEO of Recyclebank. "All of these practices are taking place in cities across the U.S and can be replicated in other communities. With this list, we hope to make positive examples out of programs and communities that are taking steps, big and small, to change America's environmental path."
1. Green Building in Chicago, IL—It's been more than a decade since Chicago became the epicenter for LEED-certified buildings with the opening of the Chicago Center for Green Technology. The city further focused on green architecture by implementing the Green Permit Program to offer an expedited permit process and the possibility of reduced fees for green projects. Chicago has the most LEED-certified projects in the U.S. with 295.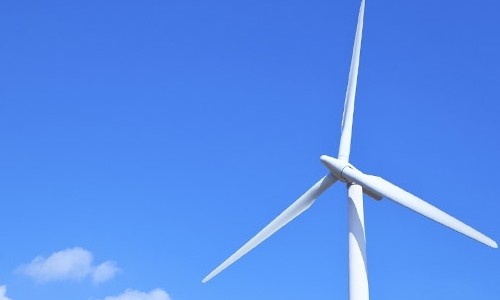 2. Wind Energy in Corpus Christi, TX—Known as America's Wind Power Port, Corpus Christi houses the continent's first on-port wind farm. The Port serves as a shipping hub for wind turbines and also wants to harness Texas winds to generate more clean energy in what is already the nation's top state for wind power. Additionally, Texas A&M University-Corpus Christi houses 11 vertical-axis wind turbines that produce 92 kilowatts, which makes it the largest installation of its kind in the nation. 
3. Xeriscaping in Denver, CO—Denver has pioneered a type of landscaping designed to conserve water, known as xeriscaping. Besides spreading the idea to nearby "dry" climate states like Arizona and Nevada, Denver created a program to make it easier than ever for residents to xeriscape around their homes. The city's water board has developed easy-to-follow downloadable plans and resources so that every resident can remodel their yards. The city also has a xeriscape demonstration garden that is open daily for residents that appreciate a hands-on tutorial.
4. Organic Food in La Farge, WI—La Farge is home to Organic Valley, the largest organic farming co-op in North America. State, village, federal and private funding combined to make it possible, allowing the co-op to produce sustainable food products. The 45,000 square-foot barn that houses the company optimizes natural light, minimizes heat and was built with locally sourced materials, many of which were recycled. All of the construction waste was recycled after building. The farm also plays host to the Kickapoo County Fair, which hosts sustainability workshops and rural heritage exhibits, ensuring that the entire community stays educated. The surrounding area of Vernon County, also boasts more organic farms that any other county in the nation.
5. Solar Energy in Long Beach, CA—Photovoltaic systems on the structures of the Long Beach Convention Center and Long Beach Airport aid to California's standing as the top state for solar energy. The Convention Center houses one of the largest public-facility solar installations on the West Coast, generating 1 million kilowatt-hours of pollution-free electricity. Meanwhile, the Long Beach government set up an easy to follow manual helping residents apply for the "Residential Renewable Tax Credit," which offers a credit of 30 percent of qualified expenditures for a solar system from the federal government.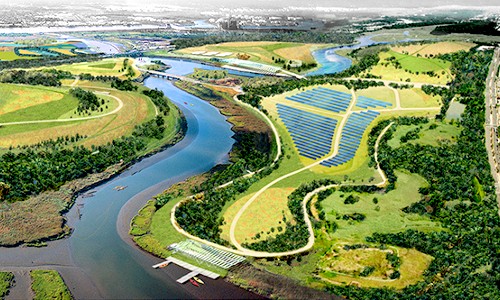 6. Landfill Rehabilitation in New York, NY—Freshkills, formerly known as the world's largest landfill at 2,200 acres, is being turned into a park with advanced landfill engineering techniques. Freshkills Public Park is three-times the size of Central Park. It once accepted more than 29,000 tons of trash per day, but now landfill mounds have been capped through a special process that will alleviate toxic fumes and the soil has been treated to promote proper drainage and ensure public health and safety regulations are not only met, but surpassed. 
7. Climate Positive Community: Oberlin, OH—Oberlin is one of only three U.S. cities in the Climate Positive Development Program which works to revitalize the local economy, eliminate carbon emissions, restore local agriculture, food supply and forestry and create a sustainable base for communities. The Oberlin Project developed five goals, including reducing emissions by 50 percent by 2015 and developing local food sources to meet 70 percent of consumption. Additionally, Oberlin College's Ecolympics, an energy reduction competition, was the precursor to the Campus Conservation Nationals, a national energy reduction competition. Oberlin's program combined the city, Oberlin College and private partners in the community.
8. Sustainable Engagement in Philadelphia, PA—Mayor Michael A. Nutter developed the Greenworks initiative five years ago to explore sustainability through the lenses of energy, environment, equity, economy and engagement. Goals were set in each category to be achieved by next year. So far, the city has expanded recycling options at events and in public spaces; added additional types of plastics to the list of recyclable materials in Philadelphia; and instituted e-waste drop-off centers to reduce the amount of waste entering landfills and engage residents in sustainable action. The city also planted more than 89,000 new trees and retrofitted more than 5,500 homes with insulation, air sealing and cool roofs. 
9. Alternative Transportation in Portland, OR—The Portland Bureau of Transportation continues adding new bike routes to advance alternative transportation while maintaining current routes. Portland is also home to the Bicycle Transportation Alliance whose mission is to create healthy, sustainable communities by making bicycling safe, convenient and accessible.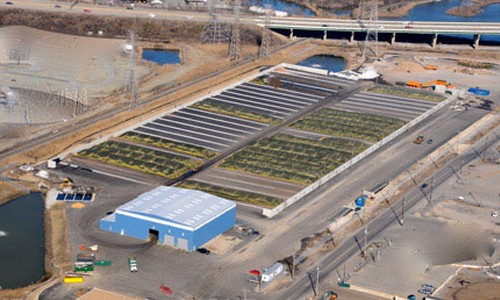 10. Organic Recycling in Wilmington, DE—The Wilmington Organic Recycling Center is the largest composting facility in North America, sitting on 27 acres and accepting 160,000 tons of organic waste per year. The plant reduces greenhouse gas emissions by an amount equivalent to removing 8,800 cars from area roads, per year. The center also lowers the cost of organic waste disposal by 20-50 percent, which makes it possible for more residents and businesses to participate in the program.
Disturbing footage of a snake in Goa, India vomiting an empty soft drink bottle highlights the world's mounting plastic pollution crisis.
Keep reading...
Show less
By Melissa Hellmann
When her eldest son was in elementary school in the Oakland Unified School District, Ruth Woodruff became alarmed by the meals he was being served at school. A lot of it was frozen, processed foods, packed with preservatives. At home, she was feeding her children locally sourced, organic foods.
Keep reading...
Show less
May. 28, 2017 01:33PM EST
Laurie Woolever
By James O'Hare
There are 20 million people in the world facing famine in South Sudan, Somalia, Nigeria and Yemen. In developed nations, too, people go hungry. Venezuela, for instance, is enduring food insecurity on a national level as a result of economic crisis and political corruption. In the U.S., the land of supposed excess, 12.7 percent of households were food insecure in 2015, meaning they didn't know where their next meal would come from.
Keep reading...
Show less
May. 28, 2017 01:22PM EST
Melwater, Greenland ice sheet. Diane Tuft
Artists are taking the climate crisis into frame and the results are emotional, beautiful and stirring.
So you've seen the best climate change cartoons and shared them with your friends. You've showed your family the infographics on climate change and health, infographics on how the grid works and infographics about clean, renewable energy. You've even forwarded these official National Oceanic and Atmospheric Administration graphs that explain the 10 clear indicators of climate change to your colleagues at the office.
Keep reading...
Show less
May. 27, 2017 01:11PM EST
As the Trump administration moves full speed ahead on boosting the oil and fossil fuel industry, opposition to increased pipeline construction is cropping up in different communities around the country.
Keep reading...
Show less
May. 27, 2017 01:02PM EST
Minke whale stranding near Havergate Island in Suffolk. MCGA.
By Simon Evans
Last Saturday, two dead whales washed up on the coast of Suffolk, in eastern England, and a third was spotted floating at sea.
What happened next illustrates how news can spread and evolve into misinformation, when reported by journalists rushing to publish before confirming basic facts or sourcing their own quotes.
Keep reading...
Show less
May. 27, 2017 01:22PM EST
By Monica Amarelo and Paul Pestano
Sun safety is a crucial part of any outdoor activity for kids, and sunscreen can help protect children's skin from harmful ultraviolet rays. Kids often get sunburned when they're outside unprotected for longer than expected. Parents need to plan ahead and keep sun protection handy in their cars or bags.
Keep reading...
Show less
May. 27, 2017 01:02PM EST
By Joe McCarthy
A lot of people take part in community clean-up efforts—spending a Saturday morning picking up litter in a park, mowing an overgrown field or painting a fence.
Keep reading...
Show less