This website uses cookies to ensure you get the best experience while browsing it. By clicking 'Got It' you're accepting these terms.
The 10 Most Inspirational Sustainability Initiatives in the U.S.
Jul. 14, 2014 01:34PM EST
Business
As the debate about climate change continues, more examples of how to fight it are popping up around the world.
New York-based Recyclebank took note of sustainable solutions in the U.S. and issued a ranking of the 10 it believes set the bar for urban sustainability and environmental practices by inspiring other communities.
"We have watched many communities significantly reduce their negative impact on the environment; be it by reducing waste with the help of programs like Recyclebank, educating residents on sustainable practices through community volunteers, or growing food in a community garden that can be eaten for lunch at the local school," said Javier Flaim, CEO of Recyclebank. "All of these practices are taking place in cities across the U.S and can be replicated in other communities. With this list, we hope to make positive examples out of programs and communities that are taking steps, big and small, to change America's environmental path."
1. Green Building in Chicago, IL—It's been more than a decade since Chicago became the epicenter for LEED-certified buildings with the opening of the Chicago Center for Green Technology. The city further focused on green architecture by implementing the Green Permit Program to offer an expedited permit process and the possibility of reduced fees for green projects. Chicago has the most LEED-certified projects in the U.S. with 295.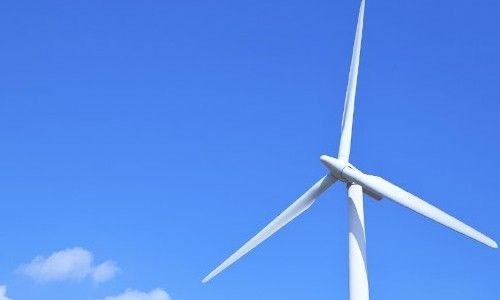 2. Wind Energy in Corpus Christi, TX—Known as America's Wind Power Port, Corpus Christi houses the continent's first on-port wind farm. The Port serves as a shipping hub for wind turbines and also wants to harness Texas winds to generate more clean energy in what is already the nation's top state for wind power. Additionally, Texas A&M University-Corpus Christi houses 11 vertical-axis wind turbines that produce 92 kilowatts, which makes it the largest installation of its kind in the nation. 
3. Xeriscaping in Denver, CO—Denver has pioneered a type of landscaping designed to conserve water, known as xeriscaping. Besides spreading the idea to nearby "dry" climate states like Arizona and Nevada, Denver created a program to make it easier than ever for residents to xeriscape around their homes. The city's water board has developed easy-to-follow downloadable plans and resources so that every resident can remodel their yards. The city also has a xeriscape demonstration garden that is open daily for residents that appreciate a hands-on tutorial.
4. Organic Food in La Farge, WI—La Farge is home to Organic Valley, the largest organic farming co-op in North America. State, village, federal and private funding combined to make it possible, allowing the co-op to produce sustainable food products. The 45,000 square-foot barn that houses the company optimizes natural light, minimizes heat and was built with locally sourced materials, many of which were recycled. All of the construction waste was recycled after building. The farm also plays host to the Kickapoo County Fair, which hosts sustainability workshops and rural heritage exhibits, ensuring that the entire community stays educated. The surrounding area of Vernon County, also boasts more organic farms that any other county in the nation.
5. Solar Energy in Long Beach, CA—Photovoltaic systems on the structures of the Long Beach Convention Center and Long Beach Airport aid to California's standing as the top state for solar energy. The Convention Center houses one of the largest public-facility solar installations on the West Coast, generating 1 million kilowatt-hours of pollution-free electricity. Meanwhile, the Long Beach government set up an easy to follow manual helping residents apply for the "Residential Renewable Tax Credit," which offers a credit of 30 percent of qualified expenditures for a solar system from the federal government.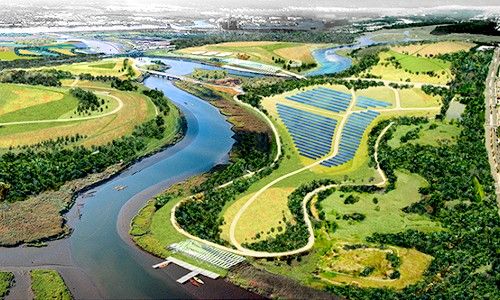 6. Landfill Rehabilitation in New York, NY—Freshkills, formerly known as the world's largest landfill at 2,200 acres, is being turned into a park with advanced landfill engineering techniques. Freshkills Public Park is three-times the size of Central Park. It once accepted more than 29,000 tons of trash per day, but now landfill mounds have been capped through a special process that will alleviate toxic fumes and the soil has been treated to promote proper drainage and ensure public health and safety regulations are not only met, but surpassed. 
7. Climate Positive Community: Oberlin, OH—Oberlin is one of only three U.S. cities in the Climate Positive Development Program which works to revitalize the local economy, eliminate carbon emissions, restore local agriculture, food supply and forestry and create a sustainable base for communities. The Oberlin Project developed five goals, including reducing emissions by 50 percent by 2015 and developing local food sources to meet 70 percent of consumption. Additionally, Oberlin College's Ecolympics, an energy reduction competition, was the precursor to the Campus Conservation Nationals, a national energy reduction competition. Oberlin's program combined the city, Oberlin College and private partners in the community.
8. Sustainable Engagement in Philadelphia, PA—Mayor Michael A. Nutter developed the Greenworks initiative five years ago to explore sustainability through the lenses of energy, environment, equity, economy and engagement. Goals were set in each category to be achieved by next year. So far, the city has expanded recycling options at events and in public spaces; added additional types of plastics to the list of recyclable materials in Philadelphia; and instituted e-waste drop-off centers to reduce the amount of waste entering landfills and engage residents in sustainable action. The city also planted more than 89,000 new trees and retrofitted more than 5,500 homes with insulation, air sealing and cool roofs. 
9. Alternative Transportation in Portland, OR—The Portland Bureau of Transportation continues adding new bike routes to advance alternative transportation while maintaining current routes. Portland is also home to the Bicycle Transportation Alliance whose mission is to create healthy, sustainable communities by making bicycling safe, convenient and accessible.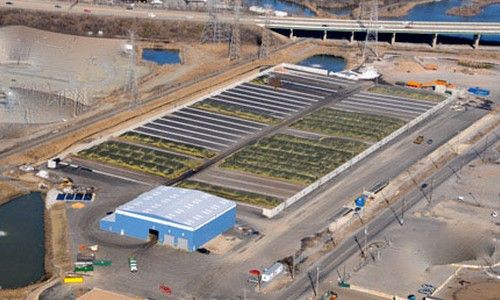 10. Organic Recycling in Wilmington, DE—The Wilmington Organic Recycling Center is the largest composting facility in North America, sitting on 27 acres and accepting 160,000 tons of organic waste per year. The plant reduces greenhouse gas emissions by an amount equivalent to removing 8,800 cars from area roads, per year. The center also lowers the cost of organic waste disposal by 20-50 percent, which makes it possible for more residents and businesses to participate in the program.
EcoWatch Daily Newsletter

georgeclerk / E+ / Getty Images
By Jennifer Molidor
One million species are at risk of extinction from human activity, warns a recent study by scientists with the United Nations. We need to cut greenhouse gas pollution across all sectors to avoid catastrophic climate change — and we need to do it fast, said the Intergovernmental Panel on Climate Change.
This research should serve as a rallying cry for polluting industries to make major changes now. Yet the agriculture industry continues to lag behind.
Edwin Remsburg / VW Pics / Getty Images
Botswana, home to one third of Africa's elephants, announced Wednesday that it was lifting its ban on the hunting of the large mammals.
"The Ministry of Environment, Natural Resources Conservation and Tourism wishes to inform the public that following extensive consultations with all stakeholders, the Government of Botswana has taken a decision to lift the hunting suspension," the government announced in a press release shared on social media.
Pxhere
By Richard Denison
Readers of this blog know how concerned EDF is over the Trump EPA's approval of many dozens of new chemicals based on its mere "expectation" that workers across supply chains will always employ personal protective equipment (PPE) just because it is recommended in the manufacturer's non-binding safety data sheet (SDS).
By Grant Smith
From 2009 to 2012, Gregory Jaczko was chairman of the Nuclear Regulatory Commission, which approves nuclear power plant designs and sets safety standards for plants. But he now says that nuclear power is too dangerous and expensive — and not part of the answer to the climate crisis.
A lake in Rocky Mountain National Park. Brett Walton / Circle of Blue
By Brett Walton
When Greg Wetherbee sat in front of the microscope recently, he was looking for fragments of metals or coal, particles that might indicate the source of airborne nitrogen pollution in Rocky Mountain National Park. What caught his eye, though, were the plastics.
Gabriele Holtermann Gorden / Pacific Press / LightRocket / Getty Images
In a big victory for animals, Prada has announced that it's ending its use of fur! It joins Coach, Jean Paul Gaultier, Giorgio Armani, Versace, Ralph Lauren, Vivienne Westwood, Michael Kors, Donna Karan and many others PETA has pushed toward a ban.
This is a victory more than a decade in the making. PETA and our international affiliates have crashed Prada's catwalks with anti-fur signs, held eye-catching demonstrations all around the world, and sent the company loads of information about the fur industry. In 2018, actor and animal rights advocate Pamela Anderson sent a letter on PETA's behalf urging Miuccia Prada to commit to leaving fur out of all future collections, and the iconic designer has finally listened.
Amer Ghazzal / Barcroft Media / Getty Images
If people in three European countries want to fight the climate crisis, they need to chill out more.
That's the conclusion of a new study from think tank Autonomy, which found that Germany, the UK and Sweden all needed to drastically reduce their workweeks to fight climate change.
Amazon Employees for Climate Justice held a press conference after the annual shareholder meeting on May 22. Amazon Employees for Climate Justice