This website uses cookies to ensure you get the best experience while browsing it. By clicking 'Got It' you're accepting these terms.
Thank You Note to the Whole Planet
May. 06, 2012 12:24PM EST
Climate

This is a thank you note, a thank you note to the whole planet.
Except for the hours when I went out to the events nearest my home in Vermont, I've been by the computer, transfixed by the images streaming in.
From every corner of the earth people have been doing their best to Connect the Dots on climate change. And their best has been pretty amazing—we have photos from beneath the ocean waves and from high-altitude glaciers, from the middle of big cities fighting sea level rise and remote deserts battling drought.
Here's one of the most vivid photos of the bunch—just a taste of what it feels like to have the water rising around you, and the tip of the iceberg of the creative masterworks of the past 24 hours: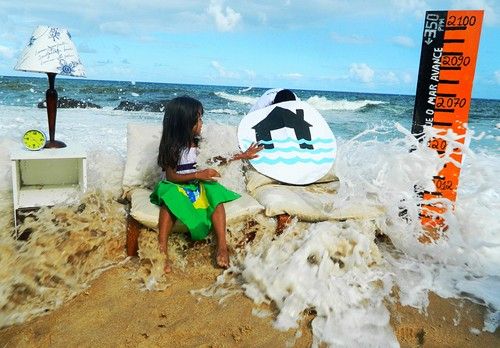 Click here to see the amazing photos from the day.
We're going to need you soon to fight the political battles that will make use of these images, but for the next day or two just relax, and enjoy the feeling of solidarity that comes from knowing there are millions of people thinking the same way, harboring the same fears and, more importantly, the same hopes.
On we go together.
P.S. There's still time to submit photos for our slideshow and compilation video -- just send your best photo as an email attachment to photos@350.org. Make your city and country the subject line of the email, and put your story and description in the body. So many thanks in advance!
EcoWatch Daily Newsletter
Assorted plastic bottles. mali maeder / Pexels
People carry children on a flooded street in Almoradi, Spain on Sept. 13. JOSE JORDAN / AFP / Getty Images
Large food companies are following in the footsteps of fast-food restaurants such as Burger King and KFC by offering meat alternatives. Getty Images
By Elizabeth Pratt
Hormel, Kellogg's, and Kroger are among the large companies now planning to offer "fake meat" products at grocery stores.
Experts say the trend toward plant-based meats coincides with consumers' desires to eat less meat.
However, experts urge consumers to closely check package labels as a product isn't necessarily healthy just because it's described as plant-based.
In grocery stores and fast-food outlets around the U.S., a revolution is taking place.
Colombia rainforest. Marcel Oosterwijk / CC BY-SA 2.0
Many of us think of the Amazon as an untouched wilderness, but people have been thriving in these diverse environments for millennia. Due to this long history, the knowledge that Indigenous and forest communities pass between generations about plants, animals and forest ecology is incredibly rich and detailed and easily dwarfs that of any expert.
picture-alliance / Newscom / R. Ben Ari
By Wesley Rahn
Plastic byproducts were found in 97 percent of blood and urine samples from 2,500 children tested between 2014 and 2017, according to a study by the German Environment Ministry and the Robert Koch Institute.

Pexels
Medically reviewed by Daniel Bubnis, MS, NASM-CPT, NASE Level II-CSS
Hot yoga has become a popular exercise in recent years. It offers many of the same benefits as traditional yoga, such as stress reduction, improved strength, and flexibility.
Lara Hata / iStock / Getty Images
By SaVanna Shoemaker, MS, RDN, LD
Rice is a staple in many people's diets. It's filling, inexpensive, and a great mild-tasting addition to flavorful dishes.