This website uses cookies to ensure you get the best experience while browsing it. By clicking 'Got It' you're accepting these terms.
Texas Wind Powers 3.3 Million Homes
Nov. 17, 2014 01:36PM EST
Business
When you think of "energy" and "Texas," you probably think "oil." But those wide-open spaces sitting on those lucrative oil fields also make it a prime location for another form of energy generation: wind.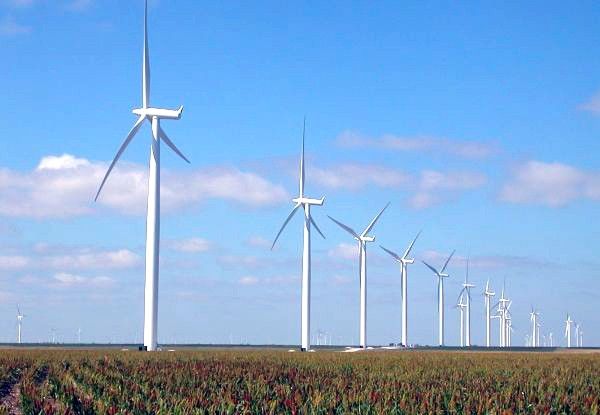 Texas' own top power source by far is gas (50 percent), followed by coal (32 percent) and nuclear (9 percent). But it is also the nation's leading producer of wind energy—and growing. While the state is home to the 3rd and 5th dirtiest power plants in the U.S., it also produces nearly a quarter of the country's total wind power. It has created the second largest number of green jobs after California. Currently, wind is the power source for 3.3 million Texas homes, driven by private investment, a deregulated and competitive electricity market, federal incentives and Texas' own clean energy goals to reach 10 GW of renewable energy generation by 2025, according to research done by the Pew Charitable Trusts, released at a webinar today.
"Pew's research demonstrates that a reliable electricity grid requires both a diversified mix of affordable generation sources such as wind and government policy to foster deployment," said Jeff Clark, executive director of the Wind Coalition. "Texas consumers are benefiting because the state has capitalized on the federal production tax credit to build its wind industry, which provides more than 177,000 jobs."
Sunny Texas is also rapidly increasing its solar energy capacity. It ranked 8th in new installed capacity last year, providing more than 4,000 jobs statewide. Progressive cities like Austin and San Antonio took the lead with their own aggressive renewable energy goals that encourage such new projects and investment.
"Texas illustrates how state and federal policy can complement one another to spur deployment of clean energy and attract private investment," said Tom Swanson, manager of Pew's clean energy initiative. "The outcomes include job creation across the state, energy and cost savings for businesses, and reliable, affordable energy for residential customers."
According to the Pew report, Texas is also the leader in industrial energy efficiency technologies which produced heat and power from a single source or capture wasted heat to generate electricity. "These technologies can help manufacturers reduce energy consumption, costs, and water use—all of which are critical in Texas given the state's high electricity prices and chronic droughts," said the Pew report.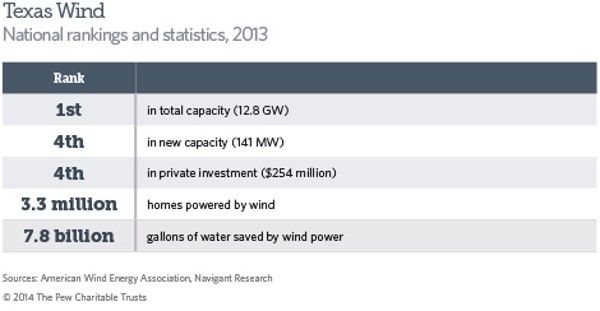 "Texas has emerged as a clean energy leader, with its unparalleled wind and solar resources and a large manufacturing industry ideal for exploiting industrial energy efficiency," Pew asserted. "With further policy support, the state can continue to tap into this potential and use it for economic growth."
But further policy support is the big question mark. While Texas surpassed its renewable energy goal for 2025 in 2010, there are signs of possible retrenchment.
According to an interactive tool released last week by Earthworks, "A bill is pending that would eliminate the renewable portfolio standard and strip the Public Utilities Commission of its authority to regulate trading of renewable energy credits." That's part of a coordinated nationwide push by heavily fossil fuel-funded groups like the Heartland Institute, Americans for Prosperity and the American Legislative Exchange Council (ALEC). Similar legislation has been introduced in about two dozen states with only one scalp so far: Ohio froze its clean energy standards in July and its legislature is currently considering repealing them entirely.
EcoWatch Daily Newsletter
Did you know that more than a third of food is wasted or thrown away every year? And that only 25 percent of it would be enough to feed the 795 million undernourished people in the world? That's why today is Stop Food Waste Day, a chance to reflect on what you can do to waste less of the food you buy.
Stop Food Waste Day is an initiative of food service company Compass Group. It was launched first in the U.S, in 2017 and went global the year after, making today it's second worldwide celebration.
Flames and smoke are seen billowing from the roof at Notre-Dame Cathedral on April 15 in Paris, France. Veronique de Viguerie / Getty Images
When Paris's Notre Dame caught fire on April 15, the flames threatened more than eight centuries of culture and history. The fire evoked shock, horror and grief worldwide. While the cathedral burned, French President Emmanuel Macron expressed determination to rebuild what the French regard as a sacred site.
An artist's impression of NASA's InSight lander on Mars. NASA / JPL-CALTECH
Scientists have likely detected a so-called marsquake — an earthquake on Mars — for the first time, The National Aeronautics and Space Administration (NASA) announced on Tuesday.
Hero Images / Getty Images
Across the political aisle, a majority of American parents support teaching climate change in schools even though most teachers currently do not.
By Andrea Germanos
Lawyer and visionary thinker Polly Higgins, who campaigned for ecocide to be internationally recognized as a crime on par with genocide and war crimes, died Sunday at the age of 50.
She had been diagnosed with an aggressive cancer last month and given just weeks to live.
The Anopheles stephensi mosquito, which carries malaria. CDC / Jim Gathany
The world's first malaria vaccine was launched in Malawi on Tuesday, NPR reported. It's an important day in health history. Not only is it the first malaria vaccine, it's the first vaccine to target any human parasite.