This website uses cookies to ensure you get the best experience while browsing it. By clicking 'Got It' you're accepting these terms.


The best of EcoWatch, right in your inbox. Sign up for our email newsletter!
Texas Wind Powers 3.3 Million Homes
Nov. 17, 2014 01:36PM EST
Business
When you think of "energy" and "Texas," you probably think "oil." But those wide-open spaces sitting on those lucrative oil fields also make it a prime location for another form of energy generation: wind.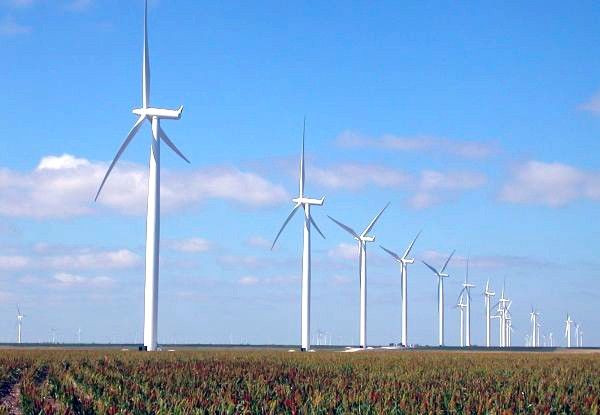 Texas' own top power source by far is gas (50 percent), followed by coal (32 percent) and nuclear (9 percent). But it is also the nation's leading producer of wind energy—and growing. While the state is home to the 3rd and 5th dirtiest power plants in the U.S., it also produces nearly a quarter of the country's total wind power. It has created the second largest number of green jobs after California. Currently, wind is the power source for 3.3 million Texas homes, driven by private investment, a deregulated and competitive electricity market, federal incentives and Texas' own clean energy goals to reach 10 GW of renewable energy generation by 2025, according to research done by the Pew Charitable Trusts, released at a webinar today.
"Pew's research demonstrates that a reliable electricity grid requires both a diversified mix of affordable generation sources such as wind and government policy to foster deployment," said Jeff Clark, executive director of the Wind Coalition. "Texas consumers are benefiting because the state has capitalized on the federal production tax credit to build its wind industry, which provides more than 177,000 jobs."
Sunny Texas is also rapidly increasing its solar energy capacity. It ranked 8th in new installed capacity last year, providing more than 4,000 jobs statewide. Progressive cities like Austin and San Antonio took the lead with their own aggressive renewable energy goals that encourage such new projects and investment.
"Texas illustrates how state and federal policy can complement one another to spur deployment of clean energy and attract private investment," said Tom Swanson, manager of Pew's clean energy initiative. "The outcomes include job creation across the state, energy and cost savings for businesses, and reliable, affordable energy for residential customers."
According to the Pew report, Texas is also the leader in industrial energy efficiency technologies which produced heat and power from a single source or capture wasted heat to generate electricity. "These technologies can help manufacturers reduce energy consumption, costs, and water use—all of which are critical in Texas given the state's high electricity prices and chronic droughts," said the Pew report.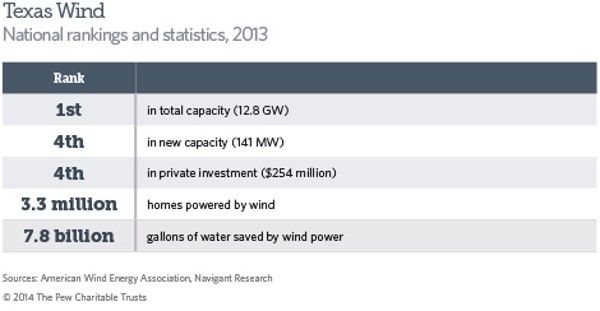 "Texas has emerged as a clean energy leader, with its unparalleled wind and solar resources and a large manufacturing industry ideal for exploiting industrial energy efficiency," Pew asserted. "With further policy support, the state can continue to tap into this potential and use it for economic growth."
But further policy support is the big question mark. While Texas surpassed its renewable energy goal for 2025 in 2010, there are signs of possible retrenchment.
According to an interactive tool released last week by Earthworks, "A bill is pending that would eliminate the renewable portfolio standard and strip the Public Utilities Commission of its authority to regulate trading of renewable energy credits." That's part of a coordinated nationwide push by heavily fossil fuel-funded groups like the Heartland Institute, Americans for Prosperity and the American Legislative Exchange Council (ALEC). Similar legislation has been introduced in about two dozen states with only one scalp so far: Ohio froze its clean energy standards in July and its legislature is currently considering repealing them entirely.
EcoWatch Daily Newsletter
arinahabich / Stock / Getty Images
By Sydney Swanson
With April hopping along and Easter just around the corner, it's time for dyeing eggs (and inadvertently, dyeing hands.) It's easy to grab an egg-dyeing kit at the local supermarket or drug store, but those dye ingredients are not pretty.
Aerial of farmland and mountains near Seaward Kaikoura Range in New Zealand. David Wall Photo / Lonely Planet Images / Getty Images Plus
By Jordan Davidson
New Zealand's pristine image as a haven of untouched forests and landscapes was tarnished this week by a brand new government report. The Environment Aotearoa 2019 painted a bleak image of the island nation's environment and its future prospects.
heshphoto / Image Source / Getty Images
Mike Taube / Getty Images
A new EPA rule on asbestos does not say anything about the asbestos currently in the environment. Bob Allen / Getty Images
A mountain woodland caribou bull in the Muskwa-Kechika Wilderness area in northern British Columbia, Canada. John E Marriott / All Canada Photos / Getty Images
It's heartening, in the midst of the human-caused sixth mass extinction, to find good wildlife recovery news. As plant and animal species disappear faster than they have for millions of years, Russia's Siberian, or Amur, tigers are making a comeback. After falling to a low of just a few dozen in the mid-20th century, the tigers now number around 500, with close to 100 cubs — thanks to conservation measures that include habitat restoration and an illegal hunting crackdown.