This website uses cookies to ensure you get the best experience while browsing it. By clicking 'Got It' you're accepting these terms.


The best of EcoWatch, right in your inbox. Sign up for our email newsletter!
Texas Town Sues to Uphold Fracking Ban, Protect Democracy
Dec. 05, 2014 09:19AM EST
Energy
The little guys aren't taking this one lying down. In November, voters in Denton, Texas—fed up with oil and gas drilling companies unwilling to work with citizens to put some reasonable protections in place and with state and local regulators for allowing new fracking wells near homes, schools, parks and hospitals—passed a ban on fracking, despite being hugely outspent. The Texas Oil and Gas Association, representing the fracking companies, and the state's General Land Office responded with lawsuits to protect their "right" to push fracking on unwilling residents.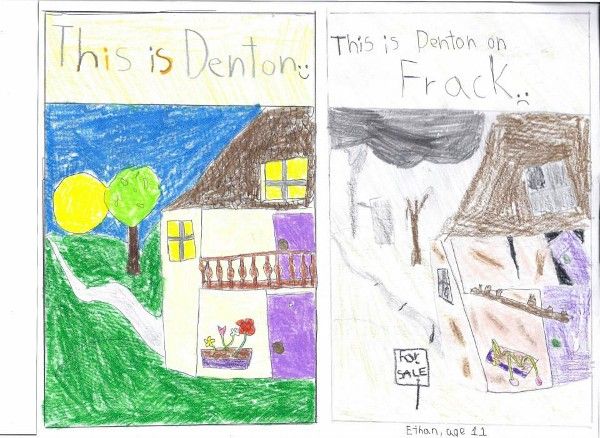 Now Denton is fighting back with lawsuits of its own. Yesterday, with the fracking ban taking effect on Tuesday, the Denton Drilling Awareness Group (DAG) and Earthworks, the groups that led the Frack Free Denton ballot initiative, filed intervention papers in both lawsuits, seeking to assert the right of citizens to decide what happens in their own neighborhoods. The groups are represented by the Texas local government law firm Brown & Hofmeister; attorneys from national environmental organizations Earthjustice and the Natural Resources Defense Council are asking the permission of the court to act as co-counsel.
"Denton residents, with Republican and Democratic majorities, voted overwhelmingly to ban fracking," said DAG president Cathy McMullen. "Our city has the legal power to prevent bakeries from setting up shop in residential neighborhoods. To suggest that we don't have the legal power to similarly bar fracking, a much more dangerous process, is the height of industry arrogance."
"The state and industry could have respected Denton communities' health, safety and property," said Earthworks' energy program director Bruce Baizel. "They chose not to. The ban is the result. Now, rather than constructively engage with the community, they simply overlook their regulatory failure and move to overturn democracy through legal action."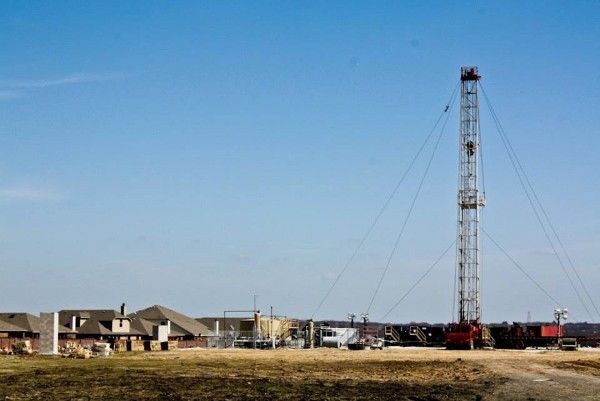 At issue is whether local communities have the right to regulate oil and gas operations within their borders or whether, as the lawsuits by the oil and gas interests claim, Denton's voter-approved ordinance is overridden by state regulators in contradiction of Texas' long tradition of home rule authority over gas and oil development. There are many other local oil and gas regulations in effect across Texas, including in Dallas just to the south of Denton, which seems to contradict the contention of the frack-friendly interests.
"The State of Texas has granted municipalities the right to oversee oil and gas operations," Earthjustice managing attorney Deborah Goldberg pointed out. "The people of Denton have exercised that right, and we intend to help preserve it. Communities from California to Texas to New York are fed up with the abuses of the oil and gas industry. When state and federal officials won't stand up for the public, citizens must have the right to use local democracy to protect themselves."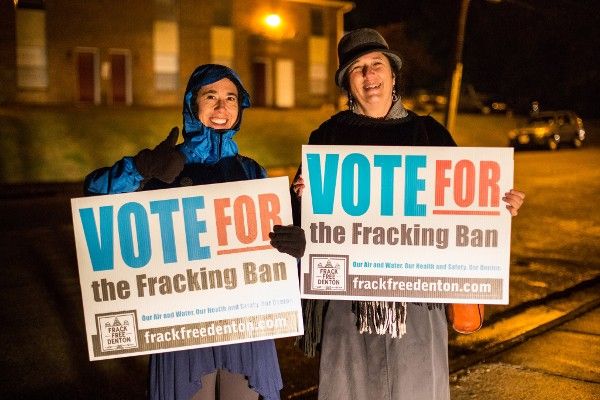 "This fight cuts to the heart of our democracy, and it is far from over," said Natural Resources Defense Council attorney Dan Raichel. "The people of Denton have voted to keep fracking away from their homes and schools—they will not be bullied by powerful oil and gas companies that want to make a profit at the expense of their health. Denton is a pioneer in Texas, but it is not alone. This community joins hundreds of others around the country—and in Texas—that are demanding the right to determine what happens within their own borders."
YOU MIGHT ALSO LIKE
Fracking Bans Pass in Denton, Texas, Two California Counties and One Ohio Town
Poisoned Fracking Playgrounds a Threat to Texas Kids
EcoWatch Daily Newsletter
A child playing with a ball from planet earth during Extinction Rebellion rally on April 18 in London, England. Brais G. Rouco / Barcroft Media / Getty Images
Earth Day 2019 just passed, but planning has already begun for Earth Day 2020, and it's going to be a big deal.
Geneva Vanderzeil, A Pair & A Spare / Flickr / CC BY 2.0
Is your closet filled with clothes you don't wear (and probably don't like anymore)? Are you buying cheap and trendy clothing you only wear once or twice? What's up with all the excess? Shifting to a more Earth-conscious wardrobe can help simplify your life, as well as curb fast fashion's toll on people and the planet.
Christine Zenino / Wikimedia Commons / CC BY 2.0

The 18th century St. Catherine of Alexandria church is seen after its bell tower was destroyed following a 6.3 magnitude earthquake that struck the town of Porac, pampanga province on April 23. TED ALJIBE / AFP / Getty Images
At least 16 people have died, 81 are injured and 14 are still missing after an earthquake struck Luzon island in the Philippines Monday, according to the latest figures from the National Disaster Risk Reduction and Management Council, as the Philippine Star tweeted Tuesday.
Climate change activists gather in front of the stage at the Extinction Rebellion group's environmental protest camp at Marble Arch in London on April 22, on the eighth day of the group's protest calling for political change to combat climate change. TOLGA AKMEN / AFP / Getty Images
Pexels
By Alina Petre, MS, RD (CA)
Veganism refers to a way of living that attempts to minimize animal exploitation and cruelty. For this reason, vegans aim to exclude all foods containing meat, poultry, fish, eggs, dairy and honey from their diet (1).
American farmers use chlorpyrifos, a pesticide tied to brain and nervous system issues, on crops such as apples, broccoli, corn and strawberries. Stephanie Chapman / Flickr / CC BY 2.0
By Jessica Corbett
In a ruling welcomed by public health advocates, a federal court on Friday ordered the Trump administration to stop stalling a potential ban on a pesticide linked to brain damage in children, giving regulators until mid-July to make a final decision.
fstop123 / iStock / Getty Images Plus
At EcoWatch, our team knows that changing personal habits and taking actions that contribute to a better planet is an ongoing journey. Earth Day, happening on April 22, is a great reminder for all of us to learn more about the environmental costs of our behaviors like food waste or fast fashion.
To offer readers some inspiration this Earth Day, our team rounded up their top picks for films to watch. So, sit back and take in one of these documentary films this Earth Day. Maybe it will spark a small change you can make in your own life.