This website uses cookies to ensure you get the best experience while browsing it. By clicking 'Got It' you're accepting these terms.
Texas Town Sues to Uphold Fracking Ban, Protect Democracy
Dec. 05, 2014 09:19AM EST
Energy
The little guys aren't taking this one lying down. In November, voters in Denton, Texas—fed up with oil and gas drilling companies unwilling to work with citizens to put some reasonable protections in place and with state and local regulators for allowing new fracking wells near homes, schools, parks and hospitals—passed a ban on fracking, despite being hugely outspent. The Texas Oil and Gas Association, representing the fracking companies, and the state's General Land Office responded with lawsuits to protect their "right" to push fracking on unwilling residents.
Now Denton is fighting back with lawsuits of its own. Yesterday, with the fracking ban taking effect on Tuesday, the Denton Drilling Awareness Group (DAG) and Earthworks, the groups that led the Frack Free Denton ballot initiative, filed intervention papers in both lawsuits, seeking to assert the right of citizens to decide what happens in their own neighborhoods. The groups are represented by the Texas local government law firm Brown & Hofmeister; attorneys from national environmental organizations Earthjustice and the Natural Resources Defense Council are asking the permission of the court to act as co-counsel.
"Denton residents, with Republican and Democratic majorities, voted overwhelmingly to ban fracking," said DAG president Cathy McMullen. "Our city has the legal power to prevent bakeries from setting up shop in residential neighborhoods. To suggest that we don't have the legal power to similarly bar fracking, a much more dangerous process, is the height of industry arrogance."
"The state and industry could have respected Denton communities' health, safety and property," said Earthworks' energy program director Bruce Baizel. "They chose not to. The ban is the result. Now, rather than constructively engage with the community, they simply overlook their regulatory failure and move to overturn democracy through legal action."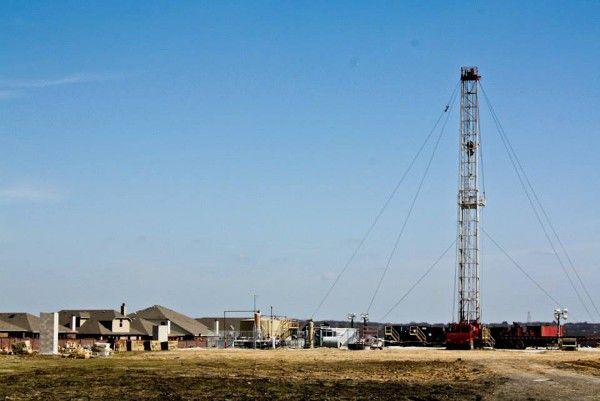 At issue is whether local communities have the right to regulate oil and gas operations within their borders or whether, as the lawsuits by the oil and gas interests claim, Denton's voter-approved ordinance is overridden by state regulators in contradiction of Texas' long tradition of home rule authority over gas and oil development. There are many other local oil and gas regulations in effect across Texas, including in Dallas just to the south of Denton, which seems to contradict the contention of the frack-friendly interests.
"The State of Texas has granted municipalities the right to oversee oil and gas operations," Earthjustice managing attorney Deborah Goldberg pointed out. "The people of Denton have exercised that right, and we intend to help preserve it. Communities from California to Texas to New York are fed up with the abuses of the oil and gas industry. When state and federal officials won't stand up for the public, citizens must have the right to use local democracy to protect themselves."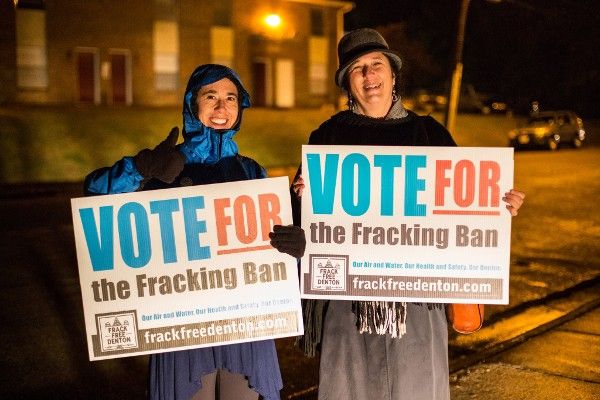 "This fight cuts to the heart of our democracy, and it is far from over," said Natural Resources Defense Council attorney Dan Raichel. "The people of Denton have voted to keep fracking away from their homes and schools—they will not be bullied by powerful oil and gas companies that want to make a profit at the expense of their health. Denton is a pioneer in Texas, but it is not alone. This community joins hundreds of others around the country—and in Texas—that are demanding the right to determine what happens within their own borders."
YOU MIGHT ALSO LIKE
Fracking Bans Pass in Denton, Texas, Two California Counties and One Ohio Town
Poisoned Fracking Playgrounds a Threat to Texas Kids
EcoWatch Daily Newsletter
Hedges, 2019 © Hugh Hayden. All photos courtesy of Lisson Gallery
By Patrick Rogers
"I'm really into trees," said the sculptor Hugh Hayden. "I'm drawn to plants."
BruceBlock / iStock / Getty Images
Thanks to their high concentration of powerful plant compounds, foods with a natural purple hue offer a wide array of health benefits.
Environmental Investigation Agency
Last week, the Peruvian Palm Oil Producers' Association (JUNPALMA) promised to enter into an agreement for sustainable and deforestation-free palm oil production. The promise was secured by the U.S. based National Wildlife Federation (NWF) in collaboration with the local government, growers and the independent conservation organization Sociedad Peruana de Ecodesarrollo.
Pixabay
Leaked documents show that Jair Bolsonaro's government intends to use the Brazilian president's hate speech to isolate minorities living in the Amazon region. The PowerPoint slides, which democraciaAbierta has seen, also reveal plans to implement predatory projects that could have a devastating environmental impact.
XL CATLIN SEAVIEW SURVEY / THE OCEAN AGENCY
Hope may be on the horizon for the world's depleted coral reefs thanks to scientists who successfully reproduced endangered corals in a laboratory setting for the first time, according to Reuters.
Last week we received positive news on the border wall's imminent construction in an Arizona wildlife refuge. The Trump administration delayed construction of the wall through about 60 miles of federal wildlife preserves.
PhotoAlto / Frederic Cirou / Getty Images
Drinking water treated with fluoride during pregnancy may lead to lower IQs in children, a controversial new study has found.