This website uses cookies to ensure you get the best experience while browsing it. By clicking 'Got It' you're accepting these terms.


The best of EcoWatch, right in your inbox. Sign up for our email newsletter!
Texas Town Says No to Fossil Fuels, Yes to 100% Renewables
Mar. 20, 2015 09:36AM EST
Business
Texas' image as the king of oil states clings to it through repeated boom and bust cycles. Its politicians tend to be close friends of the fossil fuel industry. So people don't think of it as the leading U.S. state for renewable energy—even though it is. It's the top producer of wind energy in the U.S.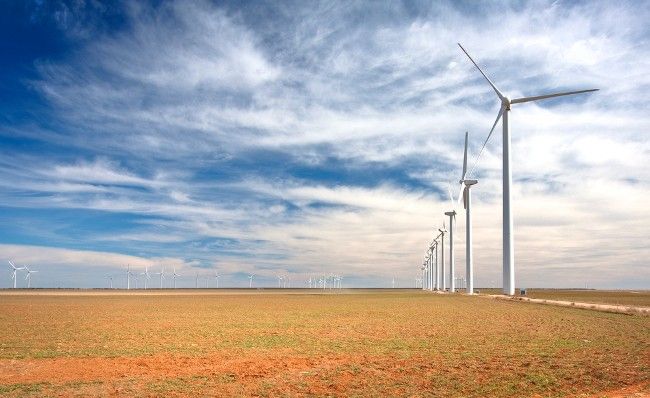 Photo credit: Shutterstock
One city in Texas aims to be the first to power itself entirely on renewables. Georgetown, Texas, 30 miles north of Austin in central Texas, has announced its intention to be all-renewable by 2017. The city of 50,000 has signed a deal with SunEdison to supply it with solar power for the next 25 years. It comes on the heels of a a deal the city made last year to source electricity from a wind farm currently under construction 50 miles west of Amarillo that will start to provide power next year. The two deals—for 150 megawatts of solar and 144 megawatts of wind—will make Georgetown Utility Services one of the largest municipally owned utilities in the U.S. to get all its electricity from renewables.
"Georgetown Utility Services isn't required to buy solar or other renewables—we did so because it will save on electricity costs and decrease our water usage," said Georgetown's interim city manager and general manager of utilities Jim Briggs. "When Georgetown Utility Systems opted to seek new sources of power in 2012, we were charged with a mission to secure the most cost-effective energy that balanced risk and reward. Our team took advantage of a unique time in the market place and did just that. By securing these renewable contracts the utility can consider itself 100 percent 'green,' but it does so at extremely competitive costs for energy, and it hedges against future fuel and regulatory risks, fulfilling our initial goal."
The city says that the combination of solar and wind will provide energy from complementary renewable sources to meet demand patterns. Solar's afternoon supply peak matches the daily energy demand peak in Georgetown, particularly during hot summer months. Wind power production in the Amarillo area is generally highest in the evening or early-morning hours, providing power when the sun isn't shining. And wind and solar generation requires no water, an important consideration in the drought-stricken state.
"SunEdison is very excited to be working with Georgetown Utility Systems to provide their customers with 100 percent renewable, clean energy," said Paul Gaynor, executive vice president of SunEdison's North America Utility and Global Wind division. "Georgetown is an exceptional city, and by going 100 percent renewable they cut down on pollution, save water and enjoy stable energy prices. They're able to accomplish all of this without spending a penny upfront with the SunEdison power purchase agreement. Georgetown is a model for other cities that hope to become powered by clean renewable energy."
Despite Texas' position on the leading edge of renewable energy generation, the oil mentality dies hard in Texas, especially now that the fracking boom has given the state a new source of fossil fuels. State Sen. Troy Fraser from Horseshoe Bay, Texas, about a hour west of Georgetown, has proposed ending the state's renewable energy standard, saying that renewables are doing so well it's no longer necessary.
"We have done what we intended to accomplish," he said at a hearing this week. "Not only did we roar past the goal we had in place, we have more than doubled that goal."
But Cyrus Reed of the Sierra Club Lone Star Chapter warned, "Even though the Texas Renewable Portfolio Standard (RPS) goal has been met, these renewable energy credits are still part of project economics, both complete and under construction, and eliminating the RPS would hurt current investors and risk weakening additional investment in Texas. In other words, if these RPS-based renewable energy credits were eliminated, their value would plummet and revenue would be lost, which would be unfair to developers and their investors who have invested their money with the expectation the RPS would be carried out through 2025."
He also warned that if the RPS was repealed, it would cost Texas more to comply with the carbon reduction goals of the U.S. Environmental Protection Agency's Clean Power Plan.
The rollback attempt, part of a nationwide effort to kill renewable energy standards, is bankrolled by fossil fuel-friendly organizations. West Virginia became the second state to do so in February, following Ohio's rollback last June. A Pew Charitable Trusts report found that Ohio's rollback has already cost the state jobs and investment money.
YOU MIGHT ALSO LIKE
Texas Wind Powers 3.3 Million Homes
Texas Town Sues to Uphold Fracking Ban, Protect Democracy
Ohio's Renewable Energy Freeze Threatens Growth of Solar and Wind Investments and Jobs
EcoWatch Daily Newsletter
jenifoto / iStock / Getty Images
Many people consider granola bars a convenient and healthy snack and enjoy their flavor and versatility.
A common green darners (Anax junius). Judy Gallagher / Flickr
By Jason Bittel
It's that time of year again: Right now, monarch butterflies are taking wing in the mountains of northwestern Mexico and starting to flap their way across the United States.
fstop123 / iStock / Getty Images Plus
At EcoWatch, our team knows that changing personal habits and taking actions that contribute to a better planet is an ongoing journey. Earth Day, happening on April 22, is a great reminder for all of us to learn more about the environmental costs of our behaviors like food waste or fast fashion.
To offer readers some inspiration this Earth Day, our team rounded up their top picks for films to watch. So, sit back and take in one of these documentary films this Earth Day. Maybe it will spark a small change you can make in your own life.
Denali national park. Domen Jakus / Flickr / CC BY-NC 2.0
By Stephanie Gagnon
Happy National Parks Week! This year, between April 20 and 28, escape to the beautiful national parks — either in person or in your imagination — and celebrate the amazing wildlife that calls these spaces home.
Sesame, three months old, at Seal Rescue Irleand.
Screenshot / Seal Rescue Ireland Instagram
On Friday, Seal Rescue Ireland released Sesame the seal into the ocean after five months of rehabilitation at the Seal Rescue Ireland facility. Watch the release on EcoWatch's Facebook.

Beer packs of Guinness will now come in a cardboard box. Diageo

By Jordan Davidson
Guinness is joining the fight against single use plastic. The brewer has seen enough hapless turtles and marine life suffering from the scourge of plastic.
Maskot / Getty Images
People of all ages are spending more of their day looking at their phones, computers and television screens, but parents now have another reason for limiting how much screen time their children get — it could lead to behavioral problems.