Texas Says No to Tesla But That's Not the Only State Denying Elon Musk Direct Sales
Jul. 17, 2015 10:37AM EST
Business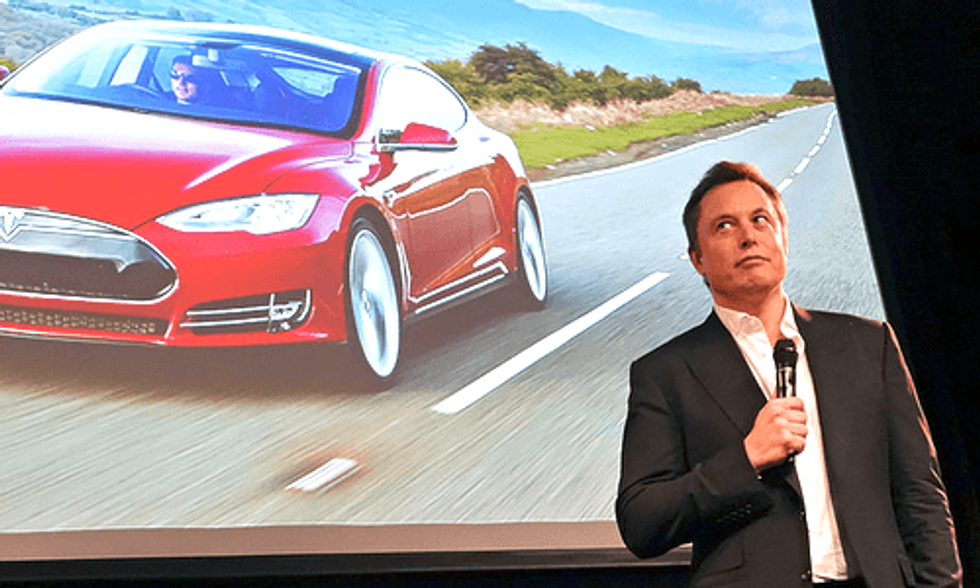 Despite racking up award after award and selling the most electric cars in the nation, Elon Musk's Tesla Motors has long been denied direct sales of its car in many states, including Texas, whose governor just reiterated that the door is definitely still shut.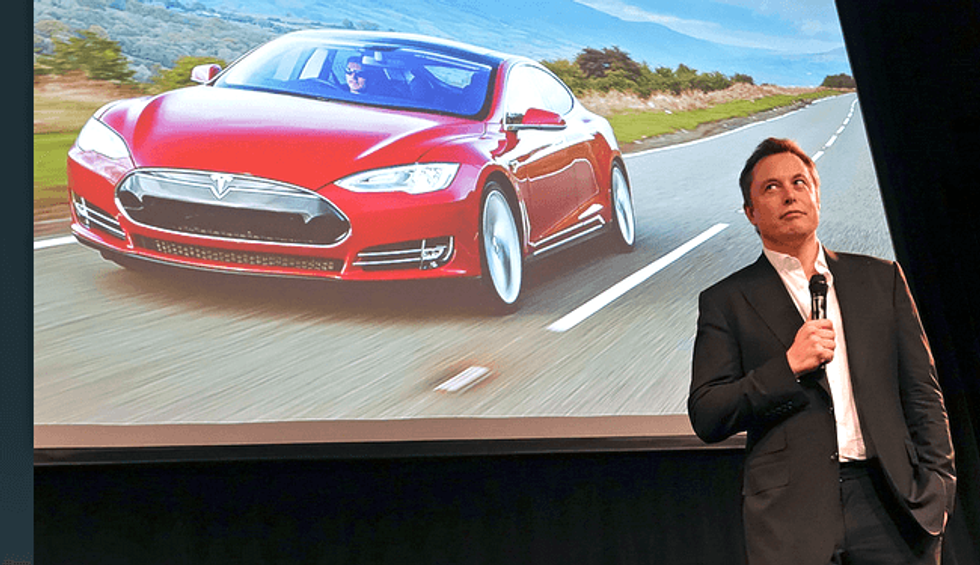 Photo credit: Flickr
Tesla prefers to sell its vehicles by cutting out the middleman of franchised car dealerships. For those who want one, Tesla cars can be bought online or from a company-owned store from states that allow direct sales.
However, many states have blocked Tesla's approach, saying they prefer to distribute cars to consumers the conventional way in an effort to protect small businesses. For instance, West Virgina blocked direct sales of Tesla cars because it wants the EV maker "to join the ranks of dealerships and play by the same rules and requirements and laws we must do," said West Virginia Automobile & Truck Dealers Association president Ruth Lemmon.
Now, in a new interview on Bloomberg Radio, Texas Gov. Greg Abbott described why Tesla continues to receive Texas' cold shoulder.
"Texas has a very robust, very open, very effective automobile sector that seems like it's working quite well the way that it is," Abbott said. "If you're going to have a breakdown in a car, you need to have a car dealership there to make sure that the vehicle is going to be taken care of. We haven't seen that from Tesla."
Servicing. Really.
In response, Tesla spokesman Ricardo Reyes told Bloomberg that the company has four maintenance centers in Texas that have earned high marks for service, and is "[looking] forward to working as a business in Texas," and added "it's just a matter of time."
Texas has shunned the electric car company since 2013. As AutoBlog puts it, the state has the "most stringent laws prohibiting automakers from owning dealerships," and even Ford was blocked from direct sales by the Texas government in the 1990s, The Washington Post reported.
It just so happens that most states have some version of this law. Some states have been lenient to Tesla, but if you check out the graphic below from Mojo Motors, you'll notice that more than half the country (26 states) has blocked Tesla's preferred sales approach.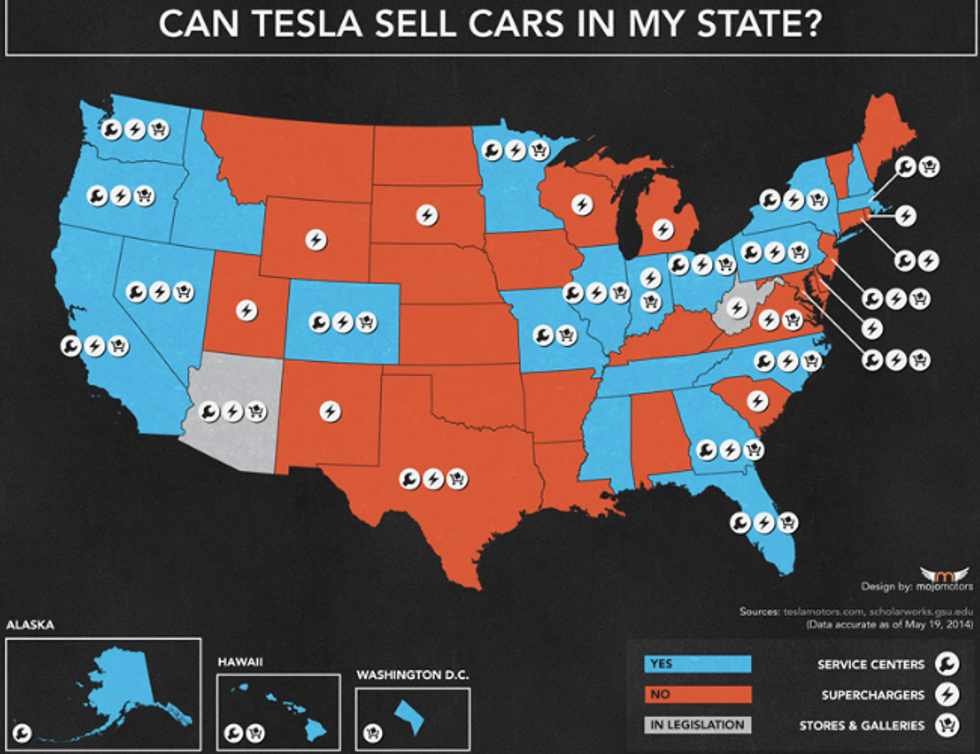 According to Mojo Motors, in the those states (colored red), "Tesla can have service centers, superchargers, and stores and galleries in these states but cannot sell or deliver cars. For example, you can check out a Tesla at Short Hills Mall in New Jersey, but you cannot take a test drive or discuss pricing with a salesperson."
Interestingly, as CheatSheet noticed, many states that have blocked direct sales tend to have Republican lawmakers. According to CheatSheet's post, "Unfortunately, politics plays a heavy-handed role as to where automakers can and can't sell their vehicles." Texas, in particular, happens to have a powerful car dealership lobby.
Texas has the country's second-biggest slice of the automobile market after California, and Tesla has been lobbying the Lone Star State to end its preference for franchised dealership for the past two years, which Tesla claims is an "unfair monopoly," according to Bloomberg Radio. Musk is also trying to change car dealership rules on the federal level.
Texans looking to buy the environmentally friendly ride have to jump through impressive loopholes—and they do. Tesla told Bloomberg that of the 78,000 Model S vehicles around the world, there are roughly 3,000 driving around in Texas.
Incidentally, former Texas Gov. Rick Perry was a big fan of the EV maker and wanted to lift the state's direct sales ban. He even drove around in a Model S in a public stunt to court construction of Musk's $5 billion Gigafactory that would have created thousands and thousands of jobs.
Tesla ultimately went with Nevada for their enormous battery plant, which will probably earn the title of world's largest factory once construction is complete. Diarmuid O'Connell, vice president of business development for Tesla, told Huffington Post at the time that Texas' ban on direct sales "doesn't make us feel good as we look to build a plant."
Nevada's win is Rick Perry's loss with the Tesla Gigafactory deal http://t.co/qEja7x4Y9D

— HuffPost Business (@HuffPostBiz) September 6, 2014
Ironically, Gov. Abbott also said during his Bloomberg Radio appearance that he's encouraging other businesses to set up shop within its borders.
"We look at the macroeconomics, and we want to make sure that we continue to have job growth in the state of Texas and so we look at ways that we can generate revenue, attract more business and hold down costs," Abbott said. "And that's why we passed a budget in the state of Texas that cut taxes making the costs of doing business in Texas even better."
"Texas is the quintessential entrepreneurial state," he continued. "If you look at the macro picture, there are so many entrepreneurs who want to start a business, grow a business, unfettered by overreaching heavy-handed government regulations. Texas is that kind of place."
Just not for Tesla, we might add.
YOU MIGHT ALSO LIKE
Which Plug-In Is Right for You? Take This Short Quiz to Find Out
Does Elon Musk's Tesla Model S 'Signal the Beginning of the End for Oil?'
EcoWatch Daily Newsletter
Recent Stories from EcoWatch