This website uses cookies to ensure you get the best experience while browsing it. By clicking 'Got It' you're accepting these terms.
Texas Official Cries: 'Keep Meatless Mondays Out of Schools'
Sep. 11, 2014 10:23AM EST
Food
Apparently thinking they will never be able to have a steak or hamburger again, the "Meatless Monday" movement has caused wailing and gnashing of teeth among people whose eating habits haven't advanced into the 21st century.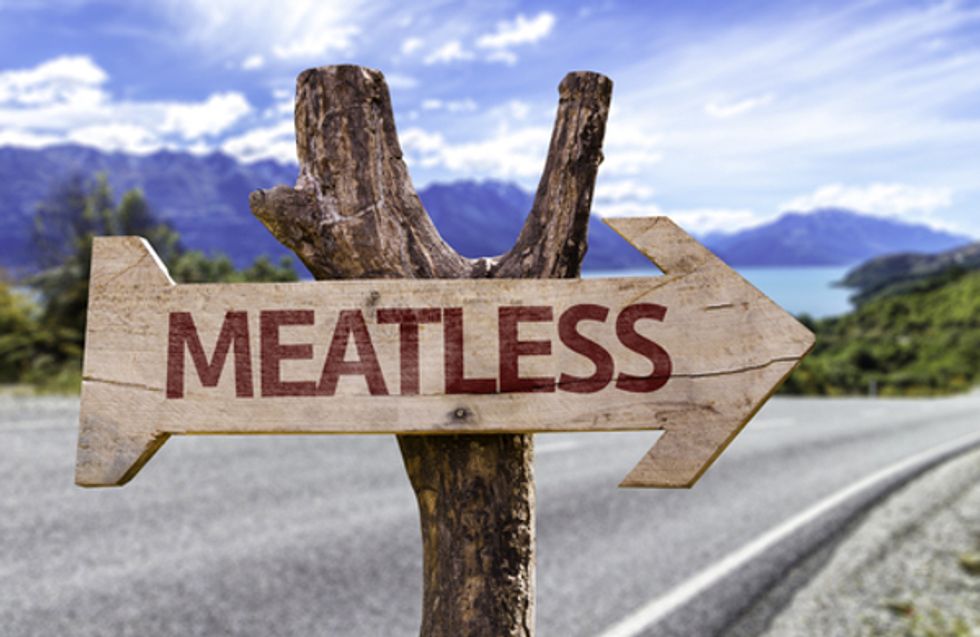 Photo credit: Shutterstock
At a time when it's become known that the meat industry, especially raising cattle, sucks up resources and contributes to climate change and that a meat-dominated diet is unhealthy, encouraging people to eat less meat or cut out red meat has taken hold. Even in Cleveland, Ohio, a city whose cuisine was once heavy on schnitzel and kielbasa, the city council recently passed, and the mayor signed, a Meatless Monday resolution. And schools systems in Ann Arbor, Kansas City, Baltimore, Philadelphia, San Diego and Los Angeles all observe Meatless Monday.
But it's the end of the world as we know it for some. Texas agriculture commissioner Todd Staples wrote an op-ed in the Austin Statesman-American "Keep 'Meatless Mondays' Out of Schools." Claiming to be "very concerned" about the well-being of kids in schools districts that have adopted the program, he sees conspiracy lurking.
Thrown into a tizzy by the adoption of Meatless Mondays in the small district of Dripping Springs outside Austin, he claimed, "This activist movement called 'Meatless Monday' is a carefully orchestrated campaign that seeks to eliminate meat from Americans' diets seven days a week—starting with Mondays."
He also said in the op-ed that not serving meat would deprive low-income children of "their only source of protein for the day," recycling the debunked idea that meat is an essential source of protein. He's also said in the past that it was "treasonous" for the U.S. Department of Agriculture to suggest its employees observe Meatless Mondays. (The same suggestion in 2012 provoked Senator John Cornyn of Texas and ex-Senator Chuck Grassley of Iowa to protest by ordering a meaty Monday meal with Cornyn calling it "bone-headed.")
And no, no, NO! a spokesman for the Texas Department of Agriculture maintained, the $116,000 in campaign contributions Staples has received from the beef industry has NOTHING to do with his stance.
The reaction in Cleveland was a little less hysterical and more mocking in tone. Plain Dealer columnist Michael Heaton called it "school-marmish," while another PD columnist Mark Naymik said it was "a nod to the yoga and gourmet vegetarian crowd." He then unloaded a bunch of non sequiturs, saying Cleveland doesn't need the resolution because residents can't afford meat (he's apparently overlooking the McDonald's outlets on every corner), that city council should go after vendors who sell spoiled meat instead, that it's hypocritical because council is also promoting the city's fabled West Side Market which sells meat among other things, and oh by the way, shouldn't they be attacking Governor John Kasich's rules disqualifying some people from getting food stamps instead?
YOU MIGHT ALSO LIKE
4 Reasons Why We Need to Rethink Industrial Meat Production
Tax Meat to Reduce Methane Emissions and Global Warming, Say Scientists
Earth-Friendly Diet Campaign Urges Americans to Eat Less Meat
EcoWatch Daily Newsletter
A new report spotlights a U.N. estimate that at least 275 million people rely on healthy coral reefs. A sea turtle near the Heron Island in the Great Barrier Reef is seen above. THE OCEAN AGENCY / XL CATLIN SEAVIEW SURVEY
In a new report about how the world's coral reefs face "the combined threats of climate change, pollution, and overfishing" — endangering the future of marine biodiversity — a London-based nonprofit calls for greater global efforts to end the climate crisis and ensure the survival of these vital underwater ecosystems.
Half of the extracted resources used were sand, clay, gravel and cement, seen above, for building, along with the other minerals that produce fertilizer. Cavan Images / Cavan / Getty Images
The world is using up more and more resources and global recycling is falling. That's the grim takeaway from a new report by the Circle Economy think tank, which found that the world used up more than 110 billion tons, or 100.6 billion metric tons, of natural resources, as Agence France-Presse (AFP) reported.
By Gero Rueter
Heating with coal, oil and natural gas accounts for around a quarter of global greenhouse gas emissions. But that's something we can change, says Wolfgang Feist, founder of the Passive House Institute in the western German city of Darmstadt.

By George Citroner
Recent research finds that official government figures may be underestimating drug deaths by half.
Researchers estimate that 142,000 people died due to drug use in 2016.
Drug use decreases life expectancy after age 15 by 1.4 years for men and by just under 1 year for women, on average.
Government records may be severely underreporting how many Americans die from drug use, according to a new study by researchers from the University of Pennsylvania and Georgetown University.
Water coolers in front of shut-off water fountains at Center School in Stow, MA on Sept. 4, 2019 after elevated levels of PFAS were found in the water. David L. Ryan / The Boston Globe via Getty Images
In a new nationwide assessment of drinking water systems, the Environmental Working Group found that toxic fluorinated chemicals known as PFAS are far more prevalent than previously thought.