This website uses cookies to ensure you get the best experience while browsing it. By clicking 'Got It' you're accepting these terms.
Texas Family Awarded $3 Million in Nation's First Fracking Trial
Apr. 23, 2014 01:35PM EST
It took three years, but a Texas family finally emerged victorious in a case that could long impact fracking companies and the impact they have on the communities in which they operate.
A Dallas jury favored the Parr family, which sued Aruba Petroleum back in 2011 after experiencing an array of health issues attorneys argued were the result of dozens of gas wells in the area. The family was awarded nearly $3 million in what attorneys believe was the first-ever fracking trial in U.S. history.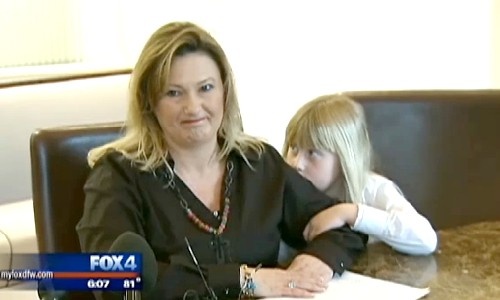 "They're vindicated," family attorney David Matthews wrote in a blog post. "I'm really proud of the family that went through what they went through and said, 'I'm not going to take it anymore'. It takes guts to say, 'I'm going to stand here and protect my family from an invasion of our right to enjoy our property.'
"It's not easy to go through a lawsuit and have your personal life uncovered and exposed to the extent this family went through."
The family lives in Wise County, which is surrounded by gas wells from Aruba Petroleum and other firms. Bob, Lisa and their young daughter, Emma, all noticed the deterioration of their health in the months after fracking operations begin in the immediate area, some time in 2008. Lisa reported breathing difficulties, nausea and headaches, while Bob said he began having about three nosebleeds per week, compared to the rest of the 50-year-old's life.
"We can't drink our well water," Bob Parr told FOX 4 of the Dallas-Fort Worth area in 2011. "We can't breathe the air without getting sick."
Young Emma also suffered nosebleeds, along with rashes and nausea. She was soon diagnosed with asthma.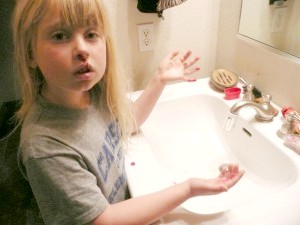 The Parr's lawsuit certainly wasn't the first lawsuit brought against an energy company for fracking-related health issues, however most plaintiffs are paid off with stern gag orders. In 2013, The Observer-Reporter in southwest Pennsylvania reported that Range Resources paid a family living near the Marcellus Shale wells $750,000 in a settlement that the company initially wanted to keep quiet.
The Parr victory could be a game-changer.
"When evidence of fracking's impacts are shown to an impartial jury in a court of law, they find them to be real and significant," Earthworks Energy Program Director Bruce Baizel wrote in a statement. "And it shows why the fracking industry is reluctant to allow lawsuits of this type to go to trial.
"Instead, fracking companies try to force out of court settlements that gag the harmed family as a condition for financial compensation. They almost always succeed, hiding from the public the proof of fracking's dangers. Consequently, industry and government continue claiming fracking is harmless."
According to MSNBC, Aruba Petroleum plans to appeal the jury's decision. Since there are dozens of other operations  in the area, the company argued that it was impossible to know which well or wells caused the family's injuries. Other companies settled with the Parrs.
"We hope this lawsuit will make regulators, in Texas and around the country, reexamine their assumptions about fracking's dangers, and their responsibility to keep the public safe," Baizel said. 
——–
YOU ALSO MIGHT LIKE
Appalling Earth Day Video Actually Thanks Fracking For Reducing Carbon Emissions
New Study Shows Proximity to Fracking Sites Increases Risk of Birth Defects
Film Exposes Harsh Reality of Living Amid North Dakota's Oil Boom
——–
Plus, learn if there's one that's best for your health.
Catherine Falls Commercial / Moment / Getty Images
An invasive Amynthas worm, also known as a crazy snake worm, Asian jumping worm and Alabama jumper Tom Potterfield / Flickr
By Jason Bittel
My wife and I built a house two years ago on a few acres of woodland outside of Pittsburgh. The backyard is full of maples, poplars, briars and common spicebush. Two-lined salamanders and grumpy-looking crayfish wade among the rocks in the small stream that runs down the edge of the property. Deer, raccoon and opossum tracks appear regularly in the snow and mud. Sometimes, my trail-cam even catches a pair of gray foxes as they slink through the night.
AleksandarNakic / Getty Images
By Kate Murphy
No matter the time of year, there's always a point in each season when my skin decides to cause me issues. While these skin issues can vary, I find the most common issues to be dryness, acne and redness.

David Woodfall / The Image Bank / Getty Images
By Sam Nickerson
The U.S. Environmental Protection Agency (EPA) in April 2018 proposed relaxing standards related to how it assesses the effects of exposure to low levels of toxic chemicals on public health.
Now, correspondence obtained by the LA Times revealed just how deeply involved industry lobbyists and a controversial, industry-funded toxicologist were in drafting the federal agency's proposal to scrap its current, protective approach to regulating toxin exposure.
Steve Irwin poses with a three foot long alligator at the San Francisco Zoo on June 26, 2002. Justin Sullivan / Getty Images
February 22 is the birthday of conservationist and beloved TV personality "Crocodile Hunter" Steve Irwin, who would have been 57 years old today.
Irwin's life was tragically cut short when the barb from a stingray went through his chest while he was filming in 2006, but his legacy of loving and protecting wildlife lives on, most recently in a Google Doodle today honoring his birthday.