This website uses cookies to ensure you get the best experience while browsing it. By clicking 'Got It' you're accepting these terms.
Tesla's Massive Gigafactory Will Be Net Zero Energy, Powered by 100% Renewables
Nov. 17, 2015 03:14PM EST
Business
Tesla CEO Elon Musk isn't just building the biggest battery factory in the world. When construction of his $5 billion Tesla Gigafactory is complete, the facility will be astoundingly clean and energy efficient.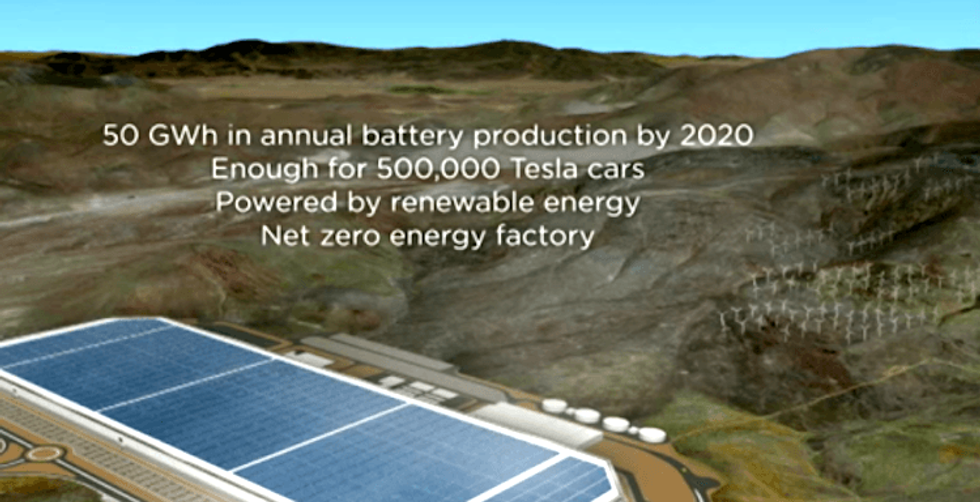 Tesla had already announced that Gigafactory operations will be powered by renewable energy sources, with the goal of achieving net zero energy, meaning it generates and stores as much renewable energy as it needs to run the facility. However, not much has been said about how exactly the company was going to meet this ambitious goal, until now.
As reported by CleanTechnica (thanks to tipster Renaud Janson), Tesla's Co-founder and Chief Technical Officer JB Straubel elaborated last week on the Gigafactory's net zero plans during a talk at the University of Nevada, Reno:
The Gigafactory is maybe the best example we can talk about with this. You know, from the get-go, from the first concept of this factory, we wanted to make it a net-zero facility. So, you know, the most visible thing we are doing is covering the entire site with solar power. The whole roof of the Gigafactory was designed from the beginning with solar in mind. We kept all of the mechanical equipment off the roof. We didn't put extra, sorta, penetrations through the roof that we didn't need to and it's a very, very clean surface that we can completely cover in solar. But that's not enough solar, though. So we have also gone to the surrounding hillsides that we can't use for other functions and we're adding solar to those.
Tesla wants operations to be completely carbon neutral, or have zero emissions just like the company's namesake electric vehicle. According to Straubel, the Gigafactory isn't even hooked up to gas:
The other interesting thing is we wanted to manage the emissions from the Gigafactory. Solar power can do some of that, but we took kind of a radical move in the beginning and said we are not going to burn any fossil fuels in the factory. You know, zero emissions. We are going to build a zero-emissions factory—just like the car. So, instead of kind of fighting this battle in hindsight, we just said we are not even going to have a natural gas pipeline coming to the factory, so we didn't even build it. And it kind of forced the issue. When you don't have natural gas, you know, none of the engineers can say, "Oh, but it will be more efficient, let me use just a little bit." Sorry, we don't even have it.
So it's kind of been a fun activity and just, a lot of challenges that come up. But in every single step of the process, we have been able to reinvent and come up with solutions. There's a heat pump technology that actually ends up way more efficient than just burning natural gas for steam. And then, we have a facility that has basically no emissions. The only emissions are related to the vehicles that might go there that aren't electric or things like that. But we'll try to attack that one piece at a time.
The Gigafactory broke ground in June 2014 in Nevada and will be at full capacity by 2020. It will produce more lithium ion batteries annually than were produced worldwide in 2013, the company says.
Tesla's Gigafactory will produce batteries for both its high-end electric cars as well as for homes, businesses and utilities, with its Powerwall suite of batteries (which have already been sold out through 2016). Solar supplier and sister company SolarCity is also incorporating Tesla batteries for residential solar installations.
Musk isn't shy about wanting to wean the world off of fossil fuels through renewable energy and energy storage.
"Our goal here is to fundamentally change the way the world uses energy," Musk said. "We're talking at the terawatt scale. The goal is complete transformation of the entire energy infrastructure of the world."
Watch Straubel's speech (he comes in at 9:57 and explains the Gigafactory's energy plans around an hour in) in the video below:
YOU MIGHT ALSO LIKE
Apple to Power 100% of Singapore Operations With Solar Energy
Google Self-Driving Car Gets Pulled Over, Cop Finds No Driver to Ticket
10 Greenest Cities in America (and the Worst)
JetBlue Opens Urban Farm at JFK Airport to Feed Passengers and Local Food Banks
EcoWatch Daily Newsletter
The Ernest N. Morial Convention Center in New Orleans, Louisiana has been converted to a 1,000-bed field hospital for coronavirus patients to alleviate stress on local hospitals. Chris Graythen / Getty Images
An area in Louisiana whose predominantly black and brown residents are hard-hit by health problems from industry overdevelopment is experiencing one of the highest death rates from coronavirus of any county in the United States.
A woman lies in bed with the flu. marka/Universal Images Group via Getty Images
A central player in the fight against the novel coronavirus is our immune system. It protects us against the invader and can even be helpful for its therapy. But sometimes it can turn against us.
Several flower species, including the orchid, can recover quickly from severe injury, scientists have found. cunfek / iStock / Getty Images Plus
Calling someone a delicate flower may not sting like it used to, according to new research. Scientists have found that many delicate flowers are actually remarkably hearty and able to bounce back from severe injury.
A Boeing 727 flies over approach lights with a trail of black-smoke from the engines on April 9, 2018. aviation-images.com / Universal Images Group via Getty Images
With global air travel at a near standstill, the airline industry is looking to rewrite the rules it agreed to tackle global emissions. The Guardian reports that the airline is billing it as a matter of survival, while environmental activists are accusing the industry of trying to dodge their obligations.
A National Guard member works on election day at a polling location on April 7, 2020 in Madison, Wisconsin. Andy Manis / Getty Images.
ByJulia Baumel
The outbreak of COVID-19 across the U.S. has touched every facet of our society, and our democracy has been no exception.