Tens of Thousands of People Demand Arizona's 'Swim With The Dolphins' Park Be Stopped
A plan to open a dolphin attraction in the Arizona desert is being met with intense criticism and backlash. Mexico-based company Dolphinaris is set to open a $20 million "dolphinarium" on the Salt River Pima-Maricopa Indian Community near the suburb of Scottsdale this July.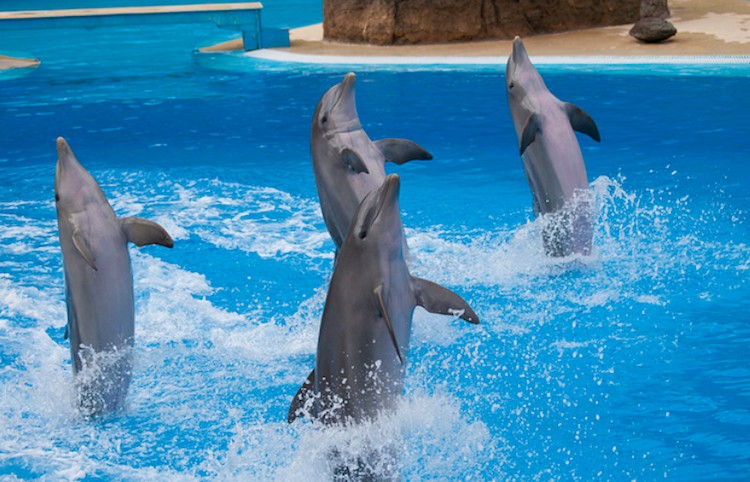 Dolphins are highly intelligent and socially complex beings. Photo credit: Flickr
The facility allows visitors to swim with and ride the captive marine animals. Parent company Ventura Entertainment already owns five of these facilities across Mexico. The Arizona location will be their first one in the U.S.
An unnamed employee of A.R. Mays, the construction company building the project, told TakePart that the facility will house eight dolphins in a million-gallon tank.
Unsurprisingly, animal rights advocates are speaking out against the project, saying that the highly intelligent, socially complex beings do not belong in tanks in the arid desert. A Care2 petition directed at Ventura CEO Mauricio Martinez del Alva has been signed by more than 110,000 people.
"This is cruel," one commenter wrote. "Dolphins belong in the ocean with other dolphins not in a hot pool in the desert."
Another said, "Have we learned nothing from the mess that is SeaWorld??" referring to the plight of killer whales in captivity exposed by the 2013 SeaWorld documentary Blackfish.
The nonprofit international organization Whale and Dolphin Conservation has also accused Dolphinaris of owning dolphins that were brutally captured in the wild:
Perhaps most troubling is that Dolphinaris owns dolphins that were acquired from tragic wild captures in the Solomon Islands. These brutal captures lead to stronger laws protecting marine mammals in Mexico after a public outcry over 28 of the 200 dolphins captured in 2003 were shipped to Parque Nizuc and several died enroute or shortly thereafter. Dolphinaris currently owns dolphins from the original Parque Nizuc population.
On the Dolphinaris website, the company says that "the well-being and the appropriate attention of the dolphins under our care is our absolute priority. We satisfy every physical and behavior need, including supervision of natural behavior of the species and reproduction programs."
The Animal and Plant Health Inspection Service, a division of the U.S. Department of Agriculture, is working with the new facility. Agency spokesman R. Andre Bell told The Arizona Republic that once construction is complete, the company will apply for an Animal Welfare Act exhibitor's license. The agency will also make unannounced inspections at the facility to ensure that the creatures are receiving proper care, housing, handling, sanitation, nutrition and veterinary care. Violations will result in cease-and-desist orders, fines or license suspensions.
Scottsdale resident Laurice Dee, who started the Care2 petition, argued that no matter how well the dolphins are looked after, she is still against captivity.
"Pro-captivity activists may argue that captive dolphins are being well cared for in their respective facilities and that they do not have to deal with pollution and a number of other problems in the open waters," she explained to The Phoenix New Times.
"Well, regardless of how well captive dolphins are being cared for, living in tiny man-made tanks does not replicate the natural environment where everything—including and especially the ecosystem—works in harmony," she said.
Sharon Young, a marine issues field coordinator at the Humane Society, told The Guardian that swimming-with-dolphins attractions can be dangerous for dolphins and people alike.
"These animals are used to an environment where they can roam, swimming hundreds of miles a day in a rich environment," she said. "Once you put them in a tank, it's an impoverished existence. It would be like if someone never let you out of your bedroom. There has been some sexual aggression towards swimmers. It's not a good environment for anyone."
An "Empty the Tanks" demonstration has been initiated against the Arizona dolphinarium. Organizers of the peaceful protest, which will take place in Scottsdale on May 7, said that "such abuse and exploitation of these sentient beings has no place in the 21st century, and certainly not in the desert of Arizona."
YOU MIGHT ALSO LIKE
Trans Mountain Tar Sands Pipeline 'Final Harpoon' for Endangered Killer Whales
Massive Coral Reef Discovered at Mouth of Amazon, But It's Already Threatened by Oil Drilling
Shocking Migratory Changes Bring Electric Rays to Canada's Pacific
Monsanto, the maker of the glyphosate-based herbicide Roundup, filed a motion June 16 in U.S. District Court, Northern District of California to reconsider the chemical's addition to California's Proposition 65 list of agents known to cause cancer.
The agrochemical giant made this move based on a June 14 Reuters investigation of Dr. Aaron Blair, a lead researcher on the World Health Organization's International Agency for Research on Cancer (IARC) committee, that classified glyphosate as a "2A probable human carcinogen" in March 2015.
Keep reading...
Show less
By Avery Friedman
Algae is often considered a nuisance, but for Sweden, the rapidly growing sea plant is now an asset.
As the Scandinavian country works to cut all of its greenhouse gas emissions by 2045, it's using algae to sop up the carbon emissions from cement.
Keep reading...
Show less
Jun. 24, 2017 01:35PM EST
By Itai Vardi
A recent intensification in protests against Williams Partners' planned Atlantic Sunrise pipeline in Pennsylvania prompted a state senator to propose legislation aimed at limiting demonstrations.
Last month, Pennsylvania Sen. Scott Martin (R-Norman) announced his intention to introduce legislation that would pass the costs of law enforcement responding to protests onto the demonstrators. Martin also helped introduce a different bill that would criminalize protests at natural gas facilities.
Keep reading...
Show less
Jun. 24, 2017 01:29PM EST
Black Shogun / iStock
The Federal Energy Regulatory Commission (FERC) released its Final Environmental Impact Statement Friday for the Mountain Valley Pipeline, a controversial 303-mile pipeline that would carry two billion cubic feet of fracked gas per day from West Virginia through Virginia.
Keep reading...
Show less
Jun. 24, 2017 01:46PM EST
Falcon PEV
The so-called "first and last mile" problem is one of the biggest hurdles with public transportation. How do you encourage more people to take Earth-friendlier commutes when their homes are miles away from the train or bus station?
One solution, as this Estonian electric scooter company proposes, is to simply take your commute with you—literally. Tallinn-based Stigo has developed a compact e-scooter that folds to the size of a rolling suitcase in about two seconds.
Keep reading...
Show less
Jun. 24, 2017 05:12PM EST
Connect4Climate
[Editor's note: I'm still in shock after hearing the news that Lucia Grenna passed away in her sleep last week. When we first met in April of 2014 at a Copenhagen hotel, I was immediately taken by here powerful presence. We spent the next couple days participating in a Sustainia climate change event where Lucia presented her audacious plans to connect people to the climate issue. I had the chance to partner with Lucia on several other projects throughout the years and work with her incredible Connect4Climate team. I was always in awe of her ability to "make the impossible possible." Her spirit will live on forever. — Stefanie Spear]
It is with a heavy heart that Connect4Climate announces the passing of its founder and leading light, Lucia Grenna. Lucia passed peacefully in her sleep on June 15, well before her time. We remember her for her leadership and extraordinary ability to motivate people to take on some of the greatest challenges of our time, not least climate change.
Keep reading...
Show less
Jun. 23, 2017 07:29PM EST
Wikimedia Commons
By Stacy Malkan
Neil deGrasse Tyson has inspired millions of people to care about science and imagine themselves as participants in the scientific process. What a hopeful sign it is to see young girls wearing t-shirts emblazoned with the words, "Forget princess, I want to be an astrophysicist."
Keep reading...
Show less
Jun. 23, 2017 01:57PM EST
www.youtube.com
By Andy Rowell
Any day now we will truly witness climate change in action. Within days at worst, maybe weeks at best, scientists predict that a huge section of the Larsen C ice shelf in Antarctica will break off into the ocean, in what is called a major "carving" event.
Keep reading...
Show less
Jun. 23, 2017 02:27PM EST
www.youtube.com
President Trump visited Cedar Rapids, Iowa on June 21 to speak to a large crowd in the U.S. Cellular Center at a political rally organized by his campaign.
As Trevor Noah noted during The Daily Show episode last night (starts at 2:25), the real reason Trump has these rallies is to "get back in front of his loyal crowds and feed of their energy." Noah believes that "Trump supporters are so on board with their dude he can say anything and they'll come along for the ride."
Keep reading...
Show less