Tens of Thousands of People Demand Arizona's 'Swim With The Dolphins' Park Be Stopped
Apr. 27, 2016 10:40AM EST
Animals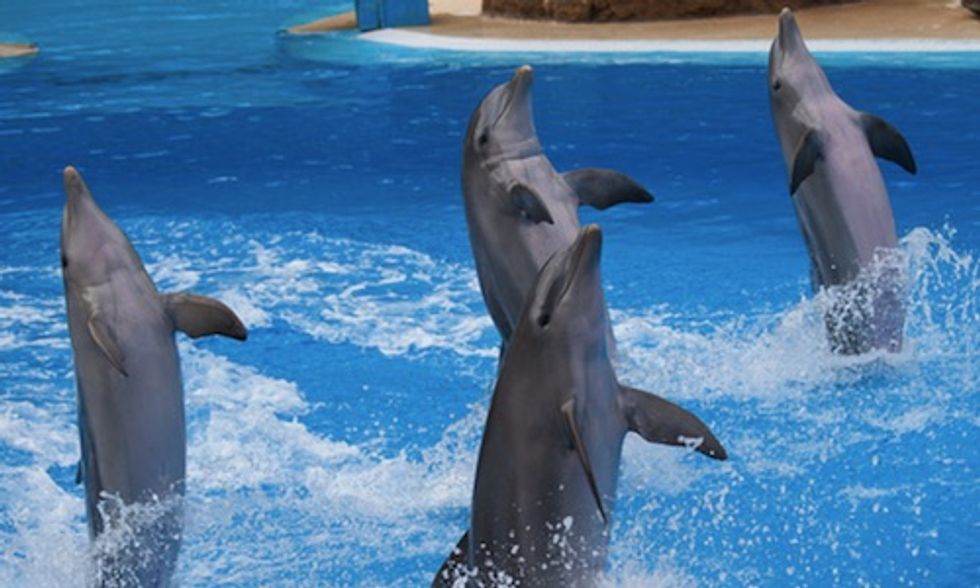 A plan to open a dolphin attraction in the Arizona desert is being met with intense criticism and backlash. Mexico-based company Dolphinaris is set to open a $20 million "dolphinarium" on the Salt River Pima-Maricopa Indian Community near the suburb of Scottsdale this July.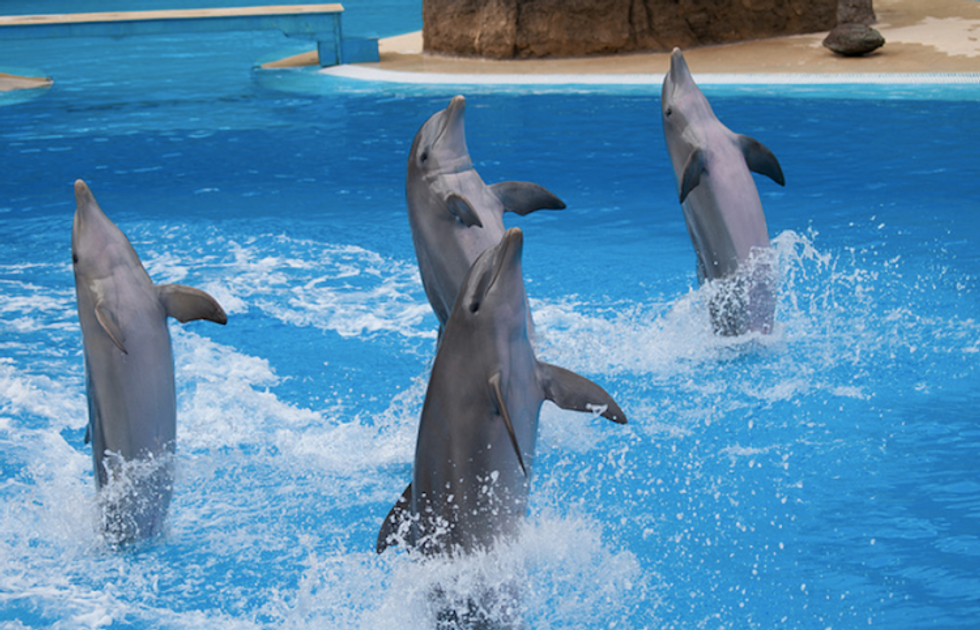 Dolphins are highly intelligent and socially complex beings. Photo credit: Flickr
The facility allows visitors to swim with and ride the captive marine animals. Parent company Ventura Entertainment already owns five of these facilities across Mexico. The Arizona location will be their first one in the U.S.
An unnamed employee of A.R. Mays, the construction company building the project, told TakePart that the facility will house eight dolphins in a million-gallon tank.
Unsurprisingly, animal rights advocates are speaking out against the project, saying that the highly intelligent, socially complex beings do not belong in tanks in the arid desert. A Care2 petition directed at Ventura CEO Mauricio Martinez del Alva has been signed by more than 110,000 people.
"This is cruel," one commenter wrote. "Dolphins belong in the ocean with other dolphins not in a hot pool in the desert."
Another said, "Have we learned nothing from the mess that is SeaWorld??" referring to the plight of killer whales in captivity exposed by the 2013 SeaWorld documentary Blackfish.
The nonprofit international organization Whale and Dolphin Conservation has also accused Dolphinaris of owning dolphins that were brutally captured in the wild:
Perhaps most troubling is that Dolphinaris owns dolphins that were acquired from tragic wild captures in the Solomon Islands. These brutal captures lead to stronger laws protecting marine mammals in Mexico after a public outcry over 28 of the 200 dolphins captured in 2003 were shipped to Parque Nizuc and several died enroute or shortly thereafter. Dolphinaris currently owns dolphins from the original Parque Nizuc population.
A #Dolphin Park Grows in the #Arizona Desert: https://t.co/CTwdWWpdDw #Blackfish https://t.co/jx0egiI1iK

— WDC (@WDC)1460839026.0
On the Dolphinaris website, the company says that "the well-being and the appropriate attention of the dolphins under our care is our absolute priority. We satisfy every physical and behavior need, including supervision of natural behavior of the species and reproduction programs."
The Animal and Plant Health Inspection Service, a division of the U.S. Department of Agriculture, is working with the new facility. Agency spokesman R. Andre Bell told The Arizona Republic that once construction is complete, the company will apply for an Animal Welfare Act exhibitor's license. The agency will also make unannounced inspections at the facility to ensure that the creatures are receiving proper care, housing, handling, sanitation, nutrition and veterinary care. Violations will result in cease-and-desist orders, fines or license suspensions.
Scottsdale resident Laurice Dee, who started the Care2 petition, argued that no matter how well the dolphins are looked after, she is still against captivity.
"Pro-captivity activists may argue that captive dolphins are being well cared for in their respective facilities and that they do not have to deal with pollution and a number of other problems in the open waters," she explained to The Phoenix New Times.
"Well, regardless of how well captive dolphins are being cared for, living in tiny man-made tanks does not replicate the natural environment where everything—including and especially the ecosystem—works in harmony," she said.
Staying at the @barcelomayabr: The ideal Caribbean experience: https://t.co/nvWJuSqrhF. https://t.co/j05Y5mG39j

— Dolphinaris (@Dolphinaris)1456263324.0
Sharon Young, a marine issues field coordinator at the Humane Society, told The Guardian that swimming-with-dolphins attractions can be dangerous for dolphins and people alike.
"These animals are used to an environment where they can roam, swimming hundreds of miles a day in a rich environment," she said. "Once you put them in a tank, it's an impoverished existence. It would be like if someone never let you out of your bedroom. There has been some sexual aggression towards swimmers. It's not a good environment for anyone."
An "Empty the Tanks" demonstration has been initiated against the Arizona dolphinarium. Organizers of the peaceful protest, which will take place in Scottsdale on May 7, said that "such abuse and exploitation of these sentient beings has no place in the 21st century, and certainly not in the desert of Arizona."
YOU MIGHT ALSO LIKE
Trans Mountain Tar Sands Pipeline 'Final Harpoon' for Endangered Killer Whales
Massive Coral Reef Discovered at Mouth of Amazon, But It's Already Threatened by Oil Drilling
Shocking Migratory Changes Bring Electric Rays to Canada's Pacific
EcoWatch Daily Newsletter
Related Articles from EcoWatch
Recent Stories from EcoWatch