This website uses cookies to ensure you get the best experience while browsing it. By clicking 'Got It' you're accepting these terms.


The best of EcoWatch, right in your inbox. Sign up for our email newsletter!
Ten-Thousand Birds Die as 'Everglades of West' Dries and Spreads Disease
Apr. 18, 2012 12:21PM EST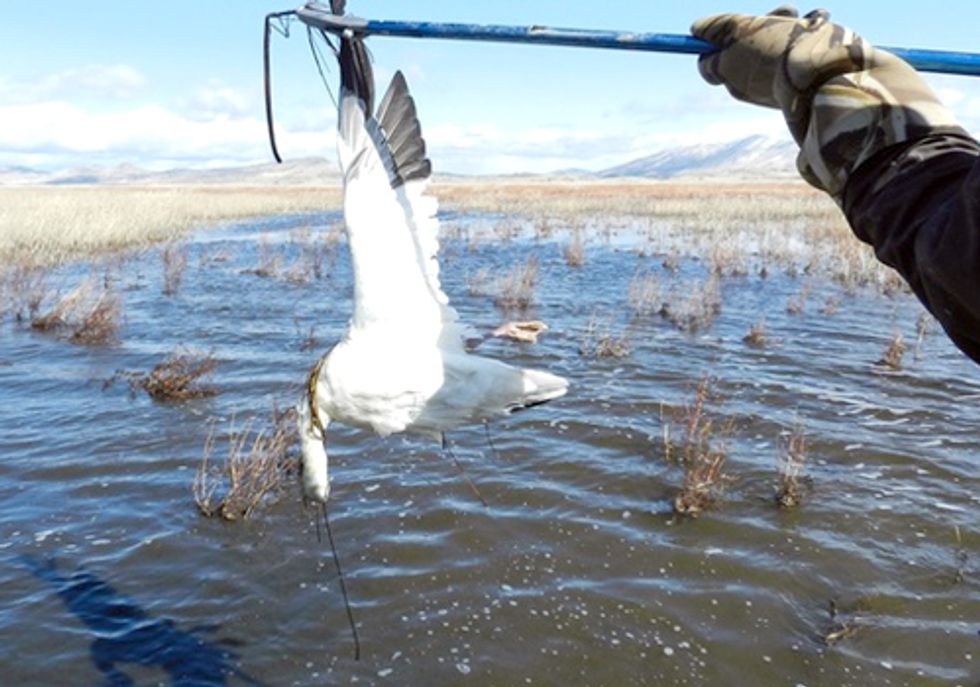 Officials from the U.S. Fish and Wildlife Service (FWS) are estimating that more than 10,000 migrating birds have died so far this year because of reduced water flow to the Lower Klamath National Wildlife Refuge in Oregon and California. Officials say the final death toll may be close to 20,000 birds.
So far this year, the refuge has only received enough water to cover half its 30,000 acres of wetland marshes. That has forced the 2 million birds that migrate through the area, which is a key part of the Pacific Flyway for migrating birds, to congregate in much smaller spaces, thereby creating a climate much more favorable to spreading, quickly fatal, avian cholera. In order to reduce the further spread of the disease, volunteers have been dispatched to pick up carcasses of the dead birds and incinerate them in FWS furnaces.
The problem is that it has been a dry year and the U.S. Bureau of Reclamation (BOR) hasn't allowed water into the refuge since December. BOR parcels out water for users, and their first priority for water that might go to the refuge is for endangered fish, followed by various tribal responsibilities, and then farming needs. Some experts say that the refuge could go dry in three months if water is not provided.
"The consequences to shutting off water to the Lower Klamath Refuge are enormous and unacceptable. We cannot continue to place wildlife at the bottom of the pecking order for so many things and not expect that at some point, we won't face dire repercussions. Federal, state and local officials need to come up with a plan that divides the water shortage compromises up more equitably," said Dr. George Fenwick, president of American Bird Conservancy.
Established in 1908 along the northern border of California and the southern border of Oregon, the Lower Klamath Refuge was the nation's first waterfowl refuge. This 53,600-acre refuge is a varied mix of shallow freshwater marshes, open water, grassy uplands and croplands (that are managed to provide feeding, resting, nesting and brood-rearing habitat for waterfowl and other water birds. Significant species of birds that use the reserve include the American White Pelican; White-faced Ibis; Snow, Ross', and White-fronted Geese; Peregrine Falcon; Pintail; Gadwall; Canvasback; Western and Eared Grebe; Black Tern; and Tri-colored Blackbird. Snow Geese and Northern Pintails seem to be the hardest hit from the disease this year.
Historically, the Klamath Basin was dominated by approximately 185,000 acres of shallow lakes and freshwater marshes. In 1905, BOR initiated the Klamath Reclamation Project to convert the lakes and marshes of the Lower Klamath and Tule Lake areas to agricultural lands. As these wetlands receded, the reclaimed lands were opened to agricultural development and settlement. Today, less than 25 percent of the historic wetlands remain. To conserve much of the Basin's remaining wetland habitat, six National Wildlife Refuges have been established; Lower Klamath, Tule Lake and Clear Lake Refuges in California, and Bear Valley, Upper Klamath and Klamath Marsh Refuges in southern Oregon. Prior to the changes in the wetlands, the area attracted peak fall concentrations of waterfowl more than three times the current levels.
For more information, click here.
--------
EcoWatch Daily Newsletter
A school in Queensland, Australia sent a note home to parents asking them to send their children with extra water bottles since its water supply has run dry, according to the Australian Broadcasting Corporation (ABC).
European Commission President Ursula von der Leyen delivers a press statement on the European Green Deal at the EU headquarters in Brussels, Belgium on Dec. 11, 2019. Xinhua / Zheng Huansong via Getty Images
The European Commission introduced a plan to overhaul the bloc's economy to more sustainable, climate-conscious policies and infrastructure, with the goal of being carbon-neutral by 2050, according to CNBC.
Young activists shout slogans on stage after Greta Thunberg (not in the picture) took part in the plenary session during the COP25 Climate Conference on Dec. 11 in Madrid, Spain. Pablo Blazquez Dominguez / Getty Images
By Andrea Germanos
Young activists took over and occupied the main stage at the COP25 climate conference in Madrid, Spain Wednesday and demanded world leaders commit to far more ambitious action to address the ecological emergency.
A NASA image showing the ozone hole at its maximum extent for 2015. NASA Goddard Space Flight Center
The Montreal Protocol, a 1987 international treaty prohibiting the production of chlorofluorocarbons (CFCs) to save the ozone layer, was the first successful multilateral agreement to successfully slow the rate of global warming, according to new research. Now, experts argue that similar measures may lend hope to the climate crisis.
Police in Wales are in the midst of an unusual investigation: the sudden death of more than 200 starlings.