This website uses cookies to ensure you get the best experience while browsing it. By clicking 'Got It' you're accepting these terms.
Tell Obama—No More Oil Industry Favors
Mar. 23, 2012 01:20PM EST
Energy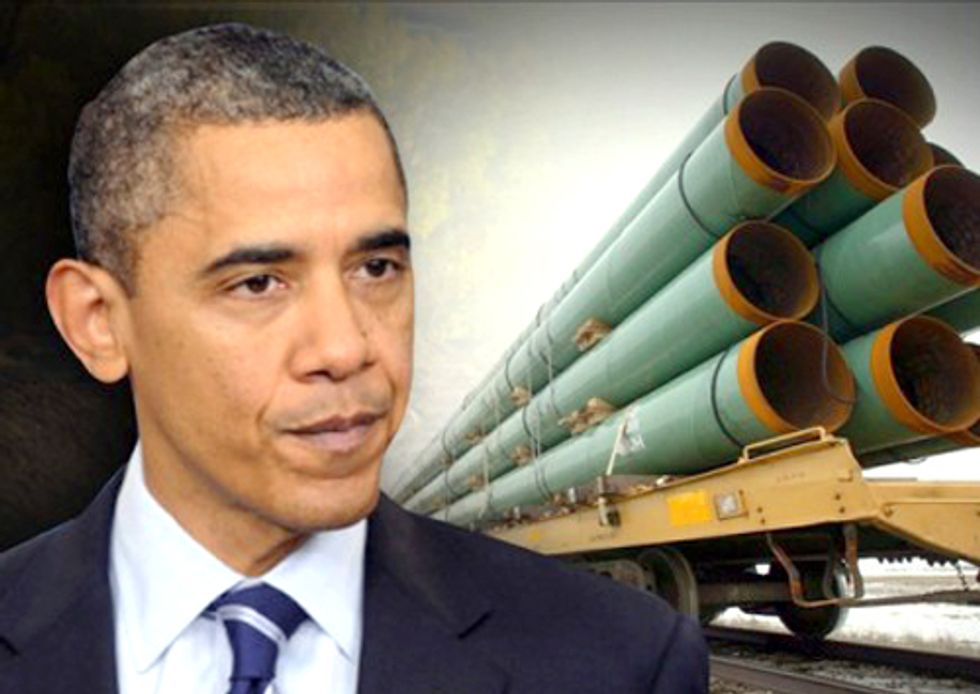 By Steve Kretzmann
You deserve the truth. And the truth is that President Obama has deeply disappointed us.
On March 21, President Obama said, "You have my word that we will keep drilling everywhere we can." In Cushing, Oklahama, the president stood in a TransCanada pipeline yard and issued a new Executive Order "expediting" the permit process for the southern half of the Keystone XL pipeline.
No, that wasn't Sarah Palin. That was President Obama embracing the "drill baby drill" rhetoric, and betraying all of us who have fought so hard to stop the Keystone XL pipeline.
It looks like the more than $1.2 million that the oil industry has given to President Obama over his career has paid off.
The president talks a good game on ending subsidies to the oil industry. But essentially, his Executive Order is a new subsidy. By "expediting" the permit process for this tar sands export pipeline, the president is saving the oil industry millions of dollars, and potentially circumventing important laws designed to protect the health and environment of all Americans.
And for what? Building this pipeline will not lower gas prices. It will not put many Americans to work. It will not enhance America's energy security.
Building the pipeline will supply Gulf Coast refiners including the Saudi-owned Motiva with oil for export. It will line the pockets of the oil industry with even more profits. And it will continue our nation's dangerous dependence on oil.
The president acknowledged in his speech that the oil market is global, and that the situation in Iran—not anything to do with pipelines or domestic drilling—is what is causing prices to rise. He needs to follow through on that logic.
The problem isn't rising gas prices. The problem is that we Americans use too much gas. The only way we will insulate ourselves from swings in the global oil market—not to mention reducing our emissions to slow climate change—is to use less. The president's actions take us in exactly the wrong direction.
This fight isn't over. In fact, I promise you, it's just beginning.
As a first step, join me in contacting the White House today to express our deep disappointment in the president's actions, along with our determination to stop him from "drilling everywhere."
Thanks for your ongoing commitment to separate oil and state. Together, we can ensure that eventually, our politicians will listen to the people, not Big Oil.
For more information, click here.
EcoWatch Daily Newsletter
California Gov. Gavin Newsom speaking with attendees at the 2019 California Democratic Party State Convention at the George R. Moscone Convention Center in San Francisco.
Gage Skidmore
/ Flickr /
CC BY-SA 2.0
California Gov. Gavin Newsom imposed new restrictions on oil exploration in his state yesterday by putting a moratorium on hundreds hydraulic fracturing permits until the projects are reviewed by independent scientists, as the AP reported.
The endangered Houston toad. Courtesy of U.S. Fish and Wildlife Service
While the planet continues to heat up, almost every single one of the 459 species listed as endangered in the U.S. will struggle as the climate crisis intensifies, according to new research published in the journal Nature Climate Change.
"This singular scientific achievement was accomplished at Heliogen's commercial facility in Lancaster, California."
Heliogen
A startup backed by Bill Gates unveiled a breakthrough solar technology Tuesday that could free heavy industry from fossil fuels.
Rhodiola rosea is an adaptogenic herb that can help with chronic fatigue and stress-related burnout. Tero Laakso / Flickr
By Gavin Van De Walle, MS, RD
While everyone has specific life stressors, factors related to job pressure, money, health, and relationships tend to be the most common.
Stress can be acute or chronic and lead to fatigue, headaches, upset stomach, nervousness, and irritability or anger.
A video shows a woman rescuing a koala from Australia's wildfires.
VOA News / YouTube screenshot
More than 350 koalas may have died in the wildfires raging near the Australian town of Port Macquarie in New South Wales, but one got a chance at survival after a woman risked her life to carry him to safety.