Tell Gov. Cuomo: There Is No Safe Fracking
Aug. 22, 2012 08:00AM EST
Energy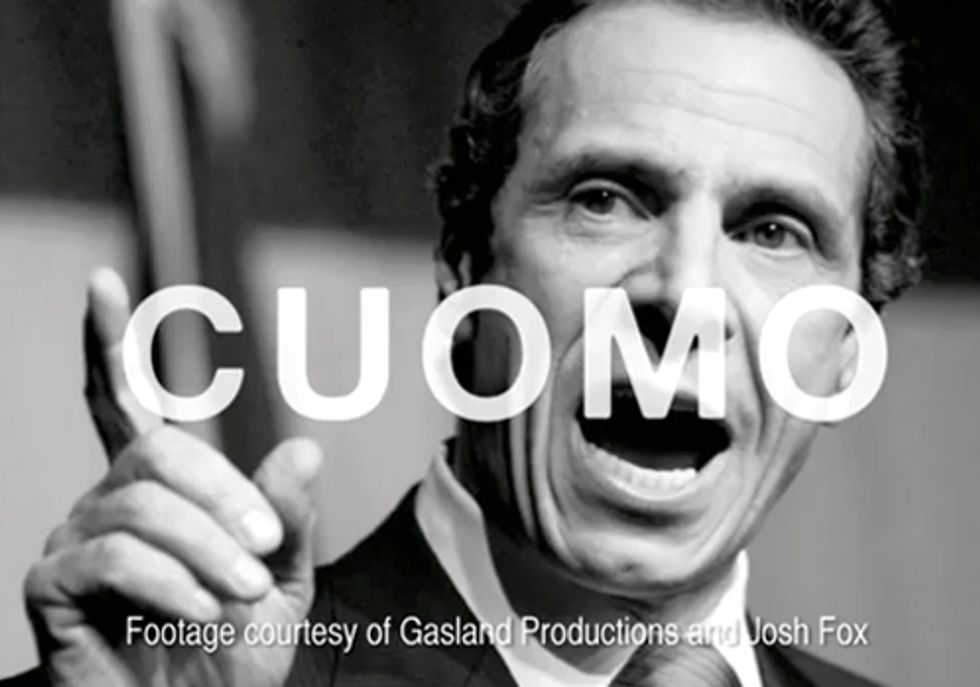 If you've seen our commercial (above) running in New York State, you know that 6 percent of hydraulic fracturing wells fail immediately, and 50 percent—yes, that's half—fail over 30 years. That means if Gov. Cuomo proceeds with his proposal to open up five counties in New York State to fracking, our water will be contaminated by this dirty process within a single generation.
That's why we've teamed up with Josh Fox, Oscar-nominated director of Gasland, on this ad running on network and cable TV stations in the Southern Tier—which will cover the five counties that the Governor is considering handing over to the oil and gas industry as sacrifice zones. The ad urges New Yorkers to call Gov. Cuomo and tell him that there is no such thing as "safe fracking."
This past Tuesday 11 national groups, including Greenpeace, Sierra Club and National Wildlife Federation, signed a letter to Cuomo urging him not to allow fracking "unless and until the impacts to New Yorkers' health, environment and economy have been comprehensively and properly addressed."
It's not just New Yorkers that the Governor needs to hear from. He has political ambitions beyond New York State, and needs to hear from all Americans that the road to the White House is not lined with drilling rigs.
And fracking is not just an issue of concern here in the U.S. The oil and gas industry has its sights set on exploiting gas reserves throughout the world using this riskier process of injecting millions of gallons of fluid—typically a mix of water, sand, and chemicals including known carcinogens—underground at high pressure to fracture the shale formations surrounding a well, which then release the gas. Communities across the globe are banding together for the Global Frackdown, an international day of action, on Sept. 22 to ask their leaders to ban fracking.
As Cuomo's decision on opening up New York to fracking looms, citizens here are ramping up the pressure to combat the overwhelming industry influence on his decision. Advocates plan to confront Cuomo at the State Fair this week—as well as continue regular vigils in Mount Kisco, where Cuomo lives.
The pressure on Governor Cuomo is increasing by the day. Will he do the right thing by protecting the health and safety of all New Yorkers? Time will tell.
Visit EcoWatch's FRACKING page for more related news on this topic.
EcoWatch Daily Newsletter
Related Articles from EcoWatch