This website uses cookies to ensure you get the best experience while browsing it. By clicking 'Got It' you're accepting these terms.


The best of EcoWatch, right in your inbox. Sign up for our email newsletter!
Teens Sue Government for Failing to Address Climate Change for Future Generations
Feb. 23, 2015 11:43AM EST
Many young people feel they have too much at stake to wait for our leaders to get their act together and take meaningful action on climate change. In the words of one young climate activist, Alec Loorz, we need to demand our political leaders "govern as if our future matters." With their future at stake, many youth have taken their case to the courts in the hopes that the judiciary will require the legislature to take action.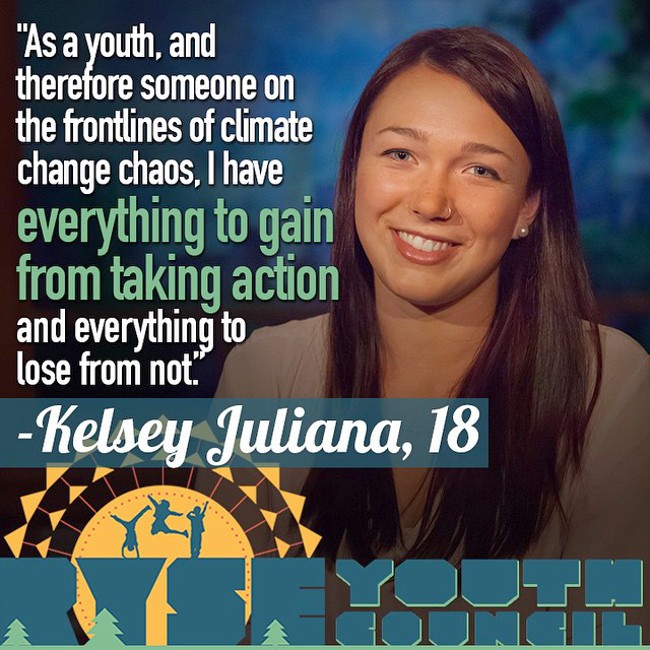 "We are all in imminent danger," Loorz, who founded the nonprofit Kids vs. Global Warming, told Outside Magazine. "Scientists have said we have 10 years to make changes if we want to stabilize the climate by 2100—and that was back in 2005 ... We care more about money and power than we do about future generations. The judicial system is the only branch of government not bought out by corporate interests."
On Bill Moyer's show last month, Mary Christina Wood, law professor at the University of Oregon and author of Nature's Trust: Environmental Law for a New Ecological Age, explains what is being called the "Children's Climate Crusade."
What exactly are these young people asking for? "Every suit and every administrative petition filed in every state in the country and against the federal government asks for the same relief," Wood says. "And that is for the government ... to bring down carbon emissions in compliance with what scientists say is necessary to avoid catastrophic climate change."
The young plaintiffs simply want the courts to require "the legislatures and the agencies to do their job in figuring out how to lower carbon emissions," says Wood. Do these litigants have any legal grounds to stand on, though?
Turns out, yes. "You find it in case law going back to the beginning years of this country," says Wood. "The U.S. Supreme Court has announced the Public Trust Doctrine in multiple cases over the years and it's in every state jurisprudence as well."
The Public Trust Doctrine says "the government is a trustee of the resources that support our public welfare and survival," according to Woods. The doctrine "requires our government to protect and maintain survival resources for future generations." Relying on this long-standing legal principle, young plaintiffs have cases at the state and federal level.
At the federal level, five teenagers, and two non-profit organizations—Kids vs. Global Warming and WildEarth Guardians—partnered with Our Children's Trust to file a federal lawsuit. Their petition for their case to be heard by the U.S. Supreme Court was denied in December, but the plaintiffs vow "to advance their climate claims in lower federal courts until the federal government is ordered to take immediate action on human-made climate change."
At the state level, there are cases pending in Oregon, New Mexico, Pennsylvania, Massachusetts, Washington and Colorado. Courts in Alaska, Texas, Arizona, Kansas, Montana and Pennsylvania have issued "developmental decisions on which the pending cases are in part based." Youth plaintiffs supported by Our Children's Trust have filed administrative rule-making petitions in every state in the country.
"I think there are a lot of kids here in Colorado and around the world who would be so excited to get the gift of clean air and water, snow in the mountains, abundant wildlife and safe communities," said Xiuhtezcatl Martinez, one of the young plaintiffs in the Colorado anti-fracking case, after learning the court rejected the Colorado Oil and Gas Conservation Commission's request for dismissal of their lawsuit. "New York showed us all [by banning fracking] that a state can value the health of kids as a top priority. That's what this whole thing is about, making Colorado a safe place to live for ours and future generations."
Oregon's and Massachusetts' cases are moving forward. Legal arguments began last month in Oregon's case and will culminate in a court hearing before Judge Rasmussen once again on March 13.
The Oregon Court of Appeals ruled last summer that "The court must decide whether the atmosphere is a public trust resource that the state of Oregon, as a trustee, has a duty to protect along with recognized public trust assets such as estuaries, rivers and wildlife." Now the plaintiffs will argue in the Circuit Court that not only does the state have a duty to protect the atmosphere, "but that it is violating its trustee obligation to present and future generations if it does not."
Kelsey Juliana, one of the young plaintiffs in the Oregon case, said, "As a youth, and therefore someone on the front lines of climate change chaos, I have everything to gain from taking action and everything to lose from not."
In Massachusetts, Judge Gordon will hear oral arguments on March 9 in a case brought by four young litigants who say that the Massachusetts Department of Environmental Protection is "failing to fulfill its legal obligations to reduce Massachusetts' greenhouse gas emissions, as required by the Massachusetts Global Warming Solutions Act."
Watch these videos from the iMatter campaign, an initiative of Kids vs. Global Warming and Our Children's Trust to see what's at stake for young people and how they are driving change:
YOU MIGHT ALSO LIKE
Who Would You Nominate as Canada's Top 25 Environmentalists Under 25?
Divest Harvard Campaign Heats Up
Students Compete to Develop Innovative Ways to Feed Future Cities
EcoWatch Daily Newsletter
A metal fence marked with the U.S. Border Patrol sign prevents people to get close to the barbed/concertina wire covering the U.S./Mexico border fence, in Nogales, Arizona, on Feb. 9. ARIANA DREHSLER / AFP / Getty Images
D'Bone Collector Museum head Darrell Blatchley shows plastic found inside the stomach of a Cuvier's beaked whale in the Philippines this weekend. - / AFP / Getty Images
Yet another whale has died after ingesting plastic bags. A young male Cuvier's beaked whale was found washed up in Mabini, Compostela Valley in the Philippines Friday, CNN reported. When scientists from the D' Bone Collector Museum in Davao investigated the dead whale, they found it had died of "dehydration and starvation" after swallowing plastic bags―40 kilograms (approximately 88 pounds) worth of them!
Pexels
By Jeff Turrentine
"Be careful what you wish for; you just might get it." This is something that everybody has to learn at some point. Lately, the lesson has hit home for a group of American automakers.
Art direction: Georgie Johnson. Illustrations: Freya Morgan
By Joe Sandler Clarke
"Don't expect us to continue buying European products," Malaysia's former plantations minister Mah Siew Keong told reporters in January last year. His comments came just after he had accused the EU of "practising a form of crop apartheid."

A few months later Luhut Pandjaitan, an Indonesian government minister close to President Joko 'Jokowi' Widodo, warned his country would retaliate if it was "cornered" by the EU.
Torres and his parents walk along the Rio Grande. Luis Torres / Earthjustice
By Luis Torres
For some people who live along the U.S.-Mexico border, President Trump's attempt to declare a national emergency and extend the border wall is worse than a wasteful, unconstitutional stunt. It's an attack on their way of life that threatens to desecrate their loved ones' graves.
Flooding caused by last week's bomb cyclone storm has broken records in 17 places across the state of Nebraska, CNN reported Sunday. Around nine million people in 14 states along the Mississippi and Missouri Rivers were under a flood watch, CNN meteorologist Karen Maginnis said.
A car destroyed by Cyclone Idai in Beira, Mozambique. ADRIEN BARBIER / AFP / Getty Images
At least 150 people have died in a cyclone that devastated parts of Mozambique, Zimbabwe and Malawi over the weekend, The Associated Press reported Sunday. Cyclone Idai has affected more than 1.5 million people since it hit Mozambique's port city of Beira late Thursday, then traveled west to Zimbabwe and Malawi. Hundreds are still missing and tens of thousands are without access to roads or telephones.
"I think this is the biggest natural disaster Mozambique has ever faced. Everything is destroyed. Our priority now is to save human lives," Mozambique's Environment Minister Celso Correia said, as AFP reported.