This website uses cookies to ensure you get the best experience while browsing it. By clicking 'Got It' you're accepting these terms.
Teen Girls See Big Drop in Chemical Exposure With Switch in Cosmetics
Mar. 08, 2016 11:28AM EST
Health + Wellness
By Sarah Yang, UC Berkeley
A new study led by researchers at UC Berkeley and Clinica de Salud del Valle de Salinas demonstrates how even a short break from certain kinds of makeup, shampoos and lotions can lead to a significant drop in levels of hormone-disrupting chemicals in the body.
The results, published yesterday in the journal Environmental Health Perspectives, came from a study of 100 Latina teenagers participating in the Health and Environmental Research on Makeup of Salinas Adolescents (HERMOSA) study.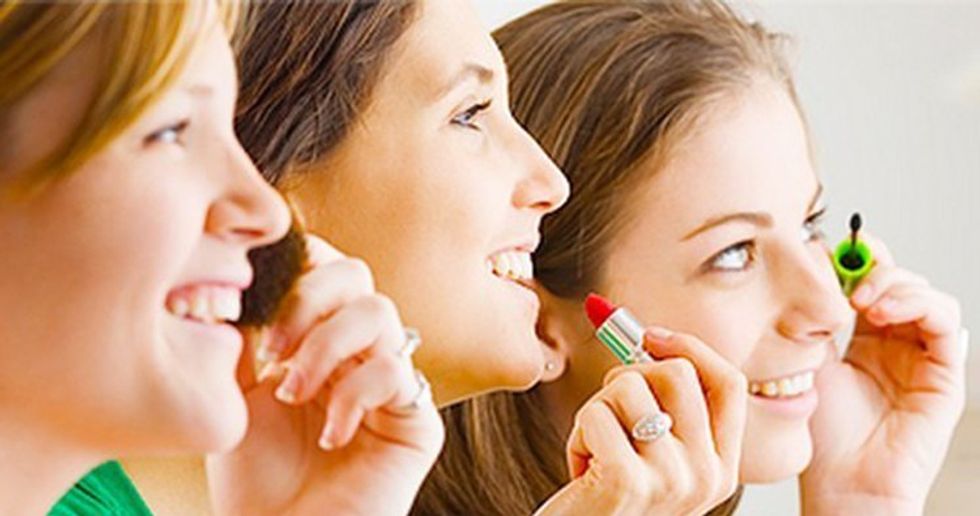 HERMOSA is a community-university collaboration between UC Berkeley, Clinica de Salud del Valle de Salinas and a team of youth researchers from the CHAMACOS Youth Council, a project to involve young people in public health and the environment.
Researchers provided teen study participants with personal care products labeled free of chemicals such as phthalates, parabens, triclosan and oxybenzone. Such chemicals are widely used in personal care products, including cosmetics, fragrance, hair products, soaps and sunscreens and have been shown in animal studies to interfere with the body's endocrine system.
"Because women are the primary consumers of many personal care products, they may be disproportionately exposed to these chemicals," said study lead author Kim Harley, associate director of the UC Berkeley Center for Environmental Research and Children's Health. "Teen girls may be at particular risk since it's a time of rapid reproductive development and research has suggested that they use more personal care products per day than the average adult woman."
Analysis of urine samples before and after a three-day trial in which the participants used the lower-chemical products found significant drops in levels of these chemicals in the body. Metabolites of diethyl phthalate, commonly used in fragrances, decreased 27 percent by the end of the trial period. Methyl and propyl parabens, used as preservatives in cosmetics, dropped 44 and 45 percent respectively. Both triclosan, found in antibacterial soaps and some brands of toothpaste and benzophenone-3 (BP-3), found in some sunscreens under the name oxybenzone, fell 36 percent.
Surprisingly, there was a small increase in concentrations in two less common parabens. Those levels were small and could have been caused by accidental contamination or a substitution not listed on the labels, the study authors said.
Kimberly Parra, study co-director, said it was important to involve local youth in the design and implementation of the study.
"The results of the study are particularly interesting on a scientific level, but the fact that high school students led the study set a new path to engaging youth to learn about science and how it can be used to improve the health of their communities," she said. "After learning of the results, the youth took it upon themselves to educate friends and community members and presented their cause to legislatures in Sacramento."
The CHAMACOS Youth Council included 12 local high school students who helped design and carry out the study. One teen researcher, Salinas native and study co-author Maritza Cárdenas, is now a UC Berkeley undergraduate majoring in molecular and cell biology.
"One of the goals of our study was to create awareness among the participants of the chemicals found in everyday products, to help make people more conscious about what they're using," said Cárdenas. "Seeing the drop in chemical levels after just three days shows that simple actions can be taken, such as choosing products with fewer chemicals and make a difference."
The researchers noted that cosmetics and personal care products are not well-regulated in this country and that getting data about health effects from exposure, particularly long-term ones, is difficult. But they say there is growing evidence linking endocrine-disrupting chemicals to neurobehavioral problems, obesity and cancer cell growth.
"We know enough to be concerned about teen girls' exposure to these chemicals. Sometimes it's worth taking a precautionary approach, especially if there are easy changes people can make in the products they buy," said Harley.
Cárdenas said the research findings have already influenced the products she buys for herself.
"Personally, since the study, I've tried to use more organic products," she said. "It's hard, especially as a college student who doesn't have a lot of money. You tend to just get what's on sale. But I've decided to splurge more on products with fewer chemicals because of the effect in the future. And if you can't make the best choice when you're buying because of cost, you can at least try to limit the use of the products you do buy."
The California Breast Cancer Research Program of the University of California helped support this research. Chemical analyses were performed through Biomonitoring California, a California Department of Public Health program that tracks levels of chemicals in California residents.
YOU MIGHT ALSO LIKE
Are You Drinking Teflon Contaminated Water?
Organic Panty Liners Pulled From Shelves After Traces of Glyphosate Found
Johnson & Johnson to Pay $72 Million in Lawsuit Linking Talcum Powder to Ovarian Cancer
EcoWatch Daily Newsletter
A verdant and productive urban garden in Havana. Susanne Bollinger / Wikimedia Commons
By Paul Brown
When countries run short of food, they need to find solutions fast, and one answer can be urban farming.
Trevor Noah appears on set during a taping of "The Daily Show with Trevor Noah" in New York on Nov. 26, 2018.
The Daily Show With Trevor Noah / YouTube screenshot
Rebecca Burgess came up with the idea of a fibersheds project to develop an eco-friendly, locally sourced wardrobe.
Nicolás Boullosa / CC BY 2.0
By Tara Lohan
If I were to open my refrigerator, the origins of most of the food wouldn't be too much of a mystery — the milk, cheese and produce all come from relatively nearby farms. I can tell from the labels on other packaged goods if they're fair trade, non-GMO or organic.
A television crew reports on Hurricane Dorian while waves crash against the Banana River sea wall. Paul Hennessy / SOPA Images / LightRocket / Getty Images
By Mark Hertsgaard and Kyle Pope
Some good news, for a change, about climate change: When hundreds of newsrooms focus their attention on the climate crisis, all at the same time, the public conversation about the problem gets better: more prominent, more informative, more urgent.
U.S. Senators Chris Coons (D-Del.) and Mike Braun (R-Ind.) met with Bill Gates on Nov. 7 to discuss climate change and ways to address the challenge.
Senator Chris Coons
The U.S. Senate's bipartisan climate caucus started with just two members, a Republican from Indiana and a Democrat from Delaware. Now it's up to eight members after two Democrats, one Independent and three more Republicans joined the caucus last week, as The Hill reported.
A timelapse video shows synthetic material and baby fish collected from a plankton sample from a surface slick taken off Hawaii's coast.
Honolulu Star-Advertiser / YouTube screenshot