Teen Girls See Big Drop in Chemical Exposure With Switch in Cosmetics
By Sarah Yang, UC Berkeley
A new study led by researchers at UC Berkeley and Clinica de Salud del Valle de Salinas demonstrates how even a short break from certain kinds of makeup, shampoos and lotions can lead to a significant drop in levels of hormone-disrupting chemicals in the body.
The results, published yesterday in the journal Environmental Health Perspectives, came from a study of 100 Latina teenagers participating in the Health and Environmental Research on Makeup of Salinas Adolescents (HERMOSA) study.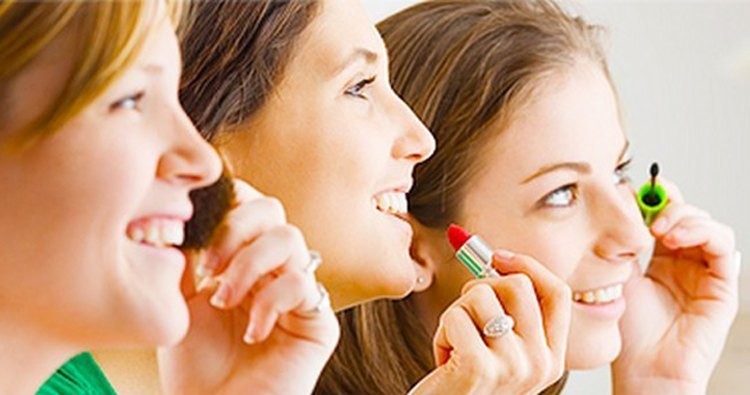 HERMOSA is a community-university collaboration between UC Berkeley, Clinica de Salud del Valle de Salinas and a team of youth researchers from the CHAMACOS Youth Council, a project to involve young people in public health and the environment.
Researchers provided teen study participants with personal care products labeled free of chemicals such as phthalates, parabens, triclosan and oxybenzone. Such chemicals are widely used in personal care products, including cosmetics, fragrance, hair products, soaps and sunscreens and have been shown in animal studies to interfere with the body's endocrine system.
"Because women are the primary consumers of many personal care products, they may be disproportionately exposed to these chemicals," said study lead author Kim Harley, associate director of the UC Berkeley Center for Environmental Research and Children's Health. "Teen girls may be at particular risk since it's a time of rapid reproductive development and research has suggested that they use more personal care products per day than the average adult woman."
Analysis of urine samples before and after a three-day trial in which the participants used the lower-chemical products found significant drops in levels of these chemicals in the body. Metabolites of diethyl phthalate, commonly used in fragrances, decreased 27 percent by the end of the trial period. Methyl and propyl parabens, used as preservatives in cosmetics, dropped 44 and 45 percent respectively. Both triclosan, found in antibacterial soaps and some brands of toothpaste and benzophenone-3 (BP-3), found in some sunscreens under the name oxybenzone, fell 36 percent.
Surprisingly, there was a small increase in concentrations in two less common parabens. Those levels were small and could have been caused by accidental contamination or a substitution not listed on the labels, the study authors said.
Kimberly Parra, study co-director, said it was important to involve local youth in the design and implementation of the study.
"The results of the study are particularly interesting on a scientific level, but the fact that high school students led the study set a new path to engaging youth to learn about science and how it can be used to improve the health of their communities," she said. "After learning of the results, the youth took it upon themselves to educate friends and community members and presented their cause to legislatures in Sacramento."
The CHAMACOS Youth Council included 12 local high school students who helped design and carry out the study. One teen researcher, Salinas native and study co-author Maritza Cárdenas, is now a UC Berkeley undergraduate majoring in molecular and cell biology.
"One of the goals of our study was to create awareness among the participants of the chemicals found in everyday products, to help make people more conscious about what they're using," said Cárdenas. "Seeing the drop in chemical levels after just three days shows that simple actions can be taken, such as choosing products with fewer chemicals and make a difference."
The researchers noted that cosmetics and personal care products are not well-regulated in this country and that getting data about health effects from exposure, particularly long-term ones, is difficult. But they say there is growing evidence linking endocrine-disrupting chemicals to neurobehavioral problems, obesity and cancer cell growth.
"We know enough to be concerned about teen girls' exposure to these chemicals. Sometimes it's worth taking a precautionary approach, especially if there are easy changes people can make in the products they buy," said Harley.
Cárdenas said the research findings have already influenced the products she buys for herself.
"Personally, since the study, I've tried to use more organic products," she said. "It's hard, especially as a college student who doesn't have a lot of money. You tend to just get what's on sale. But I've decided to splurge more on products with fewer chemicals because of the effect in the future. And if you can't make the best choice when you're buying because of cost, you can at least try to limit the use of the products you do buy."
The California Breast Cancer Research Program of the University of California helped support this research. Chemical analyses were performed through Biomonitoring California, a California Department of Public Health program that tracks levels of chemicals in California residents.
YOU MIGHT ALSO LIKE
Are You Drinking Teflon Contaminated Water?
Organic Panty Liners Pulled From Shelves After Traces of Glyphosate Found
Johnson & Johnson to Pay $72 Million in Lawsuit Linking Talcum Powder to Ovarian Cancer
Monsanto, the maker of the glyphosate-based herbicide Roundup, filed a motion June 16 in U.S. District Court, Northern District of California to reconsider the chemical's addition to California's Proposition 65 list of agents known to cause cancer.
The agrochemical giant made this move based on a June 14 Reuters investigation of Dr. Aaron Blair, a lead researcher on the World Health Organization's International Agency for Research on Cancer (IARC) committee, that classified glyphosate as a "2A probable human carcinogen" in March 2015.
Keep reading...
Show less
By Avery Friedman
Algae is often considered a nuisance, but for Sweden, the rapidly growing sea plant is now an asset.
As the Scandinavian country works to cut all of its greenhouse gas emissions by 2045, it's using algae to sop up the carbon emissions from cement.
Keep reading...
Show less
Jun. 24, 2017 01:35PM EST
By Itai Vardi
A recent intensification in protests against Williams Partners' planned Atlantic Sunrise pipeline in Pennsylvania prompted a state senator to propose legislation aimed at limiting demonstrations.
Last month, Pennsylvania Sen. Scott Martin (R-Norman) announced his intention to introduce legislation that would pass the costs of law enforcement responding to protests onto the demonstrators. Martin also helped introduce a different bill that would criminalize protests at natural gas facilities.
Keep reading...
Show less
Jun. 24, 2017 01:29PM EST
Black Shogun / iStock
The Federal Energy Regulatory Commission (FERC) released its Final Environmental Impact Statement Friday for the Mountain Valley Pipeline, a controversial 303-mile pipeline that would carry two billion cubic feet of fracked gas per day from West Virginia through Virginia.
Keep reading...
Show less
Jun. 24, 2017 01:46PM EST
Falcon PEV
The so-called "first and last mile" problem is one of the biggest hurdles with public transportation. How do you encourage more people to take Earth-friendlier commutes when their homes are miles away from the train or bus station?
One solution, as this Estonian electric scooter company proposes, is to simply take your commute with you—literally. Tallinn-based Stigo has developed a compact e-scooter that folds to the size of a rolling suitcase in about two seconds.
Keep reading...
Show less
Jun. 24, 2017 05:12PM EST
Connect4Climate
[Editor's note: I'm still in shock after hearing the news that Lucia Grenna passed away in her sleep last week. When we first met in April of 2014 at a Copenhagen hotel, I was immediately taken by here powerful presence. We spent the next couple days participating in a Sustainia climate change event where Lucia presented her audacious plans to connect people to the climate issue. I had the chance to partner with Lucia on several other projects throughout the years and work with her incredible Connect4Climate team. I was always in awe of her ability to "make the impossible possible." Her spirit will live on forever. — Stefanie Spear]
It is with a heavy heart that Connect4Climate announces the passing of its founder and leading light, Lucia Grenna. Lucia passed peacefully in her sleep on June 15, well before her time. We remember her for her leadership and extraordinary ability to motivate people to take on some of the greatest challenges of our time, not least climate change.
Keep reading...
Show less
Jun. 23, 2017 07:29PM EST
Wikimedia Commons
By Stacy Malkan
Neil deGrasse Tyson has inspired millions of people to care about science and imagine themselves as participants in the scientific process. What a hopeful sign it is to see young girls wearing t-shirts emblazoned with the words, "Forget princess, I want to be an astrophysicist."
Keep reading...
Show less
Jun. 23, 2017 01:57PM EST
www.youtube.com
By Andy Rowell
Any day now we will truly witness climate change in action. Within days at worst, maybe weeks at best, scientists predict that a huge section of the Larsen C ice shelf in Antarctica will break off into the ocean, in what is called a major "carving" event.
Keep reading...
Show less
Jun. 23, 2017 02:27PM EST
www.youtube.com
President Trump visited Cedar Rapids, Iowa on June 21 to speak to a large crowd in the U.S. Cellular Center at a political rally organized by his campaign.
As Trevor Noah noted during The Daily Show episode last night (starts at 2:25), the real reason Trump has these rallies is to "get back in front of his loyal crowds and feed of their energy." Noah believes that "Trump supporters are so on board with their dude he can say anything and they'll come along for the ride."
Keep reading...
Show less