This website uses cookies to ensure you get the best experience while browsing it. By clicking 'Got It' you're accepting these terms.
Ted Glick: Why Climate Activists Should Support Bernie Sanders
Jun. 15, 2015 12:24PM EST

About 7 months ago I wrote An Open Letter to Naomi Klein, a column raising questions about how Naomi, in her excellent book "This Changes Everything," took the position that what is most significant about the deepening climate crisis is that it "could form the basis of a powerful mass movement ... to protect humanity from the ravages of both a savagely unjust economic system and a destabilized climate system. I have written this book because I came to the conclusion that climate action could provide just such a rare catalyst."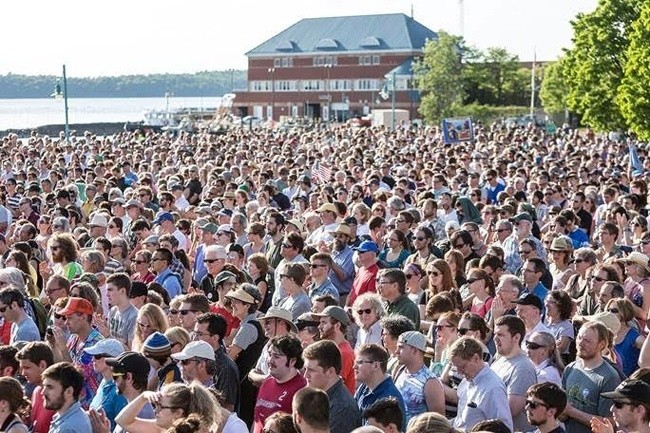 Elsewhere she wrote, "climate change can be a People's Shock, a blow from below. It can disperse power into the hands of the many rather than consolidating it in the hands of the few."
I didn't and still don't disagree with the need to build a mass movement to fundamentally transform that "unjust economic system," not at all. I've been part of those and related efforts—like anti-racism and anti-war—for decades and continue to be part of them. The concern I have is that we, humanity, have a very real time limit when it comes to slowing, stopping and reversing the climate crisis. There are climate tipping points which, if passed, will make it extremely difficult, if not impossible, to stop an escalating series of environmental, social and economic breakdowns worldwide, no matter what kind of economic system we have, capitalist, socialist or something else.
I've been thinking again about these questions as a result of a couple of recent developments. One is the very hopeful and positive development of the Bernie Sanders' campaign for president, which is effectively linking issues of economic injustice, illegitimate ultra-rich-guy power and the climate crisis. The other was an article, "Want to fix the climate? First, we have to change everything," published in early April on Grist.
The Grist article was about the launch of The Next System, a project endorsed by a pretty broad cross-section of people "that seeks to disrupt or replace our traditional institutions for creating progressive change." Gar Alperowitz is the leader of this effort. In the article he is interviewed, and a couple of the things he said caught my attention. One was where he talked about how we had to think in terms of "three or four decades" as far as making institutional change. When asked this question in response to that position—"Of course, with climate change, there are many who will contest that we don't have decades to build the next system"—his response was:
What happens when they push that argument is people think that it's not going to happen. The trends are going to continue to get worse before they get better and there's going to be a lot of loss. As a realist, we're going to see a lot of damage and destruction, and we've got to build whatever we can—a combination of adaptation and command-and-control. The conversation's changed. It used to be, "It's got to be done now and if not, then the world will explode." Now, it's more, "You know we're not going to get it done tomorrow, so we have to do the best we can, otherwise it's going to get worse."
Alperowitz's position is different than Klein's. Klein appreciates the immediacy of the climate crisis in a way that he does not. Throughout her book she talks about us having "years," "a few years," not Gar's "decades." Yet their positions are similar in that both see the need for fundamental transformation of the economic system as either a prerequisite for stabilizing the climate or something which must go hand in hand with that process.
The Bernie Sanders for President campaign has brought a whole new lens on these issues. The campaign has taken off since Bernie announced a month or so ago. Hundreds of thousands of people have contributed. Thousands of people are coming out to some of his events in Iowa, and he's had a strong showing other states as well. He is coming up in the polls as Hillary Clinton goes down. And this is happening because he is effectively and consistently making the connections between key issues.
The Bernie for President campaign is a mass people's movement for fundamental change of the political and economic system and for strong action to be taken now to get off fossil fuels and onto the jobs-creating, efficiency and renewables path.
It seems to me that the successes so far of the Sanders campaign strengthen Klein's position. Sanders' success is a concrete manifestation of her view that the struggles for economic and climate justice must be and can be linked. I wonder if she sees the Sanders campaign that way.
I know that some activists who see themselves as more radical than Bernie—and who indeed are—or who don't believe in electoral politics may have difficulty appreciating the importance of what is happening with his campaign. It has immense potential to shake things up in the most positive of ways and to create openings for the progressive movement that would not exist without it. I hope some people will re-think their positions.
This doesn't mean that constructive criticism of Bernie's campaign is uncalled for. Just recently the United Electrical Workers Union, which has worked closely with Sanders for years, came out with a statement supporting him but also urging him to be more outspoken on issues of war and peace. The issues section of his website lists only three issues: income and wealth inequality, getting big money out of politics, and climate change and environment. Clearly, this needs to be filled out in a whole range of issue areas.
What about the Sanders campaign and the climate movement?
I think it is strategic for climate activists to support or become involved with the Sanders campaign, but I don't believe that everyone should drop what they're doing to become active in it. There are lots and lots of specific struggles and campaigns underway that need continuing focus and work—no Keystone XL pipeline, no Shell drilling in the Arctic, stop fracking and FERC's rubberstamping of fracking infrastructure, stop mountaintop removal, no offshore drilling along the Atlantic coast, for state support of renewables targets, for a price on carbon, no TPP or Fast Track, etc. These campaigns must continue to be built. After all, Bernie Sanders is certainly a long shot as far as winning the presidency, and even if his odds improve, which I think is likely, the need is great for a focused climate movement that is independent and able to bring pressure on whomever is in a position of power.
Our situation is critical. Most climate scientists think we still have time to reverse this insane path toward societal and ecological devastation, but the window is closing. It is difficult to see how we can avoid full-on climate catastrophe if major steps are not taken this decade to undercut the power of the fossil fuel industry so that rapid progress can be made toward an energy efficient and renewable energy-based economic system.
Is this possible? I think it is, given the growth, breadth and deep roots that the climate movement has built in the last decade or so. The turnout of hundreds of thousands of people for the People's Climate March last September in NYC, with hundreds of companion actions worldwide, is the clearest indicator of this fact. The Sanders campaign is tapping into that movement and helping to propel it forward.
It's a good time to be alive and active; the movements are rising.
YOU MIGHT ALSO LIKE
Hillary Clinton: Climate Change Is 'One of the Defining Threats of Our Time'
Pope Francis's Encyclical Could Have Bigger Impact Than the Paris Climate Talks, Says NASA Scientist
House Kills TPP Fast-Track, Huge Blow to Corporate-Friendly Trade Agenda
Climate activist Greta Thunberg addresses the European Commission on Feb. 21 in Brussels, Belgium. Sylvain Lefevre / Getty Images
By Julia Conley
Sixteen-year-old climate action leader Greta Thunberg stood alongside European Commission President Jean-Claude Juncker Thursday in Brussels as he indicated—after weeks of climate strikes around the world inspired by the Swedish teenager—that the European Union has heard the demands of young people and pledged more than $1 trillion over the next seven years to address the crisis of a rapidly heating planet.

In the financial period beginning in 2021, Juncker said, the EU will devote a quarter of its budget to solving the crisis.
A new study reveals the health risks posed by the making, use and disposal of plastics. Jeffrey Phelps / Getty Images
With eight million metric tons of plastic entering the world's oceans every year, there is growing concern about the proliferation of plastics in the environment. Despite this, surprisingly little is known about the full impact of plastic pollution on human health.
But a first-of-its-kind study released Tuesday sets out to change that. The study, Plastic & Health: The Hidden Costs of a Plastic Planet, is especially groundbreaking because it looks at the health impacts of every stage in the life cycle of plastics, from the extraction of the fossil fuels that make them to their permanence in the environment. While previous studies have focused on particular products, manufacturing processes or moments in the creation and use of plastics, this study shows that plastics pose serious health risks at every stage in their production, use and disposal.
IKEA is working on a specially-designed, air-purifying curtain called the GUNRID. IKEA
Air pollution within the home causes 3.8 million deaths a year, according to the World Health Organization. A recent University of Colorado in Boulder study reported by The Guardian found that cooking a full Thanksgiving meal could raise levels of particulate matter 2.5 in the house higher than the levels averaged in New Delhi, the world's sixth most polluted city.
But soon, you will be able to shop for a solution in the same place you buy your budget roasting pans. IKEA is working on a specially-designed, air-purifying curtain called the GUNRID.
The first member of the giant tortoise species Chelonoidis phantasticus to be seen in more than 100 years. RODRIGO BUENDIA / AFP / Getty Images
A rare species of giant tortoise, feared extinct for more than 100 years, was sighted on the Galápagos island of Fernandina Sunday, the Ecuadorian government announced.