Ted Cruz Offers Al Gore Some 'Inconvenient Truths' in Most Outrageous Climate Denier Stunt Yet
Dec. 10, 2015 12:27PM EST
Climate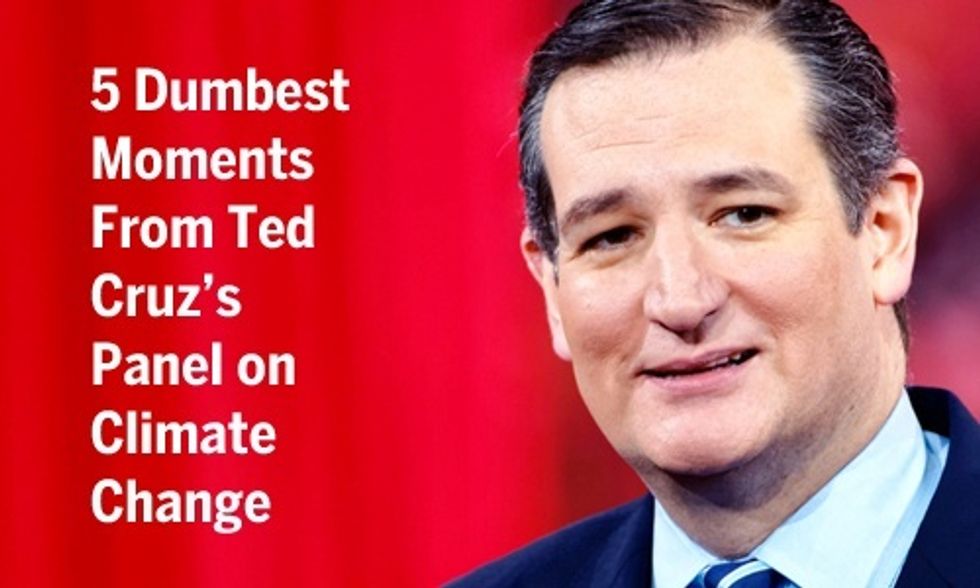 Recently, the AP asked eight scientists to grade the comments of top presidential candidates for their scientific accuracy. Coming in at dead last was Ted Cruz. For further proof of his scientific illiteracy, we now turn to the Senate hearing he hosted on Tuesday, Data or Dogma: Promoting Open Inquiry in the Debate Over the Magnitude of Human Impact on Earth's Climate. All four of the witnesses that Cruz invited to speak are climate deniers "from the discredited fringe of the scientific debate," as The Hill's Scott Price wrote.
One of them, William Happer, a Princeton professor, was exposed in an undercover Greenpeace investigation for what is known as being an "academic-for-hire." Happer agreed to write a report for a Middle Eastern oil company but allowed the firm to keep the source of the funding secret. Another witness, Mark Steyn, does not even have a scientific background. He's a conservative radio talk show host.
Cruz's democratic colleagues assailed him for wasting taxpayers' money on the hearing. "The only thing that requires a thorough scientific investigation is why Sen. Cruz is having a hearing on climate science," Sen. Ed Markey (D-MA) told The Hill.
If you don't feel like watching the nearly three-hour affair, you can check out the "five dumbest moments" from the hearing, according to Inverse, who said they "monitored this farce so you could do other things."
For just a taste of what the event was like, here's Cruz's opening statement:
At the very least you should watch this unbelievable rant from Steyn, who, at one point, calls climate change a "cloud-cuckoo, fantasy-land, saving-the-planet type" concern.
And then there's this video from moments before the start of Cruz's Senate hearing, which exposes Happer for denying his ties to the fossil fuel industries.
YOU MIGHT ALSO LIKE
Ted Cruz Calls Obama's 'Radical' Climate Plan 'Tyranny'
11 Reasons Why 'Everybody Hates Ted Cruz'
Michael Mann: This GOP Presidential Candidate 'Understands Less About Science Than Your Average Kindergartner'
Busted: Academics-for-Hire Exposed for Failing to Disclose Fossil Fuel Funding
EcoWatch Daily Newsletter