This website uses cookies to ensure you get the best experience while browsing it. By clicking 'Got It' you're accepting these terms.
Ted Cruz Lies Again About the Science of Climate Change
Oct. 11, 2015 07:29AM EST
Climate
[Editor's note: Last week, Sen. Ted Cruz held a hearing that attacked the clean air and clean water safeguards that protect millions of American families. During the hearing, Sen. Cruz relentlessly questioned Sierra Club President Aaron Mair on the validity of global warming, relying on classic climate denier arguments. On Thursday, Mair responded to Sen. Cruz's attack on climate science.]
In the U.S. Senate, witnesses at committee hearings swear to tell the truth. Unfortunately, the senators grilling them don't take the same pledge, so Sen. Ted Cruz (R-Texas) won't be sanctioned for misleading a Judiciary Committee panel this week with claims of a supposed "pause" in global warming, which he hopes will sow doubt about the accepted science behind climate change.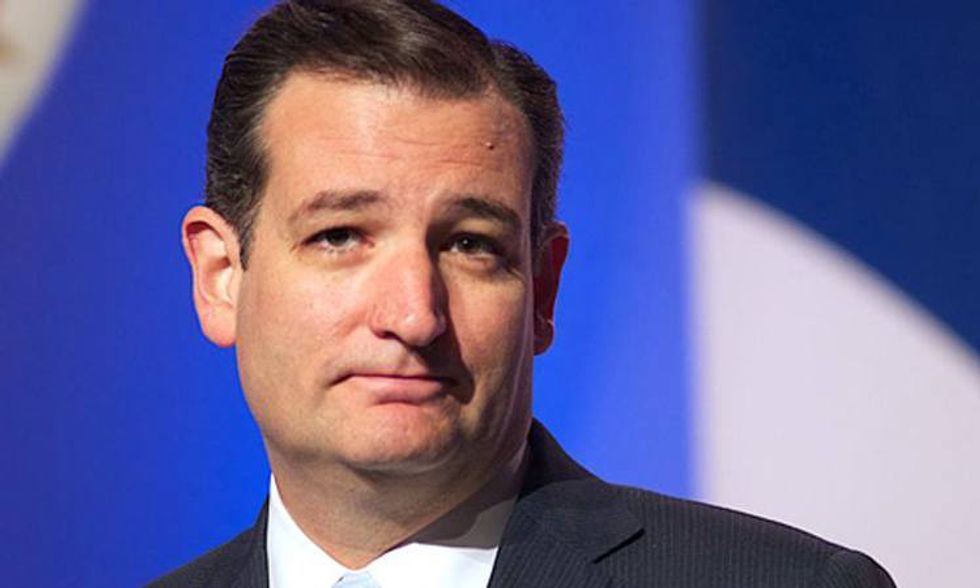 This isn't the first time Cruz and the climate denier community have focused on a disputed claim that there has been no increase in global temperatures over the last 15 to 18 years, nor is it the first time actual scientists have had to debunk his conclusions. A March 27 Fact Checker column in the Washington Post looked at Cruz's comment on a late night TV show that "satellite data demonstrate for the last 17 years, there's been zero warming." The Post delved into the science behind the issue and gave Cruz three out of four Pinnochios, finding his claim was "mostly false."
Carl Mears, a physicist and senior scientist at Remote Sensing Systems whose work was cited by the senator's staff in defending Cruz's claim, has since come forward in the Post to reject the way his data is being used by Cruz:
Mr. Cruz … likes to cite statistics about the last 17 years because 17 years ago, the … observed temperatures were substantially above normal … When one starts their analysis on an extraordinarily warm year, the resulting trend is below the true long term trend. It's like a pro baseball player deciding he's having a batting slump three weeks after a game when he hit three homers because he's only considering those three weeks instead of the whole season.
Even more recently, the National Oceanic and Atmospheric Administration released a study concluding that there has been no pause in global warming during the years cited by Cruz. "The new data include more extensive and improved surface air temperature observations taken at thousands of weather observing stations over land, and for ocean sea surface temperature there are new observations from commercial ships and drifting surface buoys," writes Antonia Herzog, deputy director of the Climate and Clean Air Program at the Natural Resources Defense Council.
During his hearing this week, Cruz also ridiculed the idea that 97 percent of climate scientists agree that human activity is contributing to the warming of the planet, saying the figure had been discredited. But when watchdogs such as PolitiFact look into it, they find climate deniers are cherry-picking evidence for that claim. A review of nearly 12,000 climate abstracts published between 1991 and 2011 found that more than 97 percent of papers expressing an opinion on the matter endorsed the consensus that human activity contributes to climate change. NASA has long backed up the claim of overwhelming scientific consensus on man-made climate change, and a recent study of the broader scientific community found nearly 92 percent of non-climate scientists agree. There is overwhelming scientific agreement that the energy choices we make have a significant influence on our climate.
Scientists don't ignore new evidence when it contradicts earlier theories, but it seems Sen. Cruz and the climate deniers are not interested in any data or study which contradicts their own ideology or threatens the party line fed to them by their fossil fuel industry benefactors. That allows them to stand before the American people and refuse to tell the truth, the whole truth and nothing but the truth.
YOU MIGHT ALSO LIKE
Watch Climate Denier Ted Cruz Bully Sierra Club President in Senate Hearing
Sierra Club's Aaron Mair Responds to Sen. Ted Cruz's Attack on Climate Science
Michael Bloomberg and John Kerry: All Climate Change Is Local
Robert Redford: Pope Francis Is Right, Climate Change Is a Moral Imperative
EcoWatch Daily Newsletter
A harbour seal on an ice floe in Glacier Bay, Alaska. A new study shows that the climate crisis has warmed waters, changing ecosystems and crippling sea ice growth. Janette Hill / robertharding / Getty Images Plus
Doctors report that only 1 in 4 children are getting the recommended 60 minutes of physical activity per day. Ronnie Kaufman / DigitalVision / Getty Images
By Dan Gray
Pediatricians are being urged to start writing "exercise prescriptions" for the children they see in their office.
A First Nations protester walks in front of a train blockade in Tyendinaga, near Belleville, Ontario, Canada on Feb. 21, 2020. LARS HAGBERG / AFP via Getty Images
An indigenous rail blockade that snarled train travel in Canada for more than two weeks came to an end Monday when police moved in to clear protesters acting in solidarity with another indigenous community in British Columbia (B.C.), which is fighting to keep a natural gas pipeline off its land.
A rainbow snake, a rare reptile spotted in a Florida county for the first time in more than 50 years, seen here on July 5, 2013.
Kevin Enge / FWC Fish and Wildlife Research Institute / Flickr
A Florida hiker recently stumbled across a slithering surprise — a rare snake that hadn't been spotted in the area for more than 50 years.
We need our government to do everything it can to stop PFAS contamination and exposure from wreaking havoc in communities across the country. LuAnn Hun /
Unsplash
By Genna Reed
The EPA announced last week that it is issuing a preliminary regulatory determination for public comment to set an enforceable drinking water standard to two of the most common and well-studied PFAS, PFOA and PFOS.
This decision is based on three criteria:
PFOA and PFOS have an adverse effect on public health
PFOA and PFOS occur in drinking water often enough and at levels of public health concern;
regulation of PFOA and PFOS is a meaningful opportunity for reducing the health risk to those served by public water systems.