This website uses cookies to ensure you get the best experience while browsing it. By clicking 'Got It' you're accepting these terms.
Ted Cruz Calls Obama's 'Radical' Climate Plan 'Tyranny'
Nov. 21, 2015 10:06AM EST
Climate
Sen. Ted Cruz said in a video released earlier this week that "one of the worst examples of the left's scare tactics is the lies they continue to spread concerning the issue of so-called global warming."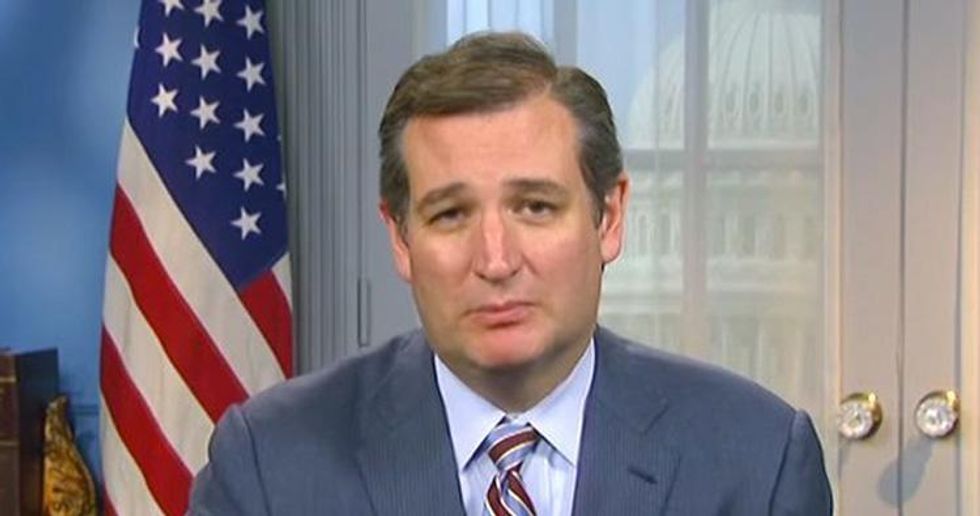 His taped remarks were delivered Thursday at the Texas Public Policy Foundation's second annual At the Crossroads: Energy & Climate Policy Summit. The two-day event in Austin, Texas included speakers such as Sen. John Cornyn (R-TX), Congressman Lamar Smith (R-TX), Texas Attorney General Ken Paxton, Stephen Moore of the Heritage Foundation, Marc Morano of Climate Depot and James Taylor of the Heartland Institute.
"The president's radical attempt to destabilize the nation's energy system is flatly illegal," Cruz said. "And unless it is invalidated by Congress, struck down by the courts or, hopefully, rescinded by the next administration, it will cause Americans' electricity costs to skyrocket at a time when those who are struggling can least afford it. What the Obama administration is doing to harm the American economy is the sort of power grab that our founders would have recognized as tyranny."
His comments came just a day after he and 51 other senators approved two resolutions rejecting the U.S. Environmental Protection Agency's carbon rules for power plants, the Clean Power Plan. President Obama has vowed to veto the measures.
Republicans are also taking aim at Obama's Green Climate Fund. The $3 billion fund was set aside by the Obama administration last year as something the president hopes to be able to bring to the negotiating table at the COP21 Paris climate talks.
"We pledge that Congress will not allow U.S. taxpayer dollars to go to the Green Climate Fund until the forthcoming international climate agreement is submitted to the Senate for its constitutional advice and consent," 37 Republican senators wrote in a letter to Obama Thursday.
"The world should feel just fine ignoring these Senate Republicans on this one," Sierra Club Global Climate Policy Director John Coequyt said. "What's more interesting than who signed this letter is who did not, because it's clear that the Green Climate Fund already has bipartisan support in the Senate. That's why an amendment supporting the GCF already passed through the Senate's appropriations committee while under Republican control."
Paris. But unless the deal is "deemed to be a treaty," thus requiring Senate ratification, explained The Hill, then Republicans will not vote on it.
"These same Republicans who have argued against climate action by saying the U.S. shouldn't act alone are now trying to derail every effort that facilitates international action—and it's not going to work," continued Coequyt. "This is just another desperate, and ultimately futile attempt to derail action to tackle the climate crisis by extremist Senators who are putting themselves in opposition to religious and moral leaders like Pope Francis and the Dalai Lama, the 164 countries who have submitted climate action plans already, dozens of major U.S. corporations calling for climate action and the will of the clear majority of the American public. The American delegation at the COP21 will be empowered by those voices, not held back by the desperate efforts of the most extreme pro-polluter interests."
Cruz and other GOP's, including Sen. James Inhofe (R-OK), have repeatedly denied the reality of human-caused climate change. Last winter, Inhofe brought a snowball to the floor as "proof" that global warming is not occurring. He also criticized Pope Francis for speaking out about climate change. Cruz spent an entire Senate hearing badgering Sierra Club President Aaron Mair about the organization's stance on climate change. And just a few weeks ago, Cruz told Glenn Beck that "climate change is not science, it's religion."
Watch Cruz's full remarks here:
YOU MIGHT ALSO LIKE
Watch This Alarming Video of Ted Cruz Attacking Climate Change as a Religion
Bernie Sanders: 'If the Environment Were a Bank, It Would Have Already Been Bailed Out'
Bernie Sanders: 'Climate Change Is Directly Related to the Growth of Terrorism'
EcoWatch Daily Newsletter
A First Nations protester walks in front of a train blockade in Tyendinaga, near Belleville, Ontario, Canada on Feb. 21, 2020. LARS HAGBERG / AFP via Getty Images
An indigenous rail blockade that snarled train travel in Canada for more than two weeks came to an end Monday when police moved in to clear protesters acting in solidarity with another indigenous community in British Columbia (B.C.), which is fighting to keep a natural gas pipeline off its land.
A rainbow snake, a rare reptile spotted in a Florida county for the first time in more than 50 years, seen here on July 5, 2013.
Kevin Enge / FWC Fish and Wildlife Research Institute / Flickr
A Florida hiker recently stumbled across a slithering surprise — a rare snake that hadn't been spotted in the area for more than 50 years.
We need our government to do everything it can to stop PFAS contamination and exposure from wreaking havoc in communities across the country. LuAnn Hun /
Unsplash
By Genna Reed
The EPA announced last week that it is issuing a preliminary regulatory determination for public comment to set an enforceable drinking water standard to two of the most common and well-studied PFAS, PFOA and PFOS.
This decision is based on three criteria:
PFOA and PFOS have an adverse effect on public health
PFOA and PFOS occur in drinking water often enough and at levels of public health concern;
regulation of PFOA and PFOS is a meaningful opportunity for reducing the health risk to those served by public water systems.
Charging EVs in Stockholm: But where does a dead battery go? Ranjithsiji / Wikimedia Commons
By Kieran Cooke
Driving an electric-powered vehicle (EV) rather than one reliant on fossil fuels is a key way to tackle climate change and improve air quality — but it does leave the old batteries behind as a nasty residue.
U.S. Secretary of the Treasure Steven Mnuchin arrives for a welcome dinner at the Murabba Palace in Riyadh, Saudi Arabia on Feb. 22, 2020 during the G20 finance ministers and central bank governors meeting. FAYEZ NURELDINE / AFP via Getty Images
Finance ministers from the 20 largest economies agreed to add a scant mention of the climate crisis in its final communiqué in Riyadh, Saudi Arabia on Sunday, but they stopped short of calling it a major economic risk, as Reuters reported. It was the first time the G20 has mentioned the climate crisis in its final communiqué since Donald Trump became president in 2017.