Tea Party-Controlled Legislature Pushes 'Industry-Driven' Great Lakes Water Withdrawal Bill
The Ohio legislature, dominated by a Tea Party-controlled Republican supermajority, often seems to be creating more problems than it solves. And it could be creating a problem with international ramifications. In its lame duck session, the chamber passed HB 490 last week, a water quality bill which alters standards for withdrawing water from Lake Erie and its tributaries, and sent it to the state Senate, where it's expected to pass.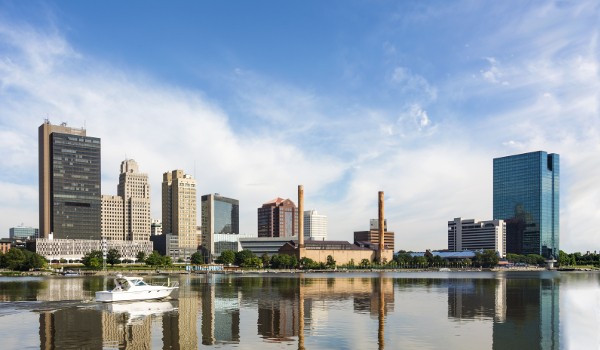 Photo credit: Shutterstock
The omnibus bill contains some good things, such as new restrictions on use of fertilizers on farmland, one of the causes of last summer's algae bloom in Lake Erie that shut off the water supply to nearly 400,000 people in the Toledo area. But there's a lot of dissent about its new rules for the withdrawal of Lake Erie water by industrial and other heavy users. And when there's disagreement about the impact of something this legislature is doing, it's wise to be wary especially when the fairly conservative Cleveland Plain Dealer calls it "a last-minute, larded-up mid-biennium agricultural bill" with "an industry-driven, water-withdrawal amendment that could condemn Lake Erie to death by a thousand straws."
Among other things, the new language would consider only the impact of withdrawals on water level and not on wildlife or pollutant levels, potentially violating the 2008 Great Lakes Compact between the eight Great Lakes states and the international Great Lakes St. Lawrence River Basin Water Resources Compact with Ontario and Quebec. Joel Brammeier, president and CEO of the nonprofit environmental group Alliance for the Great Lakes, told the Plain Dealer that if Ohio starts picking and choosing which parts of the compact it wants to follow other states might do the same.
"The risk to the Great Lakes is that we go back and start rehashing more than a decade of work that started in 1998 because Ohio has chosen to renege (on) part of the compact," he told the paper. "That's not a good use of anybody's time."
The Ohio Environmental Council (OEC) says,"OEC strongly opposes the new amendment to the Great Lakes St. Lawrence River Basin Water Resources Compact. We believe the amendment violates the letter and spirit of the Great Lakes Compact and leaves Ohio vulnerable to litigation, poses risks to water quantity and the wildlife of Lake Erie, and will harm the public's and sportsmen's enjoyment of Lake Erie and wildlife."
OEC pointed out that Governor John Kasich vetoed a similar provision in 2011, saying "Ohio's legislation lacks clear standards for conservation and withdrawals and does not allow for sufficient evaluation and monitoring of withdrawals or usage."
As the Akron Beacon Journal put it in an editorial, Don't Break the Compact, the "misguided language has resurfaced."
The paper expressed the hope that the governor will remove that language when the rushed bill lands on his desk, although it's hard to guess what Kasich, reelected in a landslide to his second and final term and rumored to be harboring presidential aspirations, will do. State representative Teresa Fedor, a Democrat from Toledo, attempted to remove language in the House but that was voted down. Republican Lynn Wachtmann from nearly Napoleon, Ohio, who runs a bottled water company, pooh-poohed objections, telling the Toledo Blade, "Since we passed the original Great Lakes bill, I don't believe there's been a single permit issued by (the Department of Natural Resources) to withdraw additional water from any watershed that I'm aware of. So any reference that this bill or something else previous is any cause of algae bloom is nothing less that ridiculous. The water issue in Toledo has zero to do with this issue."
YOU MIGHT ALSO LIKE
Top 10 U.S. Cities Running Out of Water
How Drought-Stricken California Can Do More With Less Water
Toxic Algae Bloom Leaves 500,000 Without Drinking Water in Ohio
Wikimedia Commons
By Stacy Malkan
Neil deGrasse Tyson has inspired millions of people to care about science and imagine themselves as participants in the scientific process. What a hopeful sign it is to see young girls wearing t-shirts emblazoned with the words, "Forget princess, I want to be an astrophysicist."
Keep reading...
Show less
www.youtube.com
By Andy Rowell
Any day now we will truly witness climate change in action. Within days at worst, maybe weeks at best, scientists predict that a huge section of the Larsen C ice shelf in Antarctica will break off into the ocean, in what is called a major "carving" event.
Keep reading...
Show less
www.youtube.com
President Trump visited Cedar Rapids, Iowa on June 21 to speak to a large crowd in the U.S. Cellular Center at a political rally organized by his campaign.
As Trevor Noah noted during The Daily Show episode last night (starts at 2:25), the real reason Trump has these rallies is to "get back in front of his loyal crowds and feed of their energy." Noah believes that "Trump supporters are so on board with their dude he can say anything and they'll come along for the ride."
Keep reading...
Show less
The Kamuthi solar plant in the southern Indian state of Tamil Nadu.
The rapid growth in renewable energy continues to put a dent in the demand for coal.
Coal India, the world's biggest coal mining company and producer of 82 percent of the country's coal, announced the closure of 37 mines that are financially "unviable."
Keep reading...
Show less
www.youtube.com
By Katie O'Reilly
Two years ago—long before coal became one of the most dominant and controversial symbols of the 2016 presidential election—Bloomberg Philanthropies approached production company RadicalMedia with the idea of creating a documentary exploring the U.S. coal mining industry. Last spring, they brought on Emmy-nominated director Michael Bonfiglio, tasked with forging a compelling story out of the multitudes of facts, statistics and narratives underlying the declining industry.
Keep reading...
Show less
Mayors for 100% Clean Energy
Keep reading...
Show less
www.youtube.com
Thanks to Newsy for their coverage on Thursday's news that the U.S. Fish and Wildlife Service removed grizzly bears in the Greater Yellowstone region from the Endangered Species List.
Watch above as Newsy explains that the decision comes despite serious concerns from the environmental and scientific community, and Tribal Nations about a declining, isolated grizzly bear population with diminishing food resources and record-high mortalities.
Keep reading...
Show less
www.facebook.com
By Francine Kershaw
Seismic airguns exploding in the ocean in search for oil and gas have devastating impacts on zooplankton, which are critical food sources for marine mammals, according to a new study in Nature. The blasting decimates one of the ocean's most vital groups of organisms over huge areas and may disrupt entire ecosystems.
And this devastating news comes on the heels of the National Marine Fisheries Service's proposal to authorize more than 90,000 miles of active seismic blasting. Based on the results of this study, the affected area would be approximately 135,000 square miles.
Keep reading...
Show less
By Jill Richardson
Is coconut oil:
good for you
bad for you
neither good nor bad
scientists don't know
The subject of this question is the source of a disagreement. Initially, the question was thought to be settled decades ago, when scientist Ancel Keys declared all saturated fats unhealthy. Coconut oil, which is solid at room temperature, is a saturated fat.
Keep reading...
Show less


Get EcoWatch in your inbox