This website uses cookies to ensure you get the best experience while browsing it. By clicking 'Got It' you're accepting these terms.
Taylor Oil Spill—7 Years, 1.1 Million Gallons, Still Going
Feb. 09, 2012 08:55AM EST
Energy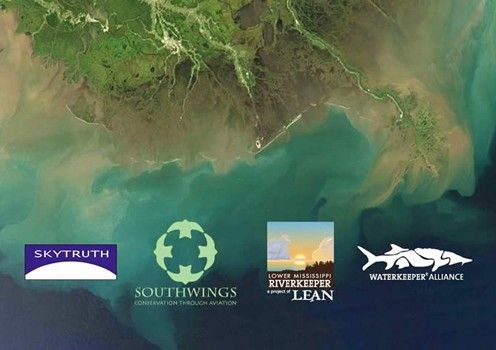 By Paul Woods
On Feb. 9, SkyTruth released its Site 23051 Cumulative Spill Report showing an estimation of the total cumulative amount of crude oil spilled into the Gulf of Mexico at the site of Taylor Energy's ongoing oil spill that began in 2004. In this report, we conclude:
Crude oil has been leaking continuously from this site for more than 7 years
Estimated cumulative volume of crude oil spilled is between 251,677 and 1,174,492 gallons
Read the full report to see how we came up with these numbers by clicking here.
We created this report using 950 pollution reports filed with the National Response Center (which we presume were filed by the polluter, Taylor Energy) covering 714 out of 2,662 days (just 27 percent) from the first report of oil at the site on Sept. 17, 2004 through the end of 2011. We filled in the substantial gaps in this official public reporting record with observations on satellite images, and then computed an Estimated Average Daily Slick Extent. From that we derived an Estimated Average Daily Flow Rate for each calendar year since the spill began. Multiply the daily flow rate by the number of days the site has been leaking, and you have an estimate of the cumulative volume of the spill.
There are two key assumptions we used to compute the average daily flow rate:
Average oil thickness in observable slicks
Average rate of degradation of an oil slick, expressed in terms of a half-life
For average thickness, we used our tried and true standard of 1 micron (1 millionth of a meter). We also computed everything using 0.5 microns to reflect the possibility that this slick is thinner than most. For degradation half life, we assumed that one half of a given amount of a thin slick of oil on the surface of the ocean will degrade in 3-7 days. We believe this range is a very conservative assumption, because the longer the assumed lifetime of oil on the surface of the water, the lower the implied daily flow rate will be.
Combining all our data on slick extent with the high and low values for each of the key assumptions, we get 4 values for estimated cumulative oil spilled (see the calculations):
Half Life (days)    Thickness (microns)    Estimate(gallons)    
            3                                   1.0                                       1,174,492
            3                                   0.5                                         587,246
            7                                   1.0                                         503,354
            7                                   0.5                                         251,677
Background
SkyTruth, the Gulf Monitoring Consortium and others have been actively monitoring this site for 21 months since May of 2010 (during what turned out to be the early days of the massive BP—Deepwater Horizon spill), when we noticed on our satellite images another much smaller slick about 11 miles off the tip of the Mississippi River Delta.
Since then, we have analyzed historic satellite imagery back to the beginning of the spill,  and we have waded through the spotty but extensive public record of official pollution reports filed with the National Response Center. Site 23051 also featured prominently in the recent Gulf Monitoring Consortium report, and earlier this month Waterkeeper Alliance announced a lawsuit against Taylor Energy over the ongoing spill.
Other Sources of Estimates
As far as we know, our report is the first comprehensive attempt to estimate the total amount of oil spilled at this site. However, the Coast Guard was recently quoted in an Associated Press news article as saying "a total of 12,720 gallons of oil have been reported from daily observations since the spill started in 2004."
We called the Coast Guard last week and asked them where that number came from, and they told us, "Approximately 12,720 gallons have been reported from daily observations (over flights) as of Feb. 2, 2012." We followed up on Feb. 9 and the Coast Guard told us that this number is the total of all the reports filed with them by Taylor Energy, who is conducting the regular overflights, but they could not say how many reports this represents.
We asked them to investigate and get us a breakdown of exactly what they added up to get this number, especially what days are actually covered in that total, but as of this writing we do not have an answer. However, if their reporting record is as spotty as the public NRC record, then this number likely only captures a fraction of the true amount.
More on this under-reporting problem coming soon, so stay tuned.
Parting Thought—Worst-Case Scenario?
The environmental and economic damage from this chronic spill may be relatively minor, although if you ask a biologist and tell her it's a 1.2 million gallon spill, you might get a different answer than if you tell her it's only a 12,000 gallons spill. But imagine that the same event that wiped out Taylor's platform just 11 miles off the coast, had instead happened at a deepwater platform 100 miles offshore.
More on that later
For more information, click here.
EcoWatch Daily Newsletter
Actress Jane Fonda (C) and actor Sam Waterston (L) participate in a protest in front of the U.S. Capitol during a "Fire Drill Fridays" climate change protest and rally on Capitol Hill, Oct. 18. Mark Wilson / Getty Images News
Visitors look at the Aletsch glacier above Bettmeralp, in the Swiss Alps, on Oct. 1. The mighty Aletsch — the largest glacier in the Alps — could completely disappear by the end of this century if nothing is done to rein in climate change, a study showed on Sept. 12. FABRICE COFFRINI / AFP via Getty Images
Switzerland's two Green parties made historic gains in the country's parliamentary elections Sunday, according to projections based on preliminary results reported by The New York Times.
A mural in Richwood, West Virginia, a once booming Appalachia coal town, honors the community's history. Jeff Greenberg / Universal Images Group / Getty Images
By Jeff Turrentine
The coal industry is dying. But we can't allow the communities that have been dependent on coal to die along with it.
ThitareeSarmkasat / iStock / Getty Images
Every fruit lover has their go-to favorites. Bananas, apples, and melons are popular choices worldwide and can be purchased almost anywhere.
belchonock / iStock / Getty Images Plus
Wesley Martinez Da Costa / EyeEm / Getty Images
By David R. Montgomery
Would it sound too good to be true if I was to say that there was a simple, profitable and underused agricultural method to help feed everybody, cool the planet, and revitalize rural America? I used to think so, until I started visiting farmers who are restoring fertility to their land, stashing a lot of carbon in their soil, and returning healthy profitability to family farms. Now I've come to see how restoring soil health would prove as good for farmers and rural economies as it would for the environment.
skaman306 / Moment / Getty Images
Radish (Raphanus sativus) is a cruciferous vegetable that originated in Asia and Europe (1Trusted Source).