This website uses cookies to ensure you get the best experience while browsing it. By clicking 'Got It' you're accepting these terms.
Taylor Oil Spill—7 Years, 1.1 Million Gallons, Still Going
Feb. 09, 2012 08:55AM EST
Energy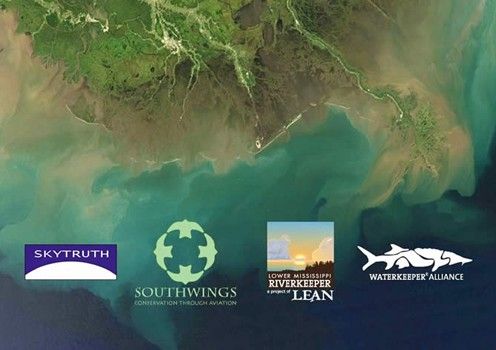 By Paul Woods
On Feb. 9, SkyTruth released its Site 23051 Cumulative Spill Report showing an estimation of the total cumulative amount of crude oil spilled into the Gulf of Mexico at the site of Taylor Energy's ongoing oil spill that began in 2004. In this report, we conclude:
Crude oil has been leaking continuously from this site for more than 7 years
Estimated cumulative volume of crude oil spilled is between 251,677 and 1,174,492 gallons
Read the full report to see how we came up with these numbers by clicking here.
We created this report using 950 pollution reports filed with the National Response Center (which we presume were filed by the polluter, Taylor Energy) covering 714 out of 2,662 days (just 27 percent) from the first report of oil at the site on Sept. 17, 2004 through the end of 2011. We filled in the substantial gaps in this official public reporting record with observations on satellite images, and then computed an Estimated Average Daily Slick Extent. From that we derived an Estimated Average Daily Flow Rate for each calendar year since the spill began. Multiply the daily flow rate by the number of days the site has been leaking, and you have an estimate of the cumulative volume of the spill.
There are two key assumptions we used to compute the average daily flow rate:
Average oil thickness in observable slicks
Average rate of degradation of an oil slick, expressed in terms of a half-life
For average thickness, we used our tried and true standard of 1 micron (1 millionth of a meter). We also computed everything using 0.5 microns to reflect the possibility that this slick is thinner than most. For degradation half life, we assumed that one half of a given amount of a thin slick of oil on the surface of the ocean will degrade in 3-7 days. We believe this range is a very conservative assumption, because the longer the assumed lifetime of oil on the surface of the water, the lower the implied daily flow rate will be.
Combining all our data on slick extent with the high and low values for each of the key assumptions, we get 4 values for estimated cumulative oil spilled (see the calculations):
Half Life (days)    Thickness (microns)    Estimate(gallons)    
            3                                   1.0                                       1,174,492
            3                                   0.5                                         587,246
            7                                   1.0                                         503,354
            7                                   0.5                                         251,677
Background
SkyTruth, the Gulf Monitoring Consortium and others have been actively monitoring this site for 21 months since May of 2010 (during what turned out to be the early days of the massive BP—Deepwater Horizon spill), when we noticed on our satellite images another much smaller slick about 11 miles off the tip of the Mississippi River Delta.
Since then, we have analyzed historic satellite imagery back to the beginning of the spill,  and we have waded through the spotty but extensive public record of official pollution reports filed with the National Response Center. Site 23051 also featured prominently in the recent Gulf Monitoring Consortium report, and earlier this month Waterkeeper Alliance announced a lawsuit against Taylor Energy over the ongoing spill.
Other Sources of Estimates
As far as we know, our report is the first comprehensive attempt to estimate the total amount of oil spilled at this site. However, the Coast Guard was recently quoted in an Associated Press news article as saying "a total of 12,720 gallons of oil have been reported from daily observations since the spill started in 2004."
We called the Coast Guard last week and asked them where that number came from, and they told us, "Approximately 12,720 gallons have been reported from daily observations (over flights) as of Feb. 2, 2012." We followed up on Feb. 9 and the Coast Guard told us that this number is the total of all the reports filed with them by Taylor Energy, who is conducting the regular overflights, but they could not say how many reports this represents.
We asked them to investigate and get us a breakdown of exactly what they added up to get this number, especially what days are actually covered in that total, but as of this writing we do not have an answer. However, if their reporting record is as spotty as the public NRC record, then this number likely only captures a fraction of the true amount.
More on this under-reporting problem coming soon, so stay tuned.
Parting Thought—Worst-Case Scenario?
The environmental and economic damage from this chronic spill may be relatively minor, although if you ask a biologist and tell her it's a 1.2 million gallon spill, you might get a different answer than if you tell her it's only a 12,000 gallons spill. But imagine that the same event that wiped out Taylor's platform just 11 miles off the coast, had instead happened at a deepwater platform 100 miles offshore.
More on that later
For more information, click here.
EcoWatch Daily Newsletter

georgeclerk / E+ / Getty Images
By Jennifer Molidor
One million species are at risk of extinction from human activity, warns a recent study by scientists with the United Nations. We need to cut greenhouse gas pollution across all sectors to avoid catastrophic climate change — and we need to do it fast, said the Intergovernmental Panel on Climate Change.
This research should serve as a rallying cry for polluting industries to make major changes now. Yet the agriculture industry continues to lag behind.
Edwin Remsburg / VW Pics / Getty Images
Botswana, home to one third of Africa's elephants, announced Wednesday that it was lifting its ban on the hunting of the large mammals.
"The Ministry of Environment, Natural Resources Conservation and Tourism wishes to inform the public that following extensive consultations with all stakeholders, the Government of Botswana has taken a decision to lift the hunting suspension," the government announced in a press release shared on social media.
Pxhere
By Richard Denison
Readers of this blog know how concerned EDF is over the Trump EPA's approval of many dozens of new chemicals based on its mere "expectation" that workers across supply chains will always employ personal protective equipment (PPE) just because it is recommended in the manufacturer's non-binding safety data sheet (SDS).
By Grant Smith
From 2009 to 2012, Gregory Jaczko was chairman of the Nuclear Regulatory Commission, which approves nuclear power plant designs and sets safety standards for plants. But he now says that nuclear power is too dangerous and expensive — and not part of the answer to the climate crisis.
A lake in Rocky Mountain National Park. Brett Walton / Circle of Blue
By Brett Walton
When Greg Wetherbee sat in front of the microscope recently, he was looking for fragments of metals or coal, particles that might indicate the source of airborne nitrogen pollution in Rocky Mountain National Park. What caught his eye, though, were the plastics.
Gabriele Holtermann Gorden / Pacific Press / LightRocket / Getty Images
In a big victory for animals, Prada has announced that it's ending its use of fur! It joins Coach, Jean Paul Gaultier, Giorgio Armani, Versace, Ralph Lauren, Vivienne Westwood, Michael Kors, Donna Karan and many others PETA has pushed toward a ban.
This is a victory more than a decade in the making. PETA and our international affiliates have crashed Prada's catwalks with anti-fur signs, held eye-catching demonstrations all around the world, and sent the company loads of information about the fur industry. In 2018, actor and animal rights advocate Pamela Anderson sent a letter on PETA's behalf urging Miuccia Prada to commit to leaving fur out of all future collections, and the iconic designer has finally listened.
Amer Ghazzal / Barcroft Media / Getty Images
If people in three European countries want to fight the climate crisis, they need to chill out more.
That's the conclusion of a new study from think tank Autonomy, which found that Germany, the UK and Sweden all needed to drastically reduce their workweeks to fight climate change.
Amazon Employees for Climate Justice held a press conference after the annual shareholder meeting on May 22. Amazon Employees for Climate Justice