This website uses cookies to ensure you get the best experience while browsing it. By clicking 'Got It' you're accepting these terms.
Taylor Oil Spill—7 Years, 1.1 Million Gallons, Still Going
Feb. 09, 2012 08:55AM EST
Energy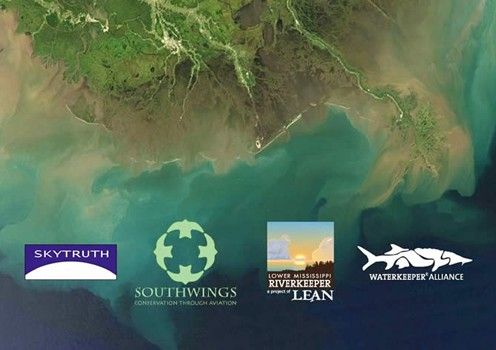 By Paul Woods
On Feb. 9, SkyTruth released its Site 23051 Cumulative Spill Report showing an estimation of the total cumulative amount of crude oil spilled into the Gulf of Mexico at the site of Taylor Energy's ongoing oil spill that began in 2004. In this report, we conclude:
Crude oil has been leaking continuously from this site for more than 7 years
Estimated cumulative volume of crude oil spilled is between 251,677 and 1,174,492 gallons
Read the full report to see how we came up with these numbers by clicking here.
We created this report using 950 pollution reports filed with the National Response Center (which we presume were filed by the polluter, Taylor Energy) covering 714 out of 2,662 days (just 27 percent) from the first report of oil at the site on Sept. 17, 2004 through the end of 2011. We filled in the substantial gaps in this official public reporting record with observations on satellite images, and then computed an Estimated Average Daily Slick Extent. From that we derived an Estimated Average Daily Flow Rate for each calendar year since the spill began. Multiply the daily flow rate by the number of days the site has been leaking, and you have an estimate of the cumulative volume of the spill.
There are two key assumptions we used to compute the average daily flow rate:
Average oil thickness in observable slicks
Average rate of degradation of an oil slick, expressed in terms of a half-life
For average thickness, we used our tried and true standard of 1 micron (1 millionth of a meter). We also computed everything using 0.5 microns to reflect the possibility that this slick is thinner than most. For degradation half life, we assumed that one half of a given amount of a thin slick of oil on the surface of the ocean will degrade in 3-7 days. We believe this range is a very conservative assumption, because the longer the assumed lifetime of oil on the surface of the water, the lower the implied daily flow rate will be.
Combining all our data on slick extent with the high and low values for each of the key assumptions, we get 4 values for estimated cumulative oil spilled (see the calculations):
Half Life (days)    Thickness (microns)    Estimate(gallons)    
            3                                   1.0                                       1,174,492
            3                                   0.5                                         587,246
            7                                   1.0                                         503,354
            7                                   0.5                                         251,677
Background
SkyTruth, the Gulf Monitoring Consortium and others have been actively monitoring this site for 21 months since May of 2010 (during what turned out to be the early days of the massive BP—Deepwater Horizon spill), when we noticed on our satellite images another much smaller slick about 11 miles off the tip of the Mississippi River Delta.
Since then, we have analyzed historic satellite imagery back to the beginning of the spill,  and we have waded through the spotty but extensive public record of official pollution reports filed with the National Response Center. Site 23051 also featured prominently in the recent Gulf Monitoring Consortium report, and earlier this month Waterkeeper Alliance announced a lawsuit against Taylor Energy over the ongoing spill.
Other Sources of Estimates
As far as we know, our report is the first comprehensive attempt to estimate the total amount of oil spilled at this site. However, the Coast Guard was recently quoted in an Associated Press news article as saying "a total of 12,720 gallons of oil have been reported from daily observations since the spill started in 2004."
We called the Coast Guard last week and asked them where that number came from, and they told us, "Approximately 12,720 gallons have been reported from daily observations (over flights) as of Feb. 2, 2012." We followed up on Feb. 9 and the Coast Guard told us that this number is the total of all the reports filed with them by Taylor Energy, who is conducting the regular overflights, but they could not say how many reports this represents.
We asked them to investigate and get us a breakdown of exactly what they added up to get this number, especially what days are actually covered in that total, but as of this writing we do not have an answer. However, if their reporting record is as spotty as the public NRC record, then this number likely only captures a fraction of the true amount.
More on this under-reporting problem coming soon, so stay tuned.
Parting Thought—Worst-Case Scenario?
The environmental and economic damage from this chronic spill may be relatively minor, although if you ask a biologist and tell her it's a 1.2 million gallon spill, you might get a different answer than if you tell her it's only a 12,000 gallons spill. But imagine that the same event that wiped out Taylor's platform just 11 miles off the coast, had instead happened at a deepwater platform 100 miles offshore.
More on that later
For more information, click here.
EcoWatch Daily Newsletter
EPA Administrator Andrew Wheeler signs the so-called Affordable Clean Energy rule on June 19, replacing the Obama-era Clean Power Plan that would have reduced coal-fired plant carbon emissions. U.S. Environmental Protection Agency / Twitter
By Elliott Negin
On July 8, President Trump hosted a White House event to unabashedly tout his truly abysmal environmental record. The following day, coincidentally, marked the one-year anniversary of Andrew Wheeler at the helm of the U.S. Environmental Protection Agency (EPA), first as acting administrator and then as administrator after the Senate confirmed him in late February.
A timber sale in the Kaibab National Forest. Dyan Bone / Forest Service / Southwestern Region / Kaibab National Forest
By Tara Lohan
If you're a lover of wilderness, wildlife, the American West and the public lands on which they all depend, then journalist Christopher Ketcham's new book is required — if depressing — reading.
Golde Wallingford submitted this photo of "Pure Joy" to EcoWatch's first photo contest. Golde Wallingford
EcoWatch is pleased to announce our third photo contest!

Somalians fight against hunger and lack of water due to drought as Turkish Ambassador to Somalia, Olgan Bekar (not seen) visits the a camp near the Mogadishu's rural side in Somalia on March 25, 2017. Sadak Mohamed / Anadolu Agency / Getty Images
World hunger is on the rise for the third consecutive year after decades of decline, a new United Nations (UN) report says. The climate crisis ranks alongside conflict as the top cause of food shortages that force more than 821 million people worldwide to experience chronic hunger. That number includes more than 150 million children whose growth is stunted due to a lack of food.
Eduardo Velev cools off in the spray of a fire hydrant during a heatwave on July 1, 2018 in Philadelphia. Jessica Kourkounis / Getty Images
By Adrienne L. Hollis
Because extreme heat is one of the deadliest weather hazards we currently face, Union of Concerned Scientist's Killer Heat Report for the U.S. is the most important document I have read. It is a veritable wake up call for all of us. It is timely, eye-opening, transparent and factual and it deals with the stark reality of our future if we do not make changes quickly (think yesterday). It is important to ensure that we all understand it. Here are 10 terms that really help drive home the messages in the heat report and help us understand the ramifications of inaction.
Senator Graham returns after playing a round of golf with Trump on Oct. 14, 2017 in Washington, DC. Ron Sachs – Pool / Getty Images
Lindsey Graham, the South Carolina Senate Republican who has been a close ally of Donald Trump, did not mince words last week on the climate crisis and what he thinks the president needs to do about it.
A small Bermuda cedar tree sits atop a rock overlooking the Atlantic Ocean. todaycouldbe / iStock / Getty Images Plus
By Marlene Cimons
Kyle Rosenblad was hiking a steep mountain on the island of Maui in the summer of 2015 when he noticed a ruggedly beautiful tree species scattered around the landscape. Curious, and wondering what they were, he took some photographs and showed them to a friend. They were Bermuda cedars, a species native to the island of Bermuda, first planted on Maui in the early 1900s.
krisanapong detraphiphat / Moment / Getty Images
By Grace Francese
You may know that many conventional oat cereals contain troubling amounts of the carcinogenic pesticide glyphosate. But another toxic pesticide may be contaminating your kids' breakfast. A new study by the Organic Center shows that almost 60 percent of the non-organic milk sampled contains residues of chlorpyrifos, a pesticide scientists say is unsafe at any concentration.