This website uses cookies to ensure you get the best experience while browsing it. By clicking 'Got It' you're accepting these terms.
Tar Sands or Farm Lands?
Feb. 10, 2012 07:16AM EST
Energy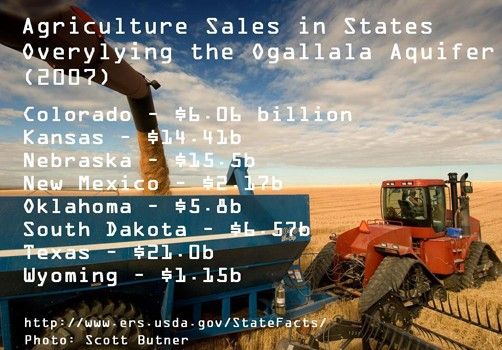 By Peter LaFontaine
Until recently, pipeline safety wasn't an issue that consumed a lot of oxygen on Capitol Hill. But the nationwide storm over the Keystone XL pipeline has thrust this subject front and center, with a tremendous amount riding on the outcome.
The Ogallala Aquifer—America's Reservoir
In its original application for a Presidential permit, TransCanada Corp. (the company behind the KXL pipeline) planned a route that would have cut through the sensitive Sandhills region of Nebraska. Fierce opposition from farmers, ranchers and citizens of every political stripe forced the company to scrap that idea, and now TransCanada is trying to identify a new route.
But though the oil industry was forced to make this concession to public health, a much vaster resource is still threatened—the Ogallala aquifer, which provides 30 percent of the water used for irrigation in the U.S., and drinking water for 2 million people. Almost any feasible pipeline route through Nebraska will still run over this aquifer.
It would be hard to overemphasize how vital the Ogallala is to our national economy. As Nebraska's Republican Gov. Dave Heineman stressed in a letter to the White House, "This resource is the lifeblood of Nebraska's agriculture industry." The aquifer's enormous stores of fresh water are the only reason the "Breadbasket of America" can exist—it irrigates farms that harvest nearly 20 percent of our wheat and cotton, and 15 percent of the U.S. corn—and makes possible a booming cattle industry across the plains states.
Tar Sands Pipelines—A Disaster in Waiting
Oil spills happen all the time—a dirty secret that's not so secret anymore, thanks to the scrutiny faced by the industry the last few years. And tar sands pipelines in particular have been in the news for all the wrong reasons—a 1.1 million gallon spill in Michigan's Kalamazoo River; a 42,000 gallon spill in the pristine Yellowstone River in Montana; a 21,000 gallon eruption in North Dakota on TransCanada's first Keystone 1 pipeline—which has been plagued by at least twelve spills since it was completed in 2010.
TransCanada is doing its best to hide these risks, even going so far as to manipulate data submitted to the U.S. State Department. An independent analysis by the University of Nebraska found that the worst-case spill scenarios were much higher than TransCanada's estimates, with up to "91 major spills over a 50 year design life of the pipeline" and even the potential for benzene contamination of drinking water for hundreds of thousands of people. A study after the Kalamazoo spill found that nearly 60 percent of area residents experienced gastrointestinal, respiratory or neurological symptoms from exposure.
An Easy Choice
It's obvious that tar sands pose an enormous risk to the Ogallala aquifer and the crops that feed Americans from coast to coast. Public polling on the issue reflects this concern—According to a Feb. 3 poll conducted by Hart Research Associates, 64 percent of voters think that the risk of a toxic oil spill in the Ogallala aquifer was a "very convincing" or "somewhat convincing" reason to block construction of Keystone XL. And after hearing pro and con arguments, a wide plurality of voters supported the White House's decision to deny the permit (47 percent support, 36 percent oppose, and 17 percent undecided or no opinion).
Randy Thompson, a rancher whose land KXL would cut through, put it in plain terms—"Perhaps it's just my Nebraska logic, but from my perspective it appears that the United States is getting the short end of the stick on this deal. Canada and the big oil companies are reaping the rewards while Americans are being left to fix the fence."
When you hear it like that, you realize that this debate boils down to a pretty simple question—Do we decide to protect Americans' food supply and drinking water, or pad the profits of foreign oil companies that want to cut through our farmland on the way to overseas markets? It should be an easy choice.
For more information, click here.
EcoWatch Daily Newsletter
Artist's conception of solar islands in the open ocean. PNAS
Millions of solar panels clustered together to form an island could convert carbon dioxide in seawater into methanol, which can fuel airplanes and trucks, according to new research from Norway and Switzerland and published in the Proceedings of the National Academy of Sciences journal, PNAS, as NBC News reported. The floating islands could drastically reduce greenhouse gas emissions and dependence on fossil fuels.
Marcos Alves / Moment Open / Getty Images
More than 40 percent of insects could go extinct globally in the next few decades. So why did the U.S. Environmental Protection Agency (EPA) last week ok the 'emergency' use of the bee-killing pesticide sulfoxaflor on 13.9 million acres?
EcoWatch teamed up with Center for Biological Diversity via EcoWatch Live on Facebook to find out why. Environmental Health Director and Senior Attorney Lori Ann Burd explained how there is a loophole in the The Federal Insecticide, Fungicide, and Rodenticide Act under section 18, "that allows for entities and states to request emergency exemptions to spraying pesticides where they otherwise wouldn't be allowed to spray."
Simple swaps that cut down on kitchen trash.
Sponsored
By Kayla Robbins
Along with the bathroom, the kitchen is one of the most daunting areas to try and make zero waste.
View of downtown Miami, Florida from Hobie Island on Feb. 2, 2019.
Michael Muraz / Flickr
The Democratic candidates for president descended upon Miami for a two-night debate on Wednesday and Thursday. Any candidate hoping to carry the state will have to make the climate crisis central to their campaign, as The New York Times reported.
By Sharon Kelly
On Monday, the Wall Street Journal featured a profile of Scott Sheffield, CEO of Pioneer Natural Resources, whose company is known among investors for its emphasis on drawing oil and gas from the Permian basin in Texas using horizontal drilling and hydraulic fracturing, or fracking.
Pexels
By Craig K. Chandler
The federal government has available to it, should it choose to use them, a wide range of potential climate change management tools, going well beyond the traditional pollution control regulatory options. And, in some cases (not all), without new legislative authorization.
Denis Poroy / Getty Images
By Dan Gray
Processed foods, in their many delicious forms, are an American favorite.
But new research shows that despite increasing evidence on just how unhealthy processed foods are, Americans have continued to eat the products at the same rate.
By Sarah Steffen
With a profound understanding of their environmental surroundings, indigenous communities around the world are often cited as being pivotal to tackling climate change.