This website uses cookies to ensure you get the best experience while browsing it. By clicking 'Got It' you're accepting these terms.
Tar Sands Emissions Linked to Serious Health Problems in Alberta
Apr. 01, 2014 01:47PM EST
In a landmark report to Alberta's energy regulator, a panel of experts has concluded that odors from a controversial tar sands processing plant are linked to human health impacts.
The report, which was published yesterday, examined the emissions from Baytex Energy's Peace River plant, which has been the subject of a number of health complaints from local residents over the last few years. The situation has been so bad that seven families have been forced to leave.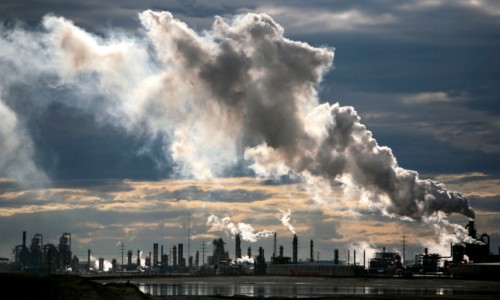 The residents have complained that the plant—which essentially boils bitumen—has been making them sick, and they have been suffering symptoms such as severe headaches, dizziness, sinus problems, vomiting, muscle spasms and fatigue, amongst others.
Now the report by the Albertan Energy Regulator (AER) has called on the odors to be stopped. The report concludes: "odors caused by heavy oil operations in the Peace River area need to be eliminated to the extent possible as they have the potential to cause some of the health symptoms of area residents."
The Panel also recommended "that further study be conducted to examine linkages between odors and emissions and health effects."
Meanwhile the report gives the company four months to capture all the odors.
It has been welcomed by local landowners who have been experiencing health problems. "This validates what we have been saying for years—that the tank-top emissions are causing health problems," said one such landowner Brian Labrecque. "It's been a very long road and we are relieved the AER is showing some teeth and holding industry accountable."
He is backed up by environmental groups. Mike Hudema of Greenpeace said the panel's report "reaffirms what the local residents have known for years—that the emissions were part of the reasons the families were getting sick."
However Baytex's spokesman Andrew Loosley belligerently replied that studies undertaken by the company "tell us the air is safe," although the company is moving to install technology that captures the odors.
Environmental groups are also now calling for technologies to ensure that odors are captured to be applied across the wider tar sands region. Simon Dyer of the Pembina Institute told the Globe and Mail, "The same technological solution can be used to prevent odors, health risks and greenhouse-gas emissions throughout the province."
Meanwhile legal action against the plant trying to force a temporary injunction also continues. A judgement is expected sometime this month.
--------
YOU ALSO MIGHT LIKE 
Report Reveals High Risk, No Reward of Enbridge Tar Sands Pipeline Expansion
Koch Brothers Are Largest Lease Holders in Alberta Tar Sands 
Alberta Doctors Reluctant to Treat Patients Who Draw Connection Between Tar Sands and Health
--------
Plus, learn if there's one that's best for your health.
Catherine Falls Commercial / Moment / Getty Images
An invasive Amynthas worm, also known as a crazy snake worm, Asian jumping worm and Alabama jumper Tom Potterfield / Flickr
By Jason Bittel
My wife and I built a house two years ago on a few acres of woodland outside of Pittsburgh. The backyard is full of maples, poplars, briars and common spicebush. Two-lined salamanders and grumpy-looking crayfish wade among the rocks in the small stream that runs down the edge of the property. Deer, raccoon and opossum tracks appear regularly in the snow and mud. Sometimes, my trail-cam even catches a pair of gray foxes as they slink through the night.
AleksandarNakic / Getty Images
By Kate Murphy
No matter the time of year, there's always a point in each season when my skin decides to cause me issues. While these skin issues can vary, I find the most common issues to be dryness, acne and redness.

David Woodfall / The Image Bank / Getty Images
By Sam Nickerson
The U.S. Environmental Protection Agency (EPA) in April 2018 proposed relaxing standards related to how it assesses the effects of exposure to low levels of toxic chemicals on public health.
Now, correspondence obtained by the LA Times revealed just how deeply involved industry lobbyists and a controversial, industry-funded toxicologist were in drafting the federal agency's proposal to scrap its current, protective approach to regulating toxin exposure.
Steve Irwin poses with a three foot long alligator at the San Francisco Zoo on June 26, 2002. Justin Sullivan / Getty Images
February 22 is the birthday of conservationist and beloved TV personality "Crocodile Hunter" Steve Irwin, who would have been 57 years old today.
Irwin's life was tragically cut short when the barb from a stingray went through his chest while he was filming in 2006, but his legacy of loving and protecting wildlife lives on, most recently in a Google Doodle today honoring his birthday.