Tar Sands Disaster: Coming to a Neighborhood Near You?
May. 06, 2013 03:22PM EST
Climate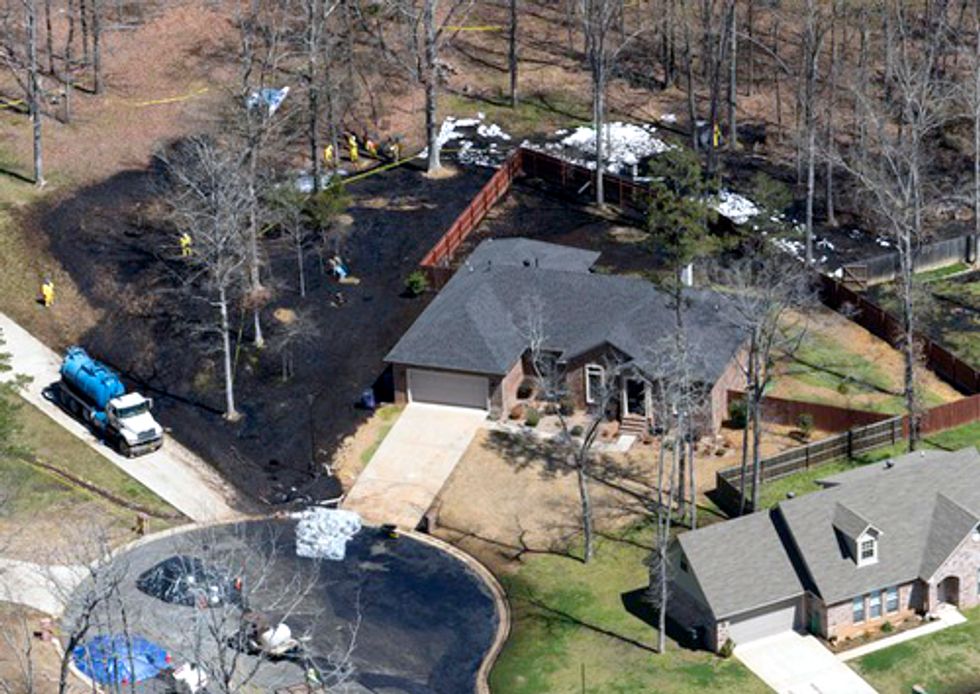 By Lauren Berlekamp
New reports of tar sands oil-related disasters continue to reinforce that the Keystone XL pipeline is too risky for American families.
Despite a "massive cleanup effort," ExxonMobil has recovered only 2,000 of the total 5,000 barrels of spilled Canadian tar sands crude in Mayflower, AR, according to the accident incident report from last month's Pegasus pipeline disaster. The report was released by the Department of Transportation's Pipeline and Hazardous Materials Safety Administration (PHMSA) through a Freedom of Information Act request filed by the Sierra Club.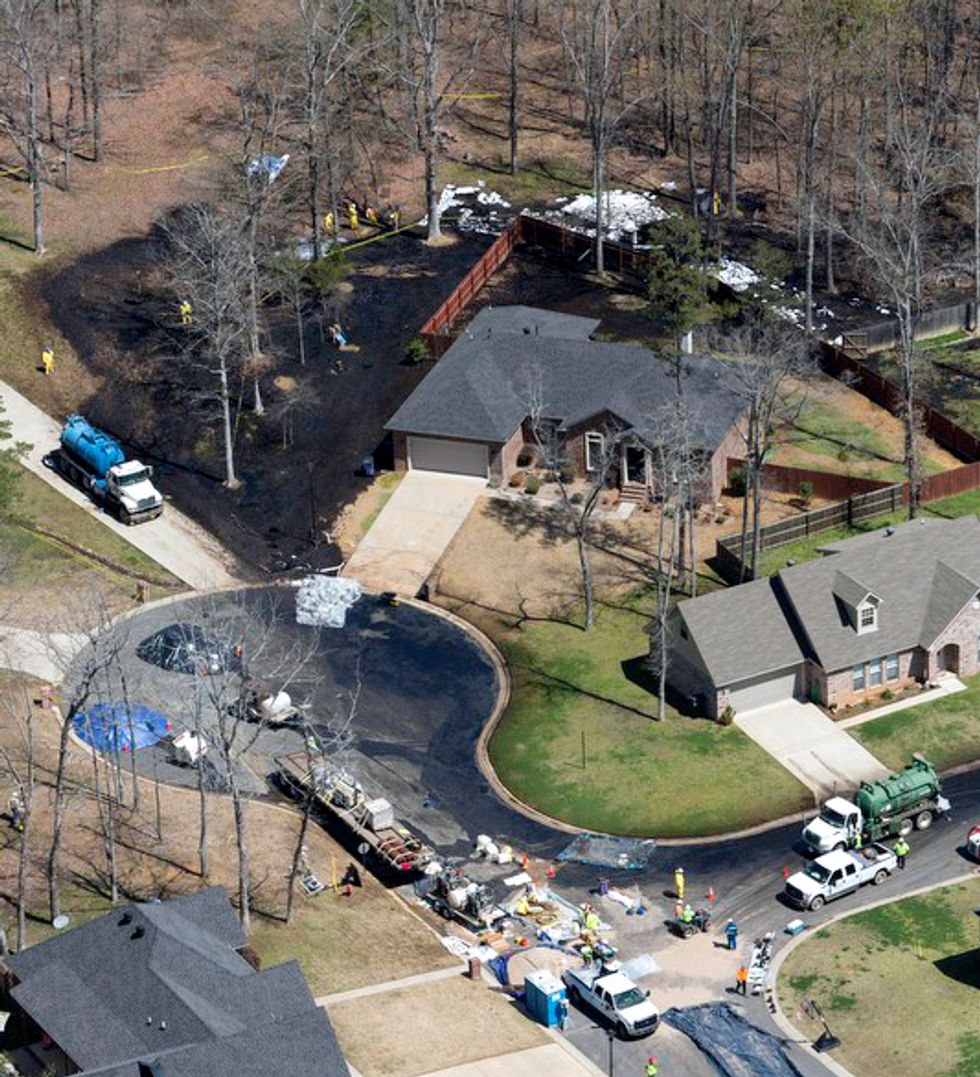 "After its Pegasus pipeline ruptured more than a month ago, ExxonMobil sent an army of 600 workers into Mayflower in an attempt to clean up and contain more than 200,000 gallons of dirty tar sands," said Glen Hooks, Sierra Club senior campaign representative. "ExxonMobil has torn up yards and streets, evacuated families from their homes, sucked up wetlands and culverts, chased away media, and intimidated residents and elected officials.
"What ExxonMobil hasn't done in the past month, according to the accident incident report, is recover even half of the tar sands that it spilled in Mayflower. More than 3,000 spilled barrels—that's 126,000 gallons—of toxic tar sands are unaccounted for. Mayflower deserves better. ExxonMobil needs to find the missing tar sands, clean up its mess and make Mayflower whole again."
Just one month after the Pegasus pipeline spewed toxic tar sands oil in Mayflower, where 83 people were evacuated from their homes and 2,000 barrels reached local waterways, the same pipeline spilled in a residential neighborhood of Ripley County, MO, last Tuesday.
"Two tar sands spills in one month is devastating no matter where it happens, but it is particularly alarming that Keystone XL would run through one of our country's largest sources of freshwater that provides irrigation and drinking water for millions of Americans," said Randy Thompson of All Risk, No Reward Coalition.
"The images from the Arkansas community were awful. Just imagine those same photos from the Ogallala Aquifer, and the financial damage that would cause. America cannot afford this kind of risk."
According to the All Risk, No Reward Coalition, TransCanada, who would own and operate the proposed Keystone XL tar sands pipeline, already has an atrocious safety record. While TransCanada pledged that its original Keystone pipeline would "meet or exceed world-class safety and environmental standards" in 2010, the pipeline experienced 12 separate spills in the U.S. in the first year of operation—nearly one every month.
According to a report by Cornell University's Global Labor Institute, the original Keystone pipeline had "over 30 spills" during its first year in the U.S. and Canada combined, with one of those spills releasing 21,000 gallons of dirty tar sands oil. The original Keystone pipeline has been shut down multiple times since then. Even the PHMSA shut down the pipeline under a Corrective Action Order, saying that continued operation would be "hazardous to life, property and the environment." It had only been operational for one year at the time, making it the newest pipeline to ever be shut down by PHMSA for being a threat to public safety.
The Keystone XL tar sands pipeline, which will be nine times larger than the Pegasus pipeline, will not benefit the U.S. The pipeline will create only 35 permanent jobs, based on the State Department's Environmental Impact Statement, and fail to reduce dependence on Mideast oil since Keystone XL products will likely be exported overseas, including to China and Venezuela, according to the All Risk, No Reward Coalition.
American communities are not only at risk from spills, but also explosions.
On April 27, a massive explosion occurred at the Marathon Detroit Refinery, which processes more than 100,000 barrels of Canadian tar sands oil every day. As a large plume of thick, black smoke from one of the refinery's smaller tanks darkened the sky, residents had to be evacuated from the Detroit suburb of Melvindale, located in Michigan's most heavily polluted zip code, according to the Detroit Free Press.
Visit EcoWatch's KEYSTONE XL page for more related news on this topic.
——-
EcoWatch Daily Newsletter