Tar Sands Activists Facing Felony Charges Have Their Day in Court
January court appearances brought a rare victory for tar sands protestor Chris Wahmhoff whose felony charges were dismissed, while felony charges stuck for Michigan Coalition Against Tar Sands members Barb Carter, Vicci Hamlin, Lisa Leggio and William Lawrence. Their cases will be heard by a jury on Jan. 27.
Jan. 13 Brings a Rare Victory for Nonviolent Civil Disobedience
Michigan's Calhoun County Circuit Court was filled with a collective "Whoo!" on Monday, Jan. 13, as supporters of tar sands activist Christopher Wahmhoff let loose a collective whoop of relief when Judge James C. Kingsley declared that he was granting Wahmhoff's and National Lawyer's Guild attorney John Royal's motion to quash felony charges related to Wahmhoff's June 2013 occupation of Enbridge's tar sands pipeline in Michigan. It was a moment when supporters couldn't help reacting. "Justice has been served," one woman said.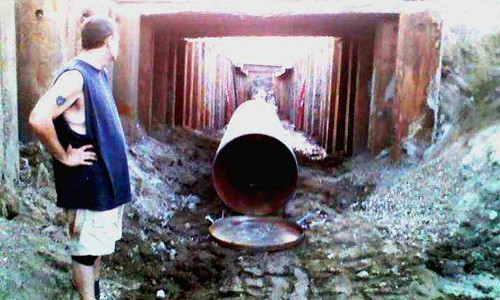 Wahmhoff, who grew up "a football field's distance away" from the Kalamazoo River, experienced the 2010 tar sands oil spill and what he refers to as Enbridge's dangerous and misleading handling of ongoing clean-up efforts. He's active with MICATS, a group of people from Detroit, Kalamazoo and across the state who have embraced the motto: "If you want to protect your community, you have to do it yourself."
On June 24, 2013, Wahmhoff walked up to the unfenced pipeline in Fredonia Township, pulled off the aluminum cover that was held in place only by duct tape, and quietly rolled in on a skateboard. The board, he explained, allowed him to roll deep into the pipe and to keep moving if there were attempts to remove him.
The day happened to be Wahmhoff's 35th birthday, but that was not the convergence MICATS wanted to highlight. The plan was to call attention to what Enbridge was doing in the wake of the original 30" 6B pipeline blow out that spilled 1.2 million gallons of tars sands oil into the Kalamazoo River in 2010.
"They weren't fixing the old line," Wahmhoff said. "They were running new 36" pipe side-by-side with the old 30" pipe." Enbridge has claimed that they will decommission the old pipe, but residents watching a whole new trench take up more and more land, expressed concern that Enbridge could use both old and new lines.
"They could pump tar sands oil one way and the refining chemicals the other way."
What's equally alarming, Wahmhoff noted, is that Enbridge is planning to use another aging 30" pipe, the Line 5 pipeline lying along the lake bed parallel to the Mackinac Bridge, to transport tar sands oil across the straights of Mackinac.
"Line 5 is a decades-old pipe that was designed to carry gas, not oil," said Wahmhoff. "Enbridge plans to increase pressure and load in all of these pipelines from 240,000 barrels per day to 500-800,000 barrels per day.
"If that line leaks or blows out, that's the drinking water for 25 million people."
Wahmhoff's case came before Circuit Judge James C. Kingsley on a daily docket that included three additional Enbridge cases. As Wahmhoff's lawyer, Royal, began arguments, Judge Kingsley noted a Michigan Supreme Court case that he believed was strongly related. Dismissing both attorneys to read up on the case, the Judge called "Enbridge vs. Fredonia Farms," a case involving the family farmland that served as staging grounds for Enbridge's clean-up of the tar sands oil spill in 2010.
While legal counsel for Fredonia Farms and Enbridge made their way before the Judge, Kingsley offered his own "testimony" of sorts, explaining that the Circuit Court had two judges who heard 900 felony cases in 2012 and as many in 2013. Fredonia Farms claimed that Enbridge had abandoned their original land use agreement and "repeatedly shut down communications." Enbridge asserted that they needed access to more land to perform state-ordered tests. The Judge, recalling those 900 felony cases a year, hailed the case "another example of 'Can't we talk.'"
In the end, Enbridge was granted access, again, to the Zinn family's land, but Judge Kingsley made it clear that his ruling was "narrow." Enbridge would be allowed to do soil bore tests, but testing must be completed within nine months, and if Enbridge violated land access terms, the court would grant Fredonia Farms an emergency hearing.
With Wahmhoff's case back before the bench, Judge Kingsley dissected the language in a Supreme Court ruling that determined, in Michigan, that direct physical force was not required to substantiate a felony charge of "Resisting and Obstructing" a police officer. The Judge then cited snippets of dialogue between Wahmhoff and Officer Steven Hinkley on the day of the pipeline protest, taking listeners on a language and semantics ride that hinged, in the end, on verb tense. Yes, Wahmhoff indicated, while inside the pipe, that he knew he was going to be arrested when he came out, but Wahmhoff also stated that he was going to willingly come out of the pipe at 5 p.m. that day. After skateboarding in before 7 a.m., his plan was to stop Enbridge's work for one day.
Focusing on the "future tense" of their discussions and the lack of a clear order or command, Judge Kingsley arrived at a closing that said, essentially, in the absence of a clear and unequivocal order for Wahmhoff to come out and that he was under arrest (verses would be arrested), "The motion to quash is granted."
Attorney Royal, speaking outside the courtroom immediately after the Judge gaveled for a recess to bring the noisy courtroom under control, called the decision a "victory for civil disobedience." Acknowledging the collective whoop as "a bit out of line," he also said it was "good for judges to hear the community's support," and that nature itself may have played a role.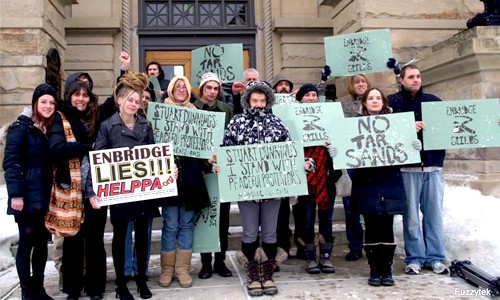 "You could say," Royal noted, that with four Enbridge cases on the day's docket, two judges to hear 900 felony cases and a winter storm that placed Wahmhoff's act of passive resistance in a rather poetic place—rescheduled from Jan. 6 and sandwiched between Enbridge cases on Jan. 13—that "with 900 murder, rape and assault charges each year, why are we prosecuting civil disobedience?"
Jan. 15: One Quash Does Not Lead to Another 
For four additional MICATS facing similar charges days later, the tone in the courtroom was decidedly different.
"I'm a trial judge who is ready to try these cases," announced Michigan's Ingham County Circuit Judge William Collette as he denied attorney Robert Gaecke's motion to quash felony charges against MICATS members Barbara Carter, Vicci Hamlin, Lisa Leggio and William Lawrence.
"I am sick of people trying to use my courtroom for publicity," Collette said, though he mentioned prior drilling permits the court had stopped, calling himself "sympathetic to the cause." "But," he continued, "stopping Enbridge will not cause the oil industry to change its mind."
"Caring shouldn't be a felony," one of twenty supporters in the courtroom said, referring to the defendants' actions on July 22 when they locked themselves to construction equipment on an Enbridge pipeline expansion site in Stockbridge, MI.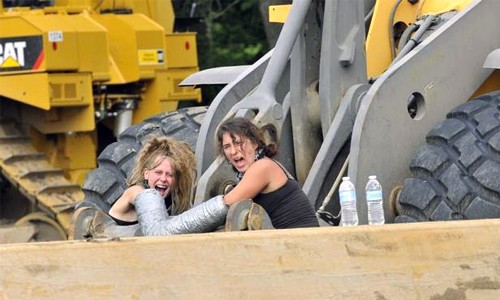 Barb Carter, in a statement regarding the lock down, wrote: "I took the action I did because I am an extremely concerned citizen of the world. I know in my heart that if we do not change our ways, the outcome will be tragic."
Reactions to the Judge's ruling ranged from anger to disappointment, though there was little surprise from MICATS defendants and supporters.
"We knew all along this was going to trial," Hamlin said. Frustration was directed at the judge's comments that the defendants were seeking publicity for themselves. "I could do a lot of things to get publicity that didn't involve three years of prison time," Leggio remarked. 
Hamlin firmly disagreed with Judge Collette's assertion that their actions would make no difference.
"I think we're going to make a big difference," she said confidently. "If laws are unjust, people have to go against them and I'm willing to pay the consequences for that. More people need to, and more will. Any person who's ever made a change risked something."
While attorney Gaecke prepares an emergency injunction before the trial, set for Jan. 27, Wahmhoff, who learned between the two hearings that the prosecutor's office has re-filed felony charges against him, said he was glad "there was a moment of elation. It's rare as an activist to get those moments."
Update: As of Jan. 17, Wahmhoff's attorney, John Royal, has confirmed that the prosecution has filed a Motion for Reconsideration of Judge Kingsley's Jan. 13 decision. 
Visit EcoWatch's TAR SANDS page for more related news on this topic.

A coalition of conservation groups and others announced Thursday that a historic number of comments and petitions of support have been submitted to the U.S. Department of the Interior in support of Bears Ears National Monument. Despite the entirely inadequate 15-day comment period ending on May 26, more than 685,000 comments in support of Bears Ears National Monument have been collected.
Keep reading...
Show less
Rink Glacier in western Greenland, with a meltwater lake visible center. NASA/OIB
Scientists have had their eyes on Greenland as its iconic glaciers have begun disappearing due to a warming climate. But, what they didn't expect to see was a whole new type of melting.
Keep reading...
Show less
Mountain View Fire
By Lena Moffitt
An oil tanker in Mead, Colorado exploded, killing one and injuring three on Thursday. Authorities are continuing to investigate the cause of the explosion.
Keep reading...
Show less
Banner created by Alliance for Climate Education
Keep reading...
Show less
Twenty-two GOP senators sent a letter Thursday urging Donald Trump to pull out of the Paris agreement. They argued remaining in the deal could "upend" the administration's ability "to fulfill its goal of rescinding the Clean Power Plan."
Keep reading...
Show less
By Cheryl Johncox
The Federal Energy Regulatory Commission (FERC) rejected on Thursday Energy Transfer Partners' request to resume horizontal directional drilling at two sites for its Rover fracked gas pipeline. This rejection comes after numerous leaks into Ohio's wetlands, and Clean Air and Clean Water act violations. FERC has halted the process at only eight locations of the 32 where drilling is taking place under Ohio's wetlands and streams.
Keep reading...
Show less
By Nadia Prupis
A majority of people in eight countries say they are ready to change their lifestyles if it would prevent climate catastrophe, a survey on global threats released Wednesday found.
Keep reading...
Show less
May. 25, 2017 01:55PM EST
Bill Maher is sick of billionaires' obsession with Mars, more like "Mars-a-Lago," he said.
In a new animation produced by ATTN:, the popular talk show host of Real Time, discusses the perils of our planet, including how "climate change is killing us."
Keep reading...
Show less