Energy
May. 29, 2015 09:02AM EST
Tar Balls Wash Ashore Popular LA Beaches: Officials Consider Link to Santa Barbara Oil Spill
Mysterious clumps of tar washed ashore in California's South Bay Wednesday, forcing the area's beaches to close for swimming. The U.S. Coast Guard as well as state officials are now trying to pinpoint where the substance originated, and have not ruled out the devastating oil spill in Santa Barbara last week.
Los Angeles beaches close after mysterious tar balls wash ashore http://t.co/WVMwDaHktK pic.twitter.com/ts2z4GcGZZ

— Mashable (@mashable) May 28, 2015
Seven miles of Southern California's most popular beaches, from El Segundo to the Torrance-Redondo Beach, were left sticky with the globs of oil that ranged from the size of baseballs to footballs, according to the Los Angeles Times. 
Investigators told the publication that the tar has moderate hazardous characteristics and is slightly flammable, and has tested positive for low amounts of volatile organic compounds.
Workers have since cleaned the area and officials said Thursday that clean-up efforts were successful. "There appears to be no new tar balls or anything additional to the amount that we have recovered thus far," U.S. Coast Guard Capt. Charlene Downey said.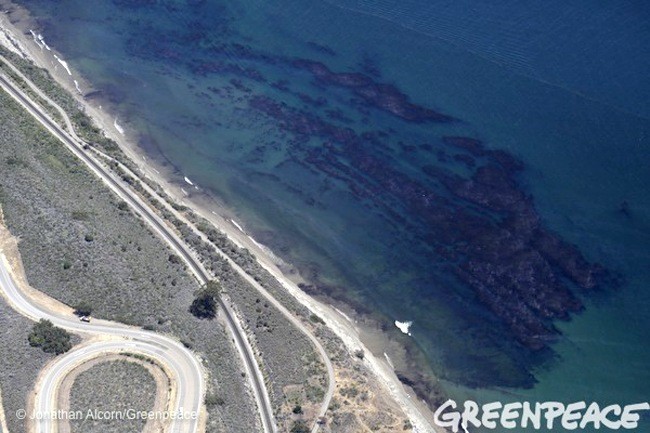 It is currently unclear if the tar balls are directly linked to the tragic 105,000-gallon oil spill on Santa Barbara County that caused California Gov. Jerry Brown to declare a state of emergency.
According to the LA Times, the National Oceanic and Atmospheric Administration is studying if it's possible for the substance to travel south from Santa Barbara.
"We have not ruled anything out," Downey said.
YOU MIGHT ALSO LIKE
600 Rally in Opposition to LNG Exports
Why We Need to End Mountaintop Removal Now
Victory for Groups Fighting Proposed Tar Sands Facility as Full Environmental Review Now Required
The Santa Barbara City Council approved a resolution Tuesday opposing new drilling off the California coast and fracking in existing offshore oil and gas wells. The resolution is the first in a new statewide campaign to rally local governments against proposals to expand offshore fossil fuel extraction in federal waters.
The vote—which makes Santa Barbara the first California city to oppose both fracking and new offshore drilling—follows President Trump's April 28 executive order urging federal agencies to expand oil and gas leasing in federal waters. The order could expose the Pacific Ocean to new oil leasing for the first time in more than 30 years.
Keep reading...
Show less
www.facebook.com
Starting Wednesday, the vast majority of Americans can learn about every potentially harmful chemical in their drinking water and what scientists say are the safe levels of those contaminants. The Environmental Working Group's (EWG) new national Tap Water Database is the most complete source available on the quality of U.S. drinking water, aggregating and analyzing data from almost 50,000 public water systems in all 50 states and the District of Columbia.
The organization has earned a reputation for ambitious data-mining research projects that shake up policy debates and consumer markets. EWG's online Farm Subsidy Database, listing millions of subsidy recipients, and its Skin Deep guide to more than 70,000 personal care products, draw tens of millions of visitors every year.
Keep reading...
Show less
By Stacy Malkan
Ever since they classified the world's most widely used herbicide as "probably carcinogenic to humans," a team of international scientists at the World Health Organization's (WHO) cancer research group have been under withering attack by the agrichemical industry and its surrogates.
In a front-page series, The Monsanto Papers, the French newspaper Le Monde described the attacks as "the pesticide giant's war on science," and reported, "to save glyphosate, the firm [Monsanto] undertook to harm the United Nations agency against cancer by all means."
Keep reading...
Show less
Shutterstock
The U.S. electric utility industry recognized decades ago that burning fossil fuels would lead to increased warming, yet later opposed efforts to shift away from coal, according to a new report.
The lengthy report from the Energy and Policy Institute uses reams of archival documents to demonstrate that utility industry representatives knew as far back as 1968 that burning fossil fuels could trigger "catastrophic effects" on the climate.
Keep reading...
Show less
www.youtube.com
By Sharon Kelly
The Pennsylvania's Environmental Hearing Board ordered Sunoco Pipeline LP Tuesday to temporarily halt some types of work on a $2.5 billion pipeline project designed to carry 275,000 barrels a day of butane, propane and other liquid fossil fuels from Ohio and West Virginia, across Pennsylvania, to the Atlantic coast.
On July 19, three environmental groups presented Judge Bernard Labuskes, Jr. with documentation showing that the project had caused dozens of drilling fluid spills and other accidents between April and mid-June.
Keep reading...
Show less
www.youtube.com
By Andy Rowell
The UK has followed France in banning the sale of new petrol and diesel cars by 2040, as part of its plan to tackle chronic air pollution in cities. The government has been coming under intense pressure to act, with an estimated 40,000 people dying prematurely a year from air pollution.
Keep reading...
Show less
By Colleen Curry
People traveling across America today can, if they're lucky, pitch a tent in the same exact spot that early American explorers and map-makers Lewis and Clark did, amid the jagged rocks and sweeping plains of the Upper Missouri River Breaks in central Montana.
Brent Rose, a journalist and filmmaker who has been traveling around the U.S. in a van for two years, was one of the lucky ones.
Keep reading...
Show less
www.youtube.com
Kyara, a killer whale born at SeaWorld San Antonio just three months ago, died Monday at the park, as reported in this video from Newsy. Kyara is the last orca to be born in captivity under the SeaWorld breeding program, which shut down in 2016.
In a statement, SeaWorld said the cause of death was "likely pneumonia" and that "Kyara had faced some very serious and progressive health issues over the last week."
Keep reading...
Show less