Talks at Meeting for World's Largest Tuna Fishery Collapse
Apr. 02, 2012 08:35AM EST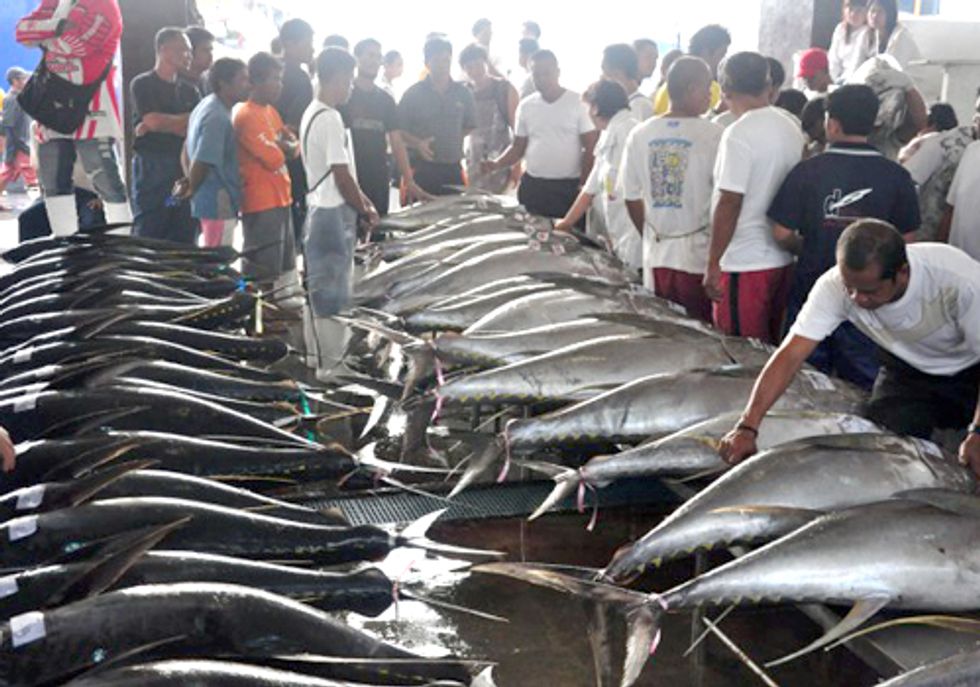 The Western and Central Pacific Fisheries Commission (WCPFC), a regional fisheries management organization that brings together Pacific island, Asian, U.S., European Union and other foreign fishers, ended March 30 in Guam with a failure to end overfishing of a major tuna species. Negotiations at the five-day meeting broke down, and the commission could agree only on weakened temporary measures that will expire in a year.
The WCPFC, also charged with addressing fish aggregating devices, shark fishing and bycatch, and illegal fishing, made little progress on expanding protections against overfishing and the accidental catch of vulnerable species.
Fish Aggregating Devices
Much of the catch from the region occurs on fish aggregating devices (FADs) that are man-made and take advantage of the way fish gather around floating objects. Many of today's FADs have satellite location and sonar capabilities to locate schools of fish. Purse-seine fleets set nets around FADs to catch schools of tuna that gather beneath them.
While vessels use FADs to catch yellowfin and skipjack tuna, the devices also attract sharks, seaturtles and juvenile bigeye tuna. The commission agreed to continue banning FAD fishing three months of the year.
Although Asian purse-seine fleets promised to do less FAD fishing, and Pacific island countries are extending a ban of FAD fishing in their waters, the U.S. and the EU made no commitments. A broader approach to the proliferation of these devices across the region, as requested by Pacific island nations, is needed.
Sharks
Governments agreed by consensus that oceanic whitetip sharks must be released if caught. Whitetips were once abundant and were routinely caught in fishing nets and on longlines by tuna fleets.
Despite the positive news for oceanic whitetips, the WCPFC's member governments failed to prohibit deliberately fishing on and around whale sharks. Massive tuna vessels sometimes set purse-seine nets around whale sharks, the world's largest fish, to catch the tuna that swim beneath these giants. Oftentimes whale sharks become entangled in the nets, which can lead to their death. The issue will be raised again at the next meeting, in December. 
Illegal Fishing
Despite estimates from a recent study acknowledging that the economic loss from illegal, unreported and unregulated fishing in this region is 21 to 46 percent of the reported catch, costing US$1.5 billion a year, little concrete progress was made at this meeting,
Countries were unable to agree on a way forward to improve port controls or identification of vessels. The Pacific Islands Forum Fisheries Agency announced it was working with Pew in the western Pacific to strengthen recommendations for consideration at the next WCPFC meeting.
For more information, click here.
EcoWatch Daily Newsletter