This website uses cookies to ensure you get the best experience while browsing it. By clicking 'Got It' you're accepting these terms.
Talking Turkeys
Nov. 18, 2011 09:13AM EST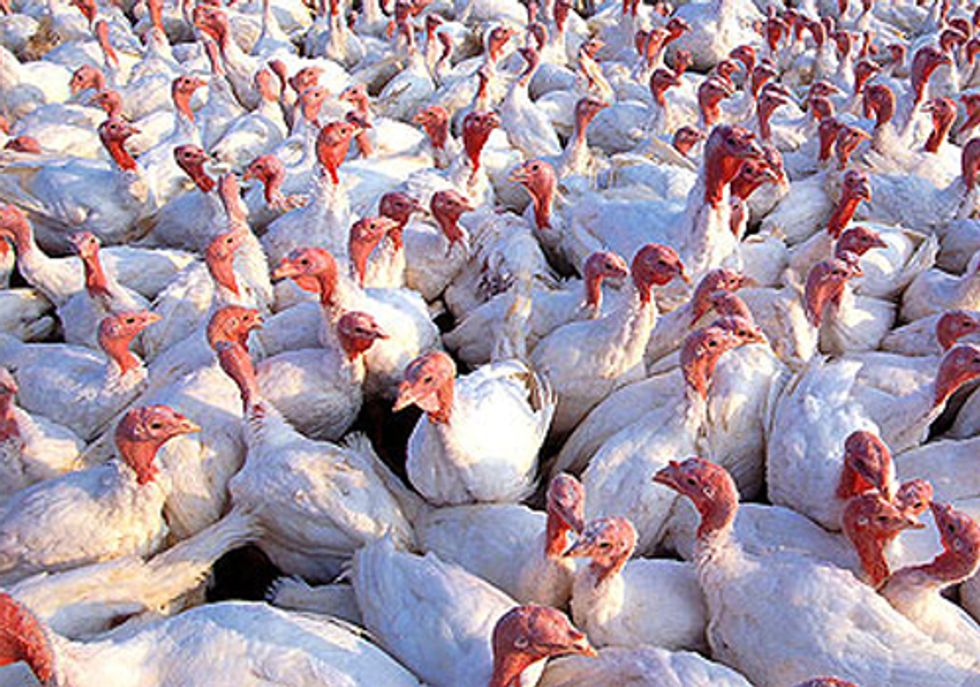 This year, 88 percent of Americans will enjoy a traditional Thanksgiving turkey dinner. The custom dates back nearly 400 years, but today's turkeys are vastly different from those eaten at the first feast and come from industrial operations that are a far cry from those of just 50 years ago.
In 1949, the average turkey farm produced just 225 birds annually. By 2007, 96 percent of these animals were raised on operations producing at least 30,000 a year. During this period, the number of turkeys sent to slaughter increased by almost ninefold, but the birds came from 150,000 fewer farms.
Thousands of birds are concentrated in cramped production facilities, typically providing just 2.5 to 3.5 square feet of space per turkey. Such intense confinement produces a high number of turkeys, but the cost to the environment is considerable.
Across the U.S., water and air pollution from industrial livestock operations are compromising the health of the surrounding environment. These farms generate manure—and lots of it. The 271 million turkeys that the National Turkey Federation projects will be sold this year will produce more than 229 million cubic feet of litter (a mixture of bedding and manure)—enough to fill 9,200 semitrailers. Much of this litter is applied to nearby land, contributing to the growing problem of excessive nutrients in agricultural runoff.
The transformation of the turkey industry (from many small farms to fewer and far larger industrial facilities run by growers under contract to big meat packing corporations) adds to the increasing number of issues related to CAFOs—concentrated animal feeding operations—including pollution and animal welfare. Fortunately, policy changes currently under consideration could improve this situation. One of these is a requirement to collect basic information on CAFOs around the country to better determine how much of a threat they are to waterways and the environment.
Did You Know?
In 1947, the National Egg Council and the National Turkey Federation presented President Harry S. Truman with a turkey for Thanksgiving dinner at the White House, launching a tradition that now includes an official presidential "pardon" for the bird. President John F. Kennedy was the first to pass on eating the gift, saying, "We should just keep him." Since then, U.S. presidents have graciously accepted but generally spared the bird from slaughter.
Thanksgiving 2011
If this year's Thanksgiving is anything like last year's, Americans will consume approximately 736 million pounds of turkey—some 45 million birds (mostly hens).
More than 50 percent of those turkeys will have been produced by growers under contract to three companies.
During their 15 weeks of life, those birds will have grown to an average of 16 pounds and produced 368,000 tons of litter, enough to cover the 2.8-mile Macy's Thanksgiving Day Parade route 30 feet deep.
For more information, click here.
EcoWatch Daily Newsletter
U.S. President Donald Trump listens as Anthony Fauci, Director of the National Institute of Allergy and Infectious Diseases speaks in the Rose Garden for the daily coronavirus briefing at the White House on March 29 in Washington, DC. Tasos Katopodis / Getty Images
By Jake Johnson
Just over a month after proclaiming that the number of coronavirus cases in the U.S. would soon "be down to close to zero," President Donald Trump said during a press briefing on the White House lawn Sunday that limiting U.S. deaths from the pandemic to between 100,000 and 200,000 people would mean his administration and the country as a whole did "a very good job."
Dicamba is having a devastating impact in Arkansas and neighboring states. A farmer in Mississippi County, Arkansas looks at rows of soybean plants affected by dicamba. The Washington Post / Getty Images
Documents unearthed in a lawsuit brought by a Missouri farmer who claimed that Monsanto and German chemical maker BASF's dicamba herbicide ruined his peach orchard revealed that the two companies knew their new agricultural seed and chemical system would likely damage many U.S. farms, according to documents seen by The Guardian.
Washington State Governor Jay Inslee and other leaders speak to the press on March 28, 2020 in Seattle. Karen Ducey / Getty Images
A bushfire burns outside the Perth Cricket Stadium in Perth, Australia on Dec. 13, 2019. PETER PARKS / AFP via Getty Images

By Albert Van Dijk, Luigi Renzullo, Marta Yebra and Shoshana Rapley
2019 was the year Australians confronted the fact that a healthy environment is more than just a pretty waterfall in a national park; a nice extra we can do without. We do not survive without air to breathe, water to drink, soil to grow food and weather we can cope with.
By Fino Menezes
Everyone adores dolphins. Intelligent, inquisitive and playful, these special creatures have captivated humans since the dawn of time. But dolphins didn't get to where they are by accident — they needed to develop some pretty amazing superpowers to cope with their environment.