This website uses cookies to ensure you get the best experience while browsing it. By clicking 'Got It' you're accepting these terms.
Talking Turkeys
Nov. 18, 2011 09:13AM EST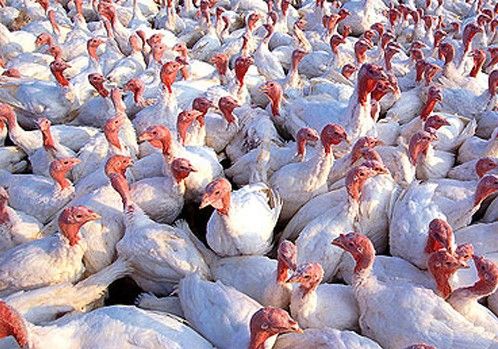 This year, 88 percent of Americans will enjoy a traditional Thanksgiving turkey dinner. The custom dates back nearly 400 years, but today's turkeys are vastly different from those eaten at the first feast and come from industrial operations that are a far cry from those of just 50 years ago.
In 1949, the average turkey farm produced just 225 birds annually. By 2007, 96 percent of these animals were raised on operations producing at least 30,000 a year. During this period, the number of turkeys sent to slaughter increased by almost ninefold, but the birds came from 150,000 fewer farms.
Thousands of birds are concentrated in cramped production facilities, typically providing just 2.5 to 3.5 square feet of space per turkey. Such intense confinement produces a high number of turkeys, but the cost to the environment is considerable.
Across the U.S., water and air pollution from industrial livestock operations are compromising the health of the surrounding environment. These farms generate manure—and lots of it. The 271 million turkeys that the National Turkey Federation projects will be sold this year will produce more than 229 million cubic feet of litter (a mixture of bedding and manure)—enough to fill 9,200 semitrailers. Much of this litter is applied to nearby land, contributing to the growing problem of excessive nutrients in agricultural runoff.
The transformation of the turkey industry (from many small farms to fewer and far larger industrial facilities run by growers under contract to big meat packing corporations) adds to the increasing number of issues related to CAFOs—concentrated animal feeding operations—including pollution and animal welfare. Fortunately, policy changes currently under consideration could improve this situation. One of these is a requirement to collect basic information on CAFOs around the country to better determine how much of a threat they are to waterways and the environment.
Did You Know?
In 1947, the National Egg Council and the National Turkey Federation presented President Harry S. Truman with a turkey for Thanksgiving dinner at the White House, launching a tradition that now includes an official presidential "pardon" for the bird. President John F. Kennedy was the first to pass on eating the gift, saying, "We should just keep him." Since then, U.S. presidents have graciously accepted but generally spared the bird from slaughter.
Thanksgiving 2011
If this year's Thanksgiving is anything like last year's, Americans will consume approximately 736 million pounds of turkey—some 45 million birds (mostly hens).
More than 50 percent of those turkeys will have been produced by growers under contract to three companies.
During their 15 weeks of life, those birds will have grown to an average of 16 pounds and produced 368,000 tons of litter, enough to cover the 2.8-mile Macy's Thanksgiving Day Parade route 30 feet deep.
For more information, click here.
EcoWatch Daily Newsletter
Variety of fermented food korean traditional kimchi cabbage and radish salad. white and red sauerkraut in ceramic plates over grey spotted background. Natasha Breen / REDA&CO / Universal Images Group / Getty Image
Even if you've never taken probiotics, you've probably heard of them.
These supplements provide numerous benefits because they contain live microorganisms, such as bacteria or yeast, which support the healthy bacteria in your gut (1, 2, 3, 4).
Pexels
Singapore will become the first country in the world to place a ban on advertisements for carbonated drinks and juices with high sugar contents, its health ministry announced last week. The law is intended to curb sugar consumption since the country has some of the world's highest diabetes rates per capita, as Reuters reported.
A typical adult takes around 20,000 breaths per day. If you live in a megacity like Beijing, with many of those lungfuls you're likely to inhale a noxious mixture of chemicals and pollutants.
Fred Stone holds his brown swiss cow Lida Rose at his Arundel dairy farm on March 18 after a press conference where he spoke about PFAS chemical contamination in his fields. Gregory Rec / Portland Portland Press Herald via Getty Images
By Susan Cosier
First there was Fred Stone, the third-generation dairy farmer in Maine who discovered that the milk from his cows contained harmful chemicals. Then came Art Schaap, a second-generation dairy farmer in New Mexico, who had to dump 15,000 gallons of contaminated milk a day.
Protesters attend the 32nd annual Fur-Free Friday demonstration on Nov. 23, 2018 in Beverly Hills, California. Ella DeGea / Getty Images
California Governor Gavin Newsom signed into law a bill that that bans the sale and manufacture of fur products in the state. The fur ban, which he signed into law on Saturday, prohibits Californians from selling or making clothing, shoes or handbags with fur starting in 2023, according to the AP.
By Simon Evans
During the three months of July, August and September, renewables generated an estimated total of 29.5 terawatt hours (TWh), compared with just 29.1TWh from fossil fuels, the analysis shows.
A demonstrator waves an Ecuadorian flag during protests against the end of subsidies to gasoline and diesel on Oct. 9 in Quito, Ecuador. Jorge Ivan Castaneira Jaramillo / Getty Images
Protesters block the road outside Mansion House in London during an XR climate change protest. Gareth Fuller / PA Images via Getty Images