Taking a Stand Against Tar Sands for Three Year Anniversary of Kalamazoo Spill

Today marks the three year anniversary of when Enbridge's tar sands pipeline spilled more than a million gallons of bitumen into the Kalamazoo River in Michigan. This incident stands as America's longest-running and most expensive oil cleanup project as state authorities and Enbridge continue their attempts to remove the heavy oil from the bottom of the waterway.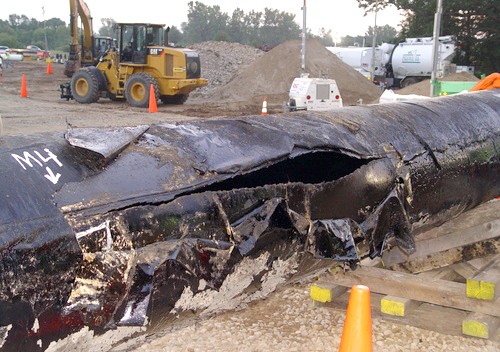 "Three years and nearly a billion dollars later, the Kalamazoo River cleanup still is not complete after the nation's worst inland oil spill," noted Natural Resources Defense Council Midwest Director Henry Henderson. "The mess in Michigan makes clear the significant costs and dangers that have come with our embrace of Alberta's bottom of the barrel tar sands oil. Today's anniversary is a sobering reminder of [the] threat that reckless proposals like Keystone XL, Enbridge's pipeline expansions and Great Lakes tanker terminals pose to the Midwest. We are already struggling with the pollution and climate impacts of existing oil infrastructure in the region, doubling down on tar sands and inviting more incidents like we saw in the Kalamazoo is dangerous lunacy."
With Enbridge claiming they have adequately cleaned up the Kalamazoo River since the spill, their plans to expand the exact same pipeline were interrupted earlier this week when the Michigan Coalition Against Tar Sands (MI CATS) took direct action at the Stockbridge pumping station. Out of 40 people who showed up to take a stand against the expansion, 12 were arrested including four who locked themselves to construction equipment.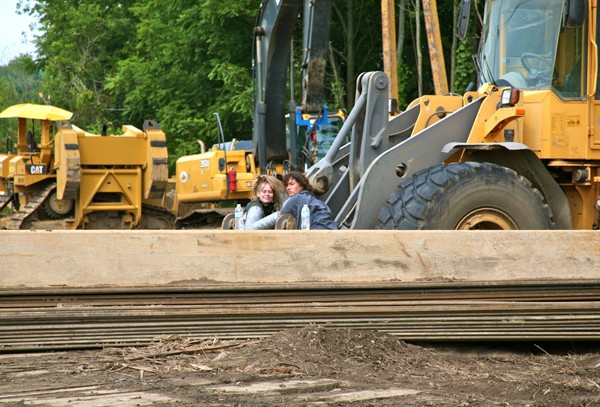 As of yesterday, all of those arrested were bonded out of jail. The four who were locked down are facing felony and misdemeanor charges, with the rest facing misdemeanor trespassing charges. Bail was set high, costing an additional $12,000 for the felony charges, not including processing fees.
One of the protestors, Al Smith, wrote a statement about his wife, who was one of the four who locked down:
I am a 49 year old man and a laborer by trade. I am
 writing this on behalf of my wife Vicci Hamlin who may be facing
 felony charges. Also, I want to explain to those who may have 
preconceived notions of who and what we are as activists.


My wife Vicci is currently locked up in the Ingham County jail. I can
 only imagine she is feeling afraid and uncertain. Vicci is not a subversive radical. She is one of the kindest and most loving people that I have ever known. She is the mother of six children and grandmother of eight children and great grandmother of one. She has always loved people and believed in passivity in all sorts of stances. She has always stood up for others. She is passionate about women's rights, civil rights, has helped start a food bank in Ohio. She has taught me more about love, kindness and compassion than anyone I have ever met.
Lately we have watched documentaries together and learned about people whose lives have been shattered by untouchable and obscenely wealthy corporations. These corporate entities who have so much political and legal power, that people like us are completely helpless before them. Since there is no longer any political or legal recourse left to us, we have only two options. We can either close our eyes and focus on ourselves, our families and our friends and try to find some solace while hiding from this overwhelming sense of doom and powerlessness, or we can take a stand. It's painful and frightening to put ourselves on the line.
Vicci chose to disobey the authorities and lock herself to heavy machinery because we believe it is the only way for people to learn
 what we believe to be the truth. It doesn't feel good to know we are stopping people like us from doing their jobs, nor does it feel good to have to tie up so many public safety officers. We believe there is
 no painless way to bring about a change that we believe is necessary. We feel our willingness to sacrifice our own safety and comfort is a place to start. We both believe if not us then who, if not now then when?
The MI CATS are continuing to collect donations from supporters through their website.
Visit EcoWatch's TAR SANDS and PIPELINES pages for more related news on this topic.
——–

www.facebook.com
Keep reading...
Show less
Keep reading...
Show less
www.elysee.fr
By Andy Rowell
There is a growing feeling within European capitals that a quiet, but deeply positive, revolution is happening under Emmanuel Macron in France.
Macron's opinion poll rating is high, especially boosted in how the young French president has reacted to Donald Trump on the international stage.
Keep reading...
Show less
Hawaii Renewable Energy Alliance
The latest issue of the U.S. Energy Information's "Electric Power Monthly" (with data through April 30) reveals that—for the first time since the beginning of the nuclear era—renewable energy sources (i.e., biomass, geothermal, hydropower, solar—inc. small-scale PV, wind) are now providing a greater share of the nation's electrical generation than nuclear power.
Keep reading...
Show less
www.youtube.com
Check out this great 360° virtual reality video by NowThis on the world's largest indoor vertical farm, AeroFarms. Located in Newark, New Jersey, AeroFarms grows more than 2 million pounds of greens a year without sunlight, soil or pesticides.
As reported by EcoWatch in July 2105, the $30 million, 70,000-square-foot AeroFarms headquarters dwarfs Japan's (already impressive) 25,000-square-foot vertical indoor farm, which had been the world's largest until now.
www.youtube.com
According to Bloomberg, "SeaWorld Entertainment Inc. received a subpoena earlier this month from regulators investigating disclosures and public statements by executives, including comments about the Blackfish documentary that caused a public backlash against the confinement of orcas.
Keep reading...
Show less
Wikipedia
By Franziska Spritzler, RD, CDE
Boosting your metabolic rate can help you lose body fat. However, most "fat-burning" supplements on the market are either unsafe, ineffective or both.
Fortunately, several natural foods and beverages have been shown to increase your metabolism and promote fat loss.
Keep reading...
Show less
Jun. 25, 2017 04:50PM EST
Monsanto, the maker of the glyphosate-based herbicide Roundup, filed a motion June 16 in U.S. District Court, Northern District of California to reconsider the chemical's addition to California's Proposition 65 list of agents known to cause cancer.
The agrochemical giant made this move based on a June 14 Reuters investigation of Dr. Aaron Blair, a lead researcher on the World Health Organization's International Agency for Research on Cancer (IARC) committee, that classified glyphosate as a "2A probable human carcinogen" in March 2015.
Keep reading...
Show less
Jun. 25, 2017 04:40PM EST
By Avery Friedman
Algae is often considered a nuisance, but for Sweden, the rapidly growing sea plant is now an asset.
As the Scandinavian country works to cut all of its greenhouse gas emissions by 2045, it's using algae to sop up the carbon emissions from cement.
Keep reading...
Show less