Taking a Stand Against Tar Sands for Three Year Anniversary of Kalamazoo Spill

Today marks the three year anniversary of when Enbridge's tar sands pipeline spilled more than a million gallons of bitumen into the Kalamazoo River in Michigan. This incident stands as America's longest-running and most expensive oil cleanup project as state authorities and Enbridge continue their attempts to remove the heavy oil from the bottom of the waterway.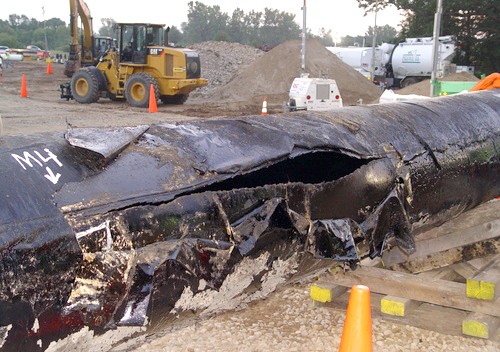 "Three years and nearly a billion dollars later, the Kalamazoo River cleanup still is not complete after the nation's worst inland oil spill," noted Natural Resources Defense Council Midwest Director Henry Henderson. "The mess in Michigan makes clear the significant costs and dangers that have come with our embrace of Alberta's bottom of the barrel tar sands oil. Today's anniversary is a sobering reminder of [the] threat that reckless proposals like Keystone XL, Enbridge's pipeline expansions and Great Lakes tanker terminals pose to the Midwest. We are already struggling with the pollution and climate impacts of existing oil infrastructure in the region, doubling down on tar sands and inviting more incidents like we saw in the Kalamazoo is dangerous lunacy."
With Enbridge claiming they have adequately cleaned up the Kalamazoo River since the spill, their plans to expand the exact same pipeline were interrupted earlier this week when the Michigan Coalition Against Tar Sands (MI CATS) took direct action at the Stockbridge pumping station. Out of 40 people who showed up to take a stand against the expansion, 12 were arrested including four who locked themselves to construction equipment.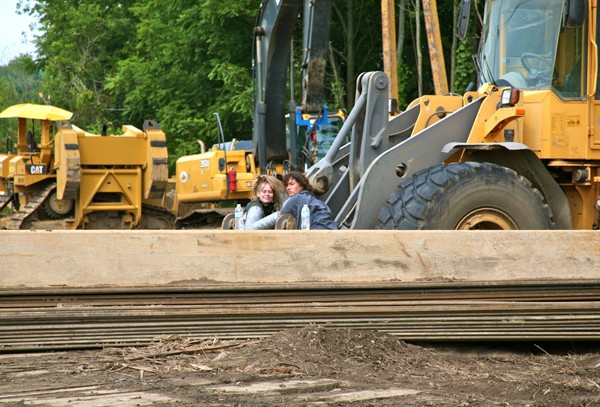 As of yesterday, all of those arrested were bonded out of jail. The four who were locked down are facing felony and misdemeanor charges, with the rest facing misdemeanor trespassing charges. Bail was set high, costing an additional $12,000 for the felony charges, not including processing fees.
One of the protestors, Al Smith, wrote a statement about his wife, who was one of the four who locked down:
I am a 49 year old man and a laborer by trade. I am
 writing this on behalf of my wife Vicci Hamlin who may be facing
 felony charges. Also, I want to explain to those who may have 
preconceived notions of who and what we are as activists.


My wife Vicci is currently locked up in the Ingham County jail. I can
 only imagine she is feeling afraid and uncertain. Vicci is not a subversive radical. She is one of the kindest and most loving people that I have ever known. She is the mother of six children and grandmother of eight children and great grandmother of one. She has always loved people and believed in passivity in all sorts of stances. She has always stood up for others. She is passionate about women's rights, civil rights, has helped start a food bank in Ohio. She has taught me more about love, kindness and compassion than anyone I have ever met.
Lately we have watched documentaries together and learned about people whose lives have been shattered by untouchable and obscenely wealthy corporations. These corporate entities who have so much political and legal power, that people like us are completely helpless before them. Since there is no longer any political or legal recourse left to us, we have only two options. We can either close our eyes and focus on ourselves, our families and our friends and try to find some solace while hiding from this overwhelming sense of doom and powerlessness, or we can take a stand. It's painful and frightening to put ourselves on the line.
Vicci chose to disobey the authorities and lock herself to heavy machinery because we believe it is the only way for people to learn
 what we believe to be the truth. It doesn't feel good to know we are stopping people like us from doing their jobs, nor does it feel good to have to tie up so many public safety officers. We believe there is
 no painless way to bring about a change that we believe is necessary. We feel our willingness to sacrifice our own safety and comfort is a place to start. We both believe if not us then who, if not now then when?
The MI CATS are continuing to collect donations from supporters through their website.
Visit EcoWatch's TAR SANDS and PIPELINES pages for more related news on this topic.
——–

Dow CEO Andrew Liveris and President Donald Trump in February.
U.S. Environmental Protection Agency (EPA) administrator Scott Pruitt met with Dow Chemical CEO Andrew Liveris before deciding to reverse an earlier EPA decision to ban the company's toxic and widely used pesticide, chlorpyrifos.
According to records obtained by the Associated Press, the EPA boss met with Liveris for about 30 minutes at a Houston hotel on March 9. Later that month, Pruitt announced that he would no longer pursue a ban on chlorpyrifos from being used on food, ignoring his agency's own review that even small amounts of the pesticide could impact fetus and infant brain development.
Keep reading...
Show less
www.facebook.com
Native communities and environmental justice advocates in Louisiana opened a new resistance camp Saturday to oppose the proposed Bayou Bridge Pipeline project. Called L'eau Est La Vie, or Water is Life, the camp will consist of floating indigenous art structures on rafts and constant prayer ceremonies during its first two weeks.
Keep reading...
Show less
Continuing its march toward elimination of key Clean Water Act protections, the U.S. Environmental Protection Agency (EPA) on Tuesday issued a formal notice of withdrawal of the Obama administration's rule defining which waters can be protected against pollution and destruction under federal law.
Keep reading...
Show less
The U.S. Environmental Protection Agency (EPA) is not doing enough to prevent weed resistance to the herbicide glyphosate (Roundup) says a new report from the EPA's Inspector General's Office, which draws in part on a report from the agbiotech company, Pioneer: Weed Management in the Era of Glyphosate Resistance.
Keep reading...
Show less
SUMR
When it comes to the latest wind turbine technologies, size matters. A group of six institutions and universities is designing an offshore wind turbine that will stand 500 meters in height. That's taller than the Eiffel Tower and the Empire State Building.
The research team, led by researchers at the University of Virginia, believes that its wind turbine concept will produce 50 megawatts of peak power, or about 10 times more powerful than conventional wind turbines.
Keep reading...
Show less
www.facebook.com
Natural gas is often considered the cleanest fossil fuel, but could it actually be dirtier than coal?
Watch as New York Times reporter Mark Bittman, in the above Year's of Living Dangerously video, investigates how much methane is leaking at fracking wells. Find out how the natural gas industry's claims compare to what scientists are reporting.
See what happens when Gaby Petron, an atmospheric scientist with NOAA, converts her van into a mobile methane detector and sets out across northeastern Colorado for two years, taking thousands of readings to uncover the truth.
www.youtube.com
Adrian Grenier was named UN Goodwill Ambassador earlier this month. The Hollywood actor, best known for his iconic role of A-list movie star Vincent Chase in the HBO smash hit and film Entourage, will advocate for drastically reducing single-use plastic and protection of marine species, and encourage his followers to make conscious consumer choices to reduce their environmental footprint, according to the UN Environment announcement.
"Together we must usher in a new era of compassion and carefulness through forward thinking environmental programs to drive measurable change," Grenier said. "I am personally committed to creating ways in which the global community can come together to help solve our most critical climate crises through routine, collective action.
"The more we connect to nature in our daily lives, the more dedicated we will become to our individual commitments. Together, I believe we can go further, faster in our race to achieve the UN Sustainable Development Goals by 2030."
Watch the video above to learn more.
The last week has seen a flood of stories on clean energy's prospects—stories that make your head spin with their conflicting tales of renewable energy's prospects of ending our dangerous addiction to fossil fuel power from coal and gas.
Keep reading...
Show less


Get EcoWatch in your inbox