This website uses cookies to ensure you get the best experience while browsing it. By clicking 'Got It' you're accepting these terms.
Take Action for Tough New Fuel Economy Standards
Jan. 17, 2012 07:30AM EST
Climate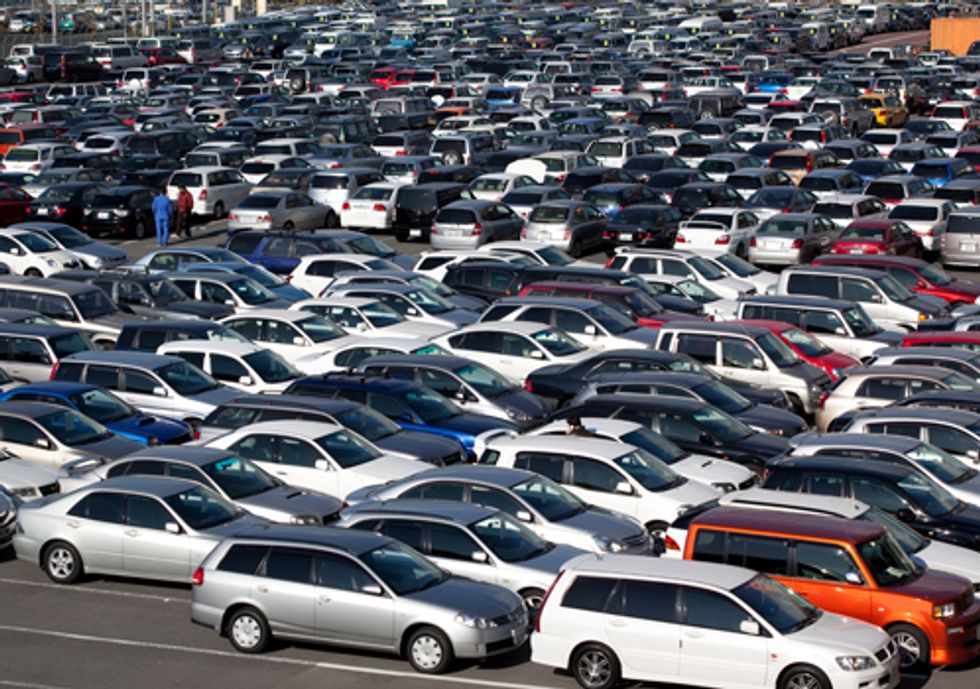 Today, cars and trucks are nearly everywhere. In the U.S., there are more automobiles than there are licensed drivers to drive them.
Altogether, the planet is home to more than a billion vehicles of all sorts, and experts predict that by 2020 there will be more than two billion, of which half will be automobiles.
Smog, carbon pollution and oil dependence
These cars and trucks, as helpful as they are in moving people and cargo, also create a range of environmental challenges. In the U.S., on-road vehicles contribute about a third of the country's smog-producing air pollution. The transportation sector is responsible for approximately 27 percent of America's greenhouse gas emissions.
It is also a leading cause of America's dependence on oil and consumes about 70 percent of the oil we use in this country. More than half of that is consumed by cars and trucks.
Threat to water and wildlife
Vehicles also contribute to water pollution through the oil and other fluids they leak onto roadways—fluids that inevitably wash off into storm drains, rivers and bays.
The nearly 4 million miles of public streets and highways in this country have eaten into wildlife habitat, and where wildlife still exists, those roads create migration impediments and hazards.
One survey found 21 listed threatened species were under greatest threat from road impacts.
Our goal—to make engines cleaner and safer
Our challenge is to find solutions to make those cars and trucks and other vehicles less polluting, and the way we use them less damaging to the planet.
Take action
What will it take to cure our dangerous and unhealthy addiction to oil and reduce the threat of runaway global warming?
Stronger fuel economy and greenhouse gas standards for American cars and trucks are essential—and your email right now to the Obama administration supporting their landmark new standards for cleaner cars and trucks can help us all take a huge step forward.
Public comments are due by Feb. 13. Take action today—stand up for better gas mileage, less oil and a safer climate future.
Thank you for your activism and support.
For more information, click here.
EcoWatch Daily Newsletter
The Visible Infrared Imaging Radiometer Suite on the Suomi NPP satellite acquired this image of forest fire smoke hovering over North America on Aug. 15, 2018. NASA Earth Observatory
New York City isn't known for having the cleanest air, but researchers traced recent air pollution spikes there to two surprising sources — fires hundreds of miles away in Canada and the southeastern U.S.
If temperatures continue to rise, the world is at risk from global
sea-level rise
, which will flood many coastal cities as seen above in Bangladesh. NurPhoto / Contributor / Getty Images
The mounting climate emergency may spur the next global financial crisis and the world's central banks are woefully ill equipped to handle the consequences, according to a new book-length report by the Bank for International Settlements (BIS), as S&P Global reported. Located in Basel, Switzerland, the BIS is an umbrella organization for the world's central banks.
Two ice fishers with a truck cut a hole in the ice near an ice fishing hut on frozen Lake Winnebago.
Richard Hamilton Smith / Corbis NX / Getty Images
By Susan Cosier
Come February in Wisconsin, almost everything will be covered in ice and snow. In little shanties on frozen Lake Winnebago, a 30-by-13-mile lake in the eastern part of the state, fishers will keep watch over rectangular holes cut into the ice with a chainsaw. When they spot a fin passing below, they'll jab their spears down deep. The lucky ones will earn themselves a lake sturgeon, a species that has prowled the earth's waters for more than 150 million years.
Fresno, California, seen above, is receiving $66 million for walking trails, sidewalks, bike lanes, and more. DenisTangneyJr / iStock / Getty Images
Grecia Elenes grew up in Fresno, California. She says some parts of the city have been neglected for decades. When she moved back after college she realized nothing has changed.
People are seen embracing at Numeralla Rural Fire Brigade near the scene of a water tanker plane crash on Jan. 23 in Cooma, Australia. Three American firefighters have have died after their C-130 water tanker plane crashed while battling a bushfire near Cooma in southern NSW this afternoon. Jenny Evans / Getty Images
Three U.S. firefighters gave their lives battling Australia's historic wildfires Thursday when their airborne water tanker crashed.