This website uses cookies to ensure you get the best experience while browsing it. By clicking 'Got It' you're accepting these terms.
Take a Tour of Facebook's Massive 9-Acre Rooftop Park
Mar. 10, 2016 12:15PM EST
Facebook's Menlo Park, California headquarters features an impressive, 9-acre rooftop garden—a welcome reprieve for the social media giant's 2,800 employees.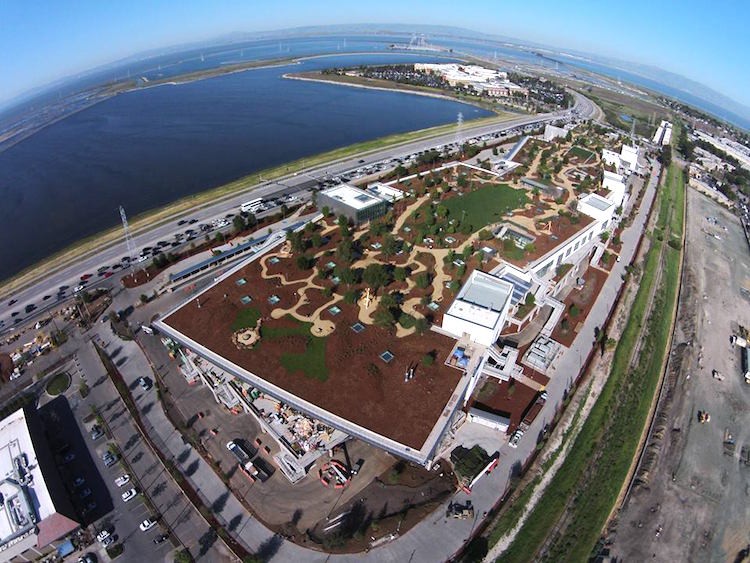 "Our goal was to create the perfect engineering space for our teams to work together," Facebook honcho Mark Zuckerberg wrote last March about the company's new HQ and rooftop garden. "We wanted our space to create the same sense of community and connection among our teams that we try to enable with our services across the world." Photo credit: Mark Zuckerberg/Facebook
As reported by In Menlo, the garden is filled with 90 percent native fauna, 350 evergreen, deciduous and flowering trees and a one-half mile long winding pathway.
Not only that, the garden is also home to resident and migrant birds and is adorned with Gehry-designed teepees, lawn furniture, art installations from artists Smith Allen, Jay Nelson and Evan Shively as well as white boards for outdoor meetings.
Facebook moved into their expansive 430,000-square-foot Frank Gehry-designed campus last March.
"[Gehry] envisioned a place that employees could use as a space to walk because there wasn't space around the building," Facebook's sustainability and community outreach manager Lauren Swezey explained to the publication. "He designed a palette of colors in bands across the roof."
The Canadian architect is known for the Guggenheim Museum in Bilbao, Spain and the Walt Disney Concert Hall in Los Angeles.
Chris Guillard, a founding partner of CMG Landscape Architecture, helped design Facebook's green roof.
"Work has become more mobile and fluid so you can actually step away from your desk and have a small conversation with people," Guillard told the The San Jose Mercury News.
The Mercury News described the roof as "more like a park than the top of an office" that overlooks the city's marshlands.
Facebook's main office, nicknamed MPK 20, has the unique distinction of having the world's largest open floor plan, or as Facebook founder and CEO Mark Zuckerberg described on a Facebook post in March 2015 touting the new HQ:
"Our goal was to create the perfect engineering space for our teams to work together. We wanted our space to create the same sense of community and connection among our teams that we try to enable with our services across the world.
"To do this, we designed the largest open floor plan in the world—a single room that fits thousands of people. There are lots of small spaces where people can work together, and it's easy for people to move around and collaborate with anyone here. On the roof is a 9-acre park with walking trails and many outdoor spaces to sit and work." 
According to The Wall Street Journal, Zuckerberg himself was the one who pushed for the rooftop garden:
Mr. Zuckerberg, who appreciates the restorative power of hiking in the outdoors.
It was his idea to cover the entire roof of the structure with a garden, which is accessible throughout the building via elevators and the external stairs and ramps. Gravel paths wander among mature trees, mounded shrubs, and drought-tolerant grasses, offering views of mountains and an expanse of San Francisco Bay. The garden makes space for meetings (white boards are provided), naps and quiet contemplation, fueled by coffee stands and a cafe. A two-thirds-mile walking loop accommodates the peripatetic Mr. Zuckerberg.
"We have a culture of walking meetings," Swezey also told In Melo. "People come up to the roof to conduct one on ones. They get some fresh air, too!"
Lori Goler, the company's chief people officer, told CNBC: "It really creates an environment where people can collaborate; they can innovate together. There's a lot of spontaneity in the way people bump into each other, just a really fun collaborative creative space."
"You can't really can't walk through this space without bumping into people," Goler added.
YOU MIGHT ALSO LIKE
Shipping Containers Are Becoming 'Home, Sweet Home' All Over the World
Cities Unleash Secret Underground Weapon to Become Clean Energy Powerhouses
Want to Get Off the Grid and Live in Harmony With Nature? Build an Earthship
World's First Solar-Hydrogen Residential Development Is 100% Self-Sustaining
AleksandarNakic / Getty Images
By Kate Murphy
No matter the time of year, there's always a point in each season when my skin decides to cause me issues. While these skin issues can vary, I find the most common issues to be dryness, acne and redness.

David Woodfall / The Image Bank / Getty Images
By Sam Nickerson
The U.S. Environmental Protection Agency (EPA) in April 2018 proposed relaxing standards related to how it assesses the effects of exposure to low levels of toxic chemicals on public health.
Now, correspondence obtained by the LA Times revealed just how deeply involved industry lobbyists and a controversial, industry-funded toxicologist were in drafting the federal agency's proposal to scrap its current, protective approach to regulating toxin exposure.
Steve Irwin poses with a three foot long alligator at the San Francisco Zoo on June 26, 2002. Justin Sullivan / Getty Images
February 22 is the birthday of conservationist and beloved TV personality "Crocodile Hunter" Steve Irwin, who would have been 57 years old today.
Irwin's life was tragically cut short when the barb from a stingray went through his chest while he was filming in 2006, but his legacy of loving and protecting wildlife lives on, most recently in a Google Doodle today honoring his birthday.
Left: Youtube / Screenshot, Right: alle12 / Getty Images
By Dan Nosowitz
That video showed the extrusion of a bubblegum-pink substance oozing into a coiled pile, something between Play-Doh, sausage and soft-serve strawberry ice cream. Branded "pink slime"—the name came from an email sent by a USDA microbiologist in 2002—this stuff was actually beef, destined for supermarkets and fast-food burgers.
Climate activist Greta Thunberg addresses the European Commission on Feb. 21 in Brussels, Belgium. Sylvain Lefevre / Getty Images
By Julia Conley
Sixteen-year-old climate action leader Greta Thunberg stood alongside European Commission President Jean-Claude Juncker Thursday in Brussels as he indicated—after weeks of climate strikes around the world inspired by the Swedish teenager—that the European Union has heard the demands of young people and pledged a quarter of $1 trillion budget over the next seven years to address the crisis of a rapidly heating planet.

In the financial period beginning in 2021, Juncker said, the EU will devote a quarter of its budget to solving the crisis.