Take a Tour of Facebook's Massive 9-Acre Rooftop Park
Facebook's Menlo Park, California headquarters features an impressive, 9-acre rooftop garden—a welcome reprieve for the social media giant's 2,800 employees.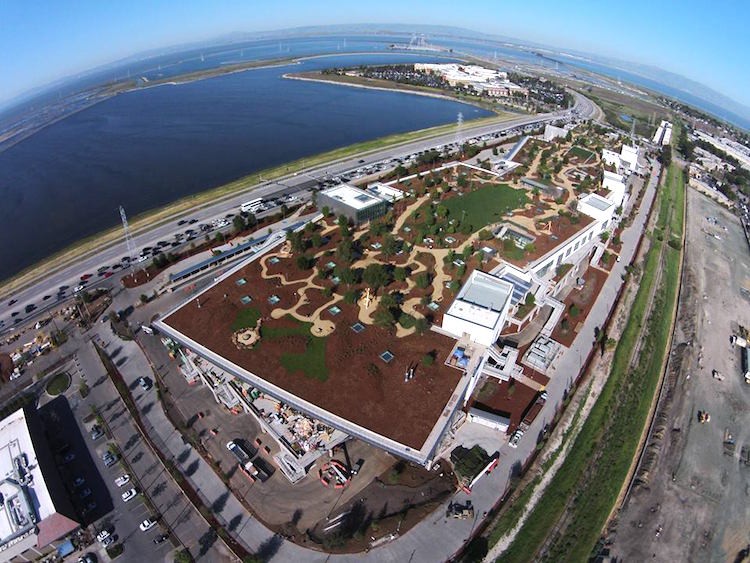 "Our goal was to create the perfect engineering space for our teams to work together," Facebook honcho Mark Zuckerberg wrote last March about the company's new HQ and rooftop garden. "We wanted our space to create the same sense of community and connection among our teams that we try to enable with our services across the world." Photo credit: Mark Zuckerberg/Facebook
As reported by In Menlo, the garden is filled with 90 percent native fauna, 350 evergreen, deciduous and flowering trees and a one-half mile long winding pathway.
Not only that, the garden is also home to resident and migrant birds and is adorned with Gehry-designed teepees, lawn furniture, art installations from artists Smith Allen, Jay Nelson and Evan Shively as well as white boards for outdoor meetings.
Facebook moved into their expansive 430,000-square-foot Frank Gehry-designed campus last March.
"[Gehry] envisioned a place that employees could use as a space to walk because there wasn't space around the building," Facebook's sustainability and community outreach manager Lauren Swezey explained to the publication. "He designed a palette of colors in bands across the roof."
The Canadian architect is known for the Guggenheim Museum in Bilbao, Spain and the Walt Disney Concert Hall in Los Angeles.
Chris Guillard, a founding partner of CMG Landscape Architecture, helped design Facebook's green roof.
"Work has become more mobile and fluid so you can actually step away from your desk and have a small conversation with people," Guillard told the The San Jose Mercury News.
The Mercury News described the roof as "more like a park than the top of an office" that overlooks the city's marshlands.
Facebook's main office, nicknamed MPK 20, has the unique distinction of having the world's largest open floor plan, or as Facebook founder and CEO Mark Zuckerberg described on a Facebook post in March 2015 touting the new HQ:
"Our goal was to create the perfect engineering space for our teams to work together. We wanted our space to create the same sense of community and connection among our teams that we try to enable with our services across the world.
"To do this, we designed the largest open floor plan in the world—a single room that fits thousands of people. There are lots of small spaces where people can work together, and it's easy for people to move around and collaborate with anyone here. On the roof is a 9-acre park with walking trails and many outdoor spaces to sit and work." 
According to The Wall Street Journal, Zuckerberg himself was the one who pushed for the rooftop garden:
Mr. Zuckerberg, who appreciates the restorative power of hiking in the outdoors.
It was his idea to cover the entire roof of the structure with a garden, which is accessible throughout the building via elevators and the external stairs and ramps. Gravel paths wander among mature trees, mounded shrubs, and drought-tolerant grasses, offering views of mountains and an expanse of San Francisco Bay. The garden makes space for meetings (white boards are provided), naps and quiet contemplation, fueled by coffee stands and a cafe. A two-thirds-mile walking loop accommodates the peripatetic Mr. Zuckerberg.
"We have a culture of walking meetings," Swezey also told In Melo. "People come up to the roof to conduct one on ones. They get some fresh air, too!"
Lori Goler, the company's chief people officer, told CNBC: "It really creates an environment where people can collaborate; they can innovate together. There's a lot of spontaneity in the way people bump into each other, just a really fun collaborative creative space."
"You can't really can't walk through this space without bumping into people," Goler added.
YOU MIGHT ALSO LIKE
Shipping Containers Are Becoming 'Home, Sweet Home' All Over the World
Cities Unleash Secret Underground Weapon to Become Clean Energy Powerhouses
Want to Get Off the Grid and Live in Harmony With Nature? Build an Earthship
World's First Solar-Hydrogen Residential Development Is 100% Self-Sustaining
Ryan Zinke with Rick Perry at the Boy Scouts Jamboree. Twitter
In less than one week, Interior Sec. Ryan Zinke will submit his final recommendations to President Trump on whether 27 national monuments around the country should be downsized, eliminated, transferred to state control or left alone.
But as Aaron Weiss, the media director of the conservation group Center for Western Priorities, pointed out: "Rather than spending his final week hearing from local communities who have worked tirelessly to protect their natural and cultural heritage as national monuments, Secretary Zinke is on vacation in the Mediterranean. His wife, Lola Zinke, tweeted a picture early this morning of herself and Secretary Zinke enjoying a sunrise on the Bosphorus Strait."
Keep reading...
Show less
Richland County Wetland destroyed by spilled drilling fluids during construction of Rover Pipeline, April 14. Sierra Club

Energy Transfer Partners' controversial $4.3 billion Rover pipeline has more negative inspection reports than any other major interstate natural gas pipeline built in the last two years, according to a new Bloomberg analysis.
The 713-mile pipeline, which will carry fracked gas across Pennsylvania, West Virginia, Ohio and Michigan and Canada, has been stalled from numerous environmental violations, including a 2 million gallon drilling fluid spill into an Ohio wetland in April.
Keep reading...
Show less
Pipes for the Constitution Pipeline are stacked at a pipe yard in Altamont, New York.
The U.S. Court of Appeals for the Second Circuit upheld New York State's denial of a water quality certification for the Constitution Pipeline Friday, a critical win for the Attorney General's office and the state's authority to take necessary action to protect its waters and natural resources. The appeals court noted that the state is entitled to "conduct its own review of the Constitution Project's likely effects on New York waterbodies and whether those effects would comply with the state's water quality standards."
New York must be able to do what's necessary to protect our environment—and we're glad that the court agreed.

Keep reading...
Show less
iStock
By Anne Bolen
On Aug. 21, for the first time since 1918, a total solar eclipse will cross the U.S. from coast to coast. Along the path of totality, the moon will completely block out the sun, turning day to twilight for nearly three minutes. While a partial eclipse will be visible throughout the U.S., millions will be flocking to spots along the path of totality, which begins in Salem on Oregon's coast about 10:15 a.m. Pacific Daylight Time and exits the nation at Charleston, South Carolina, where maximum coverage will occur about 2:47 p.m. Eastern Daylight Time. Perhaps no other natural event will inspire so many people to go outdoors.
Keep reading...
Show less
The Trump administration released an environmental review Thursday of Hilcorp Alaska's Arctic offshore drilling development. Hilcorp plans to build a 9-acre artificial island and 5.6-mile pipeline in the Beaufort Sea for its offshore drilling project. The Trump administration's draft environmental impact statement proposes to greenlight the dangerous drilling plan, which would be a first for federal waters in the Arctic.
Keep reading...
Show less
Equinac
Not again! A baby dolphin died last Friday in southern Spain after beachgoers took the mammal out of the water and passed it around for photos, according to media reports.
The incident was detailed in several Facebook posts from Equinac, a Spanish marine wildlife conservation group.
Keep reading...
Show less
President Trump has made sweeping efforts to scrap Obama-era environmental protections, but the current administration's latest moves are oddly specific.
The National Park Service (NPS) announced Wednesday that it has rescinded the 2011 "Water Bottle Ban" that allowed parks to prohibit the sale of disposable plastic water bottles. That same day, news emerged that the Trump administration removed a nine-slot Capital Bikeshare station at the White House that was requested and installed during the Obama years and used by staffers.
Keep reading...
Show less
Energy
Aug. 17, 2017 11:46AM EST
In March 2013, ExxonMobil's Pegasus Pipeline sprung a leak,
spilling
210,000 gallons of tar sands crude into a neighborhood of Mayflower, Arkansas.
By Catherine Collentine
In March of 2013, ExxonMobil's Pegasus Pipeline sprung a leak, spilling an estimated 210,000 gallons of toxic tar sands crude into a residential neighborhood of Mayflower, Arkansas.
This week, a federal court ruled that the Obama administration over-penalized Exxon for dumping hundreds of thousands of gallons of a pollutant onto the streets of Mayflower and threw out a number of safety violations levied against Exxon on the basis that the company met its legal obligations to consider the risks associated with the pipeline.
Keep reading...
Show less