This website uses cookies to ensure you get the best experience while browsing it. By clicking 'Got It' you're accepting these terms.


The best of EcoWatch, right in your inbox. Sign up for our email newsletter!
Take a Tour of Facebook's Massive 9-Acre Rooftop Park
Mar. 10, 2016 12:15PM EST
Business
Facebook's Menlo Park, California headquarters features an impressive, 9-acre rooftop garden—a welcome reprieve for the social media giant's 2,800 employees.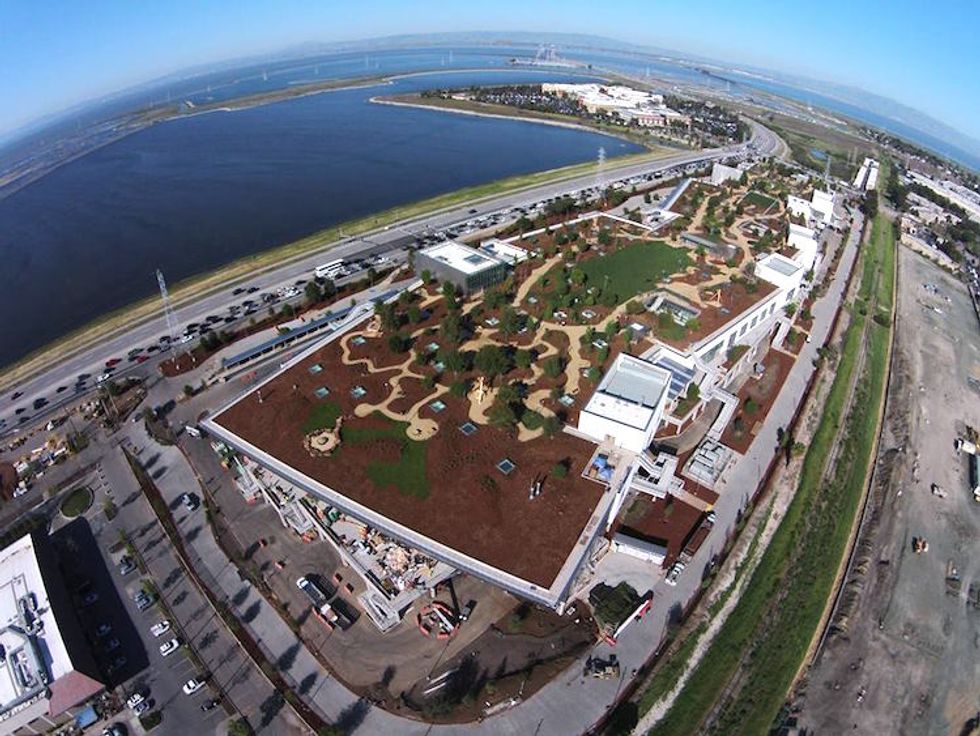 "Our goal was to create the perfect engineering space for our teams to work together," Facebook honcho Mark Zuckerberg wrote last March about the company's new HQ and rooftop garden. "We wanted our space to create the same sense of community and connection among our teams that we try to enable with our services across the world." Photo credit: Mark Zuckerberg/Facebook
As reported by In Menlo, the garden is filled with 90 percent native fauna, 350 evergreen, deciduous and flowering trees and a one-half mile long winding pathway.
Not only that, the garden is also home to resident and migrant birds and is adorned with Gehry-designed teepees, lawn furniture, art installations from artists Smith Allen, Jay Nelson and Evan Shively as well as white boards for outdoor meetings.
Facebook moved into their expansive 430,000-square-foot Frank Gehry-designed campus last March.
"[Gehry] envisioned a place that employees could use as a space to walk because there wasn't space around the building," Facebook's sustainability and community outreach manager Lauren Swezey explained to the publication. "He designed a palette of colors in bands across the roof."
The Canadian architect is known for the Guggenheim Museum in Bilbao, Spain and the Walt Disney Concert Hall in Los Angeles.
Chris Guillard, a founding partner of CMG Landscape Architecture, helped design Facebook's green roof.
"Work has become more mobile and fluid so you can actually step away from your desk and have a small conversation with people," Guillard told the The San Jose Mercury News.
The Mercury News described the roof as "more like a park than the top of an office" that overlooks the city's marshlands.
Facebook's main office, nicknamed MPK 20, has the unique distinction of having the world's largest open floor plan, or as Facebook founder and CEO Mark Zuckerberg described on a Facebook post in March 2015 touting the new HQ:
"Our goal was to create the perfect engineering space for our teams to work together. We wanted our space to create the same sense of community and connection among our teams that we try to enable with our services across the world.
"To do this, we designed the largest open floor plan in the world—a single room that fits thousands of people. There are lots of small spaces where people can work together, and it's easy for people to move around and collaborate with anyone here. On the roof is a 9-acre park with walking trails and many outdoor spaces to sit and work." 
According to The Wall Street Journal, Zuckerberg himself was the one who pushed for the rooftop garden:
Mr. Zuckerberg, who appreciates the restorative power of hiking in the outdoors.
It was his idea to cover the entire roof of the structure with a garden, which is accessible throughout the building via elevators and the external stairs and ramps. Gravel paths wander among mature trees, mounded shrubs, and drought-tolerant grasses, offering views of mountains and an expanse of San Francisco Bay. The garden makes space for meetings (white boards are provided), naps and quiet contemplation, fueled by coffee stands and a cafe. A two-thirds-mile walking loop accommodates the peripatetic Mr. Zuckerberg.
"We have a culture of walking meetings," Swezey also told In Melo. "People come up to the roof to conduct one on ones. They get some fresh air, too!"
Lori Goler, the company's chief people officer, told CNBC: "It really creates an environment where people can collaborate; they can innovate together. There's a lot of spontaneity in the way people bump into each other, just a really fun collaborative creative space."
"You can't really can't walk through this space without bumping into people," Goler added.
YOU MIGHT ALSO LIKE
Shipping Containers Are Becoming 'Home, Sweet Home' All Over the World
Cities Unleash Secret Underground Weapon to Become Clean Energy Powerhouses
Want to Get Off the Grid and Live in Harmony With Nature? Build an Earthship
World's First Solar-Hydrogen Residential Development Is 100% Self-Sustaining
EcoWatch Daily Newsletter
Pexels
Up to 20% of people may have a food addiction or exhibit addictive-like eating behavior.
Spiced hot chocolate. Lilechka75 / iStock / Getty Images
Food is the cornerstone of the holiday season. It brings friends and family together to share memories, cultural traditions, and great flavors.
Solar panels at the Renewable Hydrogen Fueling and Production Station on Joint Base Pearl Harbor-Hickam. U.S. Navy / Mass Communication Specialist 2nd Class Daniel Barker / Released
By Tara Lohan
Three years into the Trump administration, its anti-climate and anti-science agenda is well established. Despite dire warnings from the world's leading scientists about the threats from rising greenhouse gas emissions, the administration has stubbornly continued to deny climate change, obstructed and undermined efforts to curb it, and moved again and again to roll back existing regulations that help reduce emissions.
Pexels
Rye bread tends to have a darker color and stronger, earthier taste than regular white and wheat bread, which is one reason why many people enjoy it.
Elva Etienne / Moment / Getty Images
By Ketura Persellin
Gift-giving is filled with minefields, but the Environmental Working Group's (EWG) got your back, so you don't need to worry about inadvertently giving family members presents laden with toxic chemicals. With that in mind, here are our suggestions for gifts to give your family this season.