This website uses cookies to ensure you get the best experience while browsing it. By clicking 'Got It' you're accepting these terms.
Taiwan Recalls Quaker Oats Products Imported From U.S. After Detecting Glyphosate
May. 27, 2016 09:45AM EST
Popular
More bad news for Quaker Oats. A random inspection from Taiwan's Food and Drug Administration (FDA) detected glyphosate in 10 out of 36 oatmeal products it tested, exceeding the country's legal limit.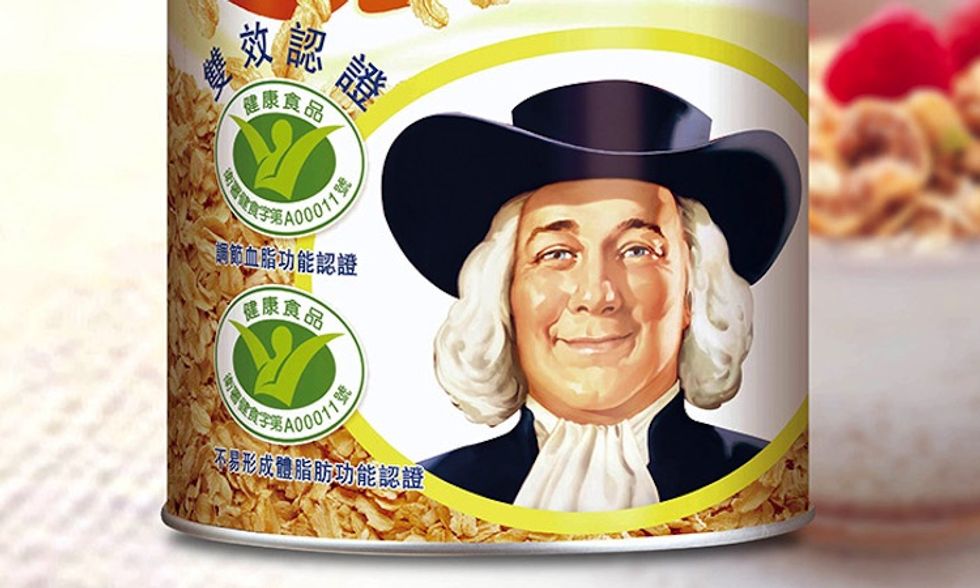 Quaker Oats products sold in Taiwan were found to contain glyphosate levels exceeding the legal limit following a random inspection from the country's FDA. Photo credit: Standard Foods Corporation
The 10 products, including those from the Quaker Oats brand, were found to have glyphosate residue levels between 0.1 parts per million (ppm) and 1.8ppm, the agency said, prompting a recall of nearly 62,000 kilograms of oatmeal.
Taiwan does not permit residues levels of glyphosate to exceed 0.1 ppm, and the companies that violated the regulated standard may face fines between NT$60,000-$200 million (USD$1,800-$6 million).
Taiwan's FDA said that glyphosate is an herbicide often used in other countries, but because Taiwan does not produce their oats it has a zero tolerance policy on glyphosate residue in oatmeal products in the absence of a set maximum residue limits, the Taipei Times reported.
Glyphosate is the main ingredient in Monsanto's flagship herbicide Roundup, which is sprayed on "Roundup Ready" crops that are genetically modified to resist the weedkiller. As it happens, Taiwan has strict regulations on genetically modified organisms (GMOs).
Commercial cultivation of genetically modified crops is banned in Taiwan, and the country has mandated labels on all food products containing GMO ingredients. Additionally, as EcoWatch reported, in December 2015, Taiwan banned schools across the nation from serving GMOs to students, citing health and safety concerns.
According to the China Post, most of the tainted oatmeal was imported from the U.S. Quaker's Old Fashioned Quaker Oats and Quaker Quick 1-minute Oats that are sold at the country's supermarkets, Carrefour Taiwan, Costco Wholesale Corp and RT-Mart, were named in the inspection. Other brands that were flagged include Coach's Oats, Bob's Red Mill Instant Rolled Oats, Fifty50 Hearty Cut Oatmeal and McCann's Imported Irish Oatmeal, Australia Fine Oat Flakes and oatmeal by Fengyuan Food.
Standard Foods Corporation—which has a licensing agreement with Quaker Oats allowing it to produce, distribute and market Quaker products in Taiwan—said in a statement that the oatmeal they produce in Taiwan have all passed FDA tests, and have no connection to the U.S.-imported Quaker Oats sold by other trade companies. The company insisted all their products are "made in Taiwan," with main ingredients imported from Australia.
Wang Te-yuan, an FDA Northern Center for Regional Administration official, said this was the agency's first random inspection of oatmeal products flowing into the market, media reports noted.
Wang explained that the maximum level of glyhosate residues currently allowed in foods is 30 ppm in the U.S., 20 ppm in Japan and the European Union, 15 ppm in Canada and 0.1 ppm in Australia.
Taiwan's FDA also cited studies suggesting that animals can tolerate considerable exposure to glyphosate, and that it does not harm their nervous systems, but high exposure in rats has caused slight weight loss, enlargement of the liver and kidney inflammation, the Taipei Times wrote.
According to the China post, "previously, only genetically modified soybeans were tested for glyphosate at customs, but the decision was made to also test oatmeal after reports indicated issues with those products overseas."
Earlier this month, a group of consumers in New York, California and Illinois filed a class action lawsuit challenging Quaker Oats's claim of being "100 Percent Natural" despite having traces of the weedkiller glyphosate found in its famous oatmeal.
Quaker issued a defense to the New York Times, stating, "Any levels of glyphosate that may remain are trace amounts and significantly below any limits which have been set by the EPA as safe for human consumption."
The New York Times reported that in a test paid for by lawyers for the plaintiffs, the Richman Law Group, glyphosate was detected at a level of 1.18 parts per million in a sample of Quaker Oats Quick 1-Minute, or 4 percent of the 30 parts per million that the U.S. Environmental Protection Agency (EPA) allows in cereal grains.
Glyphosate, the most widely used agricultural herbicide in the world, is at the center of major global controversy. Last year, the World Health Organization's International Agency for Research on Cancer declared glyphosate as a possible carcinogen.
The chemical has been detected in several everyday products, from alcoholic beverages, women's hygiene products and food. The Alliance for Natural Health-USA revealed that glyphosate was found in 10 of the 24 food samples tested, including oatmeal, bagels, eggs (including the organic variety), potatoes and even non-GMO soy coffee creamer.
However, to make matters more confusing, a recent joint report from experts at the United Nation's Food and Agriculture Organization (FAO) and the WHO's Meeting on Pesticide Residues concluded that glyphosate is "unlikely to pose a carcinogenic risk to humans from exposure through the diet."
YOU MIGHT ALSO LIKE
Bayer 'Confident' It Can Still Strike Deal with Monsanto, Merger Could Spell Disaster for Farmers and Global Food Supply
More Big Retailers Say 'No' to GMO Salmon
Vandana Shiva: Small Farmers Are Foundation to Food Security, Not Corporations Like Monsanto
EcoWatch Daily Newsletter
Ocean pollution concept with plastic and garbage.
Anton Petrus
/ Moment / Getty Images
Nestlé cannot claim that its Ice Mountain bottled water brand is an essential public service, according to Michigan's second highest court, which delivered a legal blow to the food and beverage giant in a unanimous decision.
A number of supermarkets across the country have voluntarily issued a recall on sushi, salads and spring rolls distributed by Fuji Food Products due to a possible listeria contamination, as CBS News reported.
A U.S. Border Patrol agent gathers personal effects from immigrants before they are transferred to a McAllen processing center on July 02, 2019 in Los Ebanos, Texas. John Moore / Getty Images
Poverty and violence in Central America are major factors driving migration to the United States. But there's another force that's often overlooked: climate change.
Retired Lt. Cmdr. Oliver Leighton Barrett is with the Center for Climate and Security. He says that in Guatemala, Honduras and El Salvador, crime and poor economic conditions have long led to instability.
"And when you combine that with protracted drought," he says, "it's just a stressor that makes everything worse."
Barrett says that with crops failing, many people have fled their homes.
"These folks are leaving not because they're opportunists," he says, "but because they are in survival mode. You have people that are legitimate refugees."
So Barrett supports allocating foreign aid to programs that help people in drought-ridden areas adapt to climate change.
"There are nonprofits that are operating in those countries that have great ideas in terms of teaching farmers to use the land better, to harvest water better, to use different variety of crops that are more resilient to drought conditions," he says. "Those are the kinds of programs I think are needed."
So he says the best way to reduce the number of climate change migrants is to help people thrive in their home countries.
Reporting credit: Deborah Jian Lee / ChavoBart Digital Media.
Reposted with permission from Yale Climate Connections.
Chris Pratt arrives to the Los Angeles premiere of "Jurassic World: Fallen Kingdom" on June 12, 2018 in Los Angeles, California. Michael Tran / FilmMagic / Getty Images

Chris Pratt was called out on social media by Game of Thrones star Jason Momoa after Pratt posted an image "low key flexing" with a single-use plastic water bottle.