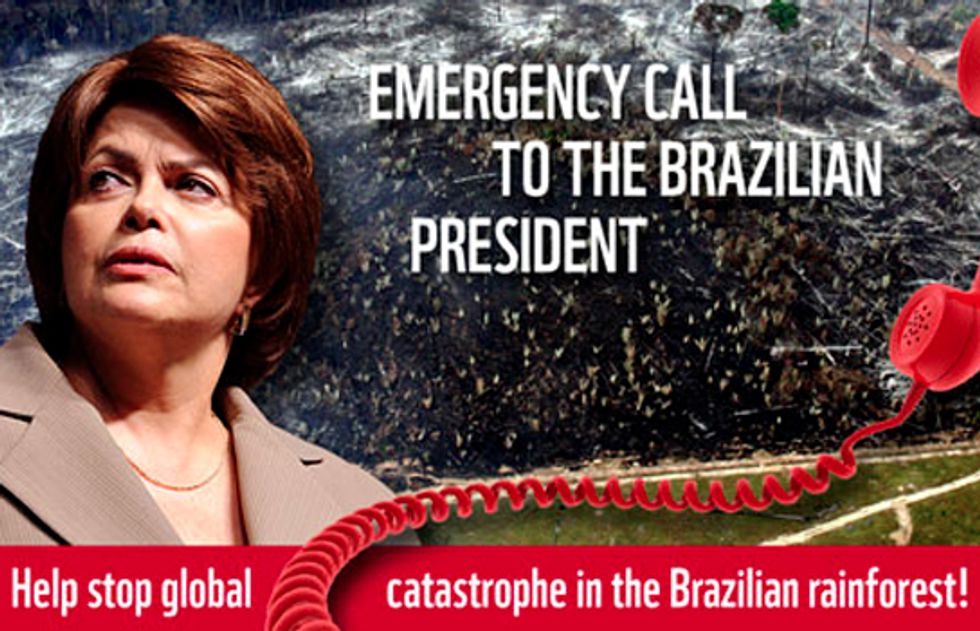 The Amazon is home to the largest remaining rainforest in the world. But the Brazilian government (backed by powerful agribusiness interests) is poised to open up vast new areas to agriculture and cattle ranching by changing its long-standing forest law.
The countdown has begun. Brazil is about to hand over millions of acres for legal clearance. This is in addition to a planned amnesty for millions of acres of already illegally cleared forest. This would reward the criminal destruction of forest, instead of forcing it to be reforested.
Rainforest covering 175 million acres could be lost or not restored—an area nearly as big as Germany, Austria and Italy combined. The consequences will be felt all over the world—25 billion additional tons of CO2 could be released—equal to more than 50 years of the current emissions of the United Kingdom. The law would also result in the unprecedented destruction of Brazil's wildlife.
What's worse, the new version of the law has been rushed through Congress with an alarming disregard for input from scientists, who've repeatedly shown that it isn't necessary to cut more forest to increase Brazil's economic growth.
Now the fate of the forests rests with President Dilma Rousseff, who could still choose to veto some or all of the proposed changes. In Brazil, more than 1.5 million people have already signed a petition urging President Rousseff to act. Please add your voice to theirs and send an email to the president. Only she can prevent the catastrophe.
For more information, click here.
EcoWatch Daily Newsletter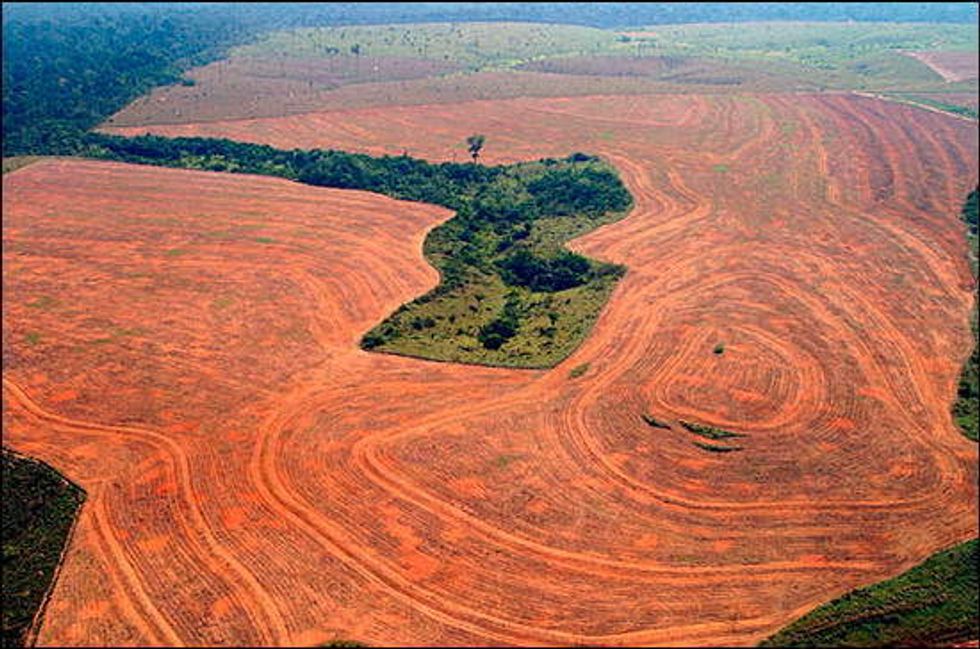 Brazil's Senate has decided to pursue short-term gain over long-term security in a vote to do away with long standing protections for the Amazon and other key forested areas, World Wildlife Fund (WWF) warned Dec. 7.
The new law, promoted by some rural and agribusiness interests, opens vast new areas of forest to agriculture and cattle ranching and extends amnesties to illegal deforestation conducted prior to 2008. Areas formerly held to be too steep or vital to the protection of watersheds and watercourses are among those now open to destruction.
Polls showed a majority of the population opposed to the revision of the Forest Code, with a vocal majority of experts warning that the new version of the law will hinder Brazil's long-term development and not help it.
"We have a powerful minority condemning the future of millions of Brazilians, all in the name of quick financial gain," stated WWF-Brazil's CEO, Maria Cecilia Wey de Brito. "No thought has been given to the social and economic costs of destroying our forests. The Senate has adopted, once again, the outdated and false notion that conservation and development are somehow at odds, something we know is not true."
Jim Leape on the Brazil Forest Law from WWF on Vimeo.
If signed into law by Brazil President Dilma Rousseff, the changes will jeopardize Brazil's significant environmental achievements of recent years and severely undermine global efforts to fight climate change and halt biodiversity loss. The changes are also expected to expose poor Brazilians to larger risks from floods and droughts.
Brazil has committed to 2020 targets of a nearly 40 percent cut in its growth curve of greenhouse gas emissions and a reduction of Amazon deforestation levels by 80 percent compared to average rates registered for the period of 1996-2005. These are commitments of global interest, now almost certainly out of reach because of the revisions to the Forest Code.
The Senate decision also comes in the midst of international climate talks in Durban, South Africa, and precedes Brazil's hosting of the United Nations Conference on Sustainable Development, or Rio+20, in June 2012. Brazil's credibility as it hosts this and other key global events (2014 World Cup, 2016 Summer Olympics) will be severely compromised if it passes environmental legislation favoring deforestation of the Amazon and other globally-important regions, WWF warned.
"WWF-Brazil has gone along with the legislative processes, has worked with others to help bring science to the political debate and has defined common points with good agribusiness and others," said Wey de Brito. "Now we must urge President Rousseff to consider the severe implications of signing the revisions into law, including irreparable harm to Brazil's natural resources, its economic development, and to the future health and well-being of millions of Brazilians and billions of people around the world."
WWF-Brazil is supported by WWF's entire international network in urging President Rousseff to act in Brazil's interests rather than a sectional interest—noting that the president has already said she would not support an amnesty for illegal deforestation.
"We're at a time in history when the world seeks leadership in smart, forward-thinking development," said WWF International Director-General Jim Leape. "Brazil was staking a claim to being such a leader.
"It will be a tragedy for Brazil and for the world if it now turns its back on more than a decade of achievement to return to the dark days of catastrophic deforestation."
For more information, click here.