In legal tiger farms across China, some 6,000 caged cats are kept in filthy conditions and will be killed for dubious medicinal uses and as home decor for the country's newly-rich elite. The sordid business is mostly legal, but hides behind carefully-worded agreements and pretensions of conservation. The issue is expected to be addressed at this week's Convention on International Trade in Endangered Species (CITES) meeting in Johannesburg.
Tiger breeding cages at Guilin Tiger Farm in China.Belinda Wright / Wildlife Protection Society of India
It is estimated that 60 percent of China's 1.4 billion people use so-called traditional medicines made from tiger bones, rhinoceros horn, bear gall bladder and other exotic animal parts. As China has grown in recent decades, creating a larger middle class and many newly rich entrepreneurs, demand for tiger parts has grown.
[email protected]

Speaks Out Against #Rhino Horn Trade https://t.co/wBuIuaGk7q @WildAid @Virgin @WWF @pamfoundation https://t.co/xNvkSkjS6u

— EcoWatch (@EcoWatch)1452804120.0
"The use of endangered tiger products and their medicines is seen as a symbol of high status and wealth," states Tigers in Crisis.
China signed on to CITES, but maintains about 200 tiger farms, where tigers are bred to serve this growing market. Claiming that these tiger parts are for domestic consumption, and therefore not subject to the treaty on international trade, China also defends the tiger farms as a captive breeding program that actually helps the species.
However, in 1993, China banned trading in tiger bone, and a 1988 wildlife law that purports to protect endangered species sets forth a policy of "actively domesticating and breeding the species of wildlife."
"What we didn't understand until very recently is that ban in 1993 did not supersede China's wildlife protection law, which was crafted in the 1980s and actually mandates the farming and consumption of tigers and other endangered species," author and wildlife activist Judith Mills told Yale Environment 360 in an interview last year.
Small pens house tigers.Environmental Investigation Agency
Among the luxury products made from these farmed animals is tiger bone wine, which can sell for $257 per 500 ml (about 17 ounces). But almost every part of the tiger is alleged to have some medical use: the brain, whiskers, eyeballs, nose, penis, tail and feet. Tiger skins and whole stuffed tigers are a status symbol in wealthy Chinese homes.

Far from saving the species, tiger farms promote demand for these body parts that makes poaching wild tigers even more lucrative.
"The problem with tiger farming is that it stimulates demand for tiger products, which stimulates poaching of wild tigers because products from wild tigers are considered superior, more prestigious and they're exponentially more valuable," Mills said.
The World Wildlife Federation (WWF) counts the number of tigers in the wild at 3,890.
Historic and current range of tigers in Asia.World Wildlife Federation
A February 2013 report by the Environmental Investigation Agency concludes that "wild Asian cats are being poached to supply the market demand stimulated by China's legal domestic trade in skins of captive-bred tigers at a time when the international community has agreed that demand reduction is essential to save wild tigers."
The report also notes that tiger farming and trade has spread to other Southeast Asia countries including Thailand, Laos and Vietnam. Recently, Laos announced its intention to phase out tiger farms.
In July, the Environmental Investigation Agency called on CITES to adopt concrete measures to end tiger farms. Even if adopted, it remains to be seen if China will abide by the regulations or find another loophole. The Guardian reports that a farm in northeast China is cross-breeding tigers with lions, thus creating a "liger" that the Chinese say is not covered by its own 1993 law.

EcoWatch Daily Newsletter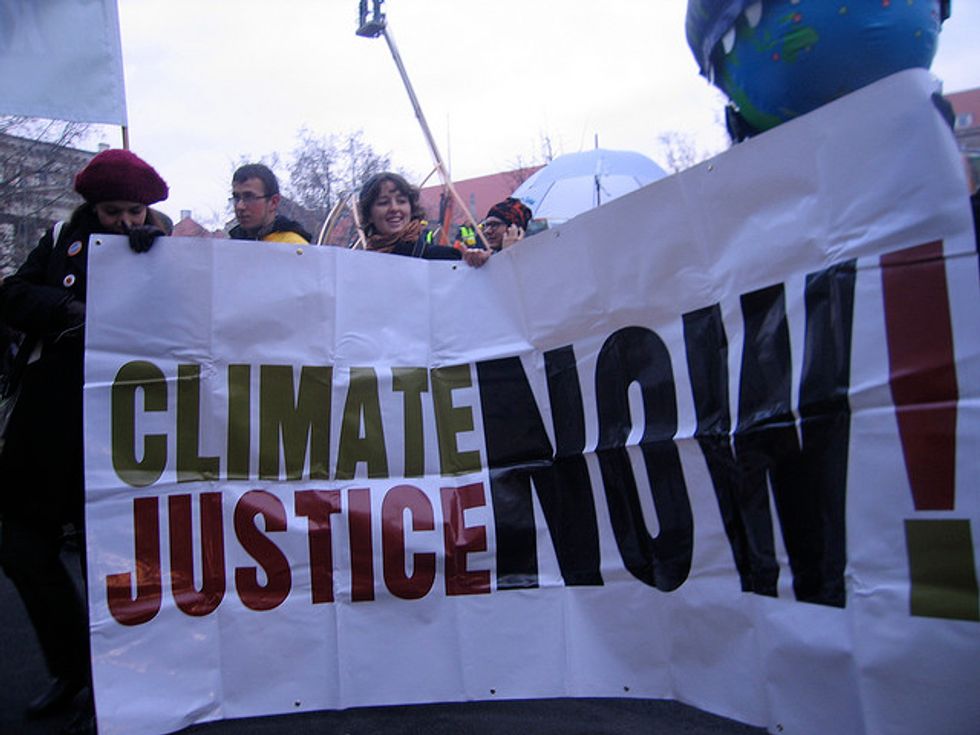 In lead up to the United Nations Framework Convention on Climate Change summit in Durban, South Africa, members of the Stand with Africa campaign urged U.S. policymakers Nov. 21 to focus their attention on the people already suffering from the impacts of climate change rather than playing politics and making other excuses for delaying action. The full name of the campaign is Stand with Africa; Act Now for Climate Justice.
The Durban summit takes place on a continent severely impacted by climate change. Africa is particularly prone to increased food and water stress due to climate change. According to the World Food Program, approximately 65 percent of the global total increase in climate-related hunger is projected to occur on the continent of Africa. And according to the Intergovernmental Panel on Climate Change, 75-250 million people across Africa could face more severe water shortages by 2020 as a result of climate change.
The U.S. has a particular responsibility to act, both as the single largest historic climate polluter and because we are facing great climate risks and impacts here at home. The Stand with Africa campaign calls on the U.S. to:
offer a clear plan for how the U.S. will meet and exceed its current emission reduction target
commit to at least one new innovative approach to generate public finance to help countries confront climate change
support the operation of a transparent, accountable and environmentally sound Green Climate Fund (GCF).
Members of the Stand with Africa campaign can speak about the range of innovative tools available to generate public finance. For example, in order to reduce emissions and generate finance, it is possible to set up mechanisms in the shipping and aviation sectors—two polluting industries—that both reduce emissions and generate climate finance in a way that ensures no new costs or burdens on developing countries.
Another widely supported option includes a tiny fee on financial transactions. According to the Austrian Institute for Economic Research, a global financial transaction tax of 0.1 percent could generate between U.S. $410 billion and U.S. $1.06 trillion per year, a portion of which could go to help developing countries confront climate change.
Members of the campaign will be available for comment on the progress of the negotiations and the role of the U.S. in the lead up to, during and after the Durban climate summit. For more information, click here.
The current list of Stand With Africa partners includes—ActionAid USA, Africa Faith and Justice Network, Americans for Informed Democracy, Center for Biological Diversity, Columban Center for Advocacy and Outreach, Environmental Justice and Climate Change Initiative, Foreign Policy in Focus, Friends of the Earth USA, Greenpeace USA, Maryknoll Office for Global Concern, National Association for the Advancement of Colored People (NAACP), Oxfam America, the Sustainable Energy and Economy Network at the Institute for Policy Studies, and World Wildlife Federation (WWF).
Commentary and Quotes
Ilana Solomon, senior policy at Analyst ActionAid USA, says:
"The Durban climate summit is taking place against a backdrop of climate-driven disasters. Recent floods across Asia have killed hundreds, displaced millions and have led to severe food shortages across the region. Droughts across East Africa have threatened the lives and livelihoods of more than 13 million people.
"The U.S. and other developed countries must go to the climate summit and uphold the interests of the poor—not of corporations and polluting industries. The U.S. must stop delaying progress and work with others to agree to new sources of public finance to help poor countries confront the climate crisis."
Lou Leonard, managing director of Climate Change at WWF, says:
"The impacts of climate change are no longer just a threat to our future—they are with us today. As the Horn of Africa experiences its worst drought in more than 60 years, threatening millions with starvation, the United States is being battered by severe floods, droughts and wildfires. The climate crisis disproportionately affects the people least capable of adapting, and threatens the survival of the wildlife, biodiversity and ecosystems upon which we all rely.
"Meanwhile, Washington is absent at home and abroad on addressing risks posed by climate change, leaving cities and towns across America dangerously unprepared for these severe and growing impacts. The Obama administration needs to rise above the Washington gridlock and show leadership by developing and executing a U.S. strategy to meet our international climate commitments."
Karen Showalter, executive director at Americans for Informed Democracy, says:
"Young people in the U.S. are keenly aware of the impacts of climate change both here at home and around the world. It is time for the United States to lead the way in addressing what is truly a global challenge."
Rose Braz, climate campaign director at the Center for Biological Diversity, says:
"2011 should make clear that climate change is not an abstract problem for the future. Climate change is happening now, it's caused by human activity and Africa is particularly vulnerable and hard hit. The longer we wait to act, the harder the problem will be to solve. It's long past time for the United States and other developed countries to act urgently and ambitiously to curb global warming pollution."
Michelle Knight, advocacy associate at the Columban Center for Advocacy and Outreach, says:
"Columban missionaries in countries such as Peru and the Philippines are already seeing the effects of climate change harming the communities with whom we live and serve. The U.S. must work with all countries at the summit towards reducing emissions and generating finance for affected countries."
Kari Fulton, interim director, Environmental Justice and Climate Change Initiative, says:
"The Environmental Justice Climate Change Initiative is heading to Durban with a delegation of youth and community leaders to ensure that our government, and the world knows that within the United States there are people who are feeling the impacts of climate change and environmental injustice.
"We stand in solidarity with those impacted across the global south and are pushing our government to join the rest of the world in addressing the worst impacts of climate change with humanity, humility and as a true comrade of the world. We stand with Africa because Africa's story is not too far from our own. We are all facing the battle to adapt, but if we push together we all have a chance to thrive."
Karen Orenstein, international policy campaigner at Friends of the Earth, says:
"The Green Climate Fund is critically needed to support developing countries in confronting the climate crisis, and it must be operationalized in Durban. However, the GCF must not serve to subsidize developed country corporations. GCF resources must not be used to directly finance the private sector, particularly through the establishment of a private sector facility, and the U.S. must stop pushing this. The role of the private sector in the Green Climate Fund must be decided and regulated at the national and sub-national level in line with countries' preferences and people's needs, not corporate bottom lines."
Jaqueline Patterson, NAACP director of Economic and Climate Justice Programs, says:
"U.S. communities of color and low income communities share a common cause with our African brothers and sisters as all of us are on the frontlines of climate change impact driven by the excesses of a wealthy few nations and corporations.
"Policymakers in the United States must uphold their ethical obligations to significantly reduce emissions and ensure financial support to communities and countries most affected by climate change."
Janet Redman, co-director of the Sustainable Energy & Economy Network at the Institute for Policy Studies, says:
"People living in poverty in the U.S. and throughout the African continent are already feeling the impacts of climate change. How many more lives must be imperiled before the U.S. acts? The U.S. and other developed country governments should learn from the Occupy movements that people are not willing to sacrifice the security of vulnerable communities for corporate profits."
For more information, click here.
Like many other plant-based foods and products, CBD oil is one dietary supplement where "organic" labels are very important to consumers. However, there are little to no regulations within the hemp industry when it comes to deeming a product as organic, which makes it increasingly difficult for shoppers to find the best CBD oil products available on the market.
<p>Here you can learn about the importance of organic hemp oil, why it's better for the environment, and which CBD companies actually make trustworthy products with sustainable farming processes. origins which weigh heavily on many consumers who want to buy a product that's produced in the best way possible for not only themselves to ingest, but for the environment as well through sustainable farming methods. </p><h2>What Is CBD Oil?</h2><p>First things first, CBD stands for cannabidiol, and it's a cannabinoid found within cannabis sativa plants. This plant compound is believed to have many potential benefits, and it is primarily derived from hemp plants via a CO2 extraction process. </p><p>Since CBD is extracted from industrial hemp, which contains only trace amounts of THC (the psychoactive component in cannabis plants), this means that CBD won't make you feel high like marijuana, which has much higher levels of THC that causes psychoactive effects. Instead, the effects of CBD are much more subtle and promote a general sense of calm and relaxation in most users.</p><h2>What Makes a CBD Oil Organic?</h2><p>In terms of organic labels, perhaps the most important (and prominent) certification comes from the United States Department of Agriculture (USDA). This government organization has been labeling foods as "organic" for many years, but what exactly does this certification entail? Essentially, a label indicating that a product is "USDA Organic" or "Certified Organic" means that at least 95% of the ingredients are obtained from organic sources.</p><p>For a crop to be considered organic by the USDA, it must be grown without the use of industrial solvents, irradiation, genetic engineering (GMOs), synthetic pesticides, or chemical fertilizer. Instead, farmers rely on natural substances and <a href="https://www.usda.gov/media/blog/2012/03/22/organic-101-what-usda-organic-label-means" rel="noopener noreferrer" target="_blank">mechanical, physical, or biologically based farming</a> techniques to cultivate healthy and organic crops.</p><p>Before the passage of the 2018 Farm Bill, no hemp-derived products could be dubbed as "certified organic" since the hemp plant and its extracts were still categorized as a Schedule I Controlled Substance. However, it's still difficult for CBD companies to obtain a USDA certified organic label for their products due to the legal grey area that still surrounds CBD extracts. </p><p>Because of these challenges, and due to the fact that industrial hemp has only recently become an agricultural crop, very few CBD oils are USDA certified organic. Rather, many CBD products contain hemp extracts from plants that were grown in organic conditions but may not be federally certified.</p><h2>What are the Best Organic CBD Oil Brands?</h2><p><em>Each product featured here has been independently selected by the writer. If you make a purchase using the links included, we may earn commission.</em></p><em><br></em>