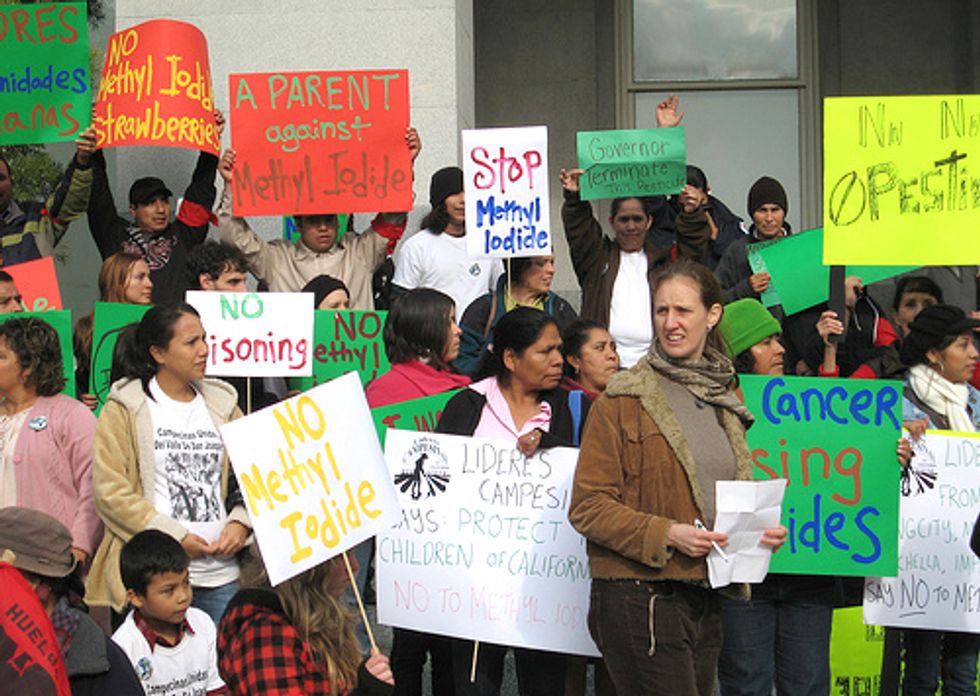 On Feb. 21, more than 60,000 people urged the new Director of the California Department of Pesticide Regulation (DPR) on his first day on the job to take action on cancer-causing pesticide methyl iodide. Representatives of environmental, health and farmworker organizations as well as tens of thousands of individuals urged Director Brian Leahy to repair the image of the tarnished department, criticized for ignoring science and failing to protect public health, by reversing the Schwarzenegger administration's controversial approval of the strawberry pesticide.
"Director Leahy must show his commitment to public health and scientific integrity by immediately suspending all uses of methyl iodide and reversing the approval of this cancer-causing fumigant," said Susan Kegley, PhD, consulting scientist for Pesticide Action Network. "In addition, he should support long-term efforts to partner with farmers and sister state agencies, to help transition away from pesticide fumigants and invest in healthy, sustainable agriculture."
Leahy, a former organic farmer and assistant firector of the Division of Land Resource Protection at the California Department of Conservation takes office after an eleven-month vacancy in the position of the state's chief pesticide regulator. He comes to office more than one year after the approval of methyl iodide—in December 2010, DPR approved the use of methyl iodide, ignoring concerns voiced by both a panel of independent scientists and the agency's staff scientists. One independent scientist has called it "one of the most toxic chemicals on earth," citing research that methyl iodide causes cancer, late-term miscarriages and contaminates groundwater.
More than 200,000 scientists, farmers, farmworkers, environmentalists and other members of the public sent comments to the U.S. Environmental Protection Agency (EPA) last May urging the federal agency to listen to the science and ban the pesticide nationally. Washington State used California's research to reject methyl iodide, and federal regulators have suggested that they are waiting on California in order to determine their next steps.
"Farmworkers are on the frontlines of pesticide exposure," said Maria Machua, spokesperson for United Farm Workers. "California's steps have immediate and direct impacts on the health and safety of farmworkers and their families living in the state, and sets precedence for farmworkers living across the country."
The petition signatures were gathered over the past two weeks, following news of Leahy's appointment, by a coalition of scientist, farmworker and environmental organizations, including the United Farm Workers, Pesticide Action Network, Environmental Working Group, Food & Water Watch, Center for Environmental Health, Change.org, Pesticide Watch, Worksafe and the coalition Californians for Pesticide Reform.
"This is an opportunity for a new day at DPR. Previous directors have all too often caved to industry pressure and rubber-stamped pesticides instead of safeguarding health and promoting a vibrant agricultural system," said Tracey Brieger, co-director of Californians for Pesticide Reform. "Sticking to the science and promoting safe alternatives will reduce pesticide use, protect children's health and support climate-friendly agriculture. With strong leadership, Leahy can make DPR an engine of innovation, economic stability and improved safety."
California leads the country in organic farming with more than 430,000 acres in production and average annual growth of 15 percent. In his new role, Director Leahy has a significant opportunity to work with growers and find opportunities to reduce pesticide use, promote organic production and strengthen California's vibrant agricultural economy.
In the first days of the Brown administration, Californians for Pesticide Reform, a coalition of more than 185 health and environmental organizations, submitted, a platform for pesticide. Healthy Children & Green Jobs: A Platform for Pesticide Reform outlines priority recommendations for how the Brown administration and Leahy can protect health and ensure the success of agriculture in California, including taking action on methyl iodide.
For more information, click here.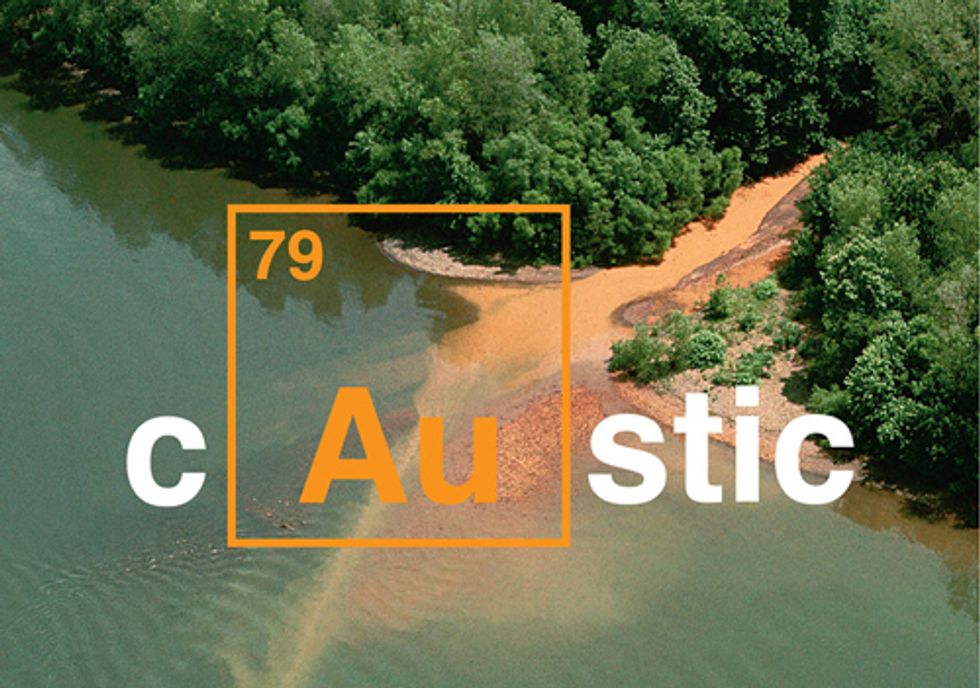 Some 80 jewelry retailers from around the world, including eight of the top 10 retailers in the U.S., have committed to cleaning up dirty metals by signing the No Dirty Gold campaign's Golden Rules for more responsible metals sourcing.
The Golden Rules are a set of social, human rights and environmental criteria for gold and other precious metals. Jewelers who have signed the Golden Rules are committed to selling gold jewelry that is mined and smelted responsibly.
This is good news for consumers, the environment and the communities who live with metals mining says No Dirty Gold campaign director Payal Sampat. "Dirty gold must become a thing of the past," she said. "No one wants their Valentine's Day jewelry tainted with human rights abuses or toxic pollution. But this can't happen unless companies like Macy's commit to cleaning up their supply chains and sign the Golden Rules."
Macy's is one of the last major jewelry retailers to sign the Golden Rules. The department store chain, which includes Bloomingdale's, is the fifth-largest retailer of gold jewelry in the U.S., with more than 800 locations in 45 states, the District of Columbia, Puerto Rico and Guam.
On Feb. 13, activists with the No Dirty Gold campaign hung a balloon banner at the Macy's Washington, D.C. store, reading, "Macy's: Don't Break Our Hearts. Dump Dirty Gold."
"Until Macy's ends its love affair with dirty gold, the company's commitment to sustainability and transparency is just a bunch of hot air," said No Dirty Gold campaign coordinator Nick Magel.
Costco, the ninth largest U.S. jewelry retailer, headquartered in Issaquah, Wa., has also declined to sign the Golden Rules.
Sampat says the campaign's effort to secure commitments from jewelers to oppose dirty gold production is a crucial step because about 80 percent of newly mined gold is made into jewelry.
The world's largest jewelry retailers, including Walmart, Sterling, Zale's, Tiffany & Co., QVC, Target, Sears/Kmart and JCPenney have all committed to study their metals' supply chains, revise their supplier sourcing criteria to include the Golden Rules and increase recycled gold content.
Michelle Pearlman, senior vice president and president of Jewelry, Sears Holdings, said, "The No Dirty Gold campaign is a great initiative that pushes for sustainability and ethical sourcing on gold. We are proud to be a part of it and to offer our customers gold that was obtained in a responsible manner. Sears strives to be a green company and we will continue to work to build lifetime relationships with our customers starting from the mines up."
Cyanide used in leaching gold from ore can pollute water resources and kill aquatic life. Gold mining can pollute nearby waters with acid mine drainage, which is harmful to wildlife and people. Some mines discharge toxic waste in rivers, lakes or oceans, or store the waste tailings in reservoirs that can leak or burst. Mine wastes include byproducts like mercury and heavy metals, which can enter the food chain and sicken people and animals.
Refining the gold in smelter furnaces releases air pollution, especially oxides of nitrogen and sulfur, which are components of smog and acid rain, as well as lead. Smelters release tons of greenhouse gases into the atmosphere.
The Golden Rules call on mining companies to meet these basic standards in their operations:
    Respect basic human rights outlined in international conventions and law
    Obtain the free, prior and informed consent of affected communities
    Respect workers' rights and labor standards, including safe working conditions
    Ensure that operations are not located in areas of armed or militarized conflict
    Ensure that projects do not force communities off their lands
    Ensure that projects are not located in protected areas, fragile ecosystems, or other areas of high conservation or ecological value
    Refrain from dumping mine wastes into the ocean, rivers, lakes or streams
    Ensure that projects do not contaminate water, soil or air with sulfuric acid drainage or other toxic chemicals
    Cover all costs of closing down and cleaning up mine sites
    Fully disclose information about social and environmental effects of projects
    Allow independent verification of the above
Marc Choyt, president, Reflective Images, a Santa Fe-based jewelry company known for its modern Celtic designs, takes pride in his signature on The Golden Rules. "We are 100 percent in support of the No Dirty Gold campaign," he said. "Precious metals mining causes tons of toxic pollution and is often tied to human rights abuses, which are unacceptable to us and our customers."
"Not only do we manufacture exclusively with recycled gold," said Choyt, "but in 2008, my company was perhaps the first manufacturer in the jewelry sector to move its entire American and international manufacturing to recycled silver as well. We are now creating ethical mine-to-market custody, and also write the Internet's leading resource on fair trade jewelry issues, www.fairjewelry.org."
A number of jewelers who have signed The Golden Rules have also signed a pledge to refrain from buying any gold that might be produced from the proposed Anglo American Pebble Mine due to concerns that it will ruin one of the world's richest salmon fisheries in Bristol Bay, Alaska.
The proposed Pebble Mine would siphon as much as 35 billion gallons of fresh water out of the headwaters of Bristol Bay every year, eliminating critical salmon habitat, finds a new report released last week.
Produced by the Wild Salmon Center and Trout Unlimited, the report details multiple concerns with excavating Pebble's massive deposit of copper, gold, and molybdenum.
Approval of the mine and its infrastructure will likely spur a much larger mining district, substantially increasing odds that mining will harm Bristol Bay's wild salmon, the report found. Pebble's infrastructure would enable mining claims covering 793 square miles, an area 10 times larger than Washington, D.C.
After examining a wide body of scientific information, the report concludes that too much is at stake ecologically, economically and culturally to risk mine development.
Tiffany & Co. Chairman and CEO Michael Kowalski said, "There are some special places where mining clearly does not represent the best long-term use of resources. In Bristol Bay, we believe the extraordinary salmon fishery clearly provides the best opportunity to benefit Southwestern Alaskan communities in a sustainable way. For Tiffany & Co.,—and we believe for many of our fellow retail jewelers—this means we must look to other places to responsibly source our gold."
For more information, click here.
EcoWatch Daily Newsletter
Every day, tens of millions of people will swipe the screens of their iPhones to unlock them.

On the other side of the world, a young girl is also swiping those screens. In fact, every day, during her 12-plus hour shifts, six days a week, she repetitively swipes tens of thousands of them. She spends those hours inhaling n-hexane, a potent neurotoxin used to clean iPhone glass, because it dries a few seconds faster than a safe alternative. After just a few years on the line, she will be fired because the neurological damage from the n-hexane and the repetitive stress injuries to her wrists and hands make her unable to continue performing up to standard.

Sound like a nightmare? According to recent reports, scenarios like this have been all too real in Apple's Chinese supply chain. I love Apple products as much as anyone else. I'm typing this on a Macbook, and I want to buy an iPhone 5 when it comes out. But like many consumers, I don't want my money to support thousands of workers' rights violations that investigative journalists are reporting extend throughout Apple's supply chain.

Click here to sign the petition to Apple's CEO Tim Cook, demanding that he clean up working conditions in his supply chain in time to make an ethical iPhone 5.

Right now we have a huge opportunity as ethical consumers—The launch of the iPhone 5 later this year will be new Cook's first big product rollout, and he can't afford for anything to go wrong—including negative publicity around how Apple's suppliers, like Foxconn, treat their workers. That's why we're launching a campaign this week to get Apple to overhaul the way its suppliers treat their workers in time for the launch of the iPhone 5.

Can Apple do this? Absolutely. Apple is the richest company in the world, posting a record-breaking profit margin for the last quarter of 44.1 percent. They're sitting on $100 billion in cash. According to an anonymous Apple executive quoted in the New York Times, all Apple has to do is demand it, and it'll happen—"Suppliers would change everything tomorrow if Apple told them they didn't have another choice."
For more information, click here.