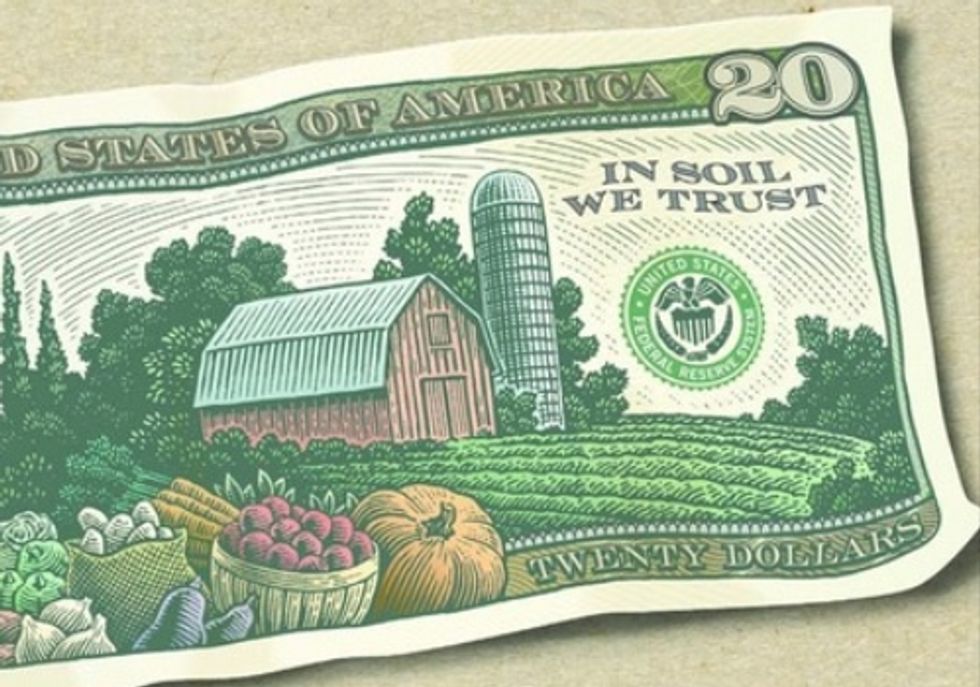 The Ohio Ecological Food and Farm Association's (OEFFA) 33rd annual conference, Sowing the Seeds of Our Food Sovereignty—from Feb. 18 - 19 in Granville, Ohio—will feature an all day pre-conference workshop on Feb. 17, and a keynote address and workshop on Feb. 18 on topics including, how people and institutions can help finance the local food system, how farmers and local food business can access capital and what local financing models are out there.
The events will feature Slow Money Alliance founder and chairman Woody Tasch who will provide a primer on Slow Money, a national effort to encourage sustainable financial investments that support local, community-based food and farm businesses.
"Slow Money is a movement and an investment strategy," said Renee Hunt, OEFFA's program director and the organizer of the event. "Slow Money is about finding meaningful places for people to put their money to work, right in their own communities."
A former venture capitalist and entrepreneur, Tasch inspired the Slow Money movement by writing Inquiries into the Nature of Slow Money: Investing as if Food, Farms, and Fertility Mattered. He is the former chairman of Investors' Circle, which has invested $133 million in 200 early stage sustainability businesses since 1992 and served as treasurer of the Jessie Smith Noyes Foundation.
"We've got to take some of our money out of all this stuff that we no longer understand or can manage effectively and put it to work near where we live, starting with food," Tasch said in a December interview with the Ohio News Service.
In a 2011 interview with Edible Columbus, Tasch went on to say, "If we are going to build a new food system and a new restorative economy, we are going to need billions upon billions of dollars. Where is this money going to come from? Wall Street? Washington? Foundations? Whatever they can do, it won't be enough, it won't be direct enough and there won't be enough of it. The only place it can come from is from all of us, who have a direct, vested interest in the places where we live."
To date, $4.5 million has been invested in 16 small food enterprises through Slow Money's national gatherings. In the last year, $5 million more has been invested through Slow Money chapters.
The full day pre-conference event, Slow Money for Ohio? Financing the Local Food System, is Feb. 17 from 10 a.m. - 4 p.m. and features panels of experts and practitioners who will discuss the challenges of capitalizing the local food economy and strategies to nurture long-term impact and prosperity. Additionally, the event will showcase Slow Money-type models in Ohio and elsewhere and provide attendees with an opportunity to network with individuals and representatives from businesses, organizations and government interested in investing in their local food system.
In addition to Woody Tasch, pre-conference presenters will include:
• John Mitterholzer, The Gund Foundation (invited)
• Mark Barbash, MB Economic Development Consulting
• Joe Cimperman, Cleveland City Council
• Todd Deiterrle, New Harvest Ventures
• Jessica Eickleberry, Local Roots Market and Café (recently featured in the Washington Post)
• Leslie Schaller, ACEnet
• Becky Rondy, Green Edge Gardens
• Representatives from The Economic and Community Development Institute of Columbus, Kemba Bank, Insight Bank, and Farm Credit Services of Mid-America
Tasch's conference keynote address, Slow Money: Investing as if Food, Farms and Fertility Matter, is on Feb. 18 from 4 - 5:15 p.m. Earlier in the day, Tasch will be leading a workshop, Slow Money 101: Where is it Coming From, Where is it Going? from 9:30 - 11:30 a.m.
OEFFA's annual conference is the state's largest sustainable food and farm conference, drawing more than 1,000 attendees from across Ohio and the Midwest. In addition to Tasch, this year's conference will feature keynote speaker Andrew Kimbrell, more than 70 informative and hands-on workshops, two featured pre-conference events, a trade show, a fun and educational kids' conference and child care area, locally-sourced and organic homemade meals, and Saturday evening entertainment.
All events are at Granville Middle and High Schools at 248 New Burg St. in Granville, Ohio. Pre-registration is required. Cost for the pre-conference is $45 for members and $55 for non-members, and includes lunch. Cost for the conference is $115 for members and $175 for non-members, and meals must be purchased separately. Prices vary for late registrations, students and one-day only registrations.
For more information or to register online, click here and receive $5 off the registration fee.
--------
The Ohio Ecological Food & Farm Association (OEFFA) is a state-wide, grassroots, non-profit organization founded in 1979 by farmers, gardeners, and conscientious eaters working together to create and promote a sustainable and healthful food and farming system. For more information, go to www.oeffa.org.
EcoWatch Daily Newsletter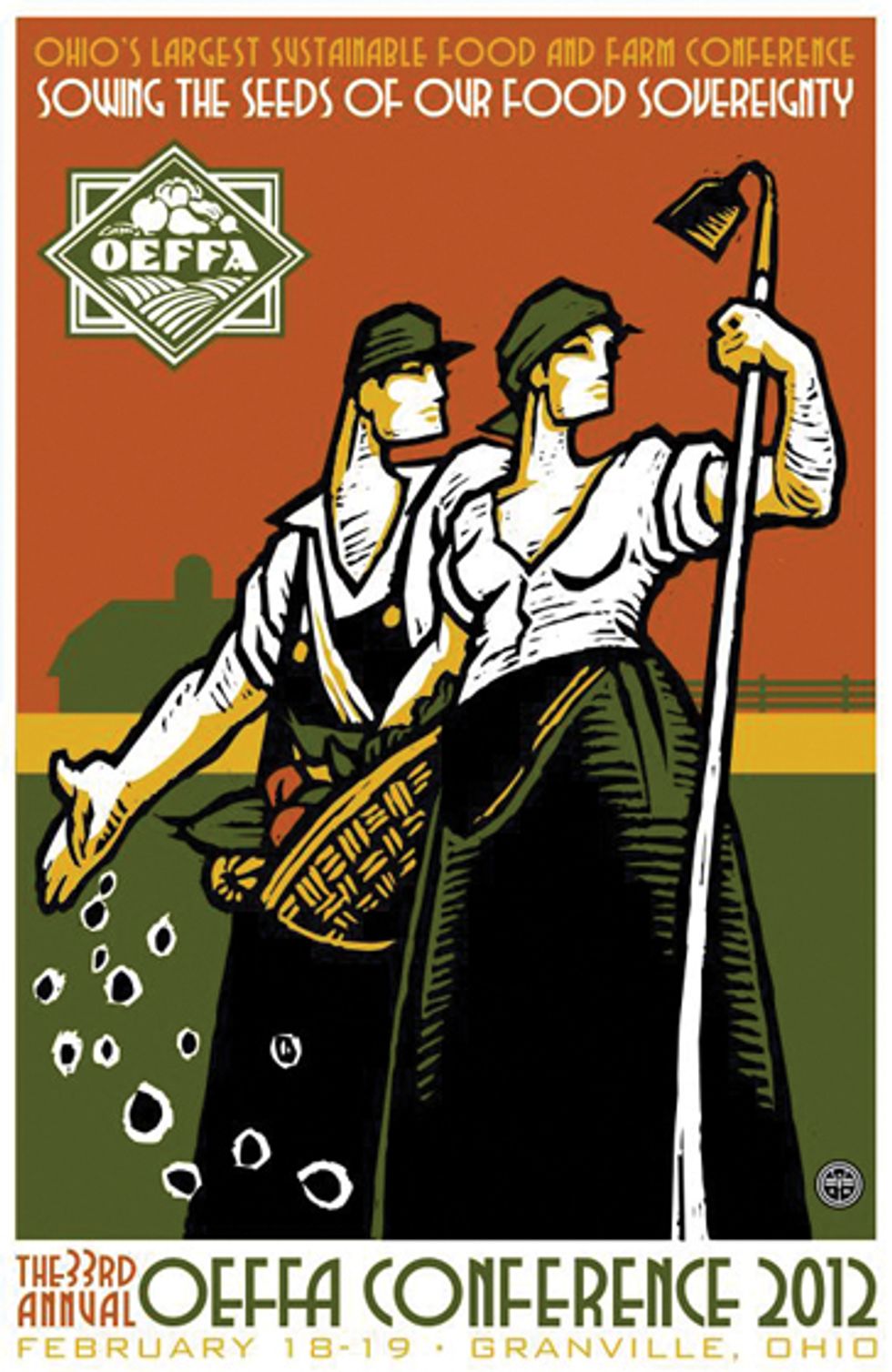 by Lauren N. Ketcham
Sowing the Seeds of Our Food Sovereignty is the theme of the Ohio Ecological Food and Farm Association's (OEFFA) 33rd annual conference on Feb. 18-19 in Granville, Ohio. Drawing nearly 1,000 attendees in 2011, Ohio's largest sustainable agriculture conference will feature keynote speakers Woody Tasch and Andrew Kimbrell, more than 70 workshops, local and organic meals, kids' conference, childcare, a trade show and more. Workshop topics include gardening, homesteading, cooking, green living, livestock production, marketing and fracking.
Keynote speakers Tasch and Kimbrell, who are both challenging our current industrial food structure, will bring a focus on the need to create food systems that foster food sovereignty—the right of people to define their own food, agriculture, and livestock systems that put the needs of those who produce, distribute, and consume food at the heart of food systems and policies, rather than the demands of markets and corporations.
Tasch is the chairman of the Slow Money Alliance and inspired the Slow Money movement by writing Inquiries into the Nature of Slow Money: Investing as if Food, Farms, and Fertility Mattered. The Slow Money Alliance is bringing people together around a new conversation about money that is too fast, about finance that is disconnected from people and place and about how people can begin fixing the economy from the ground up, starting with food. It is premised on the "alliance" between the people who produce food and the people who consume food.
Kimbrell is one of the country's leading environmental attorneys and founder and executive director of The International Center for Technology Assessment and The Center for Food Safety, which has taken a lead role in fighting the deregulation of genetically engineered crops.
Kimbrell is author of 101 Ways to Help Save the Earth, The Human Body Shop: The Engineering and Marketing of Life, Your Right to Know: Genetic Engineering and the Secret Changes in Your Food and general editor of Fatal Harvest: The Tragedy of Industrial Agriculture. His articles have appeared in numerous law reviews, technology journals, magazines and newspapers across the country, and he has been featured in many documentary films, including The Future of Food.
For more information or to register, visit www.oeffa.org or 614-421-2022. Registration open mid-December.
Like many other plant-based foods and products, CBD oil is one dietary supplement where "organic" labels are very important to consumers. However, there are little to no regulations within the hemp industry when it comes to deeming a product as organic, which makes it increasingly difficult for shoppers to find the best CBD oil products available on the market.
<p>Here you can learn about the importance of organic hemp oil, why it's better for the environment, and which CBD companies actually make trustworthy products with sustainable farming processes. origins which weigh heavily on many consumers who want to buy a product that's produced in the best way possible for not only themselves to ingest, but for the environment as well through sustainable farming methods. </p><h2>What Is CBD Oil?</h2><p>First things first, CBD stands for cannabidiol, and it's a cannabinoid found within cannabis sativa plants. This plant compound is believed to have many potential benefits, and it is primarily derived from hemp plants via a CO2 extraction process. </p><p>Since CBD is extracted from industrial hemp, which contains only trace amounts of THC (the psychoactive component in cannabis plants), this means that CBD won't make you feel high like marijuana, which has much higher levels of THC that causes psychoactive effects. Instead, the effects of CBD are much more subtle and promote a general sense of calm and relaxation in most users.</p><h2>What Makes a CBD Oil Organic?</h2><p>In terms of organic labels, perhaps the most important (and prominent) certification comes from the United States Department of Agriculture (USDA). This government organization has been labeling foods as "organic" for many years, but what exactly does this certification entail? Essentially, a label indicating that a product is "USDA Organic" or "Certified Organic" means that at least 95% of the ingredients are obtained from organic sources.</p><p>For a crop to be considered organic by the USDA, it must be grown without the use of industrial solvents, irradiation, genetic engineering (GMOs), synthetic pesticides, or chemical fertilizer. Instead, farmers rely on natural substances and <a href="https://www.usda.gov/media/blog/2012/03/22/organic-101-what-usda-organic-label-means" rel="noopener noreferrer" target="_blank">mechanical, physical, or biologically based farming</a> techniques to cultivate healthy and organic crops.</p><p>Before the passage of the 2018 Farm Bill, no hemp-derived products could be dubbed as "certified organic" since the hemp plant and its extracts were still categorized as a Schedule I Controlled Substance. However, it's still difficult for CBD companies to obtain a USDA certified organic label for their products due to the legal grey area that still surrounds CBD extracts. </p><p>Because of these challenges, and due to the fact that industrial hemp has only recently become an agricultural crop, very few CBD oils are USDA certified organic. Rather, many CBD products contain hemp extracts from plants that were grown in organic conditions but may not be federally certified.</p><h2>What are the Best Organic CBD Oil Brands?</h2><p><em>Each product featured here has been independently selected. If you make a purchase using the links included, we may earn commission.</em></p>