United Nations Development Program Bangladesh
It is hopeful, then, that the UN's Green Climate Fund and Bangladesh's Ministry of Women and Children's Affairs will put $33 million towards helping Bangladeshi women and girls develop livelihoods that can withstand the changing climate, Reuters reported on Monday.
According to a United Nations Development Programme (UNDP) release, the funds will go towards empowering 25,000 women living in Satkhira and Khulna, coastal districts especially vulnerable to sea level rise, more frequent storms, and the salinization of farmland and drinking water.
The project will increase the women's access to business development training and financial credit. In addition, it will help them develop climate-resilient skills such as hydroponic vegetable farming, UNDP climate change specialist Mamunur Rashid told Reuters.
The initiative, which is set to begin in July and has a six-year timeline, also aims to provide clean drinking water to 130,000 people through rainwater harvesting and involve women in cyclone-warning systems.
The focus on women's roles in adapting to climate change "marks a paradigm-shift in the way women are empowered as 'change-agents'" the UNDP release said.
"Under this project, women will [be] more in command of their, and their communities', own future," Mia Seppo, UNDP resident representative in Bangladesh, added.
The announcement comes little over six months after flooding in India, Nepal and Bangladesh killed 1,200 people and left one-third of Bangladesh underwater. According to The World Bank, 60 percent of worldwide cyclone deaths from 1988 to 2000 occurred in Bangladesh.
1,200 Dead, 41 Million Affected by Flooding in India, Bangladesh and Nepal https://t.co/zaOeQAKQw0 @wbclimatechange @globalgreen

— EcoWatch (@EcoWatch)1505252107.0
The salinization of farmland and drinking water is a less dramatic but more insidious problem for the low-lying country. According to studies of coastal river salinization in Bangladesh by The World Bank, The Institute of Water Modelling and World Fish–Bangladesh, the best-case scenarios would still impact 2.9 million poor and 1.7 million extremely poor Bangladeshis.

While initiatives like this one show that Bangladesh is working hard to adapt to the climate challenge, the country is still set to lose 20 percent of its landmass if sea levels rise by 3 feet, even though it only contributes 0.3 percent to global emissions, according to Scientific American. This would turn more than 30 million people into climate refugees.
From Your Site Articles
Related Articles Around the Web
EcoWatch Daily Newsletter
This Sunday marks the first anniversary of the Women's March that happened on the day after Donald Trump's inauguration—the largest protest march in our nation's history. The Sierra Club was there that day, and we'll be there this year, too—at a significant moment for women's rights and justice.
Some people still ask whether "rights and justice for women" qualifies as an "environmental issue." In their minds, the Sierra Club, as an environmental organization, should stick to a prescribed list of issues that are "environmental" and otherwise mind its own business.
I have two responses to this: one specific and one more general. First, women's rights are absolutely an environmental issue. Among our most basic human rights are the ability to breathe clean air, drink clean water and live in a healthy environment. Toxic pollution and climate disruption threaten those rights for everyone, but the consequences often fall hardest on women. After Hurricane Katrina hit New Orleans in 2005, for instance, 80 percent of those left behind in the Lower Ninth Ward were women. For women, exposure to toxic pollution, the risk of sexual violence and the denial of basic reproductive healthcare are not discrete threats; they are a knotted pattern of injustice that must be disentangled and eradicated.
The more general problem, though, is this notion of "issues." Yes, the Sierra Club tackles social justice and environmental issues, but our work would be meaningless if it were not motivated by something deeper: values.
Our values are fairly simple. We believe in justice, equality and opportunity for all people. We reject violence and hatred. It's our values that mandate our support of the Women's March. It's our values that demand racial justice. It's our values that tell us we must defend the rights of immigrants and help communities that have been devastated by fossil fuel pollution. As school children recite each morning in their pledge to the flag: "One nation, under God, indivisible, with liberty and justice for all."
It's clear that many of our opponents neither share nor respect the same values we do. Attacking women's rights, denying healthcare to millions, cold-heartedly expelling Dreamers and refusing refugees, ignoring climate science, turning their backs on the world, tearing down protections for people and for places—those actions speak to what they do esteem: privilege, self-interest, ignorance and greed.
When the marching begins this Saturday, the Sierra Club will be there in solidarity with women and everyone else who has come under attack during the past year. We care passionately about clean air, clean water, clean energy, public lands and gender equity, because the same basic values underlie them all. It's when all of us who share those values come together that we can make positive change happen.
To find the location of the march nearest you, visit the Women's March Anniversary Map.
From Your Site Articles
Related Articles Around the Web
waterlust.com / @tulasendlesssummer_sierra .
Each product featured here has been independently selected by the writer. If you make a purchase using the links included, we may earn commission.
The bright patterns and recognizable designs of Waterlust's activewear aren't just for show. In fact, they're meant to promote the conversation around sustainability and give back to the ocean science and conservation community.
Each design is paired with a research lab, nonprofit, or education organization that has high intellectual merit and the potential to move the needle in its respective field. For each product sold, Waterlust donates 10% of profits to these conservation partners.
Eye-Catching Designs Made from Recycled Plastic Bottles
waterlust.com / @abamabam
The company sells a range of eco-friendly items like leggings, rash guards, and board shorts that are made using recycled post-consumer plastic bottles. There are currently 16 causes represented by distinct marine-life patterns, from whale shark research and invasive lionfish removal to sockeye salmon monitoring and abalone restoration.

One such organization is Get Inspired, a nonprofit that specializes in ocean restoration and environmental education. Get Inspired founder, marine biologist Nancy Caruso, says supporting on-the-ground efforts is one thing that sets Waterlust apart, like their apparel line that supports Get Inspired abalone restoration programs.
"All of us [conservation partners] are doing something," Caruso said. "We're not putting up exhibits and talking about it — although that is important — we're in the field."
Waterlust not only helps its conservation partners financially so they can continue their important work. It also helps them get the word out about what they're doing, whether that's through social media spotlights, photo and video projects, or the informative note card that comes with each piece of apparel.
"They're doing their part for sure, pushing the information out across all of their channels, and I think that's what makes them so interesting," Caruso said.
And then there are the clothes, which speak for themselves.
Advocate Apparel to Start Conversations About Conservation
waterlust.com / @oceanraysphotography
Waterlust's concept of "advocate apparel" encourages people to see getting dressed every day as an opportunity to not only express their individuality and style, but also to advance the conversation around marine science. By infusing science into clothing, people can visually represent species and ecosystems in need of advocacy — something that, more often than not, leads to a teaching moment.

"When people wear Waterlust gear, it's just a matter of time before somebody asks them about the bright, funky designs," said Waterlust's CEO, Patrick Rynne. "That moment is incredibly special, because it creates an intimate opportunity for the wearer to share what they've learned with another."
The idea for the company came to Rynne when he was a Ph.D. student in marine science.
"I was surrounded by incredible people that were discovering fascinating things but noticed that often their work wasn't reaching the general public in creative and engaging ways," he said. "That seemed like a missed opportunity with big implications."
Waterlust initially focused on conventional media, like film and photography, to promote ocean science, but the team quickly realized engagement on social media didn't translate to action or even knowledge sharing offscreen.
Rynne also saw the "in one ear, out the other" issue in the classroom — if students didn't repeatedly engage with the topics they learned, they'd quickly forget them.
"We decided that if we truly wanted to achieve our goal of bringing science into people's lives and have it stick, it would need to be through a process that is frequently repeated, fun, and functional," Rynne said. "That's when we thought about clothing."
Support Marine Research and Sustainability in Style
To date, Waterlust has sold tens of thousands of pieces of apparel in over 100 countries, and the interactions its products have sparked have had clear implications for furthering science communication.
For Caruso alone, it's led to opportunities to share her abalone restoration methods with communities far and wide.
"It moves my small little world of what I'm doing here in Orange County, California, across the entire globe," she said. "That's one of the beautiful things about our partnership."
Check out all of the different eco-conscious apparel options available from Waterlust to help promote ocean conservation.
Melissa Smith is an avid writer, scuba diver, backpacker, and all-around outdoor enthusiast. She graduated from the University of Florida with degrees in journalism and sustainable studies. Before joining EcoWatch, Melissa worked as the managing editor of Scuba Diving magazine and the communications manager of The Ocean Agency, a non-profit that's featured in the Emmy award-winning documentary Chasing Coral.
Every day, tens of millions of people will swipe the screens of their iPhones to unlock them.

On the other side of the world, a young girl is also swiping those screens. In fact, every day, during her 12-plus hour shifts, six days a week, she repetitively swipes tens of thousands of them. She spends those hours inhaling n-hexane, a potent neurotoxin used to clean iPhone glass, because it dries a few seconds faster than a safe alternative. After just a few years on the line, she will be fired because the neurological damage from the n-hexane and the repetitive stress injuries to her wrists and hands make her unable to continue performing up to standard.

Sound like a nightmare? According to recent reports, scenarios like this have been all too real in Apple's Chinese supply chain. I love Apple products as much as anyone else. I'm typing this on a Macbook, and I want to buy an iPhone 5 when it comes out. But like many consumers, I don't want my money to support thousands of workers' rights violations that investigative journalists are reporting extend throughout Apple's supply chain.

Click here to sign the petition to Apple's CEO Tim Cook, demanding that he clean up working conditions in his supply chain in time to make an ethical iPhone 5.

Right now we have a huge opportunity as ethical consumers—The launch of the iPhone 5 later this year will be new Cook's first big product rollout, and he can't afford for anything to go wrong—including negative publicity around how Apple's suppliers, like Foxconn, treat their workers. That's why we're launching a campaign this week to get Apple to overhaul the way its suppliers treat their workers in time for the launch of the iPhone 5.

Can Apple do this? Absolutely. Apple is the richest company in the world, posting a record-breaking profit margin for the last quarter of 44.1 percent. They're sitting on $100 billion in cash. According to an anonymous Apple executive quoted in the New York Times, all Apple has to do is demand it, and it'll happen—"Suppliers would change everything tomorrow if Apple told them they didn't have another choice."
For more information, click here.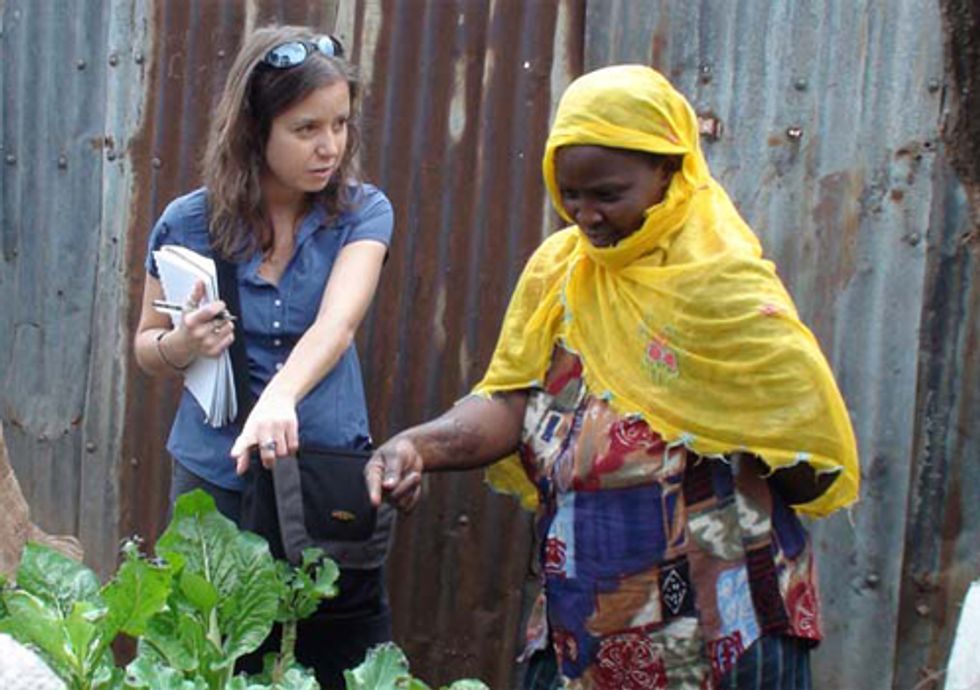 By Dana Drugmand
At a time when world resources are dwindling and global population is growing rapidly, finding sustainable solutions to nourish people and the planet is more important then ever. Research has shown that women may play a key role in the fight against global hunger and poverty. Worldwide, roughly 1.6 billion women rely on farming for their livelihoods, and female farmers produce more than half of the world's food.
Although women comprise 43 percent of the agricultural labor force in developing countries, they typically aren't able to own land. Cultural barriers also limit women's ability to obtain credit and insurance.
Strengthening women's rights can help strengthen the global food system. According to the World Food Programme, allowing women farmers access to more resources could reduce the number of hungry people in the world by 100-150 million people.
Today, Nourishing the Planet highlights five innovations that are helping empower women farmers around the world:
1. Vertical Farming—Although most farming is mostly associated with rural areas, more than 800 million people globally depend on food grown in cities for their main food source. Considering that women in Africa own only 1 percent of the land, a practice called vertical farming gives these women the opportunity to raise vegetables without having to own land. Female farmers in Kibera, Nairobi's largest slum, have been practicing vertical farming using seeds provided by the French NGO (non-governmental organization) Solidarites. This innovative technique involves growing crops in dirt sacks, allowing women farmers to grow vegetables in otherwise unproductive urban spaces. More than 1,000 women are growing food in this way, effectively allowing them to be self-sufficient in food production and to increase their household income. Following the launch of this initiative, each household has increased its weekly income by 380 shillings (equivalent to 4.33 U.S. dollars).
Vertical Farming in Action—This innovation has already proven successful in providing food for urban residents during a time of dire need. During the food crisis that hit Kenya in 2007-2008, there was a blockade of food supplies coming into the Nairobi slums. People in Kibera who grew their own food with the vertical farming technique were self-sufficient and did not go hungry.
2. FANRPAN's Theatre—Women comprise 80 percent of small-scale farmers in some parts of sub-saharan Africa, and female labor accounts for a majority of food production across the continent. Despite the fact that women make up such a large percentage of the agricultural workforce, they still lack access to important resources and inputs. Men control the seed, fertilizer, credit and technology and have the access to policymakers that women lack. The Food, Agriculture & Natural Resources Policy Analysis Network's (FANRPAN) WARM Project seeks to advocate for agricultural policies in the two focus countries of Malawi and Mozambique. FANRPAN hopes to later extend the program to other Southern and East Africa countries. WARM (Women Accessing Realigned Markets) uses theater to engage communities to meet the needs of women farmers. FANRPAN's Sithembile Ndema, the programme manager in charge of the WARM Project, explains that the aim of the project is to empower women who lack resources and a voice in farming communities. "What we're doing is we're using theater as a way of engaging these women farmers, as a way of getting them involved and getting them to open up about the challenges that they're facing."
FANRPAN's Theater in Action—After each performance, community members engage in a moderated discussion about issues raised in the performance. This gives them an opportunity to raise their concerns, especially the women farmers who typically do not have access to policymakers.
3. Self Employed Women's Association (SEWA)—In developing countries like India, women are commonly disenfranchised and not afforded the same opportunities and rights as men, such as access to credit and land ownership, for example. The Self Employed Women's Association, a female trade union in India that began in 1992, works with poor, self-employed women by helping them achieve full employment and self reliance. SEWA is a network of cooperatives, self-help groups and programs that empower women. Small-scale women farmers in India have particularly benefited from this network that links farmers to inputs and markets. "We organize the women as workers, try to build their collective strength, their voice, their visibility, explains Reema Nanavanti, director of Economic and Rural Development at SEWA.
SEWA in Action—SEWA not only provides organizational support, but also brings resources to women who lack access to them. By building what Nanavanti calls "capitalization," SEWA is providing tools and equipment, as well as access to licenses and to land. Furthermore, SEWA empowers women by building their leadership capacity, giving them a voice that otherwise might go unheard.
4. Women's Collective—Also in India, women's subordinate position in society makes them easy targets for domestic and sexual violence. For example, landless women who rely on agricultural landlords for employment, for example, are often sexually harassed. Poor rural women additionally face issues with food and water insecurity. The Tamil Nadu Women's Collective (WC) focuses on advocating for women's rights and improving food and water security. The collective reaches over 1,500 villages spread across 18 districts in India's Tamil Nadu state. Environmental protection, alternative farming for food security, and women's rights, including protection against domestic violence, are some of the major focus areas the WC has undertaken. In addressing violence against women, for example, the WC provides counseling and support for female victims. Women's participation in local government is another initiative the WC has taken up. By empowering women, giving them a voice at the household and political level, and helping women strengthen local food systems and employ natural farming methods, the Tamil Nadu Women's Collective is actively addressing issues of food and water insecurity and improving rural livelihoods.
Women's Collective in Action—Beginning in 1998-1999, Women's Collective members were educated about natural farming techniques. The concept of natural farming maximizes natural inputs, or inputs derived from the farm itself. Natural farming can increase soil water retention, leading to better yields under rain-fed conditions. Shanta, a single mother from the Vellanikkottam village, started practicing natural farming with help from the Women's Collective. Since transitioning to natural farming, Shanta has benefited from increased crop yields.
5. GREEN Foundation—Studies have shown that women farmers typically have lower crop yields than their male counterparts. A study conducted in Burkina Faso, for example, has found that women's yields were 20 percent lower for vegetables and 40 percent lower for sorghum. Rural women farmers' lower productivity compared to male farmers may be due to women lacking access to high-quality seeds and agricultural inputs. The GREEN Foundation has partnered with NGOs including Seed Saver's Network and The Development Fund to create community seed banks in India's Karnataka state. Women run these seed banks, thereby gaining leadership skills and acquiring quality, organic seeds that yield profitable crops. Landless women farmers are encouraged to grow indigenous vegetables in community gardens. The gardening project, which improves women small-scale farmers' food security and economic status, involves training women in agricultural methods and encouraging them to grow a variety of fruits, vegetables and medicinal plants for their families. Part of the GREEN Foundation's mission is to empower women and enhance women's leadership skills. The foundation has successfully touched upon different dimensions of sustainable agriculture that have helped farmers secure seed, food and better livelihoods.
GREEN Foundation in Action—The Foundation's kitchen gardening project is an important innovation that promotes agricultural biodiversity while empowering women. Mahadevamma is one example of a rural Indian woman who has improved her food security and her family's income by growing crops in a kitchen garden. She uses waste water from her house to irrigate the crops and employs vermicompost for manure and fermented plant extract for pest control. She has gotten good yields and any excess vegetables and seeds she sells to make a profit. Mahadevammma has earned 2000 rupees (44.61 U.S. dollars) just from her kitchen garden.
For more information, click here.
—————

Dana Drugmand is a research intern with the Nourishing the Planet Project