A warming world means a melting cryosphere, which is bad news for species that have evolved to thrive on ice and in snow. Polar bears made depressing history in 2008 when they became the first species to be listed under the U.S. Endangered Species Act solely because of threats from climate change. These sea ice-dwelling carnivores had appeared poised, until Tuesday, to be joined in their global warming-induced regulatory infamy by snow-burrowing wolverines.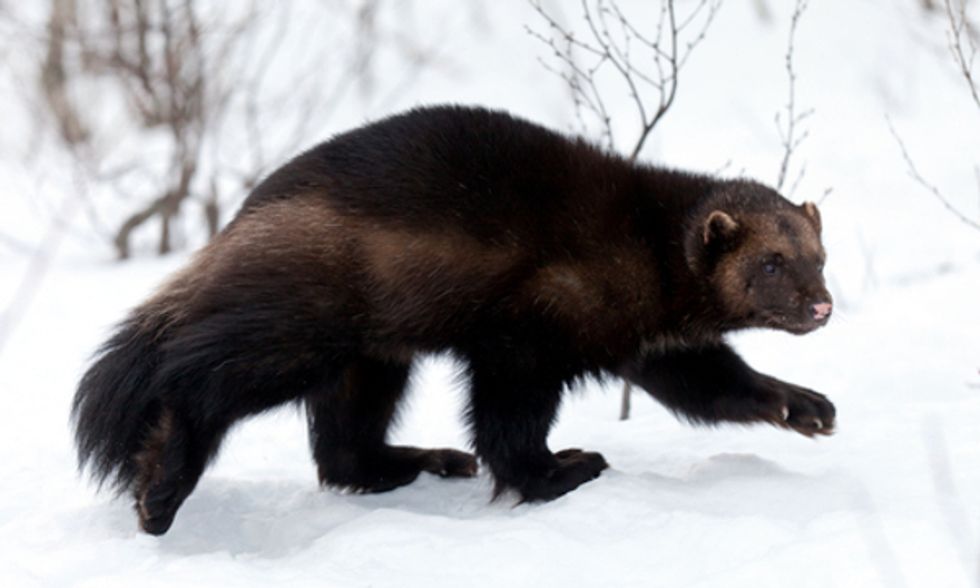 The female wolverine adopts a very specific denning strategy—one that will make it difficult for the species to survive in the parts of its territories where snow becomes history. Photo courtesy of Shutterstock
Wolverines resemble small bears with bushy tails. They are also known as mountain devils, gluttons, caracajou and skunk bears. They are the largest member of Mustelidae—a carnivorous family of mammals that includes otters, badgers, weasels and ferrets.
While polar bears are a highly visible species, wolverines are enchantingly difficult to spot. This is despite their inhabitation of a broad swath of the Arctic that includes northern portions of Europe, Asia and North America.  In North America, most of the populations inhabit Canada and Alaska, although several hundred individuals are estimated to live in the contiguous U.S., mostly in the northern Rocky Mountains. These populations have recently been growing, yet fears over the future of snow in the Lower 48 had federal officials considering adding wolverines to the list of threatened species. On Tuesday, the U.S. Fish & Wildlife Service ruled against the proposed wolverine listing.
Wolverines breed more slowly than most mammals, making them especially vulnerable to breeding disruptions. Once a female reaches the age of three, she normally becomes pregnant every year—but most pregnancies are strategically aborted. That's because it can take two years or more for the wolverine to forage enough carrion, fruits and berries, and to hunt enough small animals and insects, to build up the energy reserves needed to raise a litter.
Once she is ready to rear a litter, the female adopts a very specific denning strategy—one that will make it difficult for the species to survive in the parts of its territories where snow becomes history. The wolverines dig their dens in deep snow, forming living spaces around logs and rocks that include tunnels, runways and bedsites. There has never been a record of a wolverine denning in anything other than excavated snow. And whenever such a cave starts to melt, the wolverine mother abandons it.
"We have determined that habitat loss due to increasing temperatures and reduced late spring snowpack due to climate change is likely to have a significant negative population-level impact on wolverine populations in the contiguous United States," U.S. Fish & Wildlife Service (FWS) officials wrote in the proposal to list those populations as threatened.
"In the future, wolverine habitat is likely to be reduced to the point that the wolverine in the contiguous United States is in danger of extinction."
At least one senior FWS official had been pushing the agency to reject the proposal, arguing that it relies too much on "speculation" about the future effects of climate change. The agency announced on Tuesday that scientists know "too little about the ecology of the wolverine" to list it as threatened or endangered at this time. The ruling "does not close door on this issue," one official said.
It was this focus on uncertainties that was already making scientists who served on a panel that advised the government on the proposal hot under the collar.
"Myself and the other climate scientists on the panel are disappointed that they're focusing on the uncertainty, and appear to be ignoring the aspects of science that are much more certain," said Tim Link, a hydrology professor at the University of Idaho.
Wolverines and polar bears certainly aren't the only species that will feel the heat as global temperatures rise. Dozens of species of coral might be added to the endangered species list because of the combined effects of disease, warming ocean temperatures and ocean acidification. Like global warming, ocean acidification is caused by carbon dioxide pollution, which is produced by fossil fuel burning and by deforestation.
"From the history of the Endangered Species Act, if you look at the 1,500-plus species that have been listed, the overwhelming majority have not been listed because of climate change," said Mike Senator, an attorney with Defenders of Wildlife, which had been pressuring the government to list wolverines under the Act.
"It's been the loss of habitat and other threats—but that's not entirely surprising, given that climate change has been recognized as a relatively recent issue. We certainly expect that we'll see more species listed, at least in part, because of climate change."
You Might Also Like
Increase in Ocean Acidification Threatens Longevity of Shellfish and Coral
10 Success Stories Thanks to the Endangered Species Act
EcoWatch Daily Newsletter
waterlust.com / @tulasendlesssummer_sierra .
Each product featured here has been independently selected by the writer. If you make a purchase using the links included, we may earn commission.
The bright patterns and recognizable designs of Waterlust's activewear aren't just for show. In fact, they're meant to promote the conversation around sustainability and give back to the ocean science and conservation community.
Each design is paired with a research lab, nonprofit, or education organization that has high intellectual merit and the potential to move the needle in its respective field. For each product sold, Waterlust donates 10% of profits to these conservation partners.
Eye-Catching Designs Made from Recycled Plastic Bottles
waterlust.com / @abamabam
The company sells a range of eco-friendly items like leggings, rash guards, and board shorts that are made using recycled post-consumer plastic bottles. There are currently 16 causes represented by distinct marine-life patterns, from whale shark research and invasive lionfish removal to sockeye salmon monitoring and abalone restoration.

One such organization is Get Inspired, a nonprofit that specializes in ocean restoration and environmental education. Get Inspired founder, marine biologist Nancy Caruso, says supporting on-the-ground efforts is one thing that sets Waterlust apart, like their apparel line that supports Get Inspired abalone restoration programs.
"All of us [conservation partners] are doing something," Caruso said. "We're not putting up exhibits and talking about it — although that is important — we're in the field."
Waterlust not only helps its conservation partners financially so they can continue their important work. It also helps them get the word out about what they're doing, whether that's through social media spotlights, photo and video projects, or the informative note card that comes with each piece of apparel.
"They're doing their part for sure, pushing the information out across all of their channels, and I think that's what makes them so interesting," Caruso said.
And then there are the clothes, which speak for themselves.
Advocate Apparel to Start Conversations About Conservation
waterlust.com / @oceanraysphotography
Waterlust's concept of "advocate apparel" encourages people to see getting dressed every day as an opportunity to not only express their individuality and style, but also to advance the conversation around marine science. By infusing science into clothing, people can visually represent species and ecosystems in need of advocacy — something that, more often than not, leads to a teaching moment.

"When people wear Waterlust gear, it's just a matter of time before somebody asks them about the bright, funky designs," said Waterlust's CEO, Patrick Rynne. "That moment is incredibly special, because it creates an intimate opportunity for the wearer to share what they've learned with another."
The idea for the company came to Rynne when he was a Ph.D. student in marine science.
"I was surrounded by incredible people that were discovering fascinating things but noticed that often their work wasn't reaching the general public in creative and engaging ways," he said. "That seemed like a missed opportunity with big implications."
Waterlust initially focused on conventional media, like film and photography, to promote ocean science, but the team quickly realized engagement on social media didn't translate to action or even knowledge sharing offscreen.
Rynne also saw the "in one ear, out the other" issue in the classroom — if students didn't repeatedly engage with the topics they learned, they'd quickly forget them.
"We decided that if we truly wanted to achieve our goal of bringing science into people's lives and have it stick, it would need to be through a process that is frequently repeated, fun, and functional," Rynne said. "That's when we thought about clothing."
Support Marine Research and Sustainability in Style
To date, Waterlust has sold tens of thousands of pieces of apparel in over 100 countries, and the interactions its products have sparked have had clear implications for furthering science communication.
For Caruso alone, it's led to opportunities to share her abalone restoration methods with communities far and wide.
"It moves my small little world of what I'm doing here in Orange County, California, across the entire globe," she said. "That's one of the beautiful things about our partnership."
Check out all of the different eco-conscious apparel options available from Waterlust to help promote ocean conservation.
Melissa Smith is an avid writer, scuba diver, backpacker, and all-around outdoor enthusiast. She graduated from the University of Florida with degrees in journalism and sustainable studies. Before joining EcoWatch, Melissa worked as the managing editor of Scuba Diving magazine and the communications manager of The Ocean Agency, a non-profit that's featured in the Emmy award-winning documentary Chasing Coral.