A prototype of GE's massive new wind turbine will be installed in the industrial area of Maasvlakte 2 in Rotterdam. GE Renewable Energy
EcoWatch has written about this giant machine before. At 853-feet tall, it's about three times the height of the Flatiron building in New York City. Its massive rotor diameter of 722 feet is roughly the tower height of San Francisco's Golden Gate Bridge above water.
It's not only big, it's incredibly powerful. On its own, a single Haliade-X can generate enough power to supply 16,000 European households, GE touts, adding that a 750-megawatt wind farm configuration could produce enough power for up to 1 million homes.
World's Largest Offshore Wind Turbine Can Power 16,000 Homes https://t.co/Nrt218r1Zz @AWEA @ClimateReality… https://t.co/kTssTHGDqi

— EcoWatch (@EcoWatch)1524590112.0
Once it's up and running, the size and strength of the Haliade-X will surpass MHI Vestas' 9-megawatt turbines installed at Vattenfall's offshore wind farm off the coast of Aberdeen, Scotland.
Companies are investing in bigger and bigger offshore turbines that can capture more wind and produce more power. This is appealing for wind farm operators because fewer turbines can simplify operations and lower maintenance costs.
"In our fight against climate change we need a massive expansion of the number of windfarms at sea," Alderman Bonte, responsible for Rotterdam's Energy Transition, said in a press release. "We are delighted that GE has selected the Port of Rotterdam as the test location for the Haliade-X 12 MW, which is the largest wind turbine in the world and can therefore help us accelerate the clean energy transition."
GE's installation plans were struck with Future Wind, a joint venture between renewable energy consultant Pondera Development and SIF Holding Netherlands, which manufactures offshore foundations for wind turbines. The deal includes five years of testing and a 15-year full service operation and maintenance agreement.
This initial period of operations will enable GE to collect data needed for a Type Certificate, a "key step in commercializing the product in 2021," the company said.
"As we rapidly progress on assembling the Haliade-X prototype, this announcement is a critical step forward for GE and our customers," John Lavelle, VP and CEO of Offshore Wind at GE Renewable Energy, said Wednesday in the press release. "The port of Rotterdam has been a real partner and provides all the necessary conditions to test the Haliade-X in the most drastic weather conditions."

GE is investing $400 million to develop the Haliade-X turbine to help reduce the cost of offshore wind energy "in order to make it a more competitive source of clean, renewable energy," the company said.

This video illustration below shows how the turbine will appear in the industrial area of Maasvlakte 2 in Rotterdam:
GE Haliade-X offshore wind turbine prototype - English www.youtube.com
From Your Site Articles
Related Articles Around the Web
EcoWatch Daily Newsletter
GE's Haliade-X 12-megawatt offshore wind turbine
The world's largest and most powerful offshore wind turbine will test its wings at an innovative facility in northeast England.
The 12-megawatt Haliade-X, developed by GE Renewable Energy, stands 853 feet tall, or about three times the height of the Flat Iron building in New York City. Its massive rotor diameter of 722 feet is roughly the tower height of San Francisco's Golden Gate Bridge above water.
GE touts that a single one of these turbines can generate enough power to supply 16,000 European households. A 750-megawatt wind farm configuration could produce enough power for up to 1 million homes.
GE Renewable Energy and the British government-funded Offshore Renewable Energy (ORE) Catapult signed a five-year agreement to test the massive machine at a power train test facility at the National Renewable Energy Centre in Blyth, Northumberland.
"This is an important agreement because it will enable us to prove Haliade-X in a faster way by putting it under controlled and extreme conditions," John Lavelle, president and CEO of GE's Offshore Wind business said in a statement.
Lavelle also noted, "Traditional testing methods rely on local wind conditions and therefore have limited repeatability for testing. By using ORE Catapult's facilities and expertise, we will be in a better position to adapt our technology in a shortened time, reduce unplanned maintenance, increase availability and power output, while introducing new features to meet customers' demands."
Once installed, GE's turbine will surpass MHI Vestas' 9-megawatt turbines at Vattenfall's offshore wind farm off the coast of Aberdeen, Scotland. One rotation of those turbines is sufficient to power the average UK home for an entire day, the developers boasted.
World's Most Powerful Wind Turbine Installed in Full View of Trump's Scottish Golf Course https://t.co/muyYtyXURI @wwwfoecouk @GreenpeaceUK

— EcoWatch (@EcoWatch)1523611505.0
As EcoWatch mentioned previously, companies are making larger and larger offshore turbines that can capture more wind and produce more power. This is appealing for wind farm operators because fewer turbines can simplify operations and lower maintenance costs.
GreenTech Media reported in March that more than $400 million will be invested over the next three to five years to develop the Haliade-X. The company aims to supply its first nacelle, or power generating unit, for demonstration in 2019 and ship the first units in 2021.
Britain's Energy and Clean Growth Minister Claire Perry welcomed the collaboration between GE and ORE Catapult.
"We are making the UK a global leader in renewables, including offshore wind, with more support available than any other country in the world," Perry said in a statement, noting that 22 percent of all investment in European wind projects are coming to the UK.
Check out more of the specs below:
waterlust.com / @tulasendlesssummer_sierra .
Each product featured here has been independently selected by the writer. If you make a purchase using the links included, we may earn commission.
The bright patterns and recognizable designs of Waterlust's activewear aren't just for show. In fact, they're meant to promote the conversation around sustainability and give back to the ocean science and conservation community.
Each design is paired with a research lab, nonprofit, or education organization that has high intellectual merit and the potential to move the needle in its respective field. For each product sold, Waterlust donates 10% of profits to these conservation partners.
Eye-Catching Designs Made from Recycled Plastic Bottles
waterlust.com / @abamabam
The company sells a range of eco-friendly items like leggings, rash guards, and board shorts that are made using recycled post-consumer plastic bottles. There are currently 16 causes represented by distinct marine-life patterns, from whale shark research and invasive lionfish removal to sockeye salmon monitoring and abalone restoration.

One such organization is Get Inspired, a nonprofit that specializes in ocean restoration and environmental education. Get Inspired founder, marine biologist Nancy Caruso, says supporting on-the-ground efforts is one thing that sets Waterlust apart, like their apparel line that supports Get Inspired abalone restoration programs.
"All of us [conservation partners] are doing something," Caruso said. "We're not putting up exhibits and talking about it — although that is important — we're in the field."
Waterlust not only helps its conservation partners financially so they can continue their important work. It also helps them get the word out about what they're doing, whether that's through social media spotlights, photo and video projects, or the informative note card that comes with each piece of apparel.
"They're doing their part for sure, pushing the information out across all of their channels, and I think that's what makes them so interesting," Caruso said.
And then there are the clothes, which speak for themselves.
Advocate Apparel to Start Conversations About Conservation
waterlust.com / @oceanraysphotography
Waterlust's concept of "advocate apparel" encourages people to see getting dressed every day as an opportunity to not only express their individuality and style, but also to advance the conversation around marine science. By infusing science into clothing, people can visually represent species and ecosystems in need of advocacy — something that, more often than not, leads to a teaching moment.

"When people wear Waterlust gear, it's just a matter of time before somebody asks them about the bright, funky designs," said Waterlust's CEO, Patrick Rynne. "That moment is incredibly special, because it creates an intimate opportunity for the wearer to share what they've learned with another."
The idea for the company came to Rynne when he was a Ph.D. student in marine science.
"I was surrounded by incredible people that were discovering fascinating things but noticed that often their work wasn't reaching the general public in creative and engaging ways," he said. "That seemed like a missed opportunity with big implications."
Waterlust initially focused on conventional media, like film and photography, to promote ocean science, but the team quickly realized engagement on social media didn't translate to action or even knowledge sharing offscreen.
Rynne also saw the "in one ear, out the other" issue in the classroom — if students didn't repeatedly engage with the topics they learned, they'd quickly forget them.
"We decided that if we truly wanted to achieve our goal of bringing science into people's lives and have it stick, it would need to be through a process that is frequently repeated, fun, and functional," Rynne said. "That's when we thought about clothing."
Support Marine Research and Sustainability in Style
To date, Waterlust has sold tens of thousands of pieces of apparel in over 100 countries, and the interactions its products have sparked have had clear implications for furthering science communication.
For Caruso alone, it's led to opportunities to share her abalone restoration methods with communities far and wide.
"It moves my small little world of what I'm doing here in Orange County, California, across the entire globe," she said. "That's one of the beautiful things about our partnership."
Check out all of the different eco-conscious apparel options available from Waterlust to help promote ocean conservation.
Melissa Smith is an avid writer, scuba diver, backpacker, and all-around outdoor enthusiast. She graduated from the University of Florida with degrees in journalism and sustainable studies. Before joining EcoWatch, Melissa worked as the managing editor of Scuba Diving magazine and the communications manager of The Ocean Agency, a non-profit that's featured in the Emmy award-winning documentary Chasing Coral.
Incidentally, the project was at the center of a contentious legal battle waged—and lost—by Donald Trump, before he became U.S. president.
Trump felt the "ugly" wind turbines would ruin the view of his Menie golf resort. But in 2015, the UK Supreme Court unanimously rejected his years-long appeal against the offshore wind farm.
The 8.8-megawatt MHI Vestas wind turbine was set-up overnight in Aberdeen Bay and has a tip-height of 627 feet and a blade length of 262 feet.
"One rotation of this enormous structure is sufficient to power the average UK home for an entire day," Vattenfall EOWDC project director Adam Ezzamel touted.
The European power company noted that the turbine was one of two that was enhanced with further internal power modes to generate more clean energy, from 8.4 megawatts to 8.8 megawatts. That means once the 11-turbine wind farm is complete, EOWDC's total output will stand at 93.2 megawatts.
"This allows the facility to produce the equivalent of more than 70 percent of Aberdeen's domestic electricity demand and annually displace 134,128 tonnes of CO2," Vattenfall said.
Scotland has emerged as a global leader in wind power. The country's onshore wind turbines alone provided more than 5.3 million megawatt hours of electricity to the National Grid during the first three months of 2018, an impressive 44 percent increase compared to the same period last year, according to recent analysis of WWF Scotland wind power data by WeatherEnergy.
Scotland is also home to the world's first floating wind farm. The 30-megawatt Hywind Scotland, located about 15 miles off the Aberdeenshire coast, churned out 65 percent of its maximum theoretical capacity during November, December and January, according to its operator, Statoil.
"The installation of the first of these powerful turbines at Aberdeen Bay is another milestone in Scotland's renewables story," Gina Hanrahan, acting head of policy at WWF Scotland said Tuesday. "Offshore wind, which has halved in cost in recent years, is critical in the fight against climate change, helping to reduce emissions, keep the lights on and create thousands of jobs across Scotland and the UK."
"Developments like this have an important role to play in securing the Scottish government's target to meet half of all Scotland's energy demand from renewables by 2030," Hanrahan said.
Wind energy had a banner day in Scotland. Thanks to an unseasonably windy Sunday, wind turbines generated more electricity than the country actually needed.
Gale-force winds helped provide a record 106% of Scotland's electricity needs on Aug. 7. Flickr
After analyzing data from WeatherEnergy, the environmental group WWF Scotland announced that wind turbines generated more than 100 percent of the total amount of electricity used in the country on Aug. 7.
As per the Guardian:
Turbines in Scotland provided 39,545 megawatt-hours (MWh) of electricity to the National Grid on Sunday while the country's total power consumption for homes, business and industry was 37,202 MWh—meaning wind power generated 106% of Scotland's electricity needs.

"Electricity demand during weekends is usually lower than the rest of the week," Karen Robinson of WeatherEnergy said. "Nevertheless, the fact that wind power was able to generate the equivalent of all Scotland's electricity needs shows just how far renewables have come."

"While it's not impossible that this has happened in the past, it's certainly the first time since we began monitoring the data in 2015 that we've had all the relevant information to be able to confirm it," WWF Scotland's director Lang Banks said. "However, on the path to a fully renewable future, this certainly marks a significant milestone."
Incidentally, Aug. 7 was possibly the " windiest summer's day on record," prompting the Met Office to issue yellow "be aware" warnings. Wind speeds clocked in at 115 miles per hour at the Cairngorm mountains and roughly 60-miles-per-hour gusts in northern towns, disrupting train and ferry services and causing power outages.
Despite the weather mishaps, Banks said that the particularly windy day had a silver lining.
"While Sunday's weather caused disruption for many people, it also proved to be a good day for wind power output, with wind turbines alone providing the equivalent of all Scotland's total electricity needs," he said. "This major moment was made possible thanks, in part, to many years of political support, which means that across the year now, renewables contribute well over half of our electricity needs.
"However, if we want this ensure we reap the many benefits of becoming a low-carbon economy we need to see this political support for renewables continue."
Wind power is not the only renewable power source Scotland has at its disposal, Banks pointed out. "If we continue to take steps to reduce our energy demand, invest in storage, and increase our use of renewables we can hopefully look forward to many days that are fully powered by nature," he said.
WWF Scotland has urged the government to set plans to secure half of all of the country's energy needs, including heat and transport, from renewables by 2030, The Independent reported.
Environmentalists believe the goal is within reach since Scotland's impressive energy mix already achieved a number of milestones, including:
• For homes fitted with solar PV panels, there was enough sunshine to generate an estimated 100% of the electricity needs of an average household in Aberdeen, Dundee, Edinburgh, Glasgow and Inverness.
• For those homes fitted with solar hot water panels, there was enough sunshine to generate 100% of an average household's hot water needs in Aberdeen and Dundee, 98% in Inverness, 97% in Edinburgh and 94% in Glasgow.
• Wind turbines in Scotland provided 692,896MWh of electricity to the National Grid, enough to supply, on average, the electrical needs of 76% of Scottish households (1.8 million homes).
• Wind turbines generated enough electricity to supply 100% or more of Scottish homes on ten out of the 31 days of May.
• Scotland's total electricity consumption (i.e. including homes, business and industry) for May was 1,938,785MWh. Wind power therefore generated the equivalent of 36% of Scotland's entire electricity needs for the month.

According to Banks, "These figures underline the fantastic progress Scotland has made on harnessing renewables, especially to generate electricity."
"However," he added, "with less than 13 percent of our total energy needs coming from renewable sources, it's now time to widen our attention on de-carbonizing our economy beyond just our power sector."

The Scottish government states on its website that it has a renewable energy target of generating the equivalent of 100 percent of gross annual electricity consumption and 11 percent of heat consumption by 2020. But a statement from a spokeswoman suggests that government may be considering a new renewables target after the record-breaking weekend.
"Scotland's abundant energy resources play a vital role in delivering security of electricity supply across the UK," a Scottish government spokeswoman told the Guardian . "The Scottish Government is committed to supporting onshore wind, which is one of our most cost-effective low-carbon energy technologies.
"We remain fully supportive of low-carbon technologies, which offer a huge economic opportunity for Scotland and have a key role to play in our fight against the threat posed by climate change to our society and natural environment.
"We have a clear policy for an energy mix to provide energy security for the future and will set out our ambitions for an integrated approach to low-carbon technologies within our draft energy strategy later this year. This will include exploring the option of setting a new renewable energy target."

Wind energy is one of the cleanest, most abundant, sustainable and cost-effective ways to generate electricity. It's also one of the fastest growing U.S. electricity sources. At the end of 2013, there were enough wind turbines across the country to power 15.5 million typical American homes and cut annual power sector carbon emissions by 4.4 percent. That amounts to 96 million metric tons, the equivalent of taking 20.2 million cars off the road.
Regardless, wind has its detractors, and one of their biggest complaints is the threat they say it poses to birds.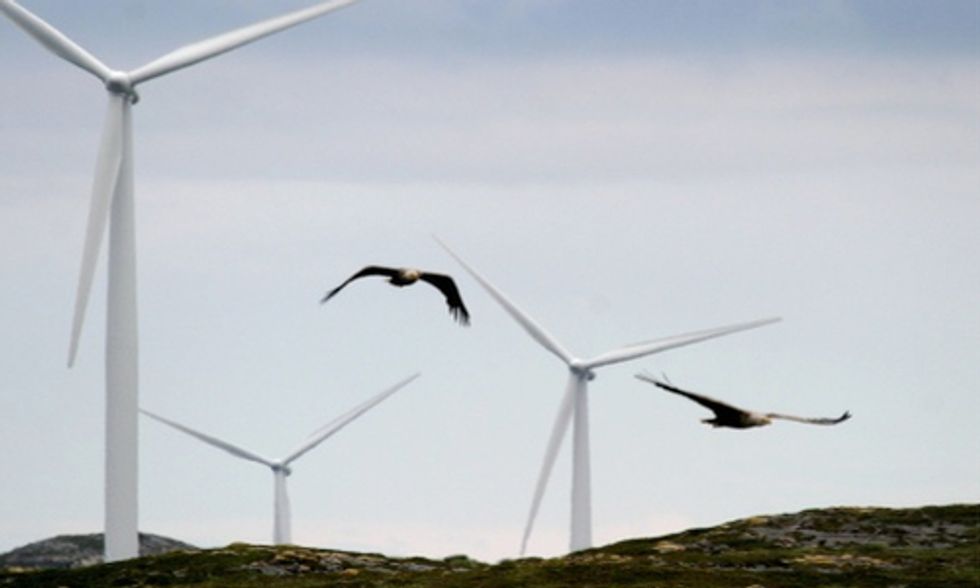 In fact, compared with other culprits, wind turbines are way down in the pecking order. The top human-built environmental threat to our feathered friends—besides habitat degradation and destruction—are buildings. As many as 970 million birds crash into them annually, according to a June 2013 study in the Wilson Journal of Ornithology. Other studies estimate that every year as many as 175 million birds die by flying into power lines, 72 million are poisoned by misapplied pesticides, 6.6 million perish by hitting communications towers; and as many as a million birds die in oil and gas industry fluid waste pits.
Conversely, a study published late last year in Biological Conservation estimates that land-based U.S. wind turbines kill 140,000 to 328,000 birds annually. That's not insignificant, but certainly not the scourge that wind foes contend.
What about wind energy's threat to eagles? A study in the September 2013 issue of the Journal of Raptor Research found that wind turbines in 10 states killed 85 eagles between 1997 and the end of June 2012—79 golden and six bald. That's fewer than six a year on average, but most of the deaths occurred between 2008 and 2012 due to industry growth, and the study's authors were quick to point out that the number of turbine-related eagle deaths is likely much higher. The study didn't include wind industry-related eagle deaths in three other states as well at the 1980s-era Altamont Pass in Northern California, which has been killing an average of 67 eagles a year.
For discussion's sake, let's add the 67 eagle deaths a year at Altamont Pass to the 85 the study confirmed, which  amounts to 1,124 dead eagles over a 15-and-a-half-year period. How does that compare with overall non-natural eagle deaths?
When an eagle is killed and people find a carcass, the U.S. Fish and Wildlife Service (FWS) asks them to send it to the National Wildlife Property Repository near Denver, CO. About 2,500 show up every year, according to FWS, although certainly more go unreported. Using that number as a benchmark, the number of dead eagles annually from 1997 through June 2012 would amount to approximately 38,750 birds. Based on these admittedly crude estimates, only three percent of the eagle deaths were attributable to commercial, land-based wind turbines. Poachers, transmission lines, pesticides and lead poisoning from bullet-ridden carrion killed significantly more.
Prosecution as the Last Resort
Wind opponents also allege that the Obama Administration is playing favorites, treating the wind industry with kid gloves when it comes to bird deaths while aggressively prosecuting the oil and gas industry for similar infractions.
Until last November, however, no administration had ever prosecuted a wind company under the two main federal bird protection laws, the Migratory Bird Treaty Act (MBTA) and the Bald and Golden Eagle Protection Act. That's when the Justice Department reached a settlement with Duke Energy, which pleaded guilty to killing 14 eagles and 149 other birds at two Wyoming wind farms. And more prosecutions may be in the wings. FWS is currently investigating 17 wind industry-related bird death cases and has referred six of them to the Justice Department.
According to FWS, prosecution under the two laws is always the last resort, regardless of the industry or technology in question. The agency tries to work with violators to fix the problem before it refers a case to federal prosecutors. For example, FWS inspectors routinely check for bird carcasses in oil and gas company waste pits. When they discover dead birds, they notify the responsible company and give it the opportunity to rectify the problem by installing netting. If the company pays a modest fine and corrects the problem, FWS will not file a case. That happens only after repeated violations, and even if a company is ultimately convicted and placed on probation, the fine is relatively small.
In 2011, FWS filed criminal charges against three companies drilling in North Dakota's Bakken shale formation. One of those companies, Continental Resources, was indicted for killing a single bird in one of its waste pits. Wind opponents routinely cite this case when alleging the Obama Administration is treating the oil and gas industry unfairly. But they don't mention that Continental Resources and the two other companies had been killing birds for years. The Justice Department charged them with violations based on the number of dead birds FWS agents found when they made their last site visit following years of imploring the companies to install nets. Wind opponents also don't mention that a district court dismissed the charges, issuing a ruling that squarely conflicts with how the government has traditionally interpreted the MBTA.
Making Turbines More Bird-Friendly
Wind critics likewise overlook the fact that the federal government and the wind industry have taken steps to mitigate the threat turbines pose to birds. In 2008, a number of leading wind developers joined with conservation and science groups, including the Union of Concerned Scientists, to launch the American Wind Wildlife Institute to promote wind development and protect wildlife at the same time. Four years later, FWS issued new voluntary guidelines covering siting, construction and other key issues for wind developers to minimize harm to birds and their habitats.
Meanwhile, a number of remediation efforts are underway. As part of a settlement with the California state government and environmental groups, for example, the largest wind power company in the Altamont Pass is replacing thousands of outdated turbines with a lot fewer, taller, more-efficient ones that pose less of a threat to the golden eagles, hawks and other birds that patrol the skies in the area. So far those efforts and other modifications appear to be producing results.
Finally, there's one last critical point wind opponents conveniently ignore: climate change threatens hundreds of migratory bird species, which are already stressed by habitat loss, invasive species and other environmental threats. A 2012 report by the National Wildlife Federation went so far as to name climate change the most serious threat facing America's migratory birds today.
So if wind opponents were really concerned about the welfare of birds, they would be calling for more wind farms and other carbon-free energy sources to replace coal, oil and natural gas. In other words, their argument against wind is strictly for the birds.
--------
YOU MIGHT ALSO LIKE
Mitigation for Energy Projects Offer Hope for Threatened Birds
Advocacy Groups Say 1,000 Wind Turbine Project Could Cause Eagle Deaths
Conservation Groups to Sue Over Wind Turbine Project in Key Bird Migration Corridor
--------
Wind turbines are here to stay. They are increasing in numbers every day, and industry figures show that the amount of energy they are able to generate has reached tremendous levels.
The nineteenth century belonged to coal, the twentieth to oil, and the twenty-first century belongs to clean energy, with wind energy being one of the foundations of that.
"This is the big one, the centerpiece, the dominant source of energy in the new economy is wind," believes Lester Brown, a world-leading environmental analyst.
Jobs are steadily improving with the wind industry as well. Here's one uplifting example: Jeff Metz was not a Green. He was a Republican in Michigan, the state hit the hardest in the recession. But he is a clean energy hero. He re-hired someone for every job that was eliminated (during the recession) to work for his wind manufacturing company. He tuned into what the industry needed, and in doing so, brought jobs back to the jobless. Problems with energy subsidies and tax breaks in the U.S. are still disturbing. The wind industry was particularly attacked by Republican congresspeople in the past year or so, despite local-level support for wind power by common Republicans. It's worth noting that these problems turned this hardworking and enterprising entrepreneur from Republican to something else. He is voting differently now.
Peter Sennekamp, media officer for the European Wind Energy Association, says: "Worldwide installed wind power will exceed 300 gigawatts of power capacity this year." The projection is based off of data collected by the European Wind Energy Association and the Global Wind Energy Council.
For a little more fun, the following video by Peter Sinclair and accompanying short article by Thomas Schueneman emphasize why wind is becoming an essential agent of change. The "Century of Wind Energy" is upon us. Wind power prices have dropped dramatically. Current prices make it competitive with all sources of energy. As Schueneman, Metz and Brown believe, wind is the cornerstone of the new energy economy.
This is a paradigm shift, and it is also an economic shift capable of bringing jobs and the U.S. middle class back at a highly needed time. And what a great video capturing all that.
Visit EcoWatch's RENEWABLES page for more related news on this topic.
——–
Click here to tell Congress to Expedite Renewable Energy