By Geoffrey Sea
[Read Part I, Part II and Part III of this series]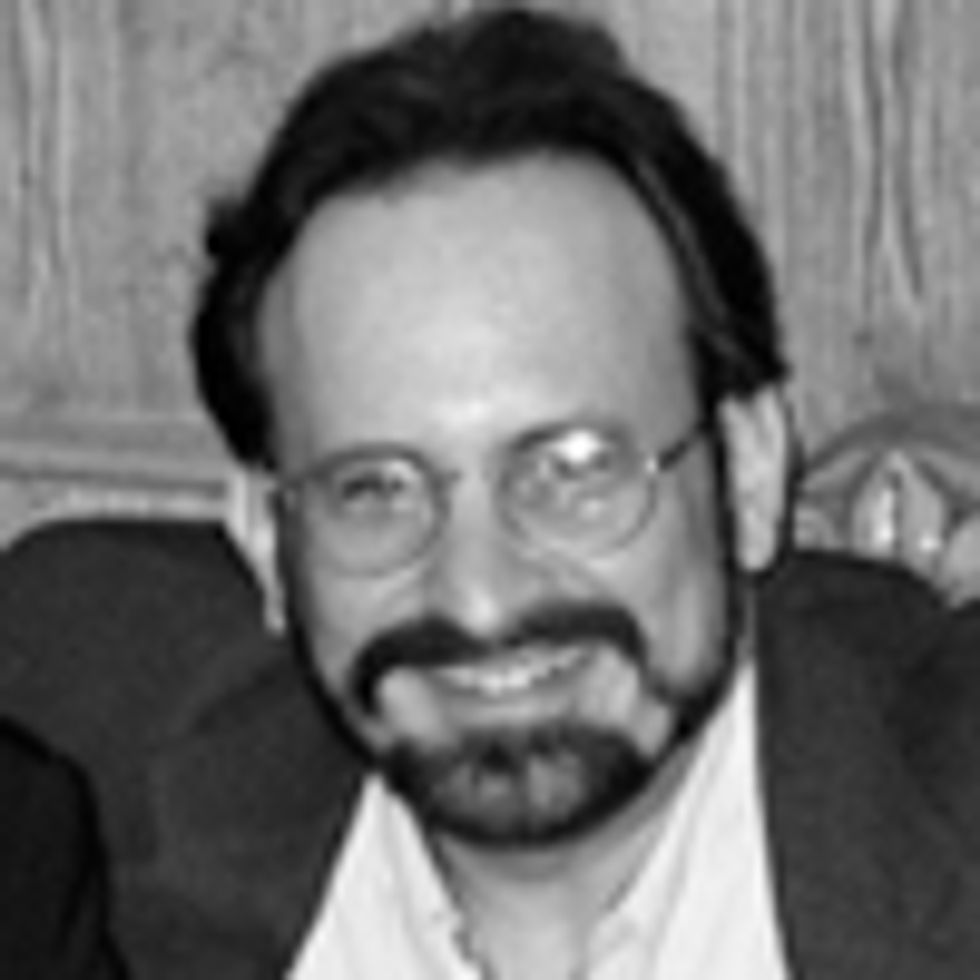 The United States Enrichment Corporation, the contracting subsidiary of USEC Inc.—the company that now produces nothing—has filed a lawsuit in the Court of Federal Claims seeking $38 million in back-bill payment from the U.S. Department of Energy (DOE). The complaint was filed on May 30 with no publicity, as it reveals that the entities running uranium enrichment projects at the Paducah, KY, and Piketon, OH, federal sites are more antagonists than partners.
The filing came exactly one week after DOE rejected USEC's $13 million demand for extended payments at Paducah, and one day before USEC ceased enriching uranium at Paducah, making good on a long-time extortion threat. The legal action heralds the end of the "American Centrifuge" project at Piketon and of the uranium enrichment privatization experiment.
For this litigation, USEC has retained McKenna, Long & Aldridge, the leading firm specializing in government contracts that counts all of the top five U.S. defense contractors as clients.
A congressional staffer who has followed USEC dealings closely commented on the news: "It is outrageous." USEC is displaying more chutzpah than its old mouthpiece, former Congresswoman from Ohio Jean Schmidt, when she called for making flag desecration a felony while draped in a Captain America suit.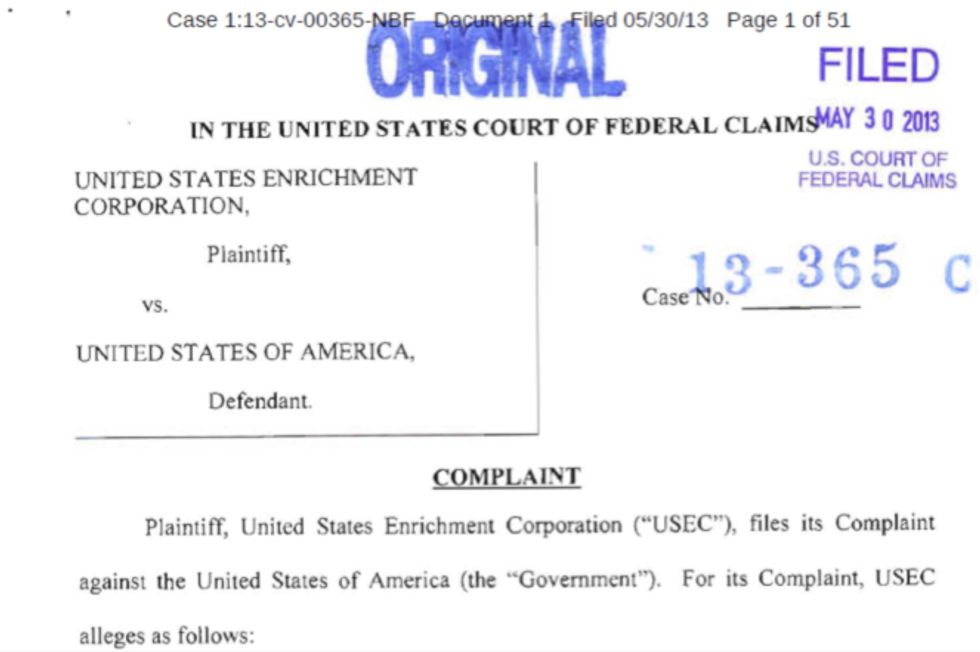 Lawyer Enrichment
This official transition from the Atomic Age to the Attorney Age makes obvious what has long been known to industry observers: The USEC Privatization Act of 1996 created a very stormy marriage between USEC and DOE. That marriage led the parties to commit unnatural acts at Paducah and Piketon, but without clear markers of mattress territory, and with irreconcilable differences between governmental and proprietary predilections. Virtual screaming matches between USEC and DOE at closed-door sessions have become something of a scandal unto themselves.
The Privatization Act created USEC as a non-governmental company with unprecedented (and unconstitutional) control over federal assets at two prime industrial production sites. The condition was that USEC shut down the existing antiquated power-hungry facilities and replace them with technology of its own development, free of political interference (insert laugh-track here). But the Privatization Act gave USEC no financial incentive to do the R&D, so the company didn't, becoming a nagging ward of the bureaucracy from which it was supposed to be liberated. Before he won the Nobel Prize in Economics, Joseph Stiglitz opposed the privatization as chairman of the Council of Economic Advisors, and in an op-ed piece in The Wall Street Journal, he quoted a Republican Senator calling privatized USEC "a threat to national security."
Now fifteen years into the marriage of inconvenience, the divorce will not be easy or amicable. As I wrote on May 28, the "negotiations" between DOE and USEC, advertized as concerning extended Paducah operations, were in fact about "timing, bill payment and where the political blame for job loss could be cast."
To keep up public appearances, the squabbling spouses intentionally failed to make preparations or secure the congressional funding for clean plant power-down, because as every divorce lawyer knows, the chief strategic objective is to get the other side to blink. Each party had to show that it was ready to split the child of nuclear safety down the middle, attempting to win spiteful custody of whatever treasure remained. And in the real world of the nuclear complex, there was no King Solomon. They don't call it a complex for nothing.
Legal considerations did come into play, however. Attempts by USEC to ditch the competitive uranium enrichment business in favor of lucrative no-bid nuclear cleanup contracts were partially thwarted by decisions of the DOE General Counsel that such contracts at either Piketon or Paducah are barred by federal conflict-of-interest rules. The absence of preparations for power-down at Paducah was in part an attempt by USEC to force DOE to waive those rules, since no other company besides USEC would be ready on the spot when power-down occurred. According to reporting in the Lexington Herald-Leader, DOE has now reasserted that conflict-of-interest rules will bar USEC from cleanup at Paducah.
The Government Accountability Office (GAO) determined in September of 2011 that DOE "discretionary" payments and uranium "barters" with USEC, to the tune of some $194 million, were in violation of federal fiscal laws. The $13 million additional gift of uranium from the national stockpile that USEC demanded as payment for a non-performing Paducah extension would have violated these same laws after the illegality had been identified by federal investigators, and would have been the most explicit nullification of the USEC Privatization Act yet on record. That act aimed at closure of the gaseous diffusion plants, and relegated the necessary shutdowns to USEC "business decisions" removed from political influence. Government payment to USEC for alteration of that decision would have defeated the main aim of the statute.
Duking It Out at Paducah
Other federal agencies aren't done with their scrutiny of the strange transactions between DOE and USEC. Last week, GAO investigators quizzed both DOE and USEC about the apparent absence of plans for clean power-down at Paducah, despite intense negotiations between the parties that have reportedly been underway for more than a year. The results are some of the first public indications of how the Paducah shutdown will transpire, though correct interpretation of the responses relies on our ability to invert the given answers to get at the real truth, the way readers in the former Soviet Union learned to read the party newspaper Pravda.
According to informed sources who wish to remain anonymous, both USEC and DOE told GAO that USEC will return the Paducah plant site to DOE control in parcels gradually, with only the initial phase of "de-leasing" accomplished by the spring or summer of 2014. Similar gradual transfer of the Piketon site delayed cleanup substantially, provided endless opportunities for USEC to extort new payments from DOE, and generated hoax "redevelopment" projects with no more than PR value, such as the phony-baloney media event in 2009 at which USEC claimed it would build a nuclear reactor on a site with no body of cooling water. For these prerogatives, USEC paid no fees of any kind for retention of "leased" facilities, and was subject to no financial penalties for contractual violations. Kind of a sweet "leasing" deal you might want to ask John Boehner and Mitch McConnell to write into legislation on your behalf.
USEC's exercise of its lease option to retain control of parts of the Piketon or Paducah sites indefinitely and without explanation or payment warrant against the wishful-nonsense proposal now being hawked by Paducah local media.
That proposal, spearheaded by former Paducah manager Jim Thomas, mischaracterizes USEC's occupancy as DOE contract work for which there should be a successor, when in reality USEC was given control of the site by statute, and it may use that control to knock enrichment competitors out of the box, as it did when USEC slammed the door on competitor AREVA's interest in building a centrifuge plant at Piketon. (AREVA subsequently went to a private site in Idaho). Briefly put, the Thomas proposal to continue government enrichment at Paducah, even if technically possible, would require repeal of the USEC Privatization Act, which will happen when pigs fly over a national monument honoring Julian Assange.
Whistle-blower Joe Carson addresses a meeting of sick Paducah workers and whistle-blowers. Meeting and
video arranged by Commonwealth Environmental Services of Paducah.
DOE and USEC reportedly also told GAO that the reason there is no federal budget line for purging of the diffusion cells at Paducah is that USEC will perform that work itself, before it cedes control of the site. That is utter lunacy. First, that is work barred to USEC under the conflict-of-interest rule. Second, USEC did not perform that service at Piketon, though it had nine years to do it, even though USEC was being paid hundreds of millions of dollars by DOE to do precisely that. 
In fact, that constitutes much of the contract work for which USEC now claims it is owed back over-budget reimbursement in its new lawsuit. And though DOE has not yet commented on the lawsuit, the reason that DOE did not pay those over-charges when billed is that USEC failed to accomplish the assignment. Only now are the cells at Piketon being purged, with many problems encountered, under a $2.2 billion contract to Fluor-B&W.
Moreover, USEC is now in such financial distress, with $500 million each owed to bondholders and to pension obligations, with stock exchange delisting warnings in effect, that the company need not worry about being around long enough to make good on cleanup commitments at Paducah. The company's total market valuation is down to $43 million. USEC might just as well represent to federal investigators that it will pay the billion-dollar cleanup costs at Paducah, since it's never paid a penalty for making false promises, and covering for DOE corruption might help settle the current lawsuit and collect on fraudulent bills.
The date at which USEC and DOE represent they will finish the first stage of de-leasing at Paducah—between April and July of 2014—is quite coincidental, as is everything in this business. June of 2014 is the contractual date at which USEC must decide go or no go on the commercial scale version of its "American Centrifuge Project" at Piketon. That would be the project currently estimated as costing a minimum of $5 billion, more than a hundred times USEC's current market valuation, and for which there is no financing plan that doesn't read exactly like the investment-fraud plot device of The Producers.
Financially, USEC must ditch the centrifuge project by end of summer in 2014, because on Oct. 1 of that year, assuming it's still around, half a billion dollars of bond debt becomes due.
In other words, "truther" gibberish aside, the twin towers of USEC operations at Piketon and Paducah are programmed for self-demolition in the summer of 2014, after maximum extraction of illegal payments from the government, but before USEC is required to pay off its investors. USEC will say "no go" on its long-suffering centrifuge runaround, and simultaneously surrender its site control at Paducah, leaving nothing of the company but chemtrails in the sky and in the water and on the ground. That is how the USEC Privatization Act will be repealed, without Congress needing to lift or point a finger. Only all the little people will get screwed.
Today, June 4, the Secretary and Deputy Secretary of Energy traveled to Capitol Hill to meet with members of Kentucky's congressional delegation about the future of the Paducah site. USEC was conspicuously uninvited to those meetings.
The Leaser of Evils
One might wonder who the nutcases were who negotiated the USEC privatization agreement, who authored the screwy single USEC "lease" for Piketon and Paducah that requires no leasing fee and that levies no penalties for any order of malfeasance, who "negotiated" with USEC on behalf of the government when hundreds of millions of dollars were transferred to the private company in exchange for nothing at all (and that was called "barter").
Well, some of the mid-level people who sat around the negotiating table and witnessed these atrocities also wondered, and some of them did some research, which they shared with me. Turns out it was pretty much all one guy. William A. Murphie, manager of the "Porstmouth/Paducah Project Office" of DOE, was the principal author of the USEC no-fee, no-penalties "lease." Then he was also the guy who complained that his hands were tied by lease provisions when DOE could not get USEC to relinquish control of the Piketon site for cleanup, and now Murphie is the guy who intentionally failed to secure a budget line to pay for clean power-down at Paducah, on the empty assertion that USEC itself will pay for it.
The Department of Energy should open an interest office in Khabarovsk, as a place to which Murphie can be transferred; on the off chance he is not incarcerated.
Some will claim that the new litigation is routine and nothing but another bump on the road of USEC triumphalism. But consider that USEC has claimed that its fortunes depend entirely on winning a $2 billion federal loan guarantee, an award which has already twice been denied, the application for which has not yet been submitted. Consider that USEC has less than 1 percent of the equity required for the project for which it seeks the loan guarantee.
Now if you were approaching a mortgage lender with less than 1 percent of equity in your portfolio and a record of defaults and explicit threats against the lender, would you, just before you submit your application, try to swing the deal by filing a federal lawsuit against the lender on old claims that have already been denied?
By Geoffrey Sea
[Read Part I, Part III and Part IV of this series]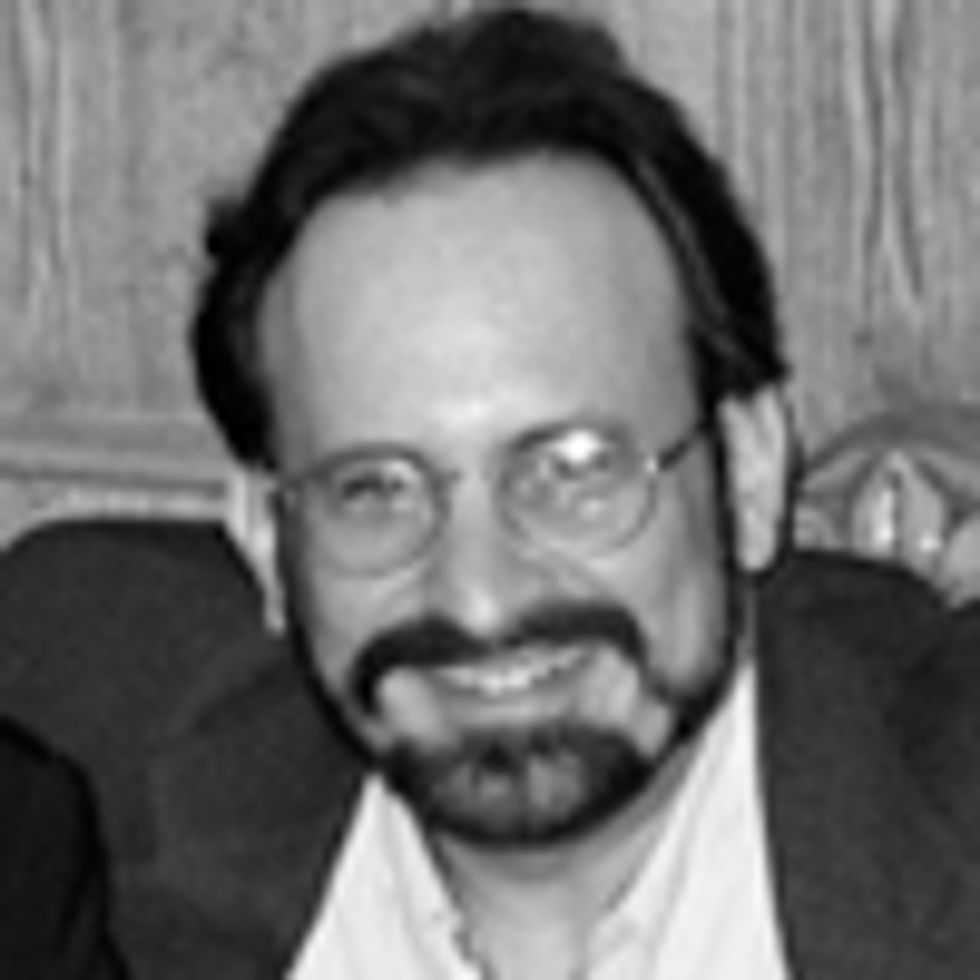 Last week on EcoWatch, I predicted that negotiations between USEC Inc. and the Department of Energy (DOE) over extension of operations at the Paducah uranium enrichment plant would fail, and that principal power-down would happen as scheduled around May 31. Bowing to my prophetic powers, those negotiations in fact broke down irreparably just one day later, and on Friday both DOE and USEC announced that the plant will close imminently.
Inconsistent statements about the exact timing of the shutdown are due to confusion among the major players, because closure of a gaseous diffusion plant is a costly and complicated business, and neither USEC nor DOE has the resources or the plan to know exactly how this inevitability is going to happen. According to USEC, "the company will begin ceasing uranium enrichment at the end of May."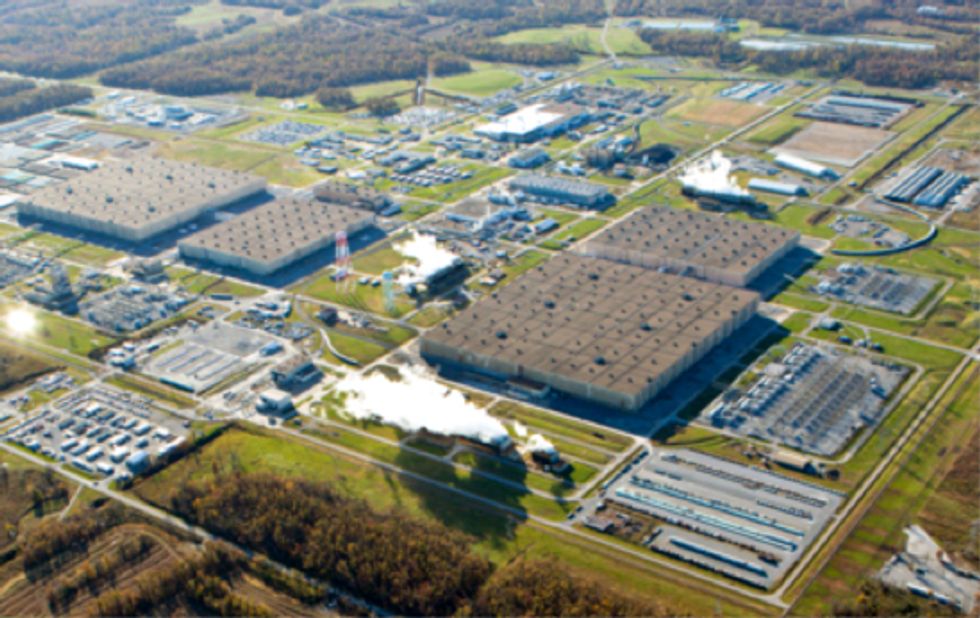 The scandal of the situation is that, despite a very long lead-up to the inevitable plant closure (termination notices to employees were sent in December of 2011), no party moved to make detailed plans for the power-down, as DOE and the privatized USEC Inc. engaged in mutual extortion ploys over timing, bill payment and where the political blame for job loss could be cast. In the stalemate, DOE funding for the major work of powering down the enormous facility was put off until the 2014 fiscal year, at least five months after the power-down will actually occur. This insures a dirty procedure with the diffusion cells not evacuated of process gas.
On May 26, after the link to my article was widely circulated and the failure of an extension made headlines, a flurry of email communications among west Kentucky community leaders transpired, which included a terse statement by Paducah mayor Gayle Kaler: "Our priority as a community is first and foremost demanding clean up dollars. We cannot accept a dirty shut down."
An honorable sentiment, but a dirty shutdown it shall be, not only because of the five month funding gap, but because all DOE discretionary dollars were pumped into saving USEC from immediate financial collapse—up to half a billion dollars in the past few years alone. And that money is mostly gone from the corporate coffers in the form of Gigantor salaries for USEC upper management. As his company sunk in the nuclear muck, CEO John Welch pulled down a cool $6.5 million salary in 2011 alone. If nothing else of energy consequence has come from privatized USEC, the super-speed siphon of funds from the U.S. Treasury to the private accounts of USEC corporate agents truly has been atomic-powered.
The Power-Down Gap
Even if the five month gap were bridged by some ungodly miracle of Mitch McConnell, it would not avert a dirty power-down at Paducah. That's because William A. Murphie, manager of DOE's Portsmouth/Paducah Project Office, did not want to hasten USEC's demise by suggesting in federal budget dealings that the closure of Paducah was anything more than "potential."
It was as if failing to allocate funds for the closure would force the government into making extortion payments to USEC that would keep up the appearance that the plant was producing something of value, mainly by churning uranium waste to build nuclear fuel stockpiles of dubious future value, with gargantuan releases of CFC ozone-depleting gasses as the main result. (According to David Manuta, former science director at the gaseous diffusion plant near Piketon, Ohio, these plants were "the largest industrial users of Freon," the largest emitters of CFC gasses, and the stock of special Freon needed to keep Paducah in operation is already gone or nearly so.)
Neither the 2014 budget request of the Obama Administration nor any proposal by the Kentucky Republicans who control congressional appropriations includes funds to evacuate the diffusion cells at Paducah. The pending 2014 funds are only enough to place the facility into what Murphie has termed "cold storage" —mafia-speak for a factory on ice. The term implies a dirty power-down, because if the complex work of cell evacuation were undertaken, the facility would not be in "storage" at all. Bipartisan budget proposals do, however, include more wasted financial bailout money for USEC, which will be long gone from Paducah by the time the loot is pocketed.
Slow-Cookers Galore
Closure of the Paducah plant isn't a disaster waiting to happen. The observable disaster has been cooking slowly for fifteen years, since privatization of the former "U.S. Enrichment Corporation" in 1998. It has reached a frothing boil right now, and it will continue to burn the residents of western Kentucky for many decades to come.
Of greatest safety concern in a dirty power-down is the "slow-cooker" phenomenon, so-called by engineers, though the term itself is considered classified, and workers at the gaseous diffusion sites in Tennessee, Ohio and Kentucky have been ordered not to utter it. As a nuclear engineer for the Navy in the early 1950s, Jimmy Carter was assigned to work on gaseous diffusion design and may have contributed to invention of the term.
Consider the physical slow-cooker as metaphor for the privatization debacle or vice versa as you please.
Gaseous diffusion plants are unique creatures in the world of industry. The principal designer was the brilliant Manhattan-Project scientist Harold Urey, who was so horrified by his creation that he quit government employ to warn of nuclear and ecological dangers. (Urey's wife Frieda spearheaded the first antinuclear referendum drive in California.) Urey's gaseous diffusion cascade is an enormous integrated system, on the explicit analogy of a living organism—its "cells" so interconnected by gaseous and liquid arteries that once sparked to life in a Frankensteinian manner, the monster has to be juiced with power and product continuously. By design, a dead gaseous diffusion plant cannot be revived, because the gaseous uranium hexafluoride hardens in its veins.
A "slow cooker" is a critical mass of uranium and transuranic elements that forms inside the process equipment of a gaseous diffusion plant due to injudicious operation or a loss of power that causes process gas to crystallize. An undisclosed number of slow-cookers has occurred at the gaseous diffusion plants, mostly at the X-326 high-assay building at Piketon, Ohio, where the Criticality Accident Alarm Safety System (CASS) activated on May 22, causing building evacuation during cleanup, according to reliable informants. Ironically, that was the same day that my post about Paducah closure appeared.
The phenomenon was first theorized by the physicist Edward Teller, father of the American H-Bomb, when he visited Oak Ridge during the Manhattan Project. Though the piping in diffusion plants has been designed to prevent any normal critical mass of uranium, as in an atomic bomb, from forming, Teller worried that the combined neutron flux from bringing many hundreds of tons of uranium into relative proximity could yield unanticipated criticality effects.
That possibility has been magnified at Paducah because, in the 1960s and 1970s, recycled uranium containing significant amounts of plutonium, americium and neptunium, was fed into the Paducah diffusion cascade, resulting in worker and environmental exposures that made headlines in the 1980s. Plutonium and other transuranic elements intensify the possibility of critical mass formation, in ways that cannot be entirely predicted because no gaseous diffusion plant contaminated with transuranics has ever been powered down dirty before.
Yes, this is a big science experiment. But hey, kids, don't try this at home!
The unpredictability is magnified by the fact that USEC, which has operated the facility since the 1990s, followed its proprietary interest and did little maintenance required to keep equipment operable past the date when USEC knew it would depart the premises with no continuing legal liabilities. According to Paducah workers who prefer to not be identified, seals on the thousands of miles of piping are leaking, transuranic contamination is widespread and imported radioactive waste has been packed into the process buildings that are about to be shuttered.
Follow the Moniz
Media coverage of the closure news that was long predictable is getting the story multiply wrong. The venerable New York Times suggests that Paducah closure "could pose a problem for the American nuclear weapons arsenal over time," which is poppycock, because enriched uranium has not been used in U.S. nuclear weapons since the early 1960s.
Politico leads with the strange observation that USEC is not quite omnipotent, when in fact the company has been struggling just to stay out of liquidation. Some news outlets are reporting that the Obama Administration "rejected a proposal" to keep the plant open, with "1,000 jobs lost" when the truth is that there was no such proposal. USEC has run the plant to a condition of inoperability, and the negotiations that did take place were only about the timing, procedure and payments for the shutdown.
What DOE in fact rejected, according to the Capitol Hill rumor, was the idea that it should give USEC another gift of $13 million dollars' worth of free uranium, for the service of USEC defaulting on every major promise it's made. TV and radio in Kentucky are somehow shocked, shocked over a closure overdue by years, as lead-in to the desired editorial position that this, too, should be blamed on President Obama. 
That reaction was seeded in USEC's ridiculous posture of demanding continued government payments for an enterprise that was privatized by statute in 1998. The billions of dollars in federal slush funds already diverted to USEC by the powerful Ohio and Kentucky congressional delegations have been in explicit violation of the USEC Privatization Act. And if anything in my writing contributed to the final decision to cut the cord, it was that I pointed out what the law clearly states—that discretionary payments to USEC by government officials are criminal acts given terms of the Privatization Act as now on the books, and Congress had to amend or repeal the Act if they wanted to make such payments legal.
Kentucky and Ohio Republicans are suddenly huffy-puffy about Paducah closure, which is pretty ludicrous since they control the key levers of legislative power that could have amended the Privatization Act or passed appropriations to pay for safe shutdown of the facility, but they didn't. Not only do Kentucky's Mitch McConnell and Ohio's John Boehner head the Republican caucuses in both chambers of Congress, but Kentucky's Hal Rogers chairs the House Appropriations Committee and takes personal credit for the "no-earmarks rule"—that would be the rule that prohibits special appropriations for pet private companies like USEC.
Meanwhile, the Republican congressman from the district that includes Paducah is Ed Whitfield, chairman of the House Committee on Energy and Commerce—that would be the committee that should have initiated 2013 funding for safe shutdown of the Paducah plant but failed to do so. These men assailing the Obama Administration for funding deficiencies at Paducah is like Geoffrey the Giraffe lecturing: "Don't stick your neck out!"
The reason for the shunning campaign against Paducah funding by Bluegrass State politicians is quite apparent. USEC has longed for the closure of Paducah to avoid the huge power bill, and has advertised the closure to investors as a necessary boost to profitability. At the same time, USEC has been a major campaign contributor to the GOP congressional delegation from Kentucky, recycling the federal dollars it receives in a feint to eco-awareness.
If the certainty of Paducah closure had served as the basis for congressional hearings or a federal budget line, it would have undercut USEC's corporate strategy of extorting federal payments on the possibility of indefinite extension of operations. USEC has consistently demanded DOE "discretionary" funding and extra-legal gifts of uranium by threatening to abandon Paducah before DOE had attained the necessary closure funding, precipitating a nuclear crisis. What DOE headquarters in Washington has finally done is to call USEC's bluff.
It is probably also true that Ernest Moniz, just confirmed as the new Secretary of Energy by the U.S. Senate on May 17, likely did not want his first major act as Secretary to be an illegal giveaway to USEC. Moniz can be called an architect of the USEC catastrophe. He helped design the disastrous USEC privatization for the Clinton Administration in the 1990s, he defended that privatization in testimony to Congress in 2000, he served as a "strategic advisor" to USEC starting in 2002, when USEC undertook its "diversification" away from uranium enrichment, and his ties to USEC were one stumbling block in his confirmation as Energy Secretary.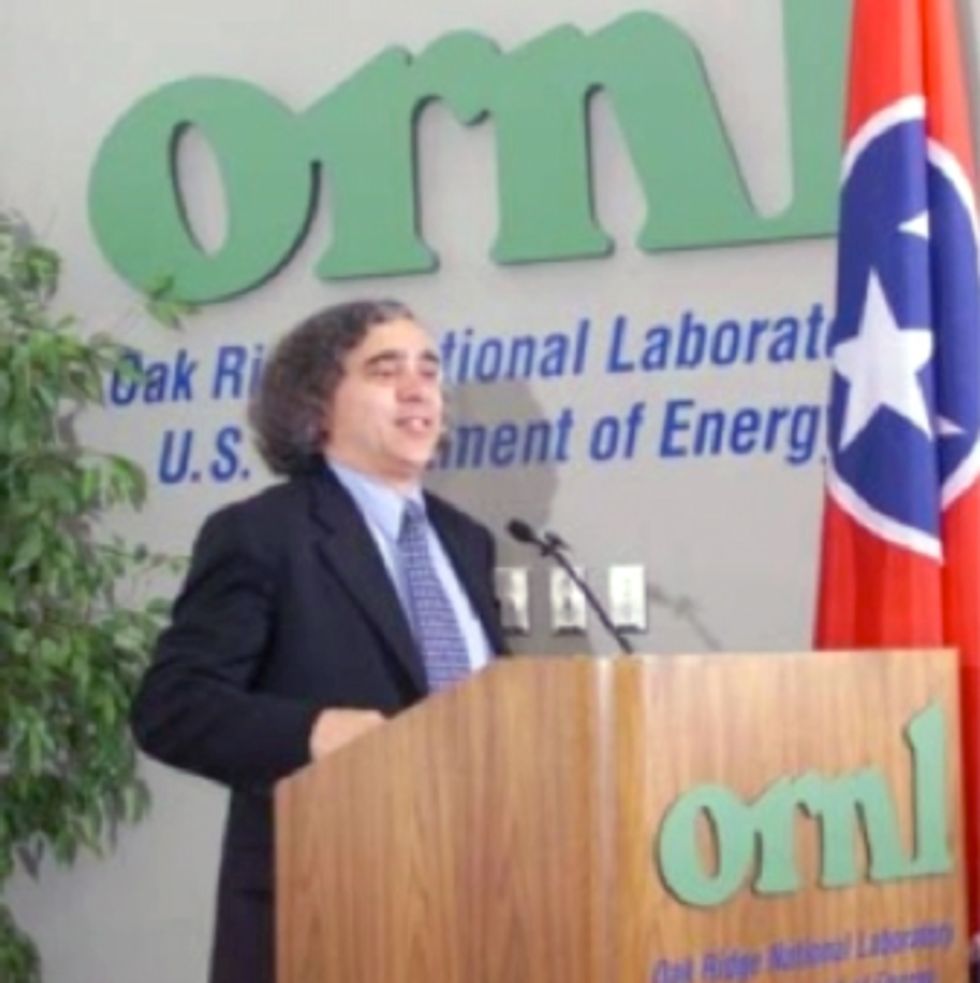 USEC executives bubbled over with glee that their man was appointed to be the new Secretary of Energy. But if only Richard Nixon could have reached out to Communist China, then only Ernest Moniz may have the cred to tell USEC to shove it.
Unfortunately, USEC shoving it means that the workers and community of Paducah will continue to get reamed.
Neighbors for an Ohio Valley Alternative will be announcing educational and organizing events in Paducah shortly.
EcoWatch Daily Newsletter
By Geoffrey Sea
[Read Part II, Part III and Part IV of this series]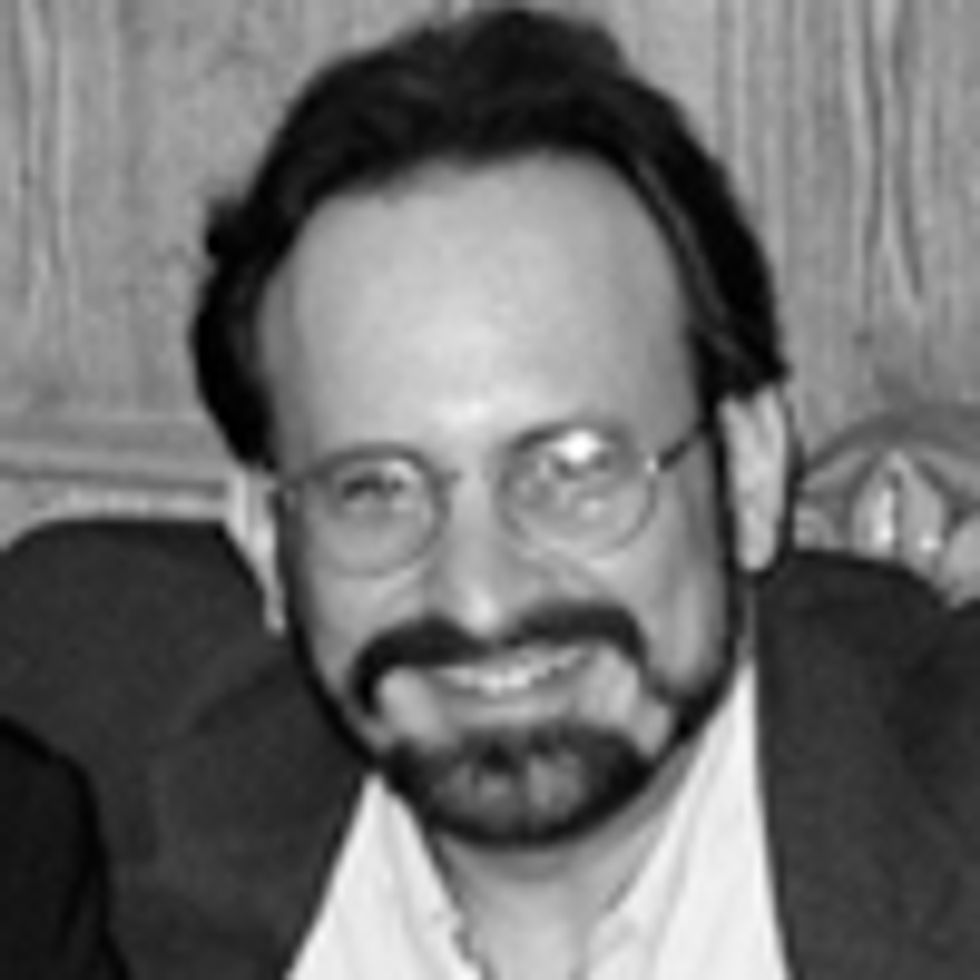 Disaster is about to strike in western Kentucky, a full-blown nuclear catastrophe involving hundreds of tons of enriched uranium tainted with plutonium, technetium, arsenic, beryllium and a toxic chemical brew. But this nuke calamity will be no fluke. It's been foreseen, planned, even programmed, the result of an atomic extortion game played out between the U.S. Department of Energy (DOE) and the most failed American experiment in privatization, the company that has run the Paducah plant into the poisoned ground, USEC Inc.
As now scheduled, main power to the gargantuan gaseous diffusion uranium plant at Paducah, Kentucky, will be cut at midnight on May 31, just nine days from now—cut because USEC has terminated its power contract with TVA as of that time ["USEC Ceases Buying Power," Paducah Sun, April 19, page 1] and because DOE can't pick up the bill.
DOE is five months away from the start of 2014 spending authority, needed to fund clean power-down at Paducah. Meanwhile, USEC's total market capitalization has declined to about $45 million, not enough to meet minimum listing requirements for the New York Stock Exchange, pay off the company's staggering debts or retain its operating licenses under financial capacity requirements of the Nuclear Regulatory Commission.
The Paducah plant cannot legally stay open, and it can't safely be shut down—a lovely metaphor for the end of the Atomic Age and a perfect nightmare for the people of Kentucky.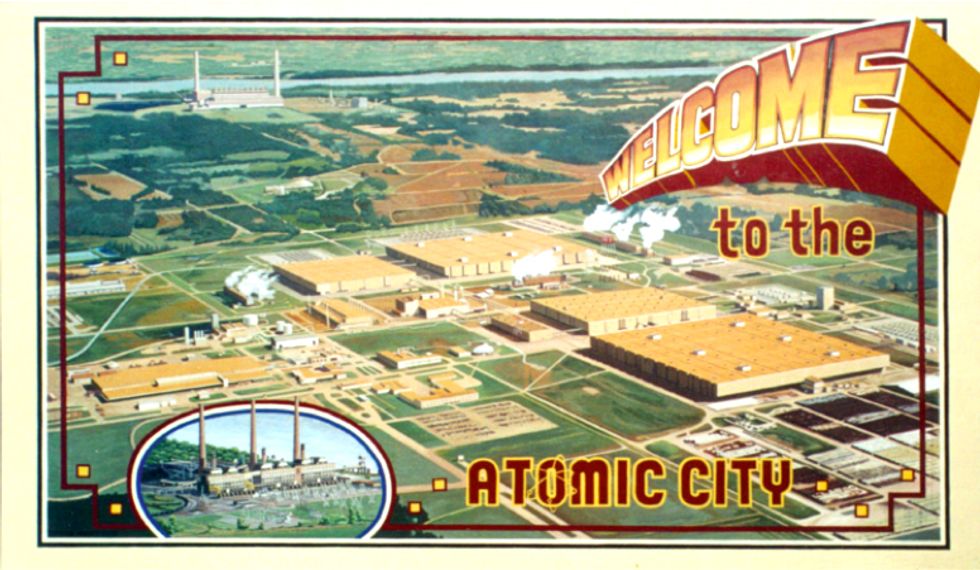 Dirty Power-Down
If the main power to the diffusion cascade is cut as now may be unavoidable, the uranium hexafluoride gas inside thousands of miles of piping and process equipment will crystallize, creating a very costly gigantic hunk of junk as a bequest to future generations, delaying site cleanup for many decades and risking nuclear criticality problems that remain unstudied. Unlike gaseous uranium that can be flushed from pipes with relative ease, crystallized uranium may need to be chiseled out manually, adding greatly to occupational hazards.
The gaseous diffusion plant at Oak Ridge, TN, was powered-down dirty in 1985, in a safer situation because the Oak Ridge plant did not have near the level of transuranic contaminants found at Paducah. The Oak Ridge catastrophe left a poisonous site that still awaits cleanup a quarter-century later, and an echo chamber of political promises that such a stupid move would never be made again. But that was before the privatization of USEC.
Could a dirty power-down at Paducah—where recycled and reprocessed uranium contaminated with plutonium and other transuranic elements was added in massive quantities—result in "slow-cooker" critical mass formations inside the process equipment?
No one really knows.
Everybody does know that the Paducah plant is about to close. Its technology is Jurassic, requiring about ten times the energy of competing uranium enrichment methods around the world. The Paducah plant has been the largest single-meter consumer of electric power on the planet, requiring two TVA coal plants just to keep it operating, and it's the largest single-source emitter of the very worst atmospheric gasses—chlorofluorocarbons (CFCs).
The plant narrowly escaped the selection process that shuttered its sister plants in Tennessee and Ohio long ago. A 2012 apocalypse for Paducah workers was averted only by a last-second, five-party raid on the U.S. Treasury involving four federal entities pitching together to bail out USEC financially, a deal so arcane that knowledge of Mayan astrological codices would be required to grasp its basic principles. The plot would make for a great super-crime Hollywood movie in which Kentucky's own George Clooney and Ashley Judd could star, if only the crafting lawyers and bureaucrats had made the Code of Federal Regulations as easy to decipher as bible code, or half as interesting.
"The deal" that saved Paducah operations for a year, past one crucial election non-coincidentally, probably consumed more net energy than it produced by stupidly paying USEC to run depleted uranium waste back through the inefficient Paducah plant—like a massive government program paying citizens to drink their own pee as a way to cut sewerage costs and keep medics employed prior to a Presidential contest. The deal never would have passed muster if it had been subjected to environmental or economic reviews of any kind, but it wasn't. The "jobs" mantra was chanted, and all applicable laws from local noise-control ordinances to the Geneva Conventions were waived.
But the deal expires on May 31, in nine days. USEC and DOE have both said that discussions for a new extension deal continue, but rumors of a new deal were dashed on May 7, sending USEC stock into a flip-flop, when in an investor conference call, the company announced that no extension had been agreed, with very pessimistic notes about even a "short-term" postponement. That accompanied news that USEC had suffered a $2 million loss in the first quarter of 2013, largely attributable to the power bill at Paducah, which USEC says it's under no obligation to keep paying.
Showing no enthusiasm whatsoever, USEC CEO John Welch said on May 7:
"While we continue to pursue options for a short-term extension of enrichment at Paducah beyond May 31, we also continue to prepare to cease enrichment in early June."
Meanwhile, the Kentucky DOE field office in charge, managed by William A. Murphie, has advertised a host of companies "expressing interest" in future use of the Paducah site, with no explanation of how the existing edifice of egregiousness will be made to disappear. "Off the record," the Kentucky field office has floated dates like 2060 for the completion of Paducah cleanup.
That's two generations from now and kind of a long time for the skilled workforce and other interested parties to hang around. Even the 2060 date assumes that costs can be minimized by evacuating the diffusion cells before power-down—the scenario that seems certain not to happen because no one has the funding for it. Flushing the cells of uranium hexafluoride gas is the only sensible way to power-down, but it's costly and time-consuming. At the Piketon, Ohio, plant a semi-clean power-down has cost billions of dollars and has taken twelve years and counting to accomplish. (Murphie will have to explain why he paid USEC so much money for the extended power-down at Piketon, while simultaneously asserting that a Paducah power-down can be accomplished swiftly and cheaply). Clean power-down also requires that workers and supplies be available on demand, and in the Paducah case, there simply isn't time.
According to reliable sources, contracts are being prepared for the work of placing the plant into what Murphie calls "cold storage"—a term of his invention. But those contracts won't take effect until October when fiscal 2014 funds are available. "Cold storage" at that point means closing the doors, posting guards outside, and otherwise walking away.
Can there yet be an extension deal to hold over the plant until 2014 funds are available? Probably not, because USEC may not last that long, the equipment in the plant has been run to decrepitude with no attention to maintenance, there isn't sufficient time to make the arrangements, and a second end-run around environmental compliance would likely generate lawsuits.
Captains Log: A Heck of a Long Time
As to when the site might be cleaned up for "future use" under a "cold storage" scenario, nothing has even been rumored. I think we are talking Star Trek dates. Or consider the half-life of natural uranium, which is about four and a half billion years.
Until such time, the Paducah plant will either sit like a massive metallic boil on the planet, or be demolished and scavenged for semi-precious metals like the Oak Ridge facility. But the plutonium, americium and neptunium at Paducah may nix the latter possibility. The dirty power-down arranged by Murphie would make it impossible to prevent transuranic atmospheric release during demolition.
I propose a bronze encasement for the whole fandango, with a plaque that reads:
                                                    WRECK OF THE U.S. USEC
GREATEST FAILURE OF GOVERNMENT PRIVATIZATION IN WORLD HISTORY
                                                             IN MEMORIUM
At least that would help Murphie comply with the National Historic Preservation Act. Call it a learning experience.
Interested observers are still awaiting some rabbit to be pulled from Murphie's hat, as he produced one year ago in 2012. To gauge that possibility I sent Murphie an e-mail on May 10, asking him where he was going to get the money to pay for clean power-down with the cut-off date only weeks away as reported by USEC. Specifically, I wrote: "What's up with that?"
And, within hours I received a reply, probably because I had copied Mitch McConnell's chief of staff on my correspondence. Murphie wrote:
"As you are likely aware, the Paducah procurement process has begun involving the USEC facilities. I suggest you look at the DOE CBC home page regarding the proposed IDIQ business opportunities and keep an eye on it for updates. As for the funding question, the DOE did submit a request to Congress that includes language regarding the potential USEC facilities return [a fiscal year 2014 request]."
That's a very interesting reply because, aside from the vacuous PR about fantastic "business opportunities" at a site of nuclear catastrophe (maybe a lollipop factory!), it confirms that DOE does not have some secret stash of funds to evacuate the diffusion cells at Paducah, at least until fiscal year 2014, at least five months too late. Murphie is still calling the certain closure of the Paducah monstrosity "potential," meaning he can't yet pay for it. I asked Murphie to resolve that dilemma in a follow-up e-mail, but alas I had used up my entitlement to one response per five years and so got none.
I admit that some pretty cool proposals for Paducah "future use" have been cooked up by Murphie and his PR people. In mid-2012, Kentucky state legislators sought an exemption from the state's moratorium on nuclear power (a giveaway to coal interests), so that Paducah could become a research center exploring the use of nuclear explosives in fracking for oil and gas. Hot diggity!
"Discussions" between DOE and USEC about extension may indeed be ongoing. But I imagine they are like the proverbial separation negotiations between the gold-miner and the gold-digger. The gold-digger demands maintenance for the lifestyle to which she's become accustomed, or she'll walk. The gold-miner looks at the lump of iron pyrite he's been left with and says: "You already got everything I had."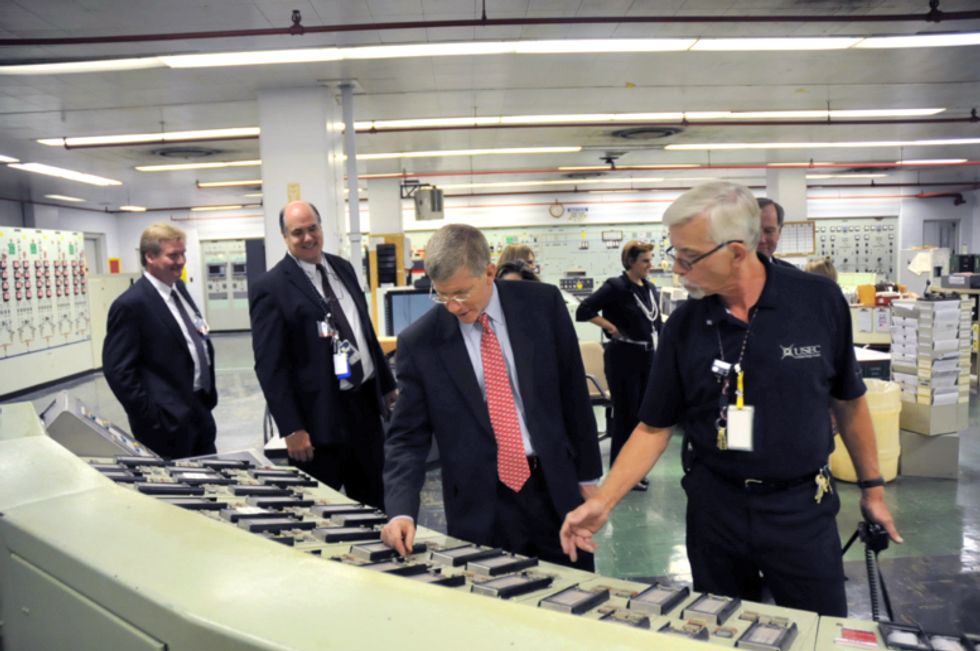 Murphie's Law
So how did it come to this? Since the plant was originally scheduled to cease operations on May 31, 2012, why didn't USEC and DOE have plenty of time to plan for orderly and funded clean power-down, which was precisely what the sleazy one-year extension deal was supposed to give time to accomplish.
The answer is that the entire uranium enrichment enterprise of the U.S. has become a sham operation, a sham designed to funnel U.S. Treasury funds to private companies including USEC and its partners, a sham designed to convert any problem or scandal into additional contractor award fees, a sham designed to keep the fig-leaf of a privatized USEC Inc. from blowing away and exposing all the naughty bits.
Those became the goals of the operation, not enriching uranium, developing new technology or achieving safe operations or cleanup of the sites. Murphie's Law is that if anything can go wrong, it will boost contractor award fees, for a select group of companies hand-picked by Murphie himself. Thus, the principal "cleanup" contractors at Piketon are Fluor and Babcock & Wilcox (B&W), both of which are suppliers to USEC's fake "American Centrifuge Project," and B&W is a strategic partner of USEC with a large share of USEC preferred stock, poised to take over USEC's operations if the latter goes under.
And USEC is going under, by design, leaving its bondholders, pensioners and U.S. taxpayers holding one very empty bag. USEC stock has now lost 99% of value since its bubble peak in 2007. USEC's auditors issued a "going concern" letter in March of this year, warning that the company appears to have no viable business plan moving forward. The New York Stock Exchange issued a delisting warning to USEC in May of 2012, and a second warning on a separate deficiency in May of 2013.
If USEC is delisted, about half a billion dollars of debt to bondholders becomes due immediately, and at least $100 million in pension obligations are owed in Ohio and Kentucky each. But the entire company is only worth about a twentieth of its debts, or about 1 percent of the cost of the new commercial plant it pretends it will build. USEC's 2013 shareholders meeting, at which the crisis might come to a precipitous conclusion, was postponed from April to June, presumably to give the company a chance to depart from Paducah without adding a nuclear crisis to its public liabilities. USEC is now an empty shell about to be shucked: the company's dissolution and the Paducah plant's decommissioning have been timed to coincide.
Once USEC has departed Paducah, it will no longer be in the uranium enrichment business, as it will operate no enrichment facilities. The company, which was created by statute for the sole purposes of enriching uranium and developing new technology, will be doing neither. It will only be an international uranium broker, ironically a front for Russian uranium interests. Imagine if the U.S. Postal Service decided to hoard its U.S. government subsidies, exit the mail delivery business and become only a marketing agent for Russian stamps. That analogy precisely applies to what USEC is doing, in stark violation of the USEC Privatization Act.
But USEC has had two quite powerful politicians in its service, from the states in which it has operated, men who control the Republican caucuses in both chambers of Congress—John Boehner of southern Ohio and Mitch McConnell of Kentucky. If Congress had appropriated the funds to pay for Paducah power-down in a timely fashion, for fiscal year 2013, then the USEC house of cards would have come down one year earlier. There could not have been rumors of federally-financed extension deals, or stock speculation runs premised on talk of a USEC buyout, or shipments of "spare parts" from Piketon to Paducah just to make it look like USEC is a going concern.
In short, if Bill Muphie's office had secured the funds and let the contracts to do a clean power-down of Paducah starting June 1, then the jig would have been up for USEC months ago, the company might already be in liquidation, and hundreds of millions of dollars in continuing federal subsidies to USEC might not have been wasted. For its part, USEC has even now failed to announce a date certain for Paducah closure, although cancellation of its power contract was an effective extortion tactic for wheedling additional dollars from federal coffers.
So Murphie didn't secure the funds and didn't issue the contracts, and kept right on doing federally-paid PR work to falsely suggest there could be a smooth economic conversion at Paducah. Boehner and McConnell ate it all up while chanting the "jobs" mantra, for it reinforced their narrative that USEC Inc. is the best thing since sliced atoms. To keep a large campaign contributor out of bankruptcy court for a few more months, the Paducah plant was permitted to reach the current crisis state. And the people of Kentucky were sent straight to nuclear hell.
Nine days.