This website uses cookies to ensure you get the best experience while browsing it. By clicking 'Got It' you're accepting these terms.


The best of EcoWatch, right in your inbox. Sign up for our email newsletter!
A ground pangolin (Smutsia temminckii) in Zimbabawe. Pangolins are one of the world's most endangered species. Adrian Steirn / Barcroft Media via Getty Images
The pangolin's future looks gloomy, according to the latest update by the International Union for Conservation of Nature (IUCN), which assesses the conservation status of species.

Of the eight known species of the pangolin, one of the world's most trafficked mammals, two African species, the while-bellied (Phataginus tricuspis) and the giant ground pangolin (Smutsia gigantea), have been moved from "vulnerable" to "endangered" on the IUCN Red List. One Asian species, the Philippine pangolin (Manis culionensis), has been uplisted from "endangered" to "critically endangered." No species improved in status in the assessment.
The Wildlife Conservation Society's Wildlife Crimes Unit announced that today in Indonesia Aceh police arrested two wildlife traders selling ivory, elephant bones, live orangutans, a live tiger cub and other wildlife. WCS's Wildlife Crimes Unit operates to provide data and technical advice to law enforcement agencies to support the investigation and prosecution of wildlife crimes.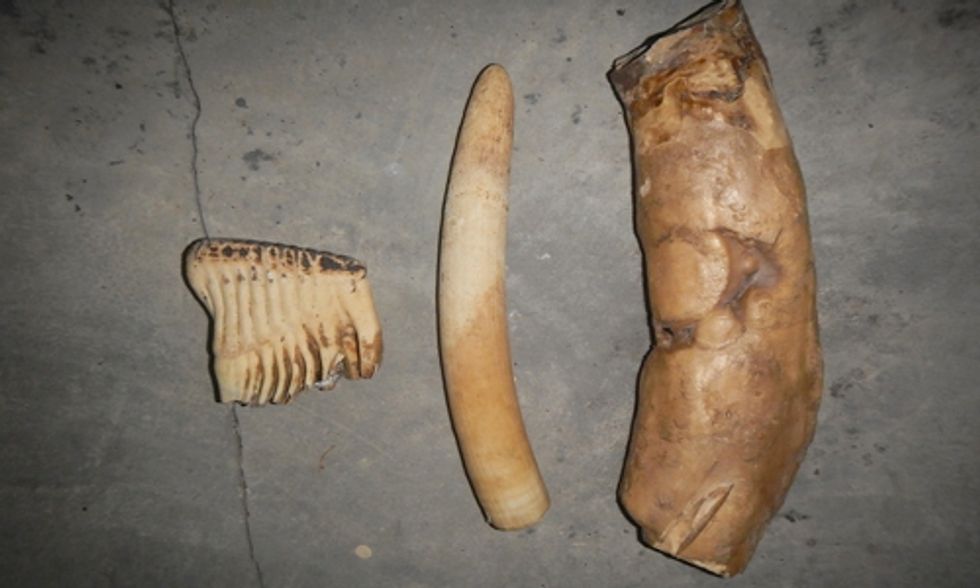 The arrest, made on May 4, was conducted by the Aceh Provincial Police (Polda Aceh) and supported by the Wildlife Crimes Unit. Two suspects were arrested in the town of Muelabo, includeding the owner of a well-known shop dealing in illegal wildlife and the trader who supplied him. 
The supplier provided ivory and elephant bones, along with live orangutans, a live tiger cub, as well as skins from tigers, clouded leopards and golden cats. Authorities believe the wildlife came from a group of hunters operating in the regencies of West Aceh and Nagan Raya.
"Aceh police are committed to strengthening law enforcement to protect Aceh's natural resources and ecosystems," said Director of Criminal Division of Polda Aceh, Joko Irwanto, M. Si. "From this case we confiscated 3 kilogramss of ivory, 1 raw ivory tusk and up to 650 kilograms of elephant bones. We believe this came from at least two elephants."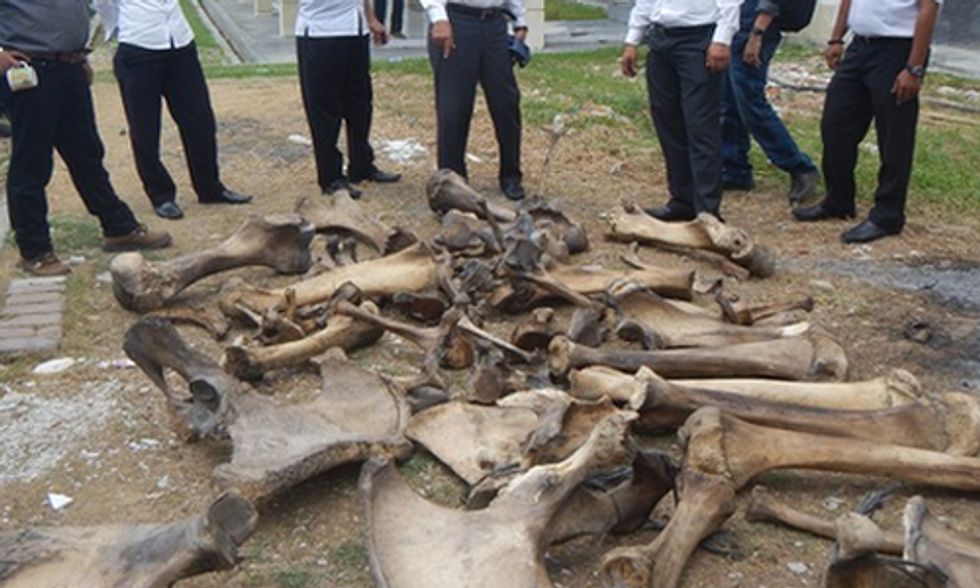 "We are deeply concerned about elephant killings in Aceh," WCS Indonesia Country Director, Dr. Noviar Andayani said. "We believe that the effort of Aceh police to arrest these traders shows that law enforcement is working in Indonesia."
The Wildlife Crimes Unit will continue to work with the Aceh police, prosecutors and judges to ensure they have the tools necessary to properly process this case. The Wildlife Crimes Unit is hopeful that strong sentences will create a deterrent to protect wildlife from would-be wildlife traffickers in Indonesia.
"The Wildlife Crimes Unit, in collaboration with the Indonesian authorities, has a remarkably impressive track record of arrests and prosecutions for violators of wildlife crimes," said WCS Executive Director for Asia Programs, Joe Walston. "They clearly demonstrate that through a combination of commitment and intelligence Indonesia can win the war against wildlife crime, which is robbing Indonesians of their natural heritage."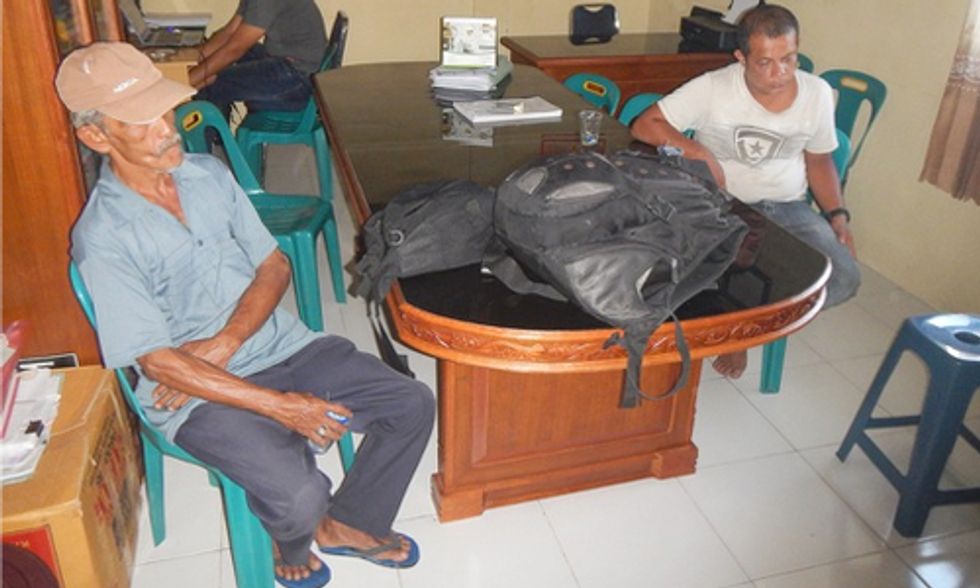 WCS's Wildlife Crimes Unit in northern Sumatra is supported by the Liz Claiborne and Art Ortenberg Foundation, the U.S. Fish and Wildlife Service, Asian Elephant Conservation Fund and Great Apes Conservation Fund, the American Zoological Association's Tiger Conservation Campaign and San Diego Zoo Global.
--------
YOU MIGHT ALSO LIKE
Labradors Trained to Detect Illegally Trafficked Wildlife Products
Surge in Illegal Trade of Turtles and Tortoises Spells Trouble for Rare Species 
NBA Athletes Launch Campaign Against Ivory and Rhino Horn Poaching
--------
EcoWatch Daily Newsletter
On March 27 the arrivals hall of Guangzhou Baiyun International Airport was bustling with passengers as usual. Jin Kai, a detector dog with the Guangzhou Customs Anti-smuggling Police, and one of the first graduates from a detector dog training program run by the China Customs Anti-smuggling Bureau in co-operation with TRAFFIC and supported by World Wildlife Fund Germany and World Wildlife Fund-UK, was carrying out a routine inspection of passengers' baggage.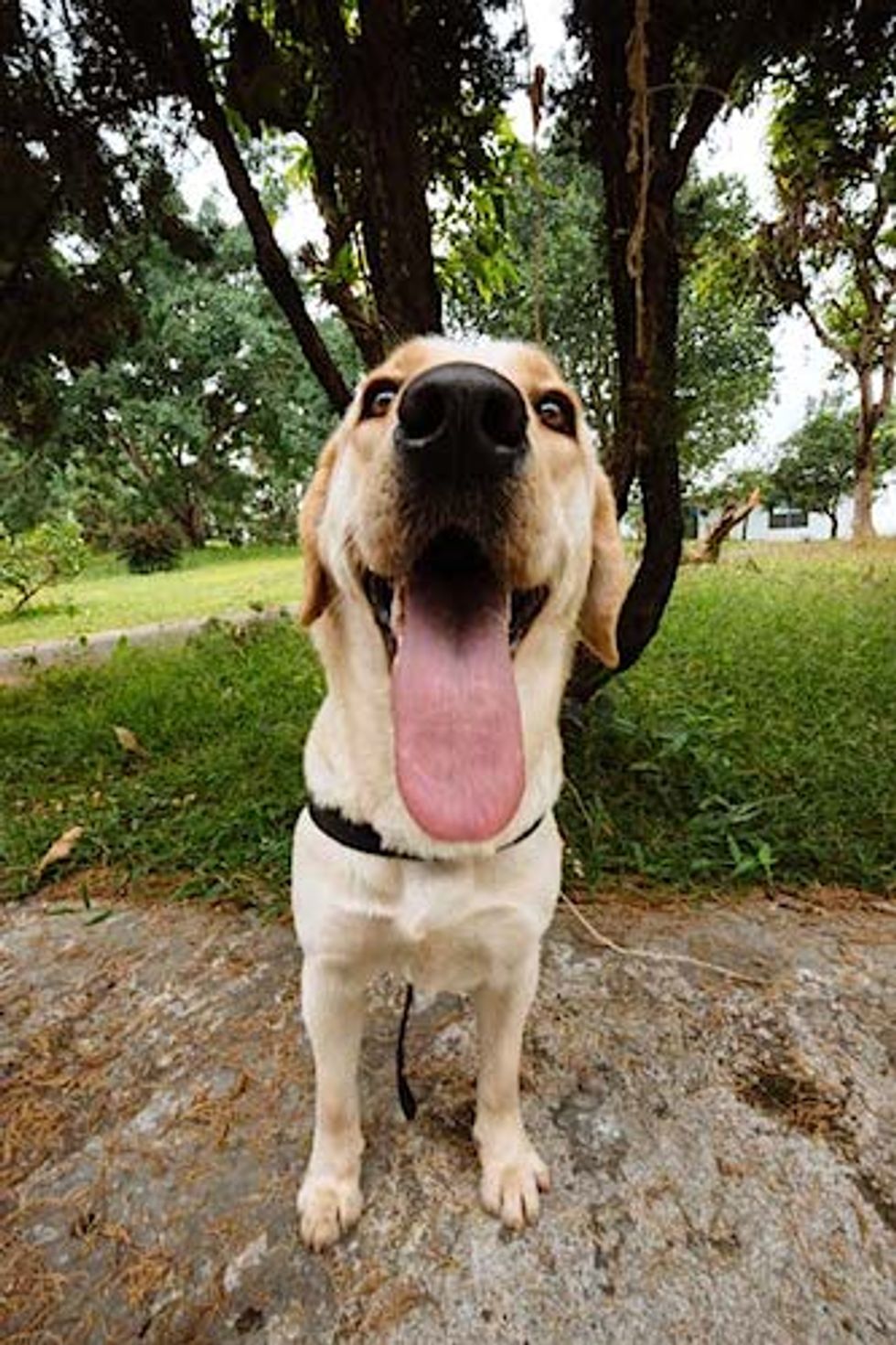 Suddenly Jin Kai reacted strongly to the suitcase of an in-bound passenger. A customs officer checked the luggage and found 13 ivory bracelets, weighing a total of 420 grams. 
Meanwhile, the reaction to the discovery from a fellow passenger raised the suspicions of the anti-smuggling policeman, who took Jin Kai to his luggage where another positive reaction led the officers to open the suitcase. In it, they found ivory necklaces, pangolin scales and other endangered animal products weighing a total of 500 grams.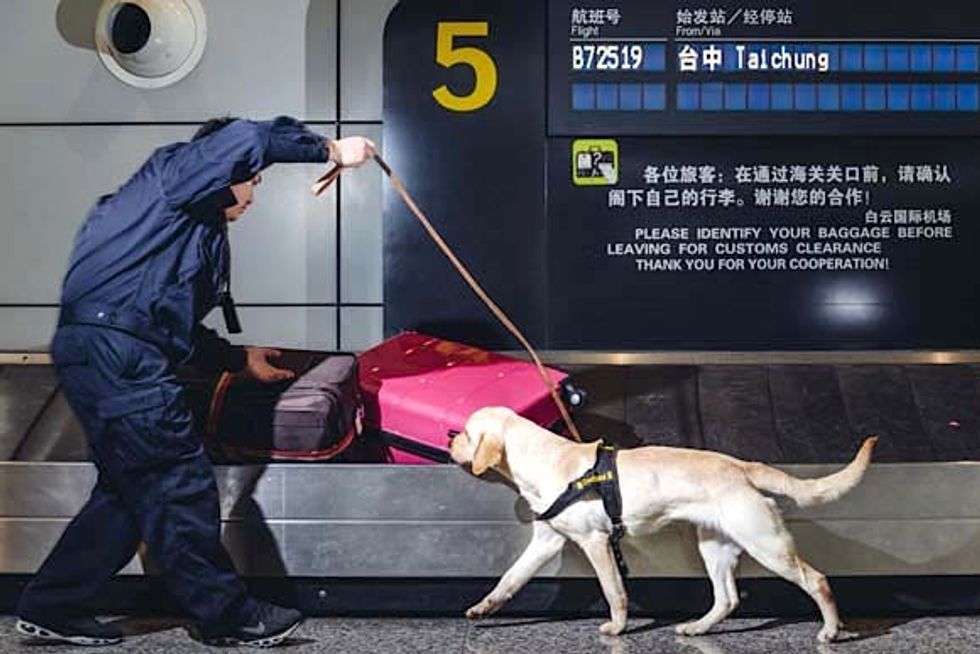 These are the first seizures of endangered wildlife goods made by customs officers in China thanks to the services of a detector dog, and a sure sign that the ability of trained dogs to locate concealed smuggled wildlife goods is beginning to pay dividends in the battle against wildlife traffickers.
First Official Wildlife Detector Dogs
Jin Kai is an 18 month old female dog and Jin Li, is a three year old male. Both are Labrador Retrievers, a breed often seen in movies and kept as pets because they are friendly towards people, playful and intelligent. However, Jin Kai and Jin Li are neither pets nor movie stars. They are detector dogs fighting on the frontline to combat wildlife trafficking. For five months, from March to July 2013, Jin Kai, Jin Li and another Labrador, Duo Wei, received specialized training at Ruili Drug Detector Dog Base, run by the Anti-smuggling Bureau of Customs General Administration. They later graduated to become the first wildlife detector dogs to go into service with Chinese customs, with Jin Kai entering service at Guangzhou Baiyun International Airport in Dec. 2013.
What Defines a Wildlife Detector Dog?
Wildlife detector dogs are trained to discover endangered wildlife products that are hidden during transportation—for example concealed in passengers' baggage or inside postal packages. Dogs can fairly easily be trained to find drugs, explosives, tobacco and other contraband but wildlife products generally do not have obvious odors so the detector dogs must be extremely focused. Motivation and high levels of concentration are essential qualities. Not every breed of dog or even every Labrador has the necessary qualities to become a wildlife detector dog.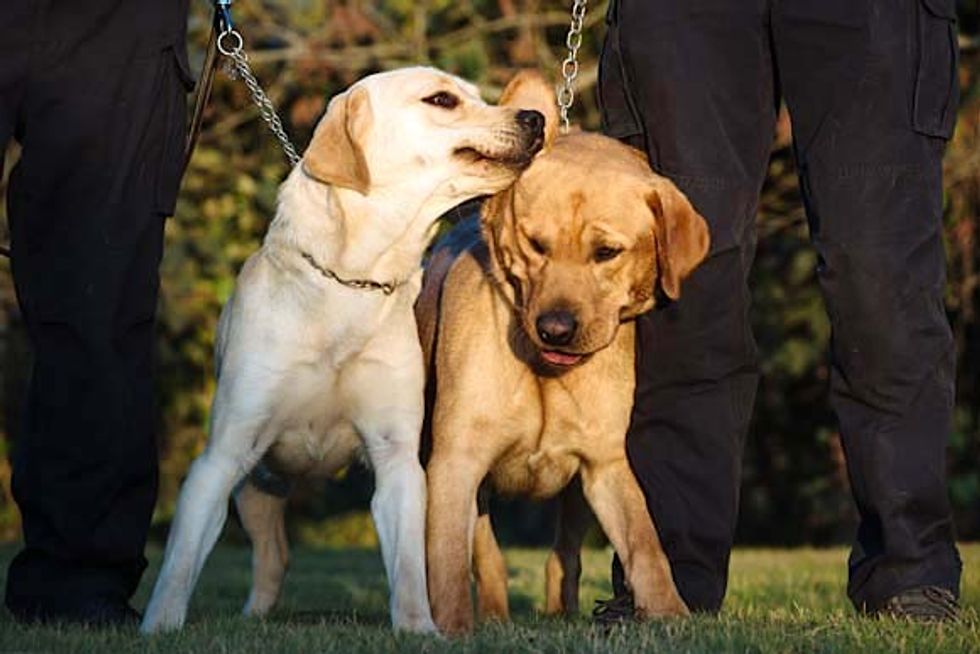 Why Use Detector Dogs?
Many criminals engage in illegal wildlife trade because of the high profits and low risk of detection and punishment, and China is a major destination in the global trade. In recent years, many illegal endangered wildlife goods have been seized by customs officials entering China, including ivory, tiger, leopard, rhino horn, and marine turtle products. Just as illegal wildlife trade has grown in response to rising demand, so have the methods used by smugglers to avoid detection diversified, with criminals sometimes hiding contraband in their luggage, in parcels and even on their body. 
China first examined the use of detector dogs to find wildlife goods following a meeting held in Beijing facilitated by TRAFFIC, where some of the world's leading experts on the training and use of wildlife detector dogs participated. Following this meeting, China Customs Anti-smuggling Bureau—in co-operation with TRAFFIC—began their wildlife detector dog training program. TRAFFIC has previously facilitated the development of wildlife detector dog programs in a number of countries, including Germany, India and Thailand.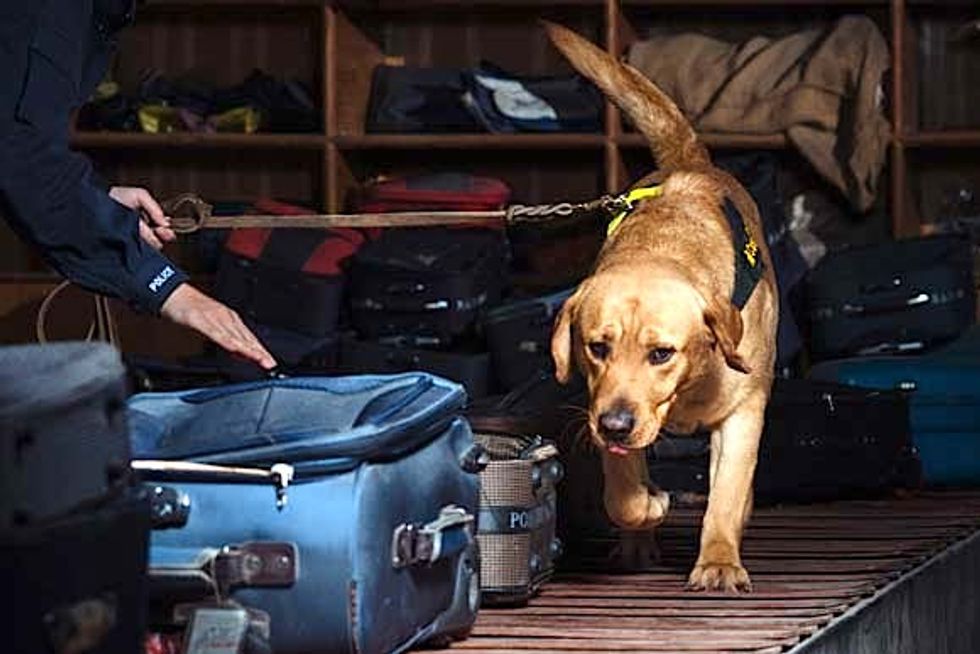 The Special Prize
During training, the dogs receive rewards—not, as you might imagine, a bone, but rather a tug of war with a bundled white towel. During each training session the handlers wear a special suit, to foster the concept of the dog entering "work" mode. The dogs are taught to examine every piece of luggage or parcel and when the smell something to give a standard reaction, such as sitting still next to the suspicious object. They then receive their reward—the white towel is laid down next to the object and then the trainer starts the tug of war. After the training is over, the white towel is thrown back into the training area, so the dogs come to associate finding the wildlife goods with receiving the white towel reward. 
Cultivating Understanding 
There is a close bond between handlers and their dogs: the handlers must guide detector dogs with simple command and gestures dogs, while the dogs must understand their handler's subtle expressions and actions, otherwise they will not make a perfect team. Dog handlers also need to be physically fit, spending much time in the move during training sessions, while the tug-of-war rewards can be physically demanding too.
Jin Kai, the most adept of the trained wildlife detector dogs, works in the international baggage claim section of Guangzhou Baiyun International Airport, gateway to Guangzhou, the largest city in South China.
Parcel Searching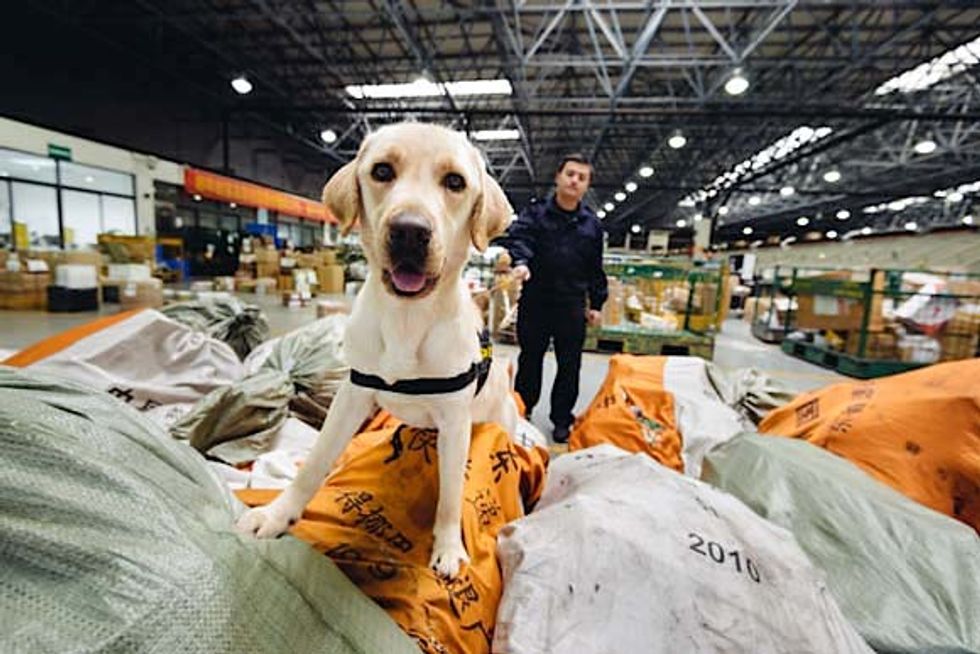 The airport postal sorting office is a huge isolated building. Jin Kai's job is to run back and forth through the mailbags to find suspicious parcels. Over time, her skills at finding wildlife goods among them will continue to improve. 
The life of a detector dog is not an easy one: the dogs must remain ever-vigilant and work hard. However, they are irreplaceable. A photo of a Labrador among postal mailbags may look cute, but the message to wildlife traffickers is clear: no matter where they try and conceal their illegal goods, you won't fool the dog.
--------
YOU ALSO MIGHT LIKE
Prized for Profit: Rare White Lions and Tigers Exposed to Selective Inbreeding in Zoos
Surge in Illegal Trade of Turtles and Tortoises Spells Trouble for Rare Species 
First-Ever World Wildlife Day Focuses Attention on Illegal Poaching and Trafficking
--------
Hot on the heels of three major tortoise and freshwater turtle seizures in Asia comes another seizure in Bangkok involving hundreds of animals and the arrest of two men suspected of attempting to smuggle them.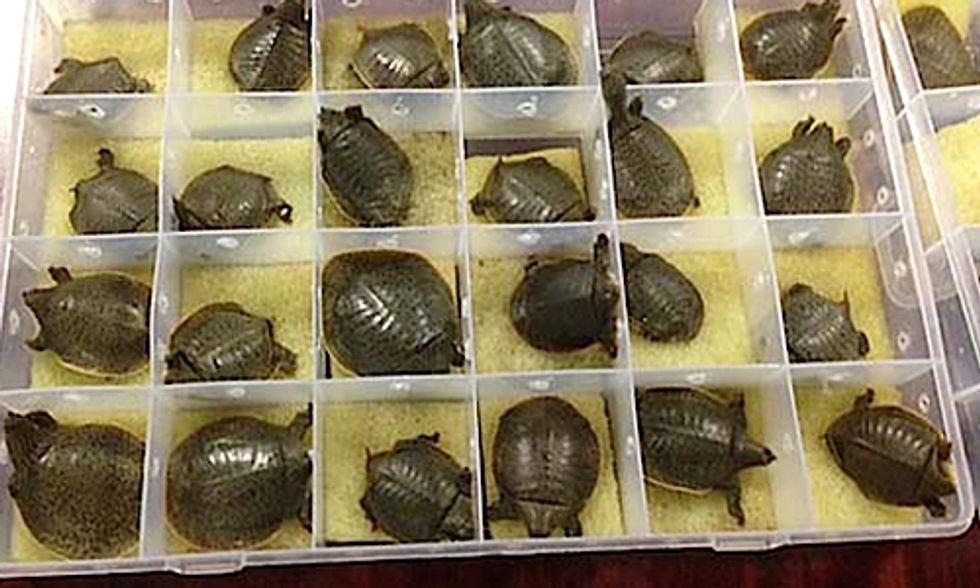 On March 12, Royal Thai Customs officers discovered 218 Black Spotted Turtles Geoclemys hamiltonii and 54 Indian Narrow-headed Softshell Turtles Chitra indica in check-in luggage.
The two Indian nationals, who took a flight from Gaya and Varanasi in India to Bangkok, were due to board a flight to Macau when their luggage was checked and the animals found.
Initial investigations show the end destination for the turtles was Hong Kong. The duo has been handed over to Royal Thai Police for further investigations.
"This previously unknown trade route for smuggling turtles from Gaya and Varanasi to Bangkok is often used by religious tourists," said Dr. Shekhar Kumar Niraj, head of TRAFFIC in India.
The involvement of Thailand, India and Hong Kong in the illegal trade in rare tortoises and freshwater turtles was highlighted earlier this year when more than a thousand specimens were confiscated from smugglers in three separate seizures. All three seizures passed through Bangkok, with at least two involving tortoises and freshwater turtles originating from India.
One of these recent seizures, which took place on Jan. 31, also included a number of Black Spotted Turtles, a species listed in Appendix I of the Convention on International Trade in Endangered Species of Wild Fauna and Flora (CITES), which therefore cannot be traded internationally for commercial purposes.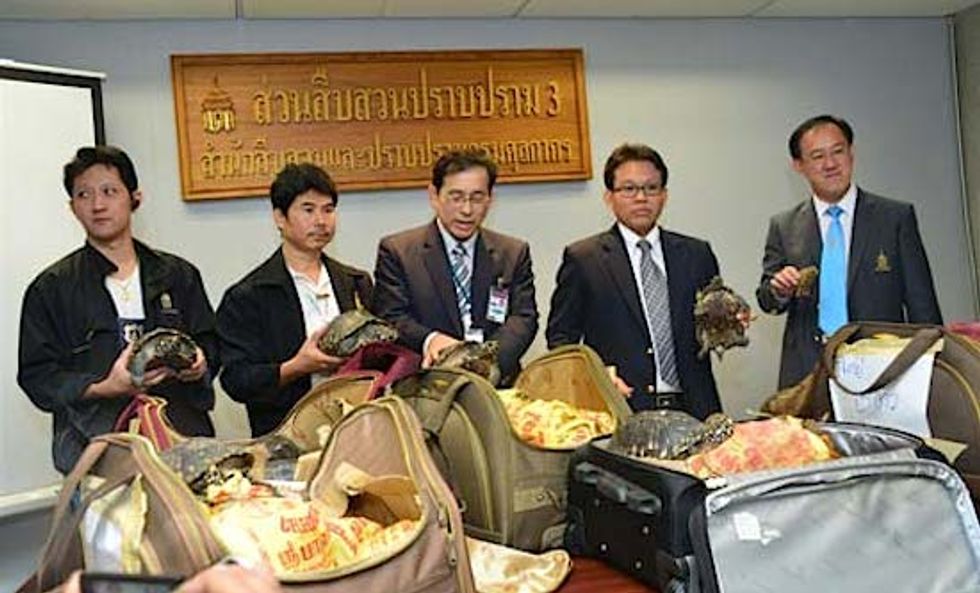 Another case involved a further 65 Black Spotted Turtles, discovered by Thai Customs and wildlife checkpoint officers at Don Mueang International Airport in unclaimed bags on board a flight from Chennai, India, along with 440 Indian Star Tortoises Geochelone elegans.
Both the Endangered Indian Narrow-Headed Softshell Turtle and the Indian Star Tortoises are listed in Appendix II of CITES, meaning any shipments must be accompanied by appropriate permits. Both species live in South Asia and are known to be traded for meat and as exotic pets.
India is not the only player in the trade from South Asia in tortoises and freshwater turtles. Seizures of cargoes in Bangkok originating in Bangladesh and Pakistan have also been recorded in the past 12 months.
There are also trade dynamics that point to intra-regional movements of these species. In February, 5,000 softshell turtles were seized in West Bengal en route to Bangladesh.
"Co-operation between India and other member countries of the South Asia Wildlife Enforcement Network is essential to combat the increasingly organized nature of wildlife crime in the region, and connect to destinations in Thailand, Hong Kong and other parts of Asia," said TRAFFIC's Dr. Niraj.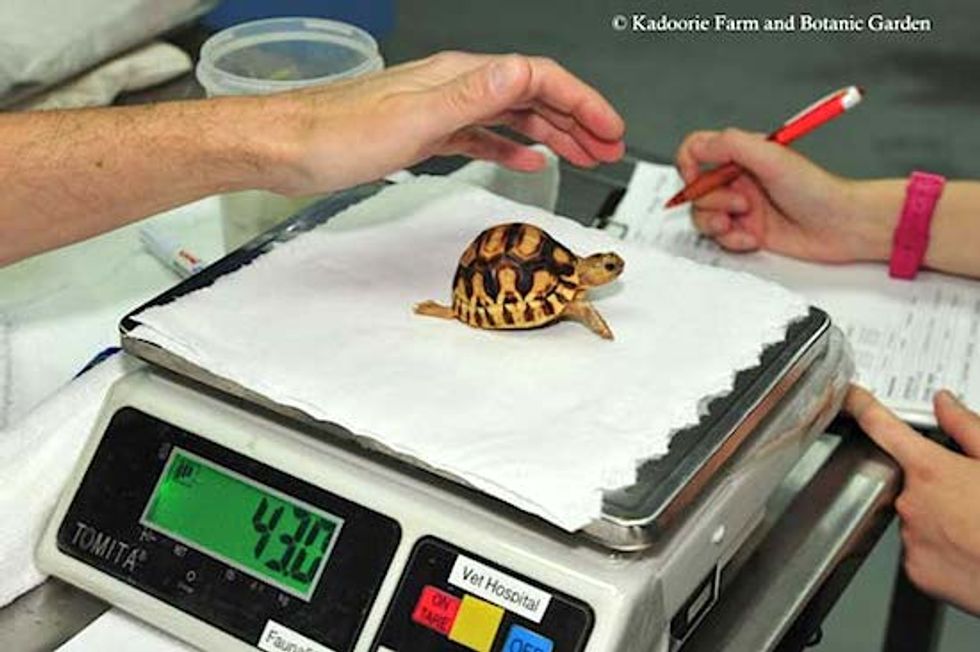 TRAFFIC's experience across Asia is being marshaled to support governments—through information exchange, international dialogues, species identification skills and other capacity building efforts—to take the fight against illegal trade a notch higher.
"Catching the mules of the trade won't be enough to stop the organized criminal elements that are driving the regions rare tortoises and freshwater turtles to the brink," said Dr. Chris R. Shepherd, regional director for TRAFFIC in South-East Asia.
"Seeking out and stopping the big guns that control this trade should be the real focus of enforcement action."
Related Content:
First-Ever World Wildlife Day Focuses Attention on Illegal Poaching and Trafficking
Prince William and Prince Charles Speak Out on Illicit Wildlife Trafficking
NBA Athletes Launch Campaign Against Ivory and Rhino Horn Poaching