A lion photographed at Kruger National Park on April 16, 2017 in South Africa. Frédéric Soltan / Corbis / Getty Images
By Arnaud Goessens
As the planet faces the multiple impacts of COVID-19 on human health, well-being and economies, it's time for governments across the globe to show leadership and take the necessary steps to help prevent future major pandemics.
The emergence of COVID-19 and other zoonotic diseases, which spread from wildlife to humans, shows that our relationship with the environment must now be rethought. We have no other choice but to protect nature and put an end to biodiversity loss, ecosystem degradation and climate change. There's no secret about it. Our health depends on the health of the planet — a fact supported by innumerable scientific studies.
With this in mind, many of us in the conservation community are now waiting for the European Union to deliver on its promised Green Deal.
When discussing the EU COVID-19 recovery recently, European Commission Executive Vice-President Frans Timmermans made a welcome statement and declared that the Green Deal is not a luxury but something that's essential for Europe's future. Done right, this plan for a sustainable economy can send a strong message to its citizens and to the world: We're all in this together, and we will protect nature and people.
As part of the Green Deal, the EU has started developing or reviewing major initiatives, including the EU Biodiversity Strategy. The new version of the Strategy, published May 20, sets the EU's biodiversity conservation objectives for the next 10 years. It also guides the EU's engagement within international agreements to which it is a party, such as the Convention on Biological Diversity.
Nature restoration is a central element of our recovery plan from the coronavirus pandemic. The #EUBiodiversity st… https://t.co/Z4sjx7eWWb

— European Commission 🇪🇺 #UnitedAgainstCoronavirus (@European Commission 🇪🇺 #UnitedAgainstCoronavirus)1590836400.0
The implementation of this strategy could represent new hope. If the actions it outlines are fully implemented and financed, it will be a critical tool to ensure the reduction of direct and indirect drivers of biodiversity loss at a global scale, including the EU's global ecological footprint, and to address the drivers of ecosystem degradation and deforestation.
This is important, because the EU — like any major government or region — has a critical role to play, not only within its own borders but around the globe.
While it is, of course, essential that the EU protect native biodiversity within its 27 member states, the majority of global biodiversity lies in the tropics, where thousands of species are deeply affected by EU policies. So it's vital that the EU addresses the biodiversity beyond its borders through a global dimension.
Trade, Biodiversity and Diseases
The strategy, as published, does a great job acknowledging that efforts to address wildlife trade and consumption will help prevent and build up resilience to possible future diseases and pandemics.
But it doesn't go far enough. The EU must also assist the global community in ending the commercial trade and sale in markets of wildlife for human consumption — particularly birds and mammals — as a key outcome to prevent future zoonotic outbreaks.
Although much of the wildlife sold in these markets is legal, the illegal trade in wild animals continues to harm both wildlife and local communities. It can also produce the conditions for disastrous and deadly pandemics. The EU Action Plan against Wildlife Trafficking — first published in 2016 and due to expire this year — will therefore be a critical instrument for reducing that threat. The Biodiversity Strategy calls for the revision of the wildlife trafficking plan in 2021.
Southern white rhino, a frequently trafficked species, in Uganda. Rod Waddington / CC BY-SA 2.0
This commitment is welcome and will provide an opportunity for the EU and its Member States to step up their efforts to combat wildlife trafficking and finally treat it as serious crime. Hopefully it will include a commitment to deploying a similar level of resources and penalties as currently devoted to crimes like drug trafficking. Without such deterrents in place, the EU — like any government or region — won't be able to put an end to wildlife trafficking.
The EU is also now determining its long-term budget — the Multiannual Financial Framework — and will soon set spending targets for the next seven years. The MFF and the next EU development-aid budget (the Neighbourhood, Development and International Cooperation Instrument) are critical in outlining the EU's top priorities.
Those priorities must include high, ambitious spending targets for climate, environment and biodiversity. Without proper financing mechanisms, the EU won't be able to implement any strategies or actions to preserve our environment and health. While the Biodiversity Strategy states that the EU's ready to increase its support to developing countries for biodiversity after this year, no detailed financial pledge has yet been made. The EU has missed an opportunity to make a much-needed commitment in this regard, but it's not too late to establish one.
The EU has all the cards in its hands to make the right decisions — not only to significantly reduce the risk of future major pandemics but to build a new paradigm in which we can live in harmony with nature. It published a well-thought-out strategy that provides the foundation for ambitious actions to tackle the biodiversity crisis; now it needs to put its money where its mouth is.
The EU and its member states have established bold and immediate measures to mitigate the impacts of COVID-19 on human health, wellbeing and security. Now it must do the same to tackle the biodiversity crisis — whose impacts on our society are likely to be far worse than those of the COVID-19 pandemic.
The EU has a unique opportunity to show leadership, to be a game-changer, and to be on the right side of history a model that other governments and regions across the globe can emulate. Let's hope it doesn't let us down.
Reposted with permission from The Revelator.
From Your Site Articles
Related Articles Around the Web
EcoWatch Daily Newsletter
Pangolin hunting for ants. 2630ben / iStock / Getty Images Plus
By Alexander Richard Braczkowski, Christopher O'Bryan, Duan Biggs, and Raymond Jansen
Pangolins are one of the most illegally trafficked animals on the planet and are suspected to be linked to the current coronavirus pandemic.
Pangolins are also one of the world's most threatened species but new efforts are underway to reintroduce pangolins to parts of Africa where the animal has been extinct for decades.
The reintroduction of pangolins has not been easy. But it's vital to prevent this shy, mysterious creature from being lost forever.
A Cute But Threatened Species
Pangolins are the only mammals wholly-covered in scales, which they use to protect themselves from predators. They can also curl up into a tight ball.
They eat mainly ants, termites and larvae which they pick up with their sticky tongue. They can grow up to 1m in length from nose to tail and are sometimes referred to as scaly anteaters.
But all eight pangolin species are classified as "threatened" under International Union for Conservation of Nature criteria.
There is an unprecedented demand for their scales, primarily from countries in Asia and Africa where they are used in food, cultural remedies and medicine.
Between 2017 and 2019, seizures of pangolin scales tripled in volume. In 2019 alone, 97 tons of pangolin scales, equivalent to about 150,000 animals, were reportedly intercepted leaving Africa.
There is further evidence of the illegal trade in pangolin species openly on social media platforms such as Facebook.
The intense global trafficking of the species means the entire order (Pholidota) is threatened with extinction. For example, the Temminck's pangolins (Smutsia temminckii) went extinct in South Africa's KwaZulu Natal Province three decades ago.
Reintroduction of an Extinct Species
Each year in South Africa the African Pangolin Working Group (APWG) retrieves between 20 and 40 pangolins through intelligence operations with security forces.
These pangolins are often-traumatised and injured and are admitted to the Johannesburg Wildlife Veterinary Hospital for extensive medical treatment and rehabilitation before they can be considered for release.
In 2019, seven rescued Temminck's pangolins were reintroduced into South Africa's Phinda Private Game Reserve in the KwaZulu Natal Province.
Nine months on, five have survived. This reintroduction is a world first for a region that last saw a viable population of this species in the 1980s.
During the release, every individual pangolin followed a strict regime. They needed to become familiar with their new surroundings and be able to forage efficiently.
Previous releases, including early on in South Africa and in other countries such as the Philippines, the Democratic Republic of the Congo and Thailand had minimal post-release monitoring.
Pangolins released immediately following medical treatment had a low level of survival for various reasons, including inability to adapt to their release sites.
A 'Soft Release' in to the Wild
The process on Phinda game reserve involved a more gentle ease into re-wilding a population in a region that had not seen pangolins for many decades.
The soft release had two phases:
a pre-release observational period
an intensive monitoring period post release employing GPS satellite as well as VHF tracking tags.
The pre-release period lasted between two to three weeks and were characterised by daily walks (three to five hours) of individuals on the reserves. These walks were critical for acclimatising individuals to the local habitat, its sounds, smells and possible threats. It also helped them source suitable and sufficient ant and termite species for food.
Following that, the post release period of two to three months involved locating released pangolins daily at first, and then twice per week where they were weighed, a rapid health assessment was made and habitat features such as burrows and refuges monitored.
Phinda reserve manager Simon Naylor said:
A key component of the post release period was whether individuals gained or maintained their weight.
The way the animals move after release also reveals important clues to whether they will stay in an area; if they feed, roll in dung, enter burrows. Much of this behaviour indicates site fidelity and habitat acceptance.

Following nine months of monitoring and tracking, five of the seven survived in the region. One died of illness while the other was killed by a Nile crocodile.
Why Pangolin Reintroduction is Important
We know so little about this group of mammals that are vastly understudied and hold many secrets yet to be discovered by science but are on the verge of collapse.
The South African and Phinda story is one of hope for the Temminck's pangolin where they once again roam the savanna hills and plains of Zululand.
The process of relocating these trade animals back into the wild has taken many turns, failures and tribulations but, the recipe of the "soft release" is working.
Reposted with permission from The Conversation.
From Your Site Articles
Related Articles Around the Web
waterlust.com / @tulasendlesssummer_sierra .
Each product featured here has been independently selected by the writer. If you make a purchase using the links included, we may earn commission.
The bright patterns and recognizable designs of Waterlust's activewear aren't just for show. In fact, they're meant to promote the conversation around sustainability and give back to the ocean science and conservation community.
Each design is paired with a research lab, nonprofit, or education organization that has high intellectual merit and the potential to move the needle in its respective field. For each product sold, Waterlust donates 10% of profits to these conservation partners.
Eye-Catching Designs Made from Recycled Plastic Bottles
waterlust.com / @abamabam
The company sells a range of eco-friendly items like leggings, rash guards, and board shorts that are made using recycled post-consumer plastic bottles. There are currently 16 causes represented by distinct marine-life patterns, from whale shark research and invasive lionfish removal to sockeye salmon monitoring and abalone restoration.

One such organization is Get Inspired, a nonprofit that specializes in ocean restoration and environmental education. Get Inspired founder, marine biologist Nancy Caruso, says supporting on-the-ground efforts is one thing that sets Waterlust apart, like their apparel line that supports Get Inspired abalone restoration programs.
"All of us [conservation partners] are doing something," Caruso said. "We're not putting up exhibits and talking about it — although that is important — we're in the field."
Waterlust not only helps its conservation partners financially so they can continue their important work. It also helps them get the word out about what they're doing, whether that's through social media spotlights, photo and video projects, or the informative note card that comes with each piece of apparel.
"They're doing their part for sure, pushing the information out across all of their channels, and I think that's what makes them so interesting," Caruso said.
And then there are the clothes, which speak for themselves.
Advocate Apparel to Start Conversations About Conservation
waterlust.com / @oceanraysphotography
Waterlust's concept of "advocate apparel" encourages people to see getting dressed every day as an opportunity to not only express their individuality and style, but also to advance the conversation around marine science. By infusing science into clothing, people can visually represent species and ecosystems in need of advocacy — something that, more often than not, leads to a teaching moment.

"When people wear Waterlust gear, it's just a matter of time before somebody asks them about the bright, funky designs," said Waterlust's CEO, Patrick Rynne. "That moment is incredibly special, because it creates an intimate opportunity for the wearer to share what they've learned with another."
The idea for the company came to Rynne when he was a Ph.D. student in marine science.
"I was surrounded by incredible people that were discovering fascinating things but noticed that often their work wasn't reaching the general public in creative and engaging ways," he said. "That seemed like a missed opportunity with big implications."
Waterlust initially focused on conventional media, like film and photography, to promote ocean science, but the team quickly realized engagement on social media didn't translate to action or even knowledge sharing offscreen.
Rynne also saw the "in one ear, out the other" issue in the classroom — if students didn't repeatedly engage with the topics they learned, they'd quickly forget them.
"We decided that if we truly wanted to achieve our goal of bringing science into people's lives and have it stick, it would need to be through a process that is frequently repeated, fun, and functional," Rynne said. "That's when we thought about clothing."
Support Marine Research and Sustainability in Style
To date, Waterlust has sold tens of thousands of pieces of apparel in over 100 countries, and the interactions its products have sparked have had clear implications for furthering science communication.
For Caruso alone, it's led to opportunities to share her abalone restoration methods with communities far and wide.
"It moves my small little world of what I'm doing here in Orange County, California, across the entire globe," she said. "That's one of the beautiful things about our partnership."
Check out all of the different eco-conscious apparel options available from Waterlust to help promote ocean conservation.
Melissa Smith is an avid writer, scuba diver, backpacker, and all-around outdoor enthusiast. She graduated from the University of Florida with degrees in journalism and sustainable studies. Before joining EcoWatch, Melissa worked as the managing editor of Scuba Diving magazine and the communications manager of The Ocean Agency, a non-profit that's featured in the Emmy award-winning documentary Chasing Coral.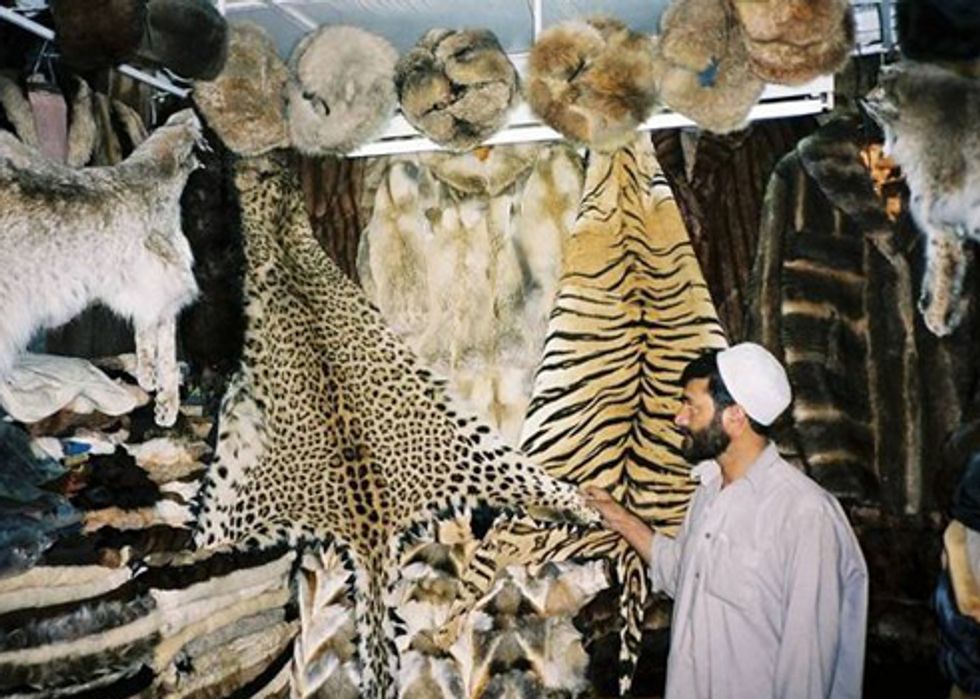 The Wildlife Conservation Society (WCS) announced on Dec. 22 the release of Caught in the Crosshairs: Combating the Illegal Wildlife Trade in Iraq and Afghanistan—a new video aimed at informing U.S. military personnel about the consequences of buying illegal wildlife products when deployed or stationed overseas.
The video, seen here, is the latest outreach tool in an ongoing initiative supported by the Department of Defense (DoD) Legacy Program that began in 2007 when WCS staff first noticed illegal items for sale on military bases near Kabul, Afghanistan. A subsequent survey of 395 soldiers at Fort Drum in June 2008 revealed that more than 40 percent of those surveyed had purchased or seen someone else in the military purchase products made from wildlife while stationed overseas.
Launched during the holiday season, it is hoped that the new video will educate and remind military personnel returning home to not purchase and transport these products as gifts for family and friends.
Many of the wildlife products available that end up on bases in Afghanistan and Iraq are from locally or globally threatened or endangered species such as snow leopard, Eurasian wolf, and Asiatic black bear. The purchase and transport of such products violates military regulations, U.S. laws such as the Endangered Species Act, national laws of Afghanistan, and obligations to international agreements such as the Convention on International Trade in Endangered Species of Wild Fauna and Flora (CITES).
"Only a small fraction of respondents to our 2008 survey knew about the various laws regulating trade in illegal wildlife," said WCS North America Program Livelihoods coordinator Dr. Heidi Kretser. "The video highlights the potential consequences for soldiers purchasing wildlife products and illustrates how demand for these items can put species at risk and contribute to local, regional, and global extinctions."
Caught in the Crosshairs from MP on Vimeo.
Military personnel and affiliates stationed overseas have significant buying power that influences local markets—including driving the demand for wildlife products. This is bad news for iconic wildlife such as snow leopards in Afghanistan that are endangered, yet are sometimes poached for their beautiful coat and other body parts. By demonstrating this cause and effect relationship to military personnel, the video looks to end demand for these products, and therefore, the incentive for dealers to carry them and support poaching.
The video, narrated by actor/director and United Nations Goodwill Ambassador for Biodiversity Edward Norton, also alerts the viewer to other dangers of purchasing and transporting illegal wildlife products. These include threats associated with zoonotic disease (pathogens that occur in wildlife that are potentially transmissible to people), the depletion of scarce and/or culturally significant natural resources, and the inadvertent support of organized crime.
The video notes that law enforcement authorities are finding that organized crime groups that smuggle weapons and drugs are increasingly involved with the trade of illegal wildlife—a trade estimated to reach into the billions of dollars.
"We believe the video helps the message resonate with military personnel on several levels, said Katherine Hammack, assistant secretary of the Army, Installations, Energy & Environment. "If something is seized and it is understood that it has been intentionally purchased with the intent of transporting it back to the United States, then they are subject to the Uniform Code of Military Justice and their command is notified. So it could jeopardize a soldier's entire career."
WCS Deputy Director of Asia Programs Peter Zahler said, "We are proud to be advising the DoD on this important project to reduce demand for wildlife products, protect military personnel from inadvertently breaking the law, and protect globally significant wildlife. This video will go a long way in helping both WCS and DoD achieve their missions."
For more information, click here.
—————
The Wildlife Conservation Society saves wildlife and wild places worldwide. We do so through science, global conservation, education and the management of the world's largest system of urban wildlife parks, led by the flagship Bronx Zoo. Together these activities change attitudes towards nature and help people imagine wildlife and humans living in harmony. WCS is committed to this mission because it is essential to the integrity of life on Earth.