Here we go again. After the 2012 fiasco in which Congress failed to pass a Farm Bill at the eleventh hour, the Senate rallied early this month to pass its version of the national food and farming legislation—which is up for debate and renewal every five years.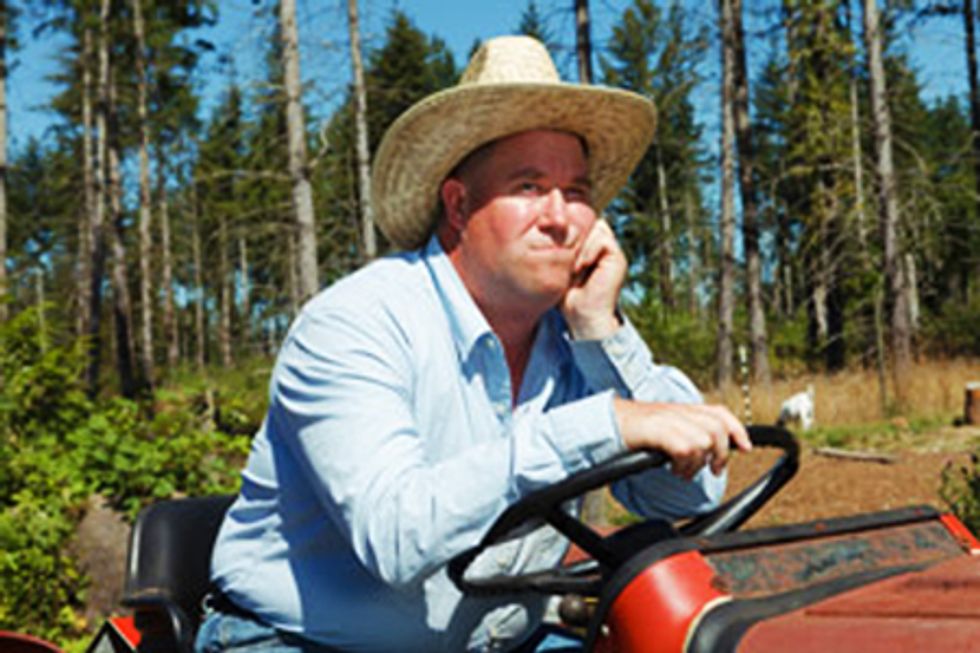 Ten days later, the Farm Bill died again when the House failed to pass its own version of the 2013 bill. It's not clear exactly what's up next. But we're rolling up our sleeves—again—to press for the best legislation possible, and we fully hope and expect that Congress will pass a Farm Bill this year. 
So what happened last week?
Here's the scoop. House Democrats resoundingly opposed dramatic cuts to the Supplemental Nutrition Assistance Program (SNAP, also known as food stamps) included in the proposed bill. The proposed bill would have severely narrowed this aspect of our nation's social safety net, knocking two million current recipients out of the SNAP program.
What Will it Take?
Since we can expect Tea Party Republicans to oppose any bill without even greater SNAP cuts, the other Republicans and Democrats will need to work together.
And there are clear signs this is possible. Before the bill failed, the House passed a historic amendment limiting commodity payments. As policy analysts for the National Sustainable Agriculture Coalition (NSAC) explain, this may be the key—along with agreement on SNAP—to revival of the Farm Bill.
And several amendments with bipartisan co-sponsorship included important limits on government payments for insurance premiums. Unfortunately many of those amendments were among the 100+ that never made it to the floor for debate and vote.
So, creating a Farm Bill that could pass in the House means making less draconian cuts to the SNAP program, keeping reforms to commodity payment programs that were agreed to in the floor debate and making substantive reforms to crop insurance programs—which have surpassed the commodity programs in terms of government expenditure.
It will also mean including bipartisan amendments for rural economic development, local and regional food systems, organic agriculture and fair competition.  
Meanwhile, On the Budget Side ...
In a separate process, both the House and Senate have to pass agriculture budgets every year to fund agriculture, rural development, nutrition and food safety programs. The huge gap in priorities between the House and Senate on the Farm Bill is also reflected in their budget proposals. They differ from one another by about $1.43 billion.
This week and last, the relevant Senate and House committees wrote up their proposal for agriculture spending for the 2014 fiscal year that begins Oct. 1. The full House is expected to take up the proposal next week. The full Senate will then follow.
While both House and Senate budgets allow for continued support of the important Conservation Stewardship Program, many conservation programs face cuts—including the Environmental Quality Incentives Program, the Wildlife Habitat Incentives Program and the Agricultural Management Assistance Program. Funding levels remain inadequate, even in the Senate bill, for the U.S. Department of Agriculture (USDA) to fully deliver the conservation programs. 
We're happy to report that both budgets continue support for some key rural development programs including the Value-Added Producer Grants. The Senate budget also continues to fund important sustainable agriculture research, education and extension including the Sustainable Agriculture Research and Education program—the cornerstone program that has funded research on sustainable agriculture systems over the past 25 years.
A Long Haul That Isn't Over
Following the Fourth of July holiday, Congress will pick up where they left off and will—for better or for worse—decide the fate of U.S. agriculture for the next five years.
We won't let our guard down, and will continue to let readers know when opportunities arise to put the pressure on policymakers in Congress to pass smart legislation that is responsible to taxpayers, farmers and consumers—now and for future generations.
Visit EcoWatch's FARM BILL and SUSTAINABLE AGRICULTURE pages for more related news on this topic.

EcoWatch Daily Newsletter
waterlust.com / @tulasendlesssummer_sierra .
Each product featured here has been independently selected by the writer. If you make a purchase using the links included, we may earn commission.
The bright patterns and recognizable designs of Waterlust's activewear aren't just for show. In fact, they're meant to promote the conversation around sustainability and give back to the ocean science and conservation community.
Each design is paired with a research lab, nonprofit, or education organization that has high intellectual merit and the potential to move the needle in its respective field. For each product sold, Waterlust donates 10% of profits to these conservation partners.
<h2>Eye-Catching Designs Made from Recycled Plastic Bottles</h2><p class="shortcode-media shortcode-media-rebelmouse-image"> <img class="rm-lazyloadable-image rm-shortcode" type="lazy-image" data-runner-src="https://assets.rebelmouse.io/eyJhbGciOiJIUzI1NiIsInR5cCI6IkpXVCJ9.eyJpbWFnZSI6Imh0dHBzOi8vYXNzZXRzLnJibC5tcy8yNjA0MjY1Ny9vcmlnaW4uanBnIiwiZXhwaXJlc19hdCI6MTYyNzg2MDUxMH0.vQSqaQyzxYslKiEII1Gdq-PoUNRNlJM2pokU5p882zw/img.jpg?width=980" id="e856d" width="1280" height="720" data-rm-shortcode-id="90bb13b6170b81423ec00e83705be2ca" data-rm-shortcode-name="rebelmouse-image" alt="Waterlust whale shark"> <small class="image-media media-photo-credit" placeholder="Add Photo Credit...">waterlust.com / @abamabam</small></p><div style="display: none;"><img class="rm-lazyloadable-image rm-shortcode" type="lazy-image" data-runner-src="https://assets.rebelmouse.io/eyJhbGciOiJIUzI1NiIsInR5cCI6IkpXVCJ9.eyJpbWFnZSI6Imh0dHBzOi8vYXNzZXRzLnJibC5tcy8yNjA0MjY1Ny9vcmlnaW4uanBnIiwiZXhwaXJlc19hdCI6MTYyNzg2MDUxMH0.vQSqaQyzxYslKiEII1Gdq-PoUNRNlJM2pokU5p882zw/img.jpg?width=980" id="e856d" width="1280" height="720" data-rm-shortcode-id="90bb13b6170b81423ec00e83705be2ca" data-rm-shortcode-name="rebelmouse-image" alt="Waterlust whale shark"></div><p>The company sells a range of eco-friendly items like leggings, rash guards, and board shorts that are made using <a data-linked-post="2636592849" href="https://www.ecowatch.com/trash-art-2636592849.html" target="_blank">recycled post-consumer plastic bottles</a>. There are currently 16 causes represented by distinct marine-life patterns, from whale shark research and invasive lionfish removal to sockeye salmon monitoring and abalone restoration.<br></p><p>One such organization is <a href="https://getinspiredinc.org/" target="_blank">Get Inspired</a>, a nonprofit that specializes in ocean restoration and environmental education. Get Inspired founder, marine biologist Nancy Caruso, says supporting on-the-ground efforts is one thing that sets Waterlust apart, like their apparel line that supports Get Inspired <a href="https://waterlust.com/collections/abalone-restoration" target="_blank">abalone restoration programs</a>.</p><p>"All of us [conservation partners] are <em>doing</em> something," Caruso said. "We're not putting up exhibits and talking about it — although that is important — we're in the field."</p><p>Waterlust not only helps its conservation partners financially so they can continue their important work. It also helps them get the word out about what they're doing, whether that's through social media spotlights, photo and video projects, or the informative note card that comes with each piece of apparel. </p><p>"They're doing their part for sure, pushing the information out across all of their channels, and I think that's what makes them so interesting," Caruso said.</p><p>And then there are the clothes, which speak for themselves.</p><h2>Advocate Apparel to Start Conversations About Conservation</h2><p class="shortcode-media shortcode-media-rebelmouse-image"> <img class="rm-lazyloadable-image rm-shortcode" type="lazy-image" data-runner-src="https://assets.rebelmouse.io/eyJhbGciOiJIUzI1NiIsInR5cCI6IkpXVCJ9.eyJpbWFnZSI6Imh0dHBzOi8vYXNzZXRzLnJibC5tcy8yNjA0MjY2Ni9vcmlnaW4uanBnIiwiZXhwaXJlc19hdCI6MTY3ODM2OTcyN30.zAM54UVcfS629qaE3kNkyl1UYNXyywyal4hwIooJDAI/img.jpg?width=980" id="a4b91" width="1280" height="720" data-rm-shortcode-id="99e0e9c7fbef1a85cce5c55e8fd6fe9b" data-rm-shortcode-name="rebelmouse-image"> <small class="image-media media-photo-credit" placeholder="Add Photo Credit...">waterlust.com / @oceanraysphotography</small></p><p>Waterlust's concept of "advocate apparel" encourages people to see getting dressed every day as an opportunity to not only express their individuality and style, but also to advance the conversation around marine science. By infusing science into clothing, people can visually represent species and ecosystems in need of advocacy — something that, more often than not, leads to a teaching moment.<br></p><p>"When people wear Waterlust gear, it's just a matter of time before somebody asks them about the bright, funky designs," said Waterlust's CEO, Patrick Rynne. "That moment is incredibly special, because it creates an intimate opportunity for the wearer to share what they've learned with another." </p><p>The idea for the company came to Rynne when he was a Ph.D. student in marine science.</p><p>"I was surrounded by incredible people that were discovering fascinating things but noticed that often their work wasn't reaching the general public in creative and engaging ways," he said. "That seemed like a missed opportunity with big implications." </p><p>Waterlust initially focused on conventional media, like film and photography, to promote ocean science, but the team quickly realized engagement on social media didn't translate to action or even knowledge sharing offscreen. </p><p>Rynne also saw the "in one ear, out the other" issue in the classroom — if students didn't repeatedly engage with the topics they learned, they'd quickly forget them.</p><p>"We decided that if we truly wanted to achieve our goal of bringing science into people's lives and have it stick, it would need to be through a process that is frequently repeated, fun, and functional," Rynne said. "That's when we thought about clothing."</p><h2>Support Marine Research and Sustainability in Style</h2><p>To date, Waterlust has sold tens of thousands of pieces of apparel in over 100 countries, and the interactions its products have sparked have had clear implications for furthering science communication.</p><p>For Caruso alone, it's led to opportunities to share her abalone restoration methods with communities far and wide.</p><p>"It moves my small little world of what I'm doing here in Orange County, California, across the entire globe," she said. "That's one of the beautiful things about our partnership."</p><p>Check out all of the different eco-conscious apparel options available from Waterlust to help promote ocean conservation.</p><p><em><em><strong><a href="https://www.ecowatch.com/about-ecowatch-2641507575.html?rebelltitem=47#rebelltitem47" target="_self">Melissa Smith</a> </strong>is an avid writer, scuba diver, backpacker, and all-around outdoor enthusiast. She graduated from the University of Florida with degrees in journalism and sustainable studies. Before joining EcoWatch, Melissa worked as the managing editor of Scuba Diving magazine and the communications manager of The Ocean Agency, a non-profit that's featured in the Emmy award-winning documentary Chasing Coral.</em></em></p>