By Kerri-Ann Jennings
Whole grains have been consumed for tens of thousands of years (1).
But many modern diets, such as the paleo diet, claim that eating grains is bad for your health.
While refined grains are definitely linked to health problems like obesity and inflammation, whole grains are another story.
There are legitimate health benefits to eating whole grains, including a lower risk of diabetes, heart disease and high blood pressure.
5 Trends in 2017 That Are Going to Be Huge https://t.co/CmwEwXLBh8

— EcoWatch (@EcoWatch)1483107345.0
This article lists the top nine health benefits of whole grains, as well as who might want to avoid them.
What Are Whole Grains?
Grains are the seeds of grass-like plants called cereals. Some of the most common varieties are corn, rice and wheat.
Some seeds of non-grass plants or pseudocereals, are also considered whole grains. These include buckwheat, quinoa and amaranth (2).
Whole grain kernels have three parts (3):
Bran: This is the hard, outer shell. It contains fiber, minerals and antioxidants.
Endosperm: The middle layer of the grain is mostly made up of carbs.
Germ: This inner layer has vitamins, minerals, protein and plant compounds.
Grains can be rolled, crushed or cracked, but as long as these three parts are still present in their original proportion, they're considered whole grains.
Refined grains have had the germ and bran removed, leaving only the endosperm.
Although enriched refined grains have had some vitamins and minerals added back, they're still not as healthy or nutritious as the whole versions.
There are many kinds of whole grains, including:
Oatmeal
Popcorn
Millet
Quinoa
Brown rice
Whole rye
Wild rice
Wheat berry
Bulgur
Buckwheat
Freekeh
Barley
Bulgur
Sorghum
Products made from these foods are also considered whole grain foods. These include bread, pasta and some breakfast cereals.
When you're purchasing processed whole grain products, make sure you read the ingredients list to make sure they're made entirely from whole grains, not a mixture of whole and refined grains.
Also keep an eye on the sugar content, especially in the case of breakfast cereals, which often contain large amounts of added sugar. Seeing "whole grain" on the packaging does not automatically mean that the product is healthy.
Bottom Line: Whole grains contain all three parts of the grain. There are many different kinds, including whole wheat and whole corn, oats, brown rice and quinoa.

1. They're High in Nutrients and Fiber
Whole grains deliver many important nutrients. Here are some of the key nutrients found in whole grains:
Fiber: The bran provides most of the fiber in whole grains.
Minerals: They also contain a good amount of minerals, such as zinc, iron, magnesium and manganese.
Protein: Whole grains provide several grams of protein per serving.
Antioxidants: Several compounds in whole grains act as antioxidants. These include phytic acid, lignin and sulfur compounds (6).
Plant compounds: Whole grains deliver many types of plant compounds that play a role in preventing disease. These include lignans, stanols and sterols (7).
The exact amounts of these nutrients differ depending on the type of grain.
Nevertheless, to give you a sense of their nutritional profile, here are the key nutrients in one ounce (28 grams) of dry oats (5):
Manganese: 69 percent of the RDI
Phosphorous: 15 percent of the RDI
Thiamin: 14 percent of the RDI
Magnesium: 12 percent of the RDI
Copper: 9 percent of the RDI
Zinc and iron: 7 percent of the RDI
Bottom Line: Whole grains deliver a variety of important nutrients, including vitamins, minerals, protein, fiber and other healthy plant compounds.

2. They Lower Your Risk of Heart Disease
One of the biggest health benefits of whole grains is that they lower your risk of heart disease, which is the leading cause of death worldwide (8).
A 2016 review analyzed the results of 10 studies and found that three one-ounce servings of whole grains daily may lower the risk of heart disease by 22 percent (9).
In fact, eating up to seven ounces of whole grains per day was linked to a lower risk of heart disease.
Another recent Spanish study looked at the types and amounts of grains and other carbs eaten by 17,424 adults and followed them for over 10 years (10).
Those who ate the highest proportion of whole grains in relation to their total carb intake had a 47 percent lower risk of heart disease.
The researchers concluded that heart-healthy diets should include more whole grains and fewer refined grains.
While most studies lump together all types of whole grains and make it hard to tease apart the benefits of individual foods, whole grain breads and cereals, as well as added bran, have been specifically linked to a lower risk of heart disease (9).
Bottom Line: Eating whole grains may lower your risk of heart disease, especially when they replace refined grains.

3. They Lower Your Risk of Stroke
Whole grains may also help lower your risk of stroke (11).
In an analysis of six studies including nearly 250,000 people, those eating the most whole grains had a 14 percent lower risk of stroke than those eating the fewest (11).
Furthermore, three compounds in whole grains—fiber, vitamin K and antioxidants—can reduce the risk of stroke.
Whole grains are also recommended in the DASH diet and Mediterranean diet, both of which may help lower the risk of stroke (12).
Bottom Line: As part of a heart-healthy diet, whole grains may help lower your risk of stroke.

4. They Reduce Your Risk of Obesity
Eating fiber-rich foods can help fill you up and prevent overeating. This is one reason high-fiber diets are recommended for weight loss (6).
Whole grains and products made from them are more filling than refined grains and a lot of research suggests that they may lower your risk of obesity.
In fact, eating three servings of whole grains daily was linked to lower BMIs and less belly fat in a review of 15 studies including almost 120,000 people (14).
Another study that reviewed research from 1965 to 2010 found that whole grain cereal and cereal with added bran were linked to a modestly lower risk of obesity (15).
Bottom Line: A lot of research from the past 45 years has suggested that whole grains are linked to a lower risk of obesity.

EcoWatch Daily Newsletter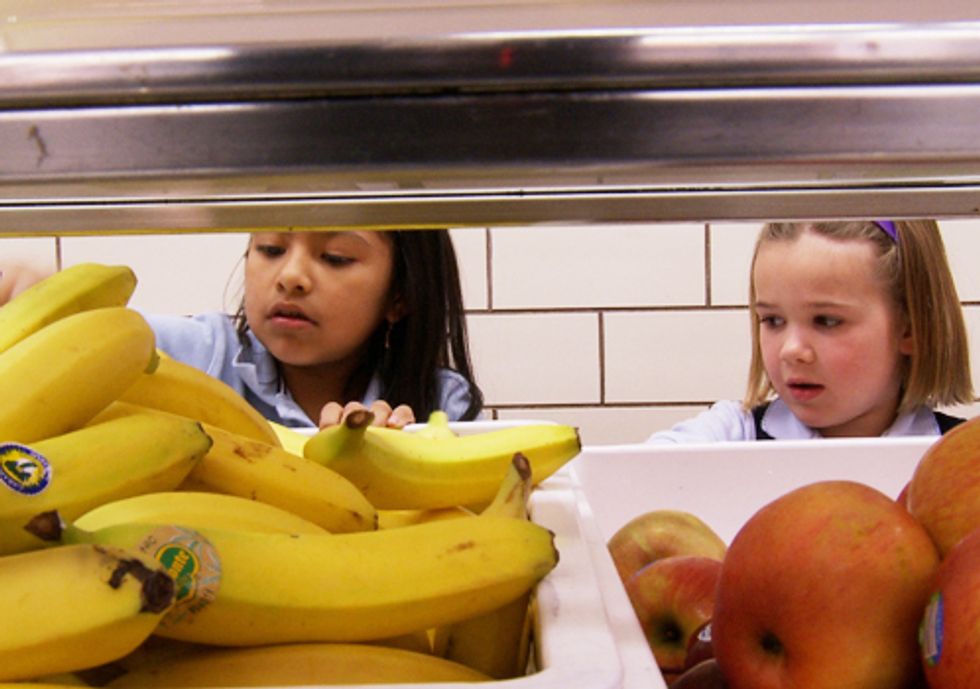 By Marion Nestle
Michelle Obama and Tom Vilsack announced new nutrition standards for school meals Jan. 25, to what seems to be near-universal applause (the potato growers are still miffed, according to the New York Times).
The new standards are best understood in comparison to current standards (see chart). They call for:
More fruits and vegetables
A greater range of vegetables
A requirement for whole grains
All milk to be 1 percent or less
Only non-fat milk to be permitted to be flavored
This may not sound like much. But given what it has taken the U.S. Department of Agriculture (USDA) to get to this point, the new standards must be seen as a major step forward.
See, for example, the comparison of an old and new weekly menu (this has not changed since USDA's original proposal in January last year).

The new one looks so much better. Now it's up to schools to make the new standards work, make the foods taste yummy, and get kids to be willing to try new foods.
To review the history—This all started when the USDA asked the Institute of Medicine (IOM) to design nutrition standards that would:
Increase the amount and variety of fruits, vegetables, and whole grains
Set a minimum and maximum level of calories
Focus more on reducing saturated fat and sodium
The new standards come pretty close to what the IOM recommended (see the earlier chart), with some now-famous exceptions. The IOM proposed limits on starchy vegetables. USDA then proposed to limit starchy vegetables to two servings a week. It also set a minimum for the amount of tomato sauce on pizza that could count toward vegetable servings.
Under pressure from potato growers and suppliers of school pizza, Congress weighed in and overruled the USDA on both counts.
The result—pizza now counts as a vegetable.
To give some idea of the extent of lobbying on all sides of this issue, USDA's January proposal elicited 132,000 public comments (these are someplace at www.regulations.gov and are addressed in the Federal Register notice).
I asked in a previous post whether this kind of congressional micromanagement made sense (absolutely not, in my view). I also wrote previously about the intense lobbying efforts to make sure these standards would never be released.
Despite congressional and industry opposition, the standards are out.
Applause is very much in order for Mrs. Obama's leadership on this issue.
Good work. Now let's get busy on the next challenges:
Set nutrition standards for competitive foods in schools—those sold outside of the lunch program as snacks and meal replacements.
Teach kids where food comes from.
Teach kids to cook.
For the record:
The initial press release—It is headlined "First Lady to Announce New Nutrition Standards for Meals Served in America's Schools: Public-Private Partnership Aims to Connect More Kids to Nutrition Programs." I'm not sure where the Public-Private Partnership comes into this.
USDA's actual press announcement provides links to the Nutrition Standards home page and other relevant documents.
Additions—Dana Woldrow sends this link to shed some light on the curious business of private-public partnerships. Here's one where Goya foods is giving out teaching materials in schools.
For more information, click here.